Under more normal circumstances, designers would be flocking to New York to debut their new seasonal collections on the catwalk and New York Bridal Fashion Week.
Whilst we are far from times that any of us can relate to as 'normal', designers have been extremely busy working on new designs and today, I'm really delighted to be able to share some of these new designs with you from London based British brand, Halfpenny London
Halfpenny London

+ Follow
Out of this World is an edit of interchangeable bridal separates, wedding dresses and accessories from one of my favourite ever designers – and someone who has championed and supported Love My Dress from the off.
Kate was in fact the first designer I ever 'blogged' about and I have taken great pleasure in watching her career and brand grow with grace and authenticity ever since.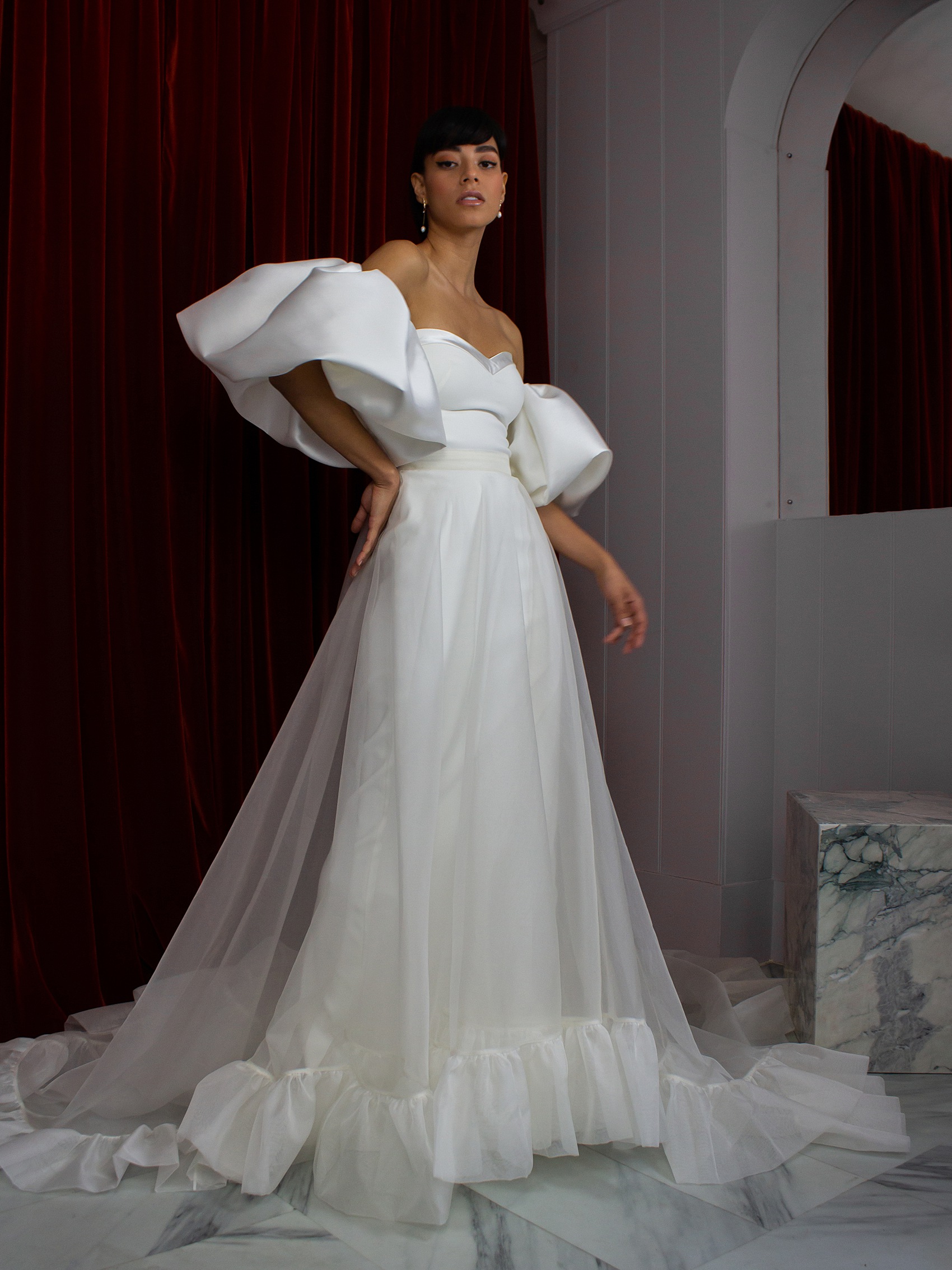 This sublime edit of designs features super cool detachable statement sleeves, modern romantic overskirts and chic capes – each of which will completely transform a look when layered with a simple slip dress.
All the pieces in this latest edit also work beautifully with other designs in Halfpenny London's extensive, existing offering. Kate cares very much about empowering her clients and has taken great care to design and accommodate for all body types, shape and size.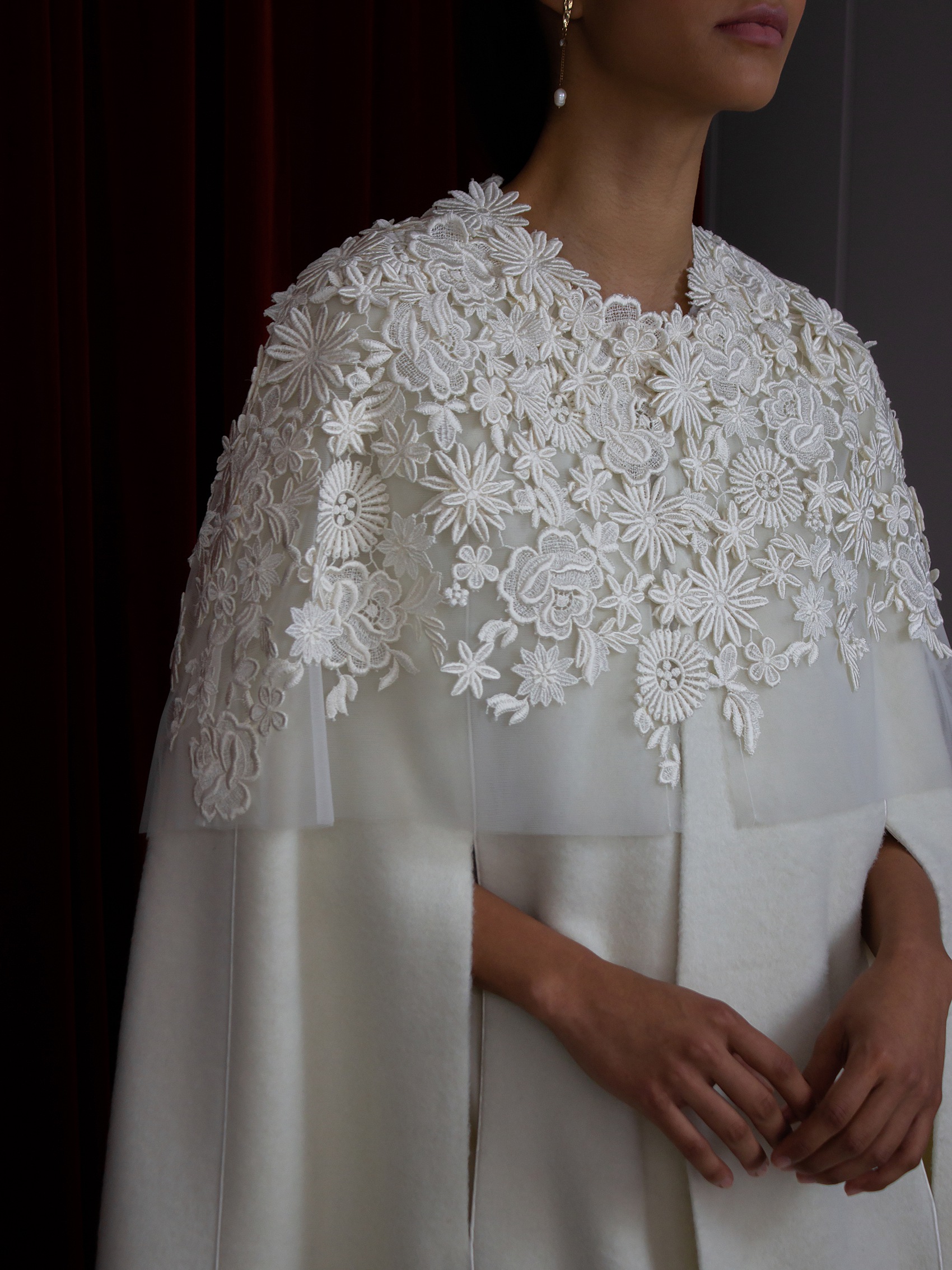 Kate originally conceived the collection she had always planned to launch this month, prior to the COVID-19 pandemic. Back then, Kate imagined her new Out of This World collection would be a dreamy, other-worldly edit of intricate beading and detailed embroidery, fuelled by the her insatiable adoration of textiles.
However, the last six months forced the world to pause and this unexpected break allowed Kate a period of self-reflection – if you watch my Zoom conversation with Kate held back in May this year, you can get a feel for the reflective mood she had already entered by then.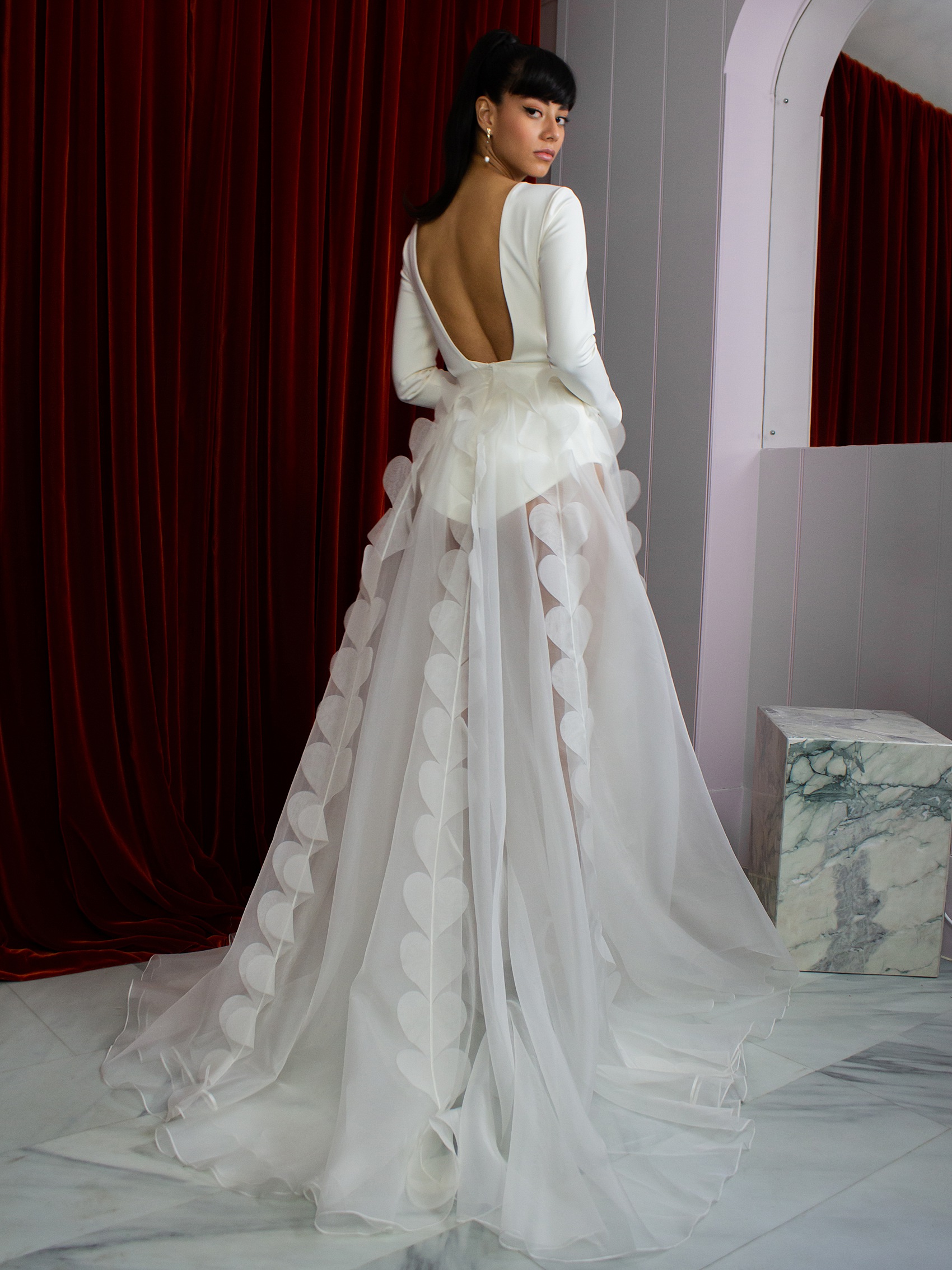 This chance to pause, and reassess provided Kate with the opportunity to reimagine the collection. In doing so, a new and different aesthetic emerged…
"When we went into lockdown, the thought of completing a new collection couldn't have been further from my mind. The new designs I'd been so excited about only a few short weeks before were shelved, the tech drawings for the decadent beading we'd been working on for months were pushed to the side and the test swatches were pinned back on the moodboard as the entire team worked incredibly hard to look after our wonderful brides in a time of crisis."
"As the time went on and we all got used to this 'new normal', I found myself alone with my thoughts for the first time in years. The initial seed of inspiration was from a book of words by Katie Paterson, "A place that exists only in moonlight", which my husband had brought me from the Turner exhibition."
"I sought it out and opened it to find my son, Sylvester, had drawn on the pages. I was horrified at first, but the more I looked, the more beautiful I found it."
"I don't know how many copies were printed but there will never be another like this. Sylvester had made it completely, uniquely mine. There and then, I knew exactly what to do. Instead of looking out, I decided to look in and realised I had everything I needed right there in front of me."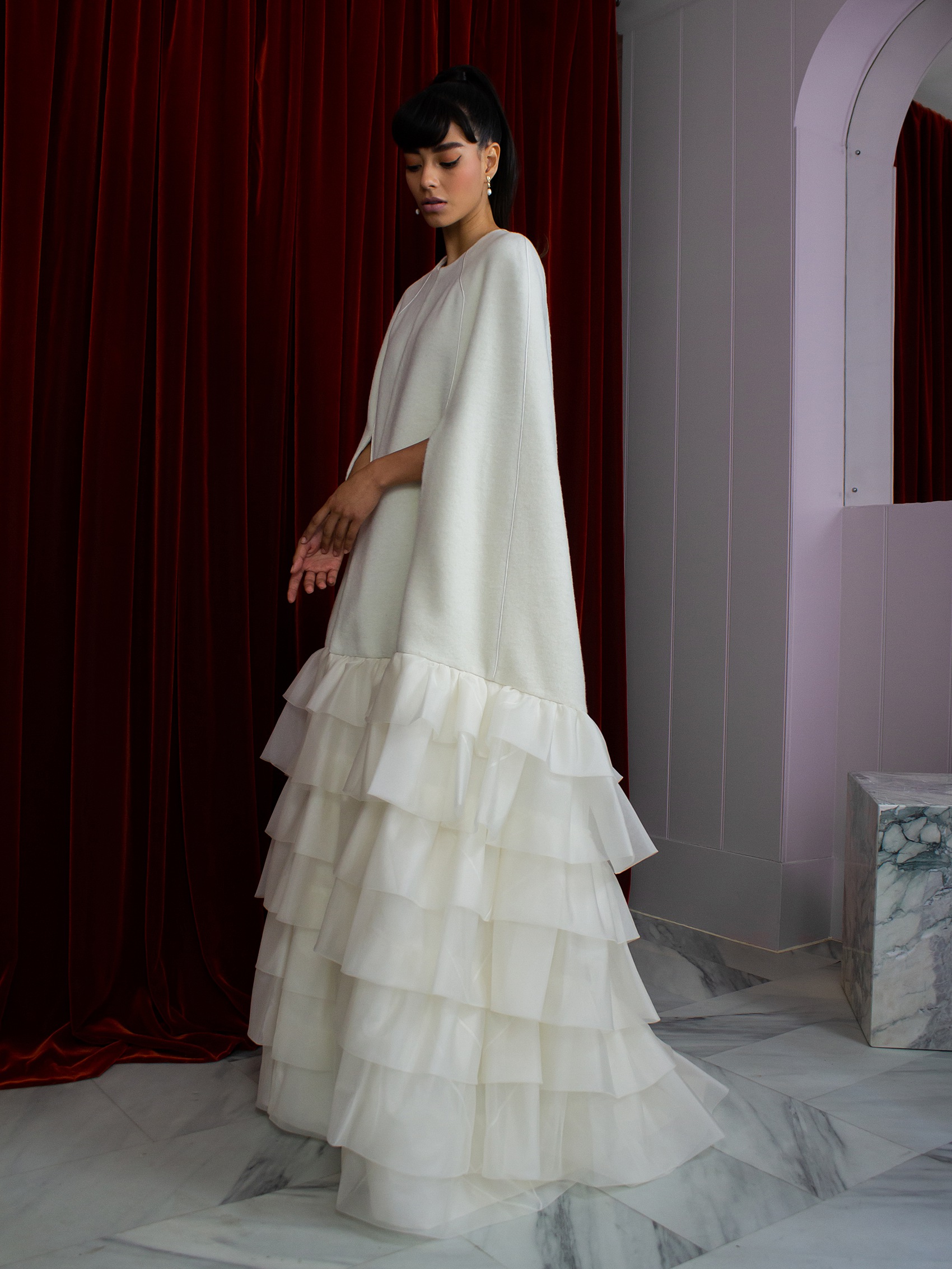 "More often than not, my designs start with a magnificent fabric and the shape grows in front of my eyes. Out of This World was going to be a celebration of my love affair with textiles yet, suddenly, alone with my pencil and sketchbook, the designs which had been so detailed in my imagination began to change."
"I took the silhouettes which had already been designed for Out of this World and married them with existing Halfpenny London hero fabrics."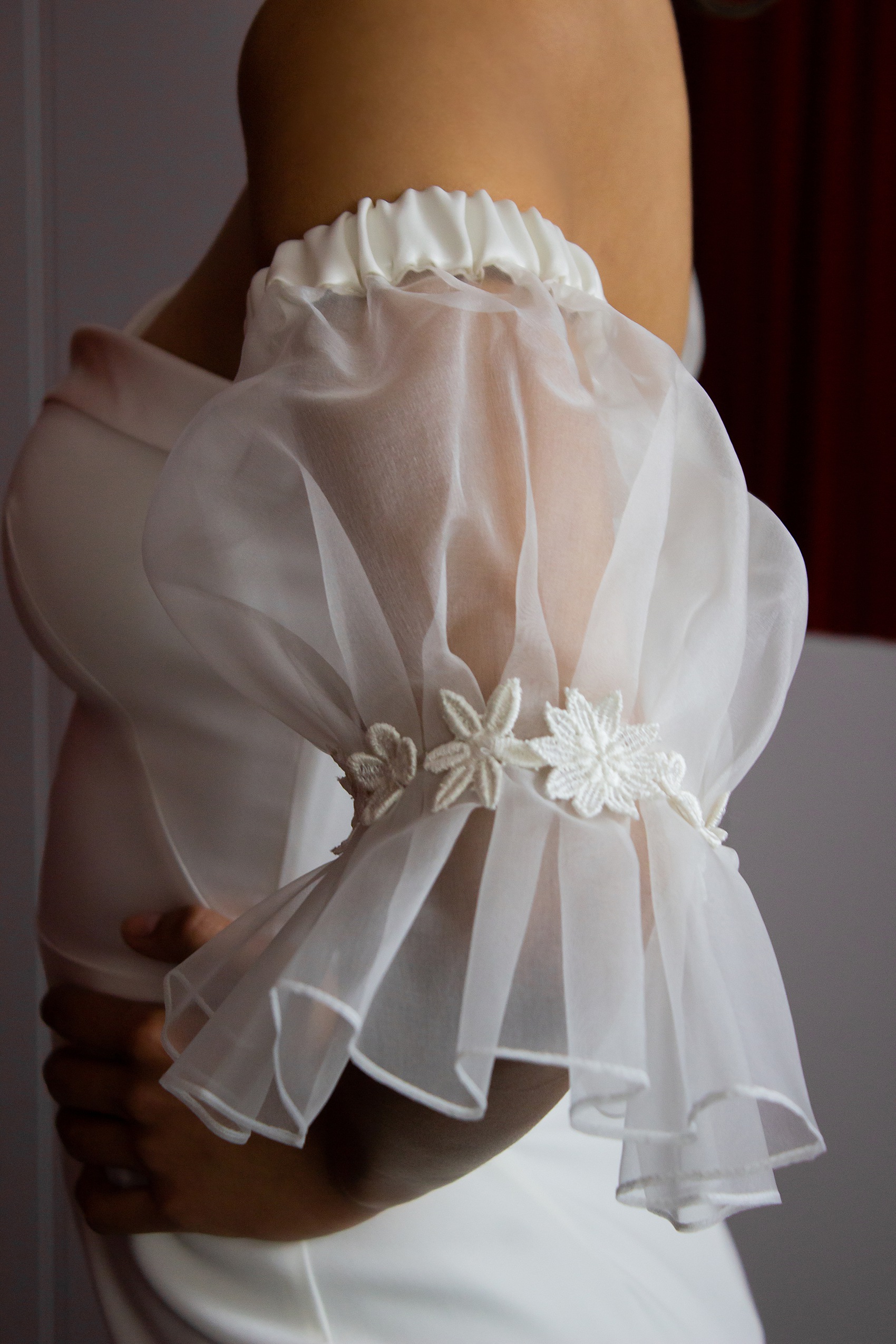 Readers who've been following Love My Dress for sometime now will, or should be aware of how important it is to me personally to support designers and in fact all business owners, who are making as big an effort as possible to reduce the impact of their business on the environment.
I've held onto many designs and will set them free when the time is right.  This collection looks very different to how I initially imagined it would but things don't always turn out how you planned and beauty, like love, often looks quite different to how you imagined. It can be right under your nose and all you have to do is stop for a moment and look for it. Kate Halfpenny-Duffy
Kate has always had ethical production at the forefront of everything she does, but she and her team are more committed than ever to ethical and environmentally conscious production
Any waste fabric produced from pattern cutting is gathered and used to create sweet, decorative 3D flowers that are hand stitched into gowns.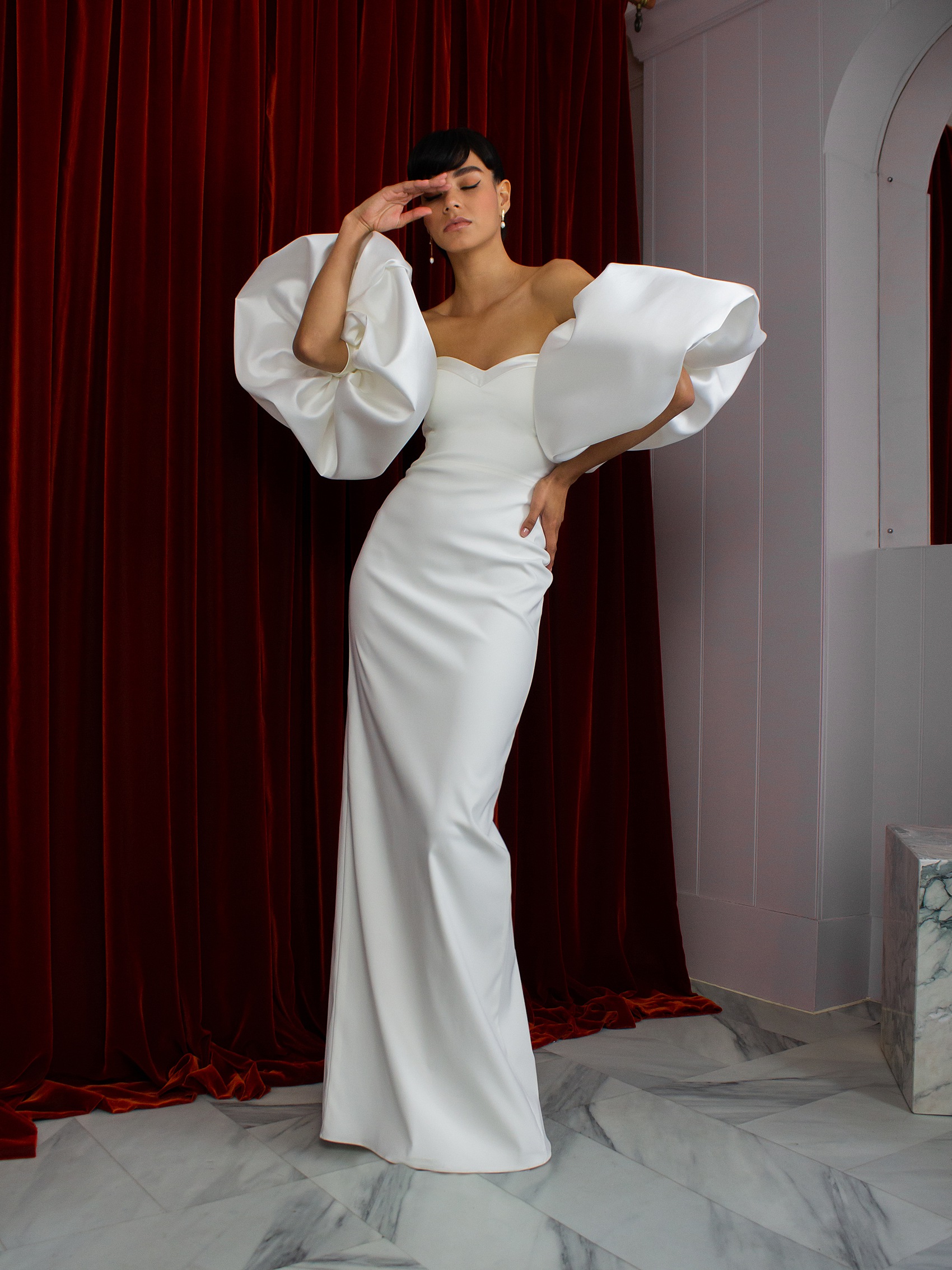 Halfpenny London produce all their designs at their beautiful London atelier; a room full of highly skilled and talented seamstresses and pattern cutters ensure every last tiny detail is finished to absolute perfection before any gown leaves the premises.
If you'd like to enquire about any of the designs you see on this page today, please contact the Halfpenny London team below:
Halfpenny London
10 Woburn Walk
Bloomsbury
London
WC1H 0JL
Telephone +44(0) 20 7388 7300, email [email protected].