Morning all! Wishing you the loveliest of Sundays. Over the past few months, in between What About Weddings campaigning and surviving through a pandemic, we've amassed the most incredible level of content that we've yet to schedule and share with you.
Never does it give me more pleasure to share such work than when it represents our talented Little Book Wedding Directory members. I am so very proud that independent and highly sought after dress designer, Joanne Fleming Designs, is a member of our Little Book.
The Guerin Films

+ Follow
Joanne Fleming is an independent, Brighton based designer I have adored for many years now. She is one of the very first independent designers I discovered after establishing Love My Dress 11 years ago. She was the designer I turned to when I needed a very special dress for my book launch back in 2013 and she has always supported Love My Dress on an unconditional basis.
I love Jo's outlook on life, I adore her artistry and once again I am incredibly proud to be able to share her designs with you all again today.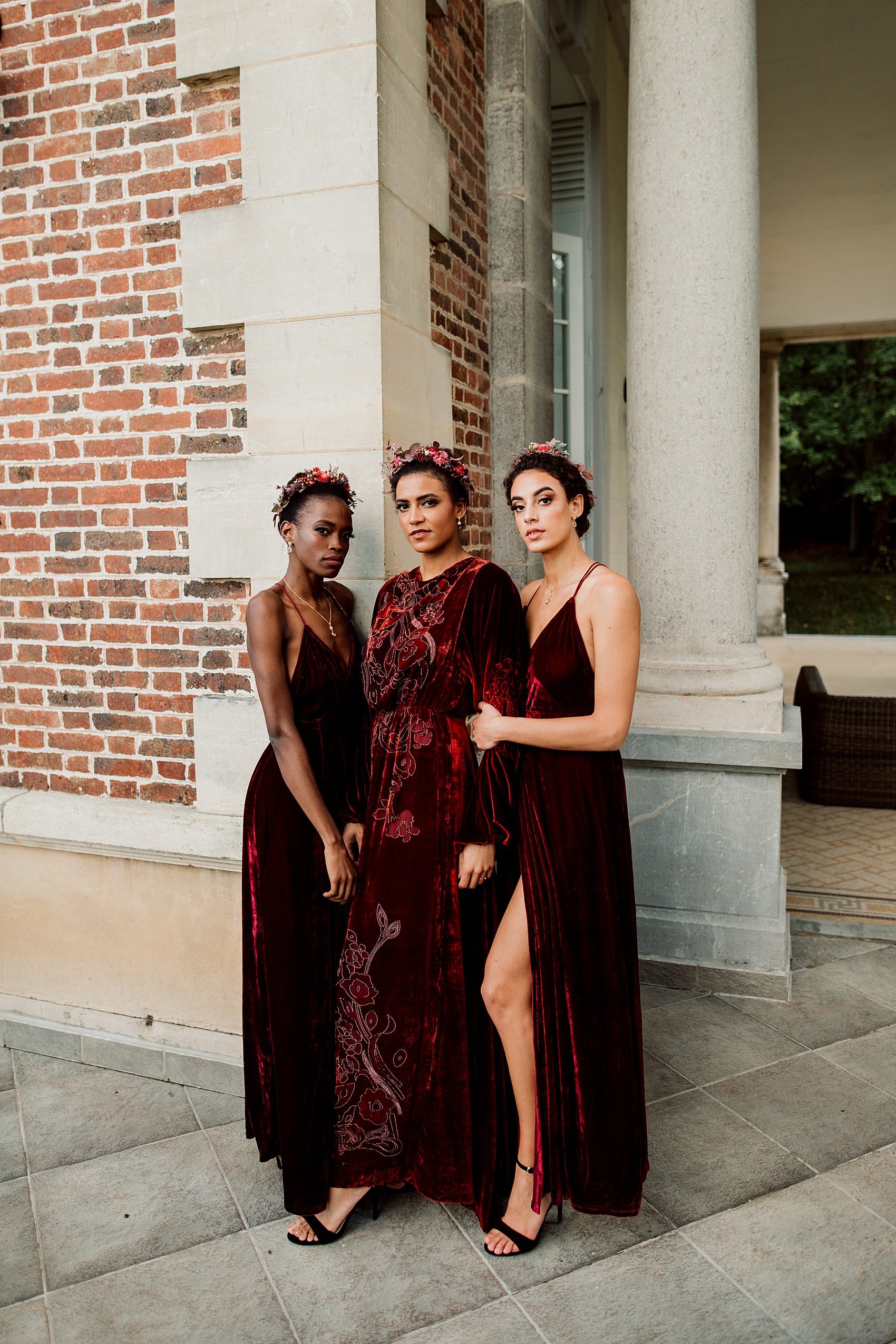 Words follow by the team at The Weddies…
"This shoot took place in a majestic 19th century château, located a few miles north of Paris on the outskirts of the Montmorency forest. Built under the Second Empire, Chateau Bouffemont was the property of baron Édouard Louis Joseph Empain, the master builder of the Parisian Metropolitan."
"In these historic walls, the softness of the velvet and the warm bordeaux color add cosiness to the grand yet friendly setting of the château."
"That was the perfect place to host the imaginary wedding of the Oscar nominated French comedian Almamy Kanouté, for the movie Les Misérables, and the gorgeous Parisian model, Christelle Croisile."
"They were accompanied with their bridemaids and men of honour as in all friendly and cosy weddings."
"The bride took time to get ready with her bridesmaids in her comfortable room, located upstairs from the reception rooms of the château."
"She adorned a superb Joanne Fleming Designs gown with sumptuous details, and a delicate dried flowers crown made by the very talented Laëtitia from Reflets Fleurs."
"The groom and his best men had locally made outfits by 2a5 Club. The bordeaux velvet tuxedo jacket of the groom fits perfectly with the elegant dresses of the bridesmaids and the metal fiber with bordeaux highlights suits of the best men."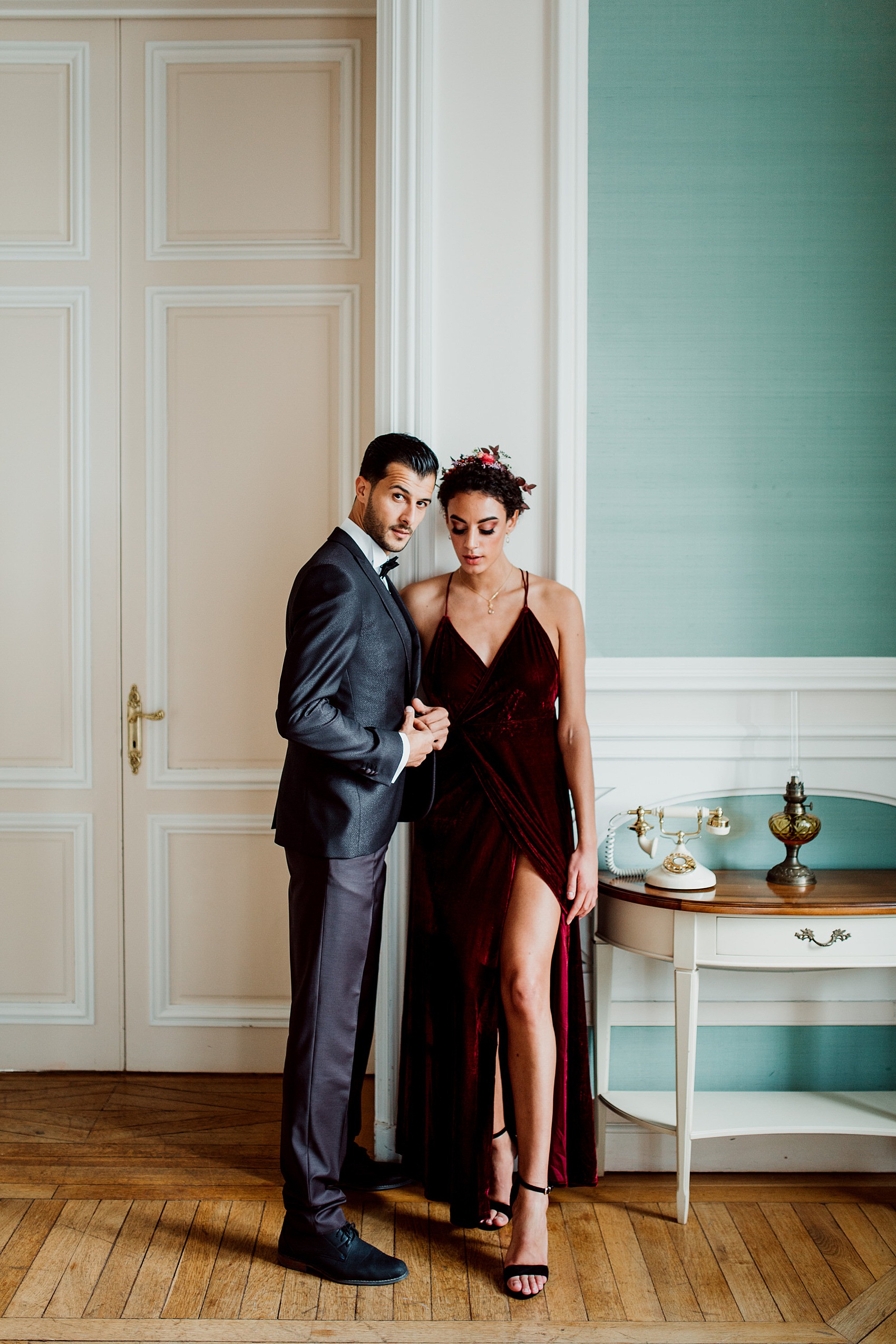 "Our editorial constructed the scene of an intimate ceremony, surrounded by destructured Autumnal floral arrangements, on the balcony of the chateau, which boasts spectacular views of the 620 acres of land thgat belong to the château."
"Once the vows had been pronounced and the meticulously designed wedding rings from Paulette à Bicyclette put on, the party headed to the dinner room, where vintage dishes, hunted by Ajiri at Madamede la Maison, and modern acrylic place cards lay on the varnished dark wood table."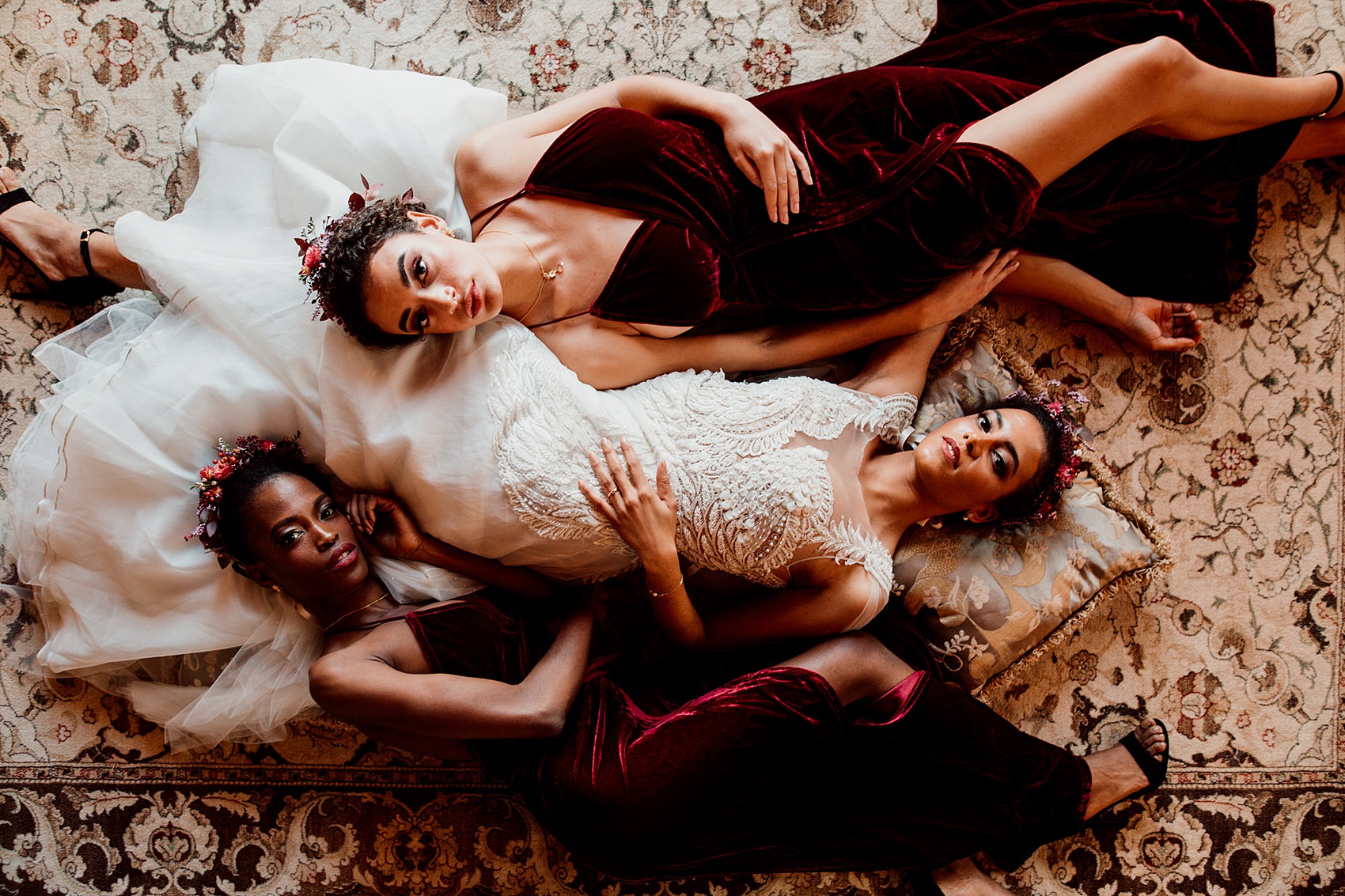 "A styled family picture and a cup of tea in the drawing room, before heading back outside for the party time. The bride changed her gown for a stunning bordeaux dress from the same great designer."
"The whole day was expertly shot by Soufi Ameyti – Soufigraphe and filmed by Gaëtan Guerin – The Guerin Films."
"When shooting and creating editorials like this – we love that everyone involved has a truly good time. When we work within a friendly ambiance, it really makes a difference in the resulting images themselves."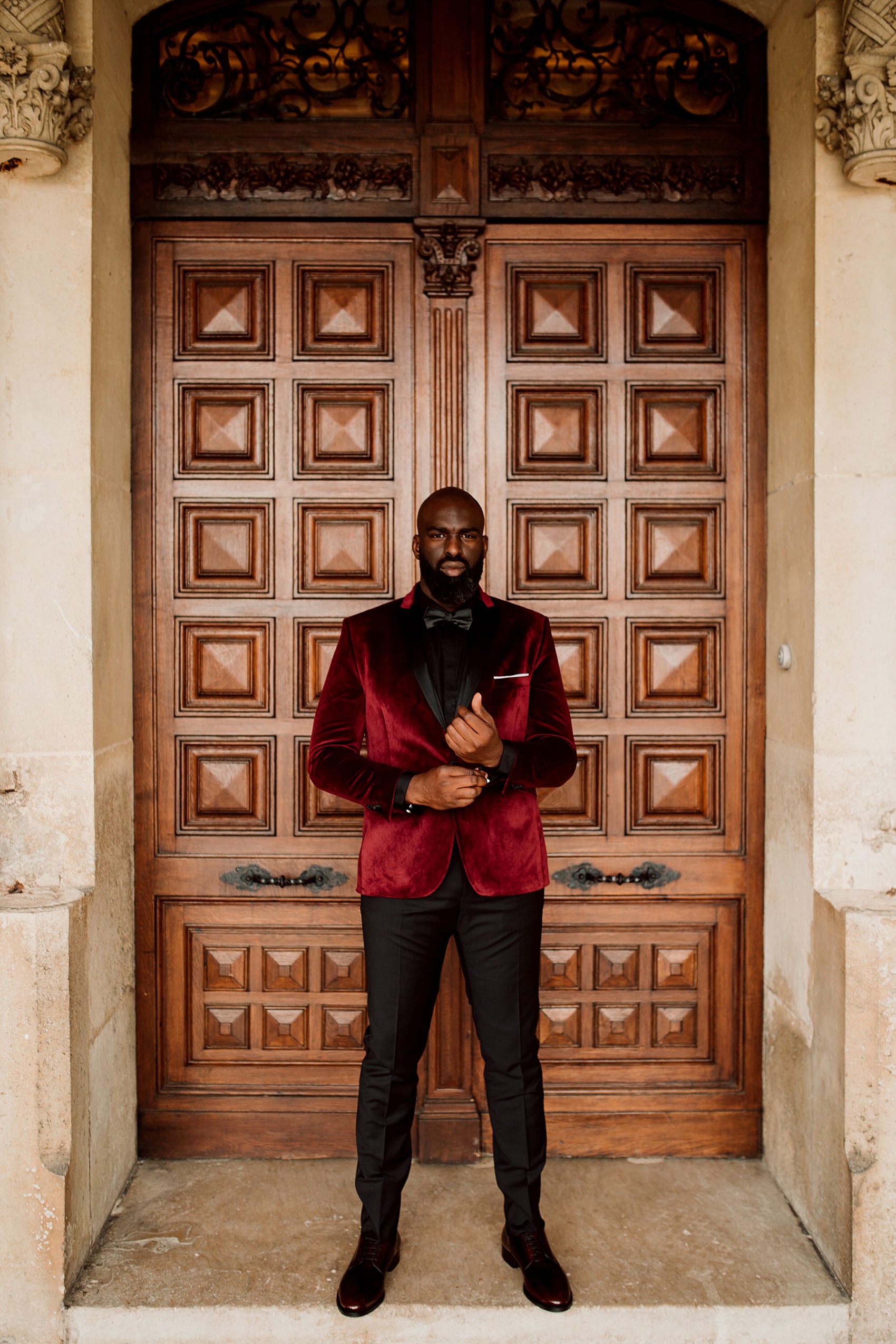 "We aim to achieve the same ambience at each of the weddings we create – making sure everyone is having the best time."
"Beside the aesthetic of the shoot and the demonstration of our skills as designers, we mostly want to be part of the now growing number of professionals who show all kind of people as models."
"We need to see diversity, and not only perfect faces. We want all of our customers to be able to imagine themselves in these amazing outfits and in these amazing places."