Today's happy couple put their beloved family home at the heart of their wedding day, choosing to hold their beautiful, floral delight of a reception in their own lovely garden.
On the 14 September 2019, London-based GP Sophie married James, who is an Accountant for an asset management firm also based in the city. We are incredibly proud when various members of our Little Book Wedding Directory work together to deliver heartfelt, and incredibly beautifully designed celebrations – and I'm delighted to share that Sophie and James' planner Natalie Hewitt is one such member of our lovingly curated supplier directory.
"We had a fantastic event planner; Natalie Hewitt, who managed to plan the whole event in less than 9 months. We knew she was the planner for us as soon as we met her, and we really couldn't have done it without her. She delivered our dream day."
"We used Love My Dress as a first port of call, which had an organised directory of the items we needed to consider as part of our wedding day. They were great at laying this out and highlighting the choices available, and were a reliable checklist to start from."
Natalie Hewitt Weddings

+ Follow

A classically elegant, understated make-up look was important to Sophie, as she doesn't like to wear too much make-up day to day. She found the perfect hair and make-up artist in Charlotte from luxury bridal hair and make-up service, Botias.
"For the ceremony I wore nude coloured low pointed strapped heels from Dune. For the reception – Kate Spade glittering white trainers. I've never been a person good in heels, and I wanted to be able to dance all evening."
Rebecca Goddard Photography

+ Follow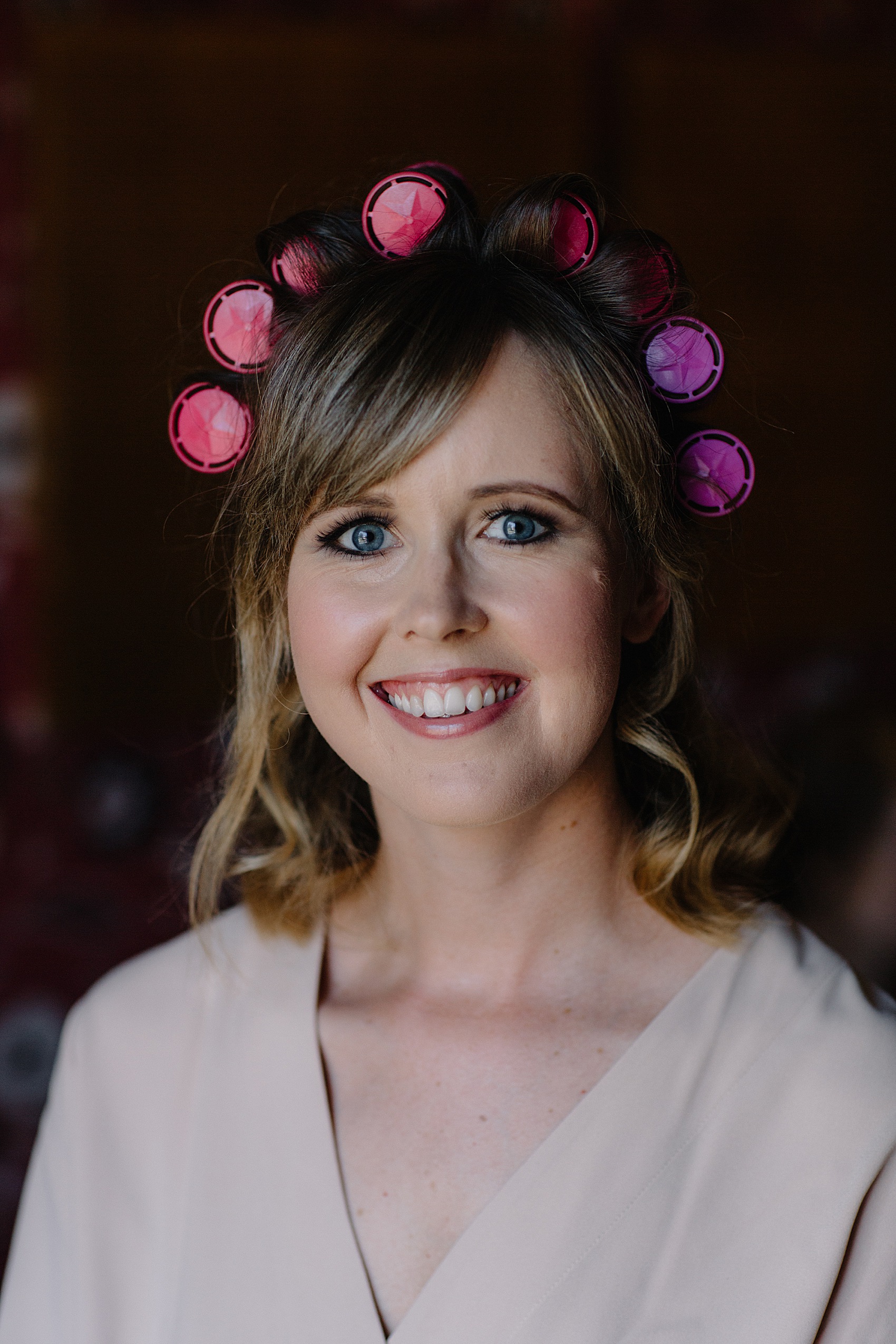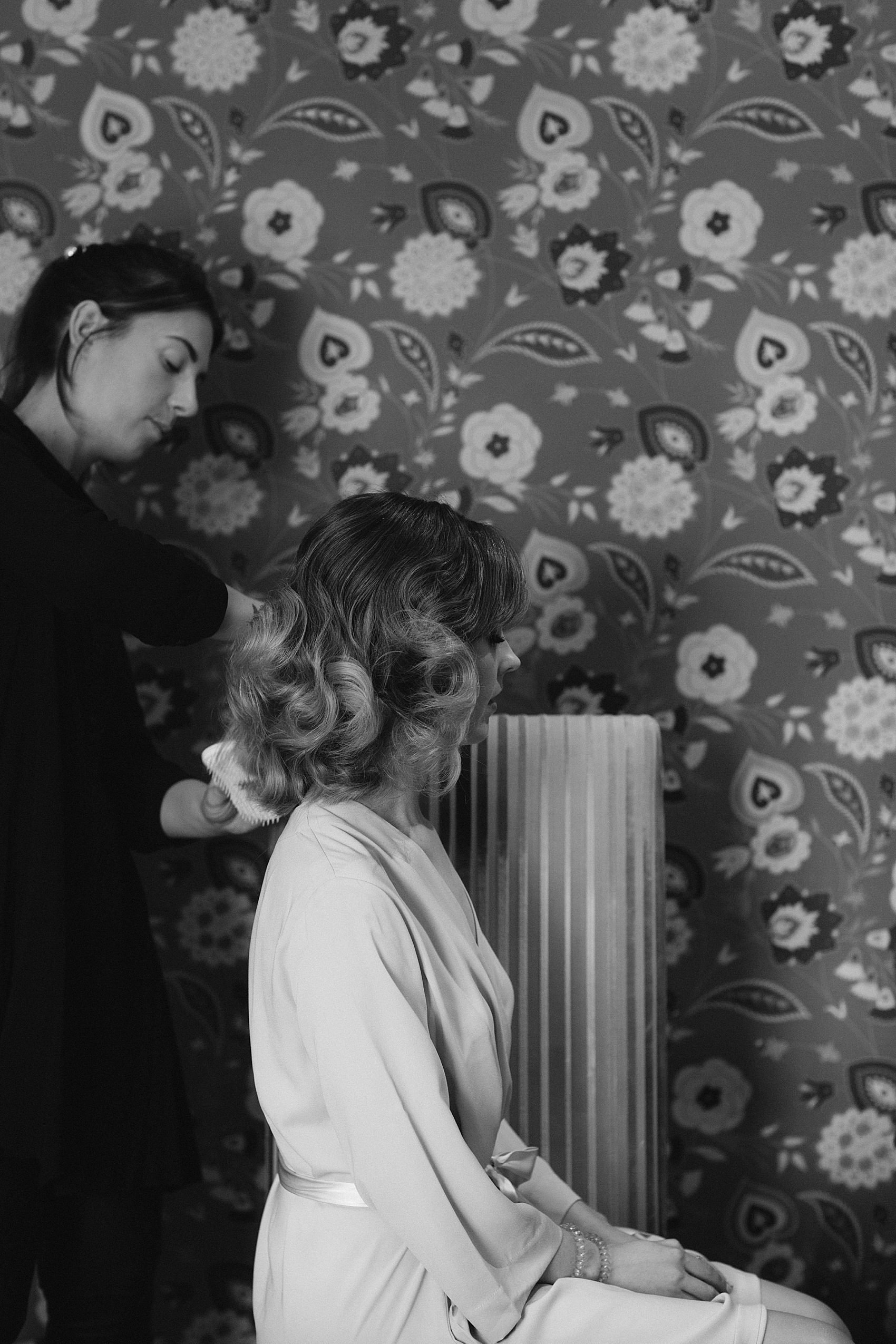 Sophie wore fresh flowers in her hair, a necklace from Swarovski, and added a little perfume – classic Chanel No. 5, bought for her by her mother-in-law.
"I wanted a simple, classic, and elegant dress. The dress was comfortable and made me feel beautiful. I had almost lost faith in finding a classic and simple dress, as many dresses I tried on were unflattering and too clingy."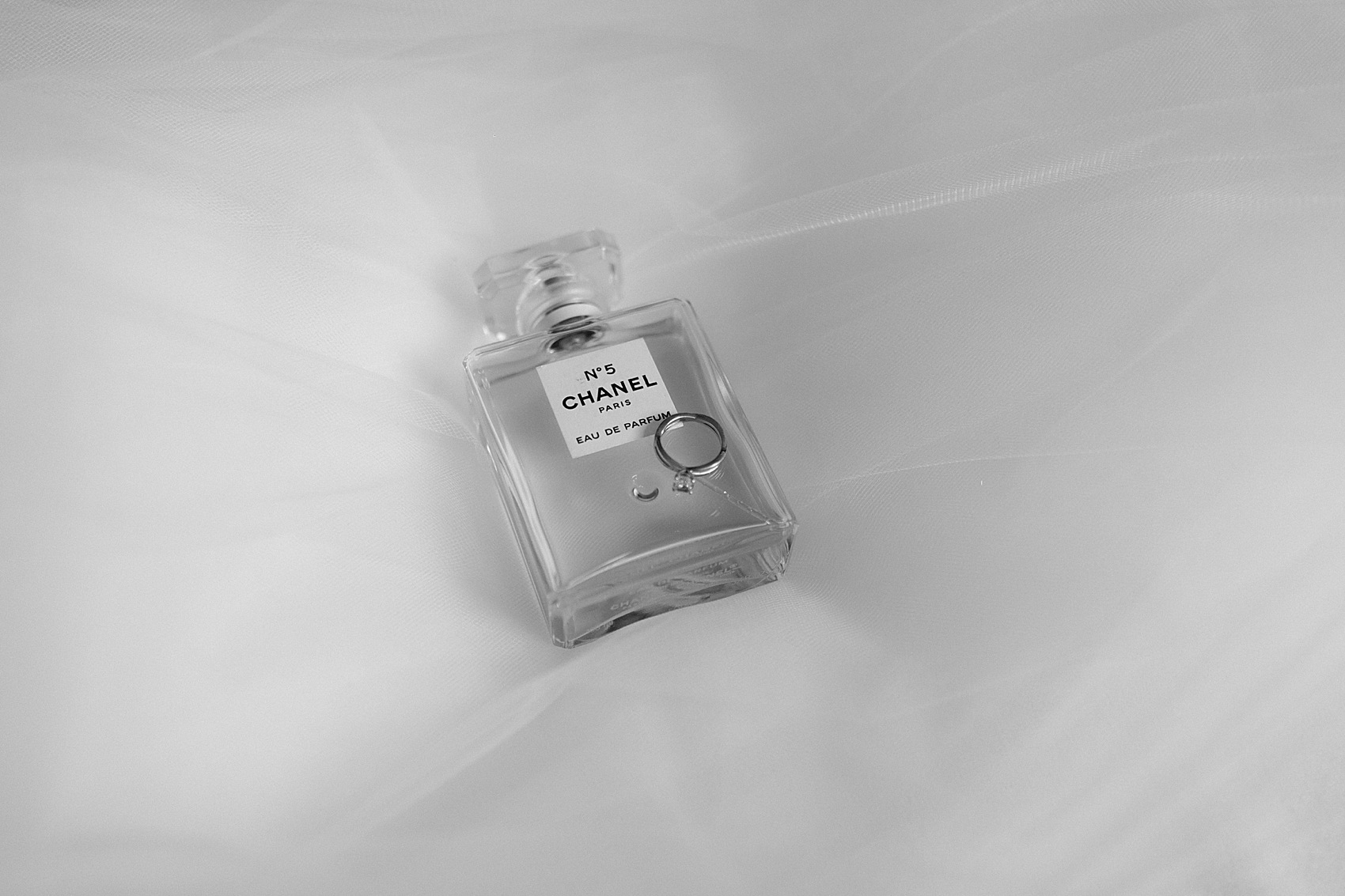 Sophie's wedding designer of choice was Suzanne Neville, and she chose her wonderful dress with its soft cowl neck and silk ribbon waist detailing at George James Bridal in Bedford.
Visit Natalie Hewitt's website to learn more about her wedding planning and design services.
"The bridal boutique made me feel incredibly comfortable, and allowed me to take my time. The manager was happy for me to have as many family members with me as necessary, and I never felt pushed into a purchase. I also wore a single tier long veil and also from George James Bridal. It was my father's cousin who got it for me. "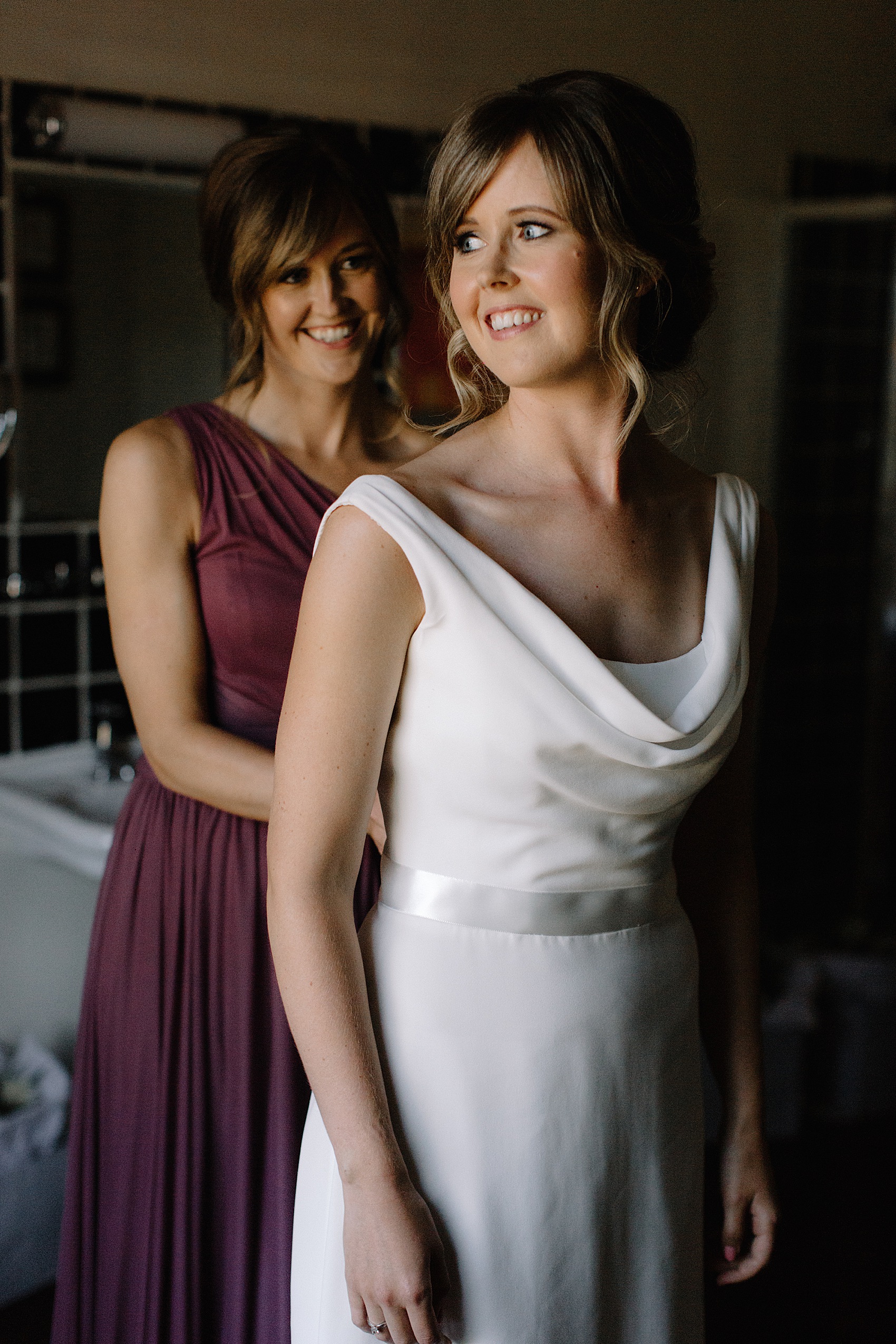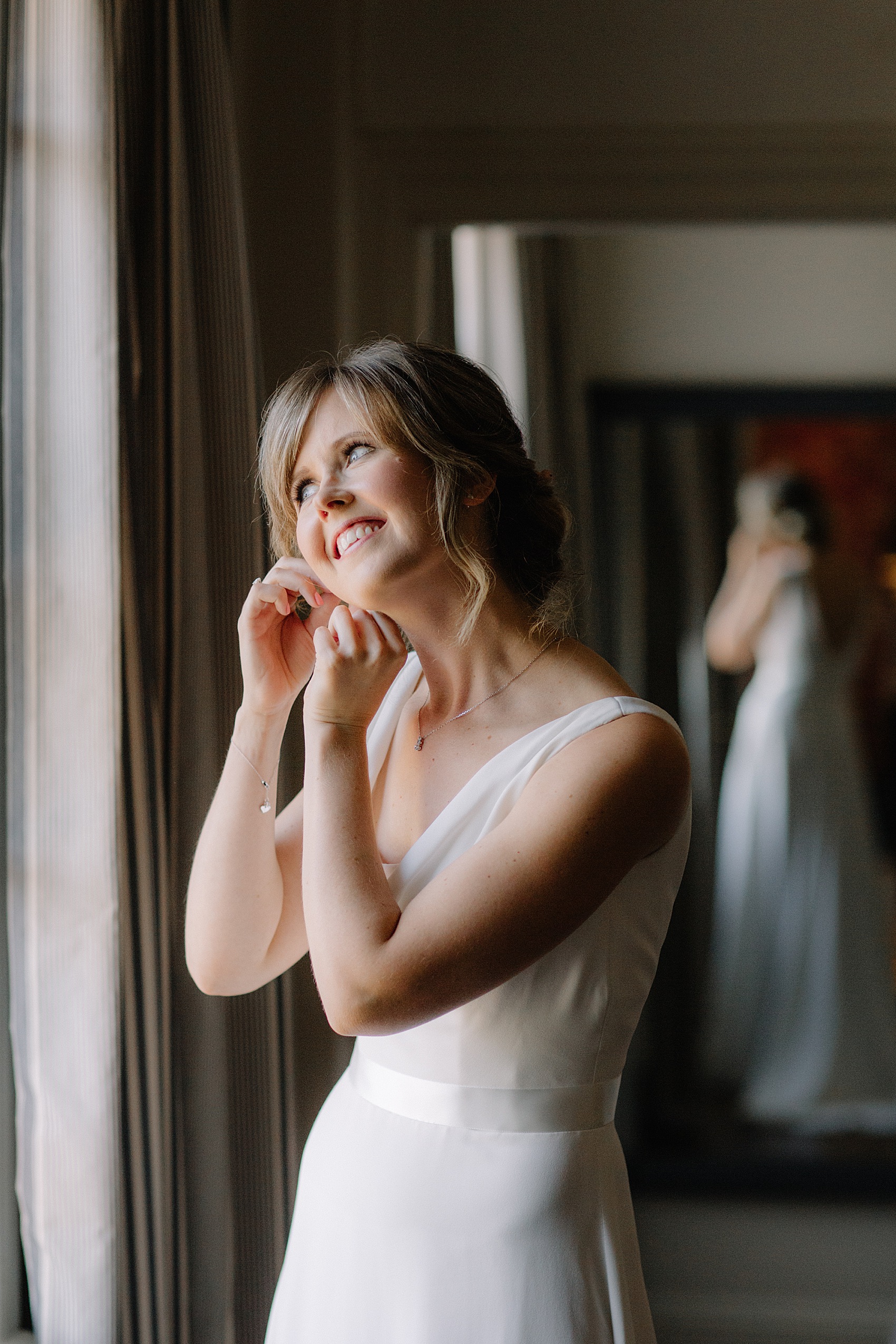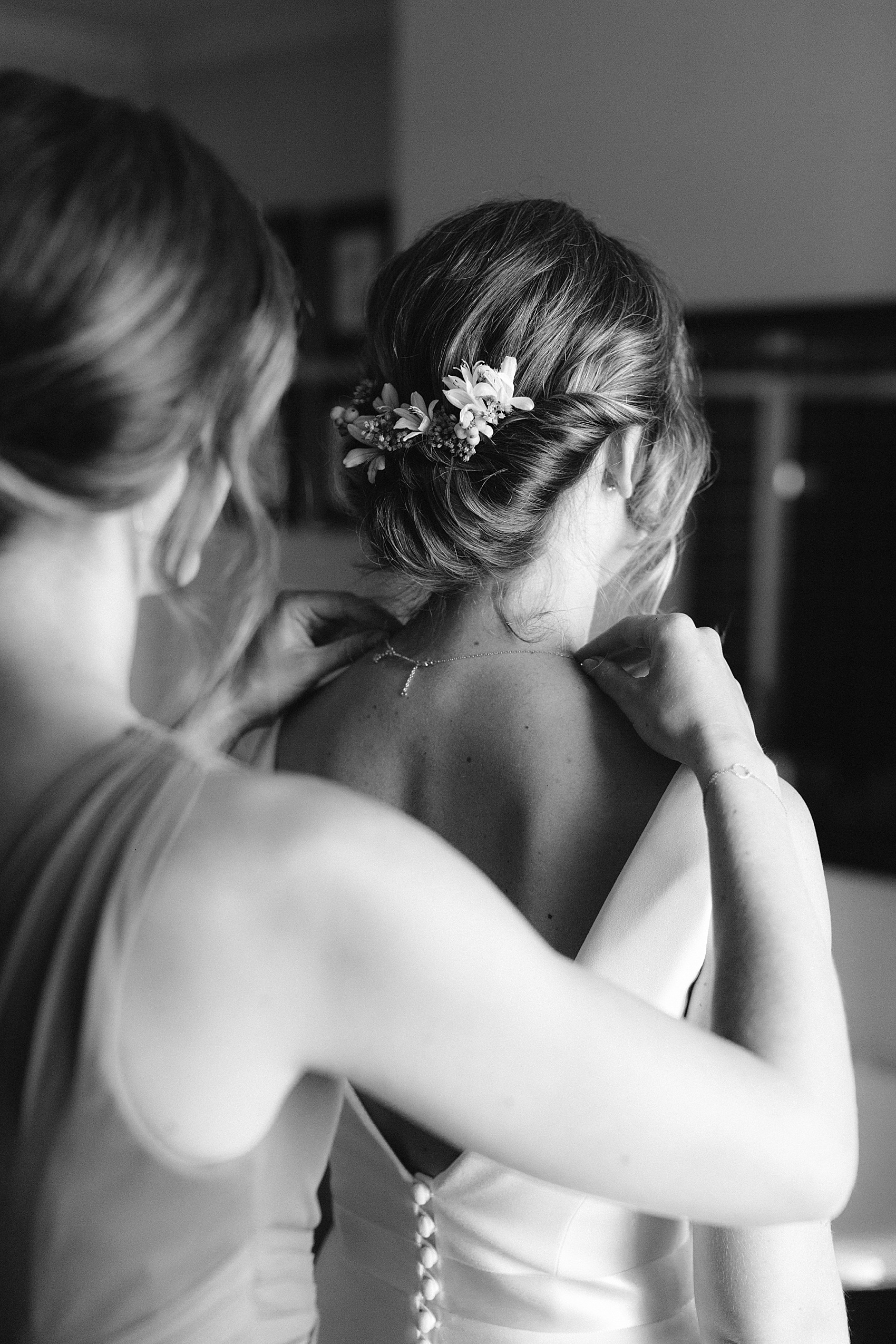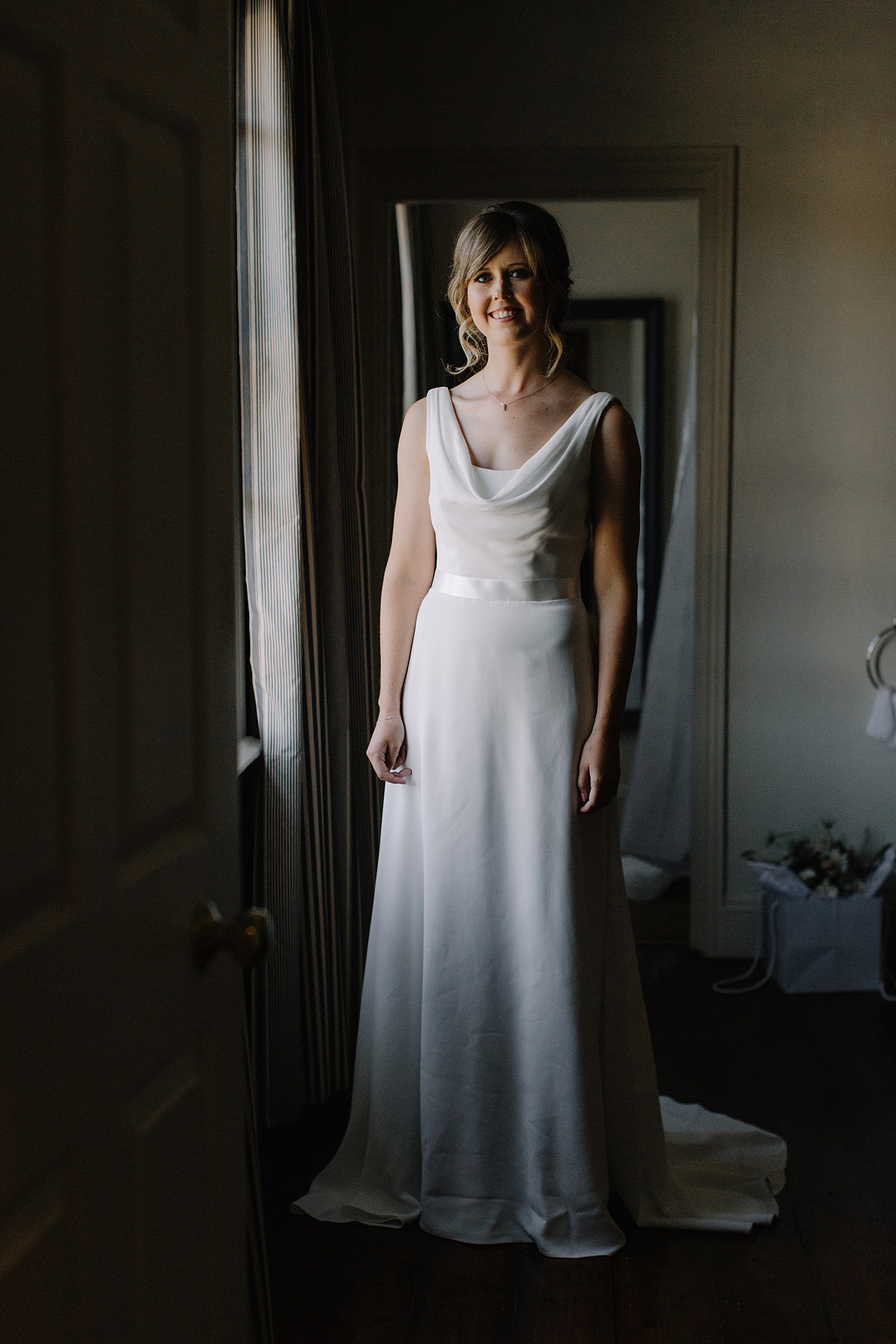 James was initially unsure if he wanted to wear a classic suit or a morning suit for the wedding day, but then decided that the occasion befitted morning attire, which he chose at Buckleigh of London.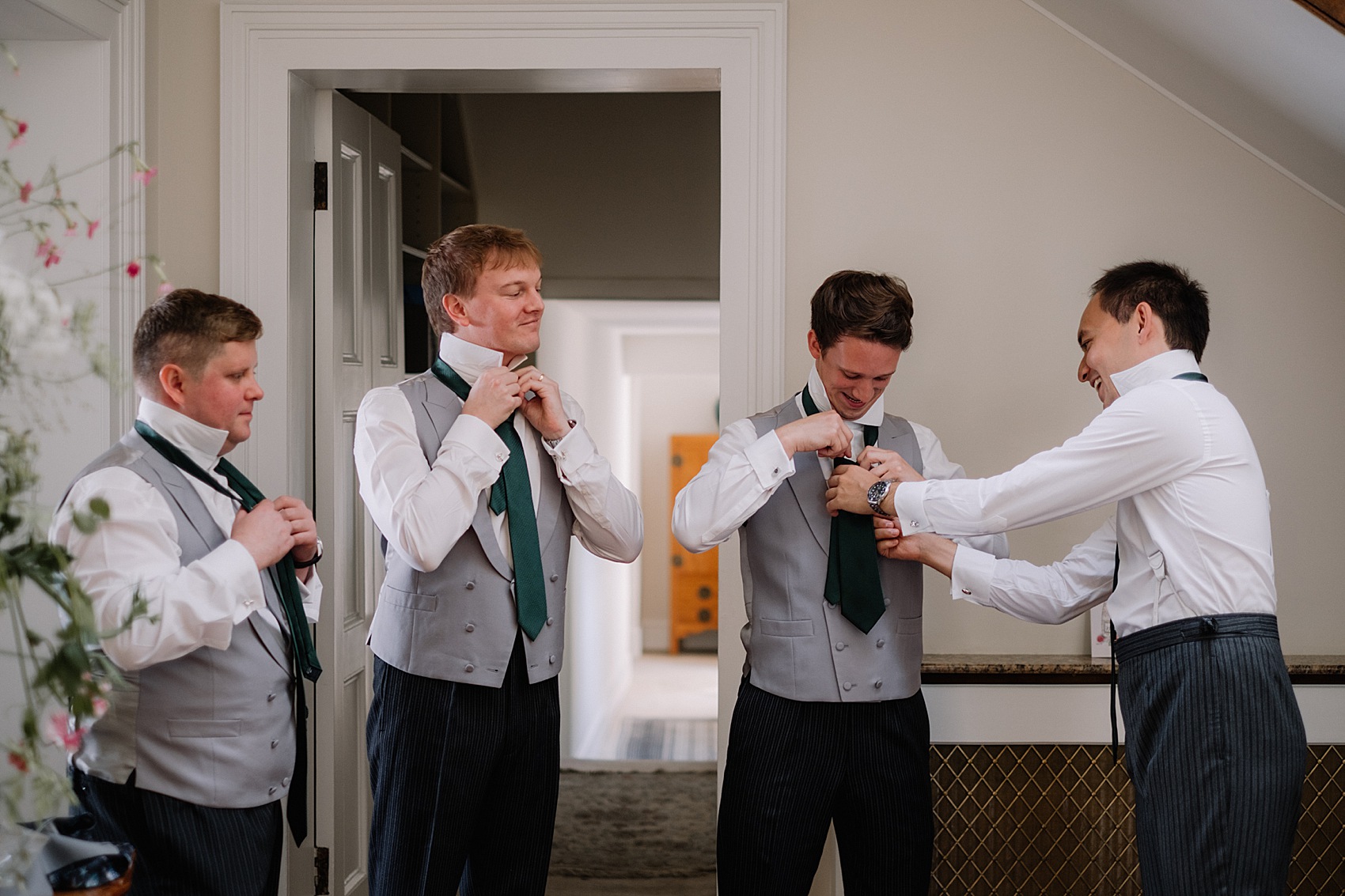 "I felt for a special occasion, morning dress was a great choice, and I felt comfortable in it and had the flexibility of the waistcoat if the day was too warm. I loved the waistcoat the best because it had some personal character reflecting me."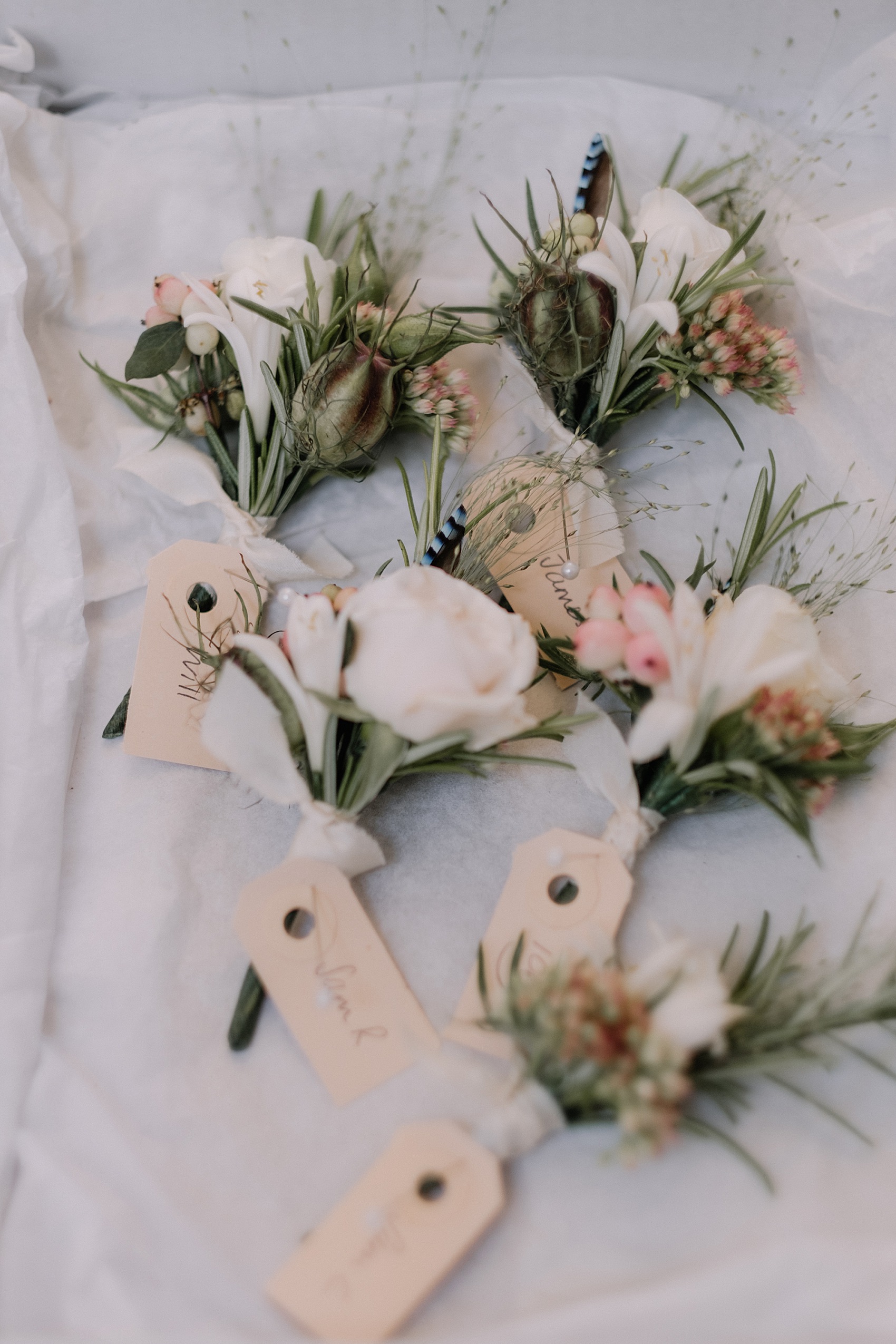 I especially like the contrasting grey waistcoats and deep, forest green ties worn by James and his groomsmen, and James also wore a pair of cufflinks gifted to him by Sophie – which included an infinity design also present in her own engagement ring.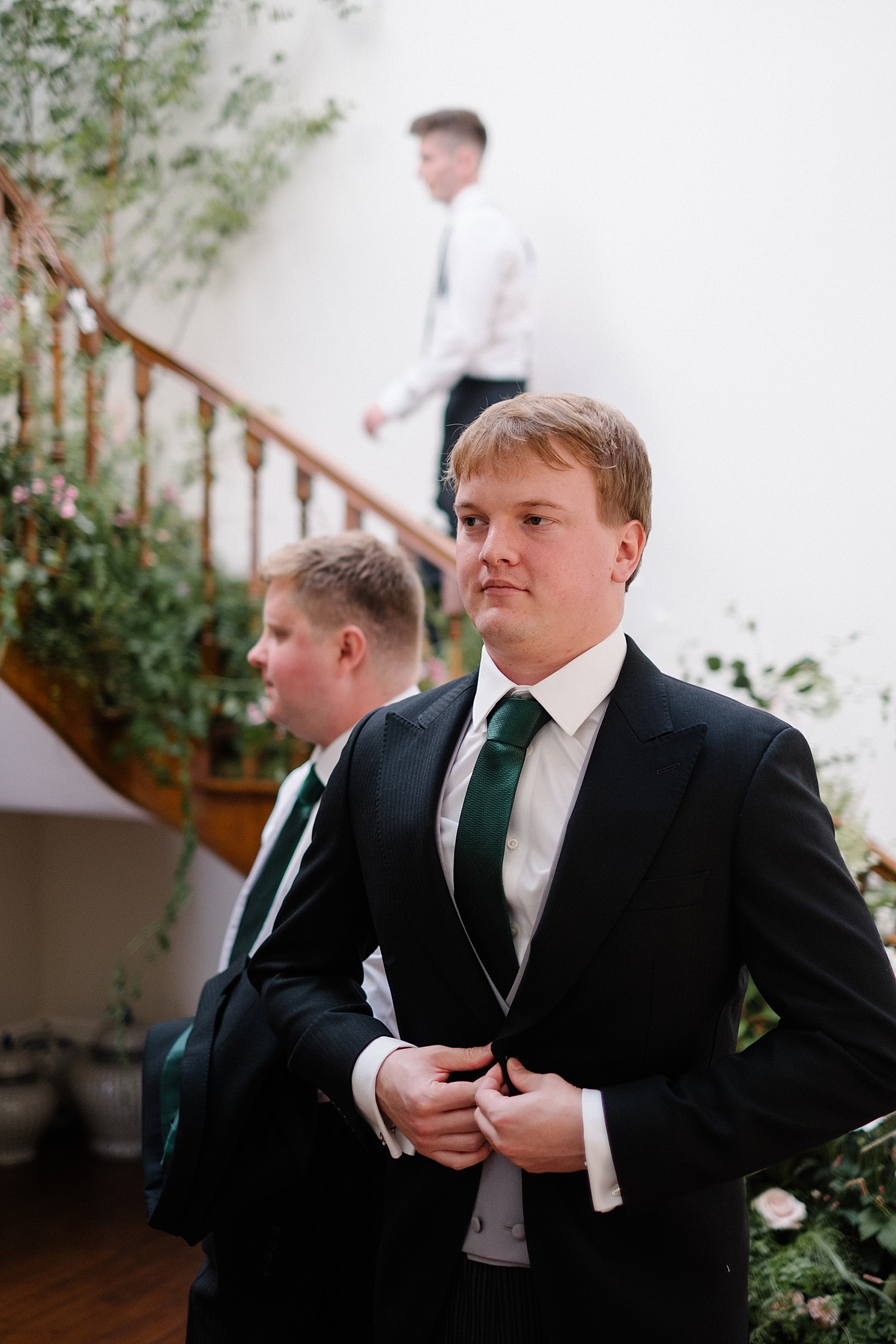 "Buckleigh of London were a fantastic team who helped advise me on morning dress attire, and were patient with changes to my decision, and made adjustments to accommodate with short notice to the day."
Join our closed Facebook group for brides – a safe, protected space with a wonderful community of supportive fellow brides
"The hired morning suits were also adjusted to each of the groomsmen, and accommodated for all shapes and sizes appropriately despite being hired suits."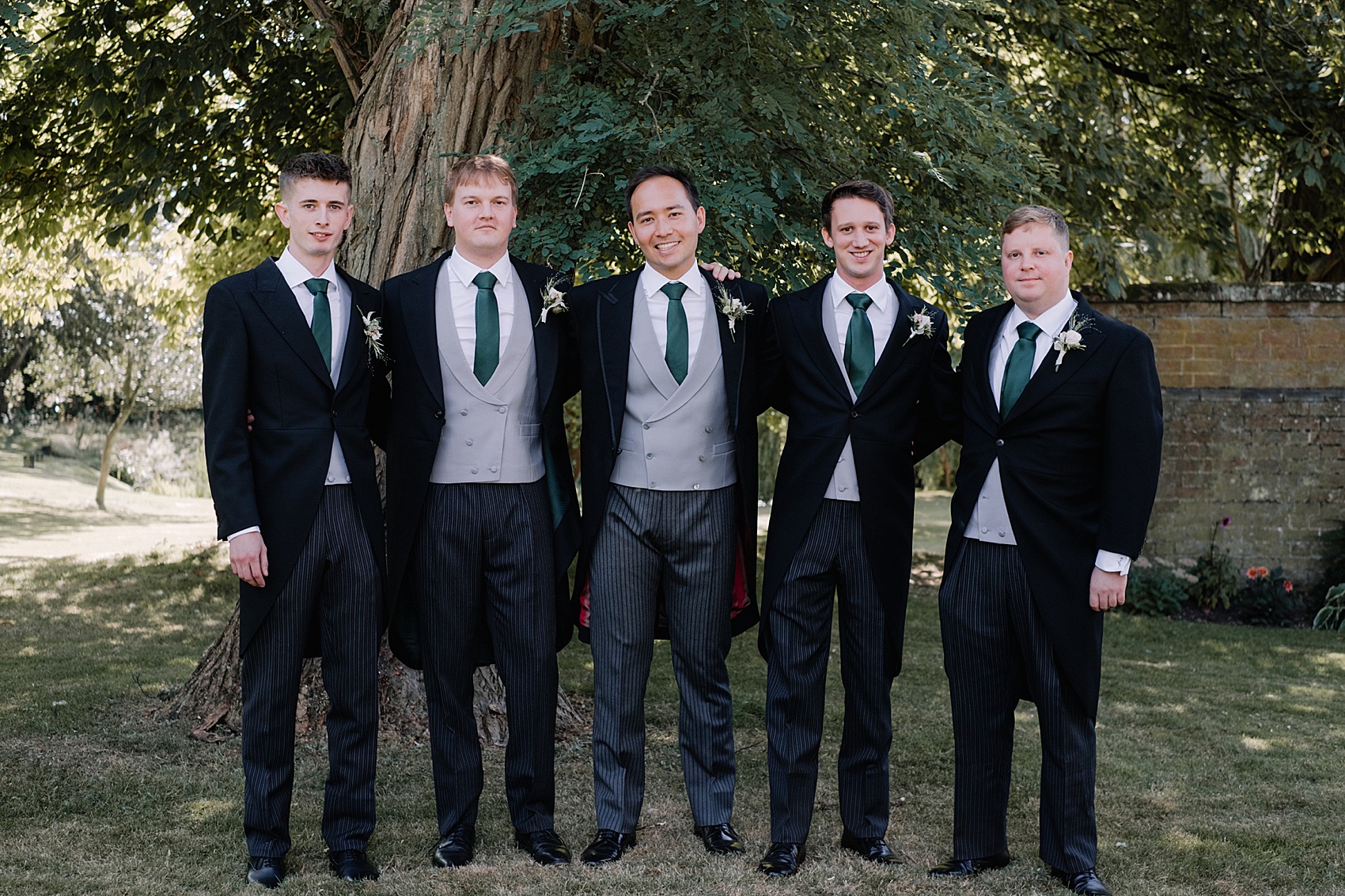 Where, oh where to begin about the breathtaking flowers for Sophie and James' day?! Florist Fiona Perry worked complete magic over the proceedings. Firstly, an arbour surrounding the church doorway drew the eye inwards and down the aisle, where gorgeous garlands of hops, roses, blackberries and hypericum were wrapped around the pillars of the church.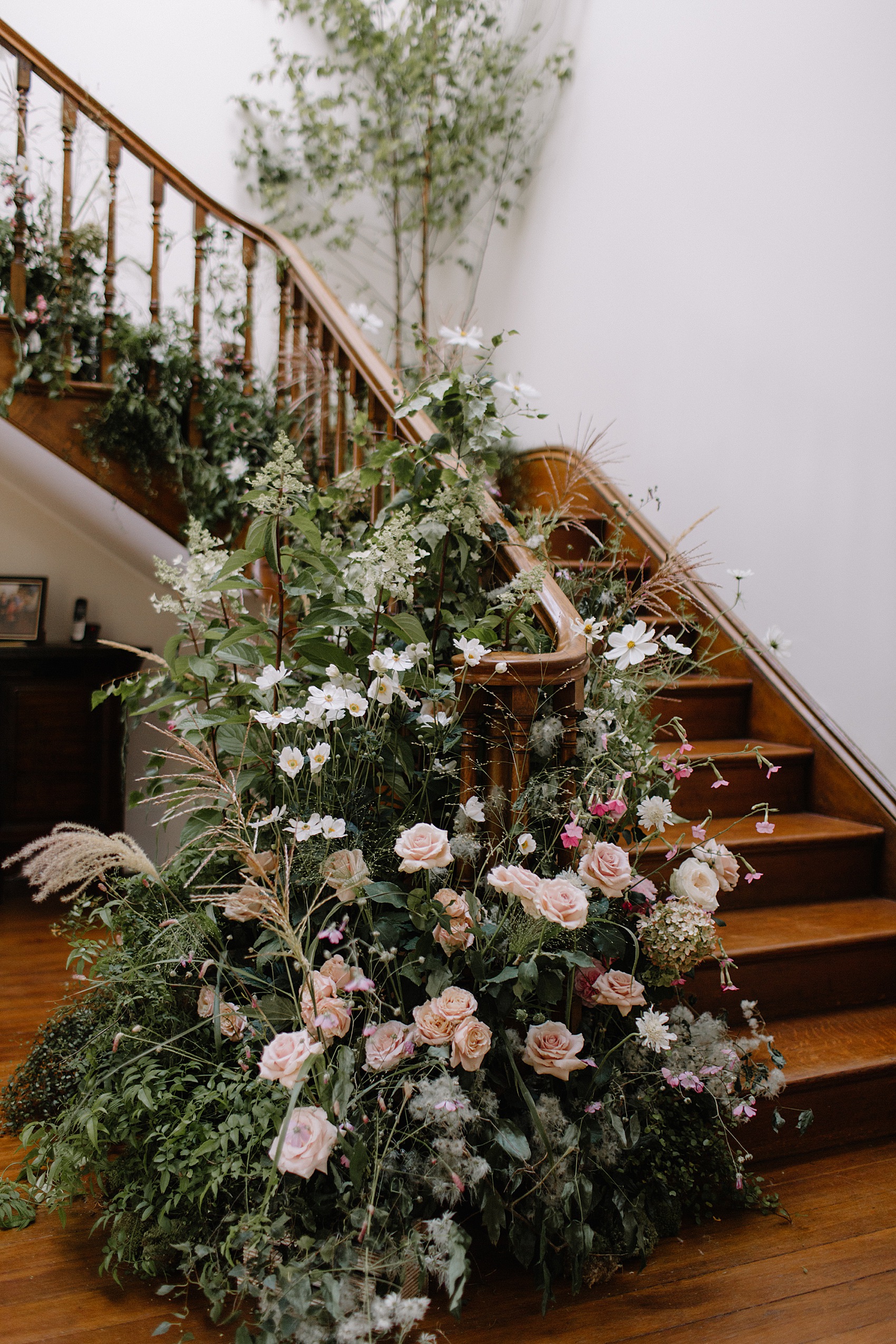 Either side of the altar were ethereally beautiful silver birch trees, and along the ground, low arrangements bursting with blooms and wild greenery.
"We appointed Fiona Perry who was absolutely fantastic on the day and understood our vision for the day from the very beginning. We love her natural, understated style, and she brought the 'wow factor' to the day itself. She worked tirelessly during the set up, and the design really complemented the setting and the season."
Dotted around in the deep stone window sills were candles and more winding garlands, along with pedestal arrangements reflecting the time of year Sophie and James were married – late summer melting into autumn, with abundant berries, hedgerow delights, and late season roses and cosmos.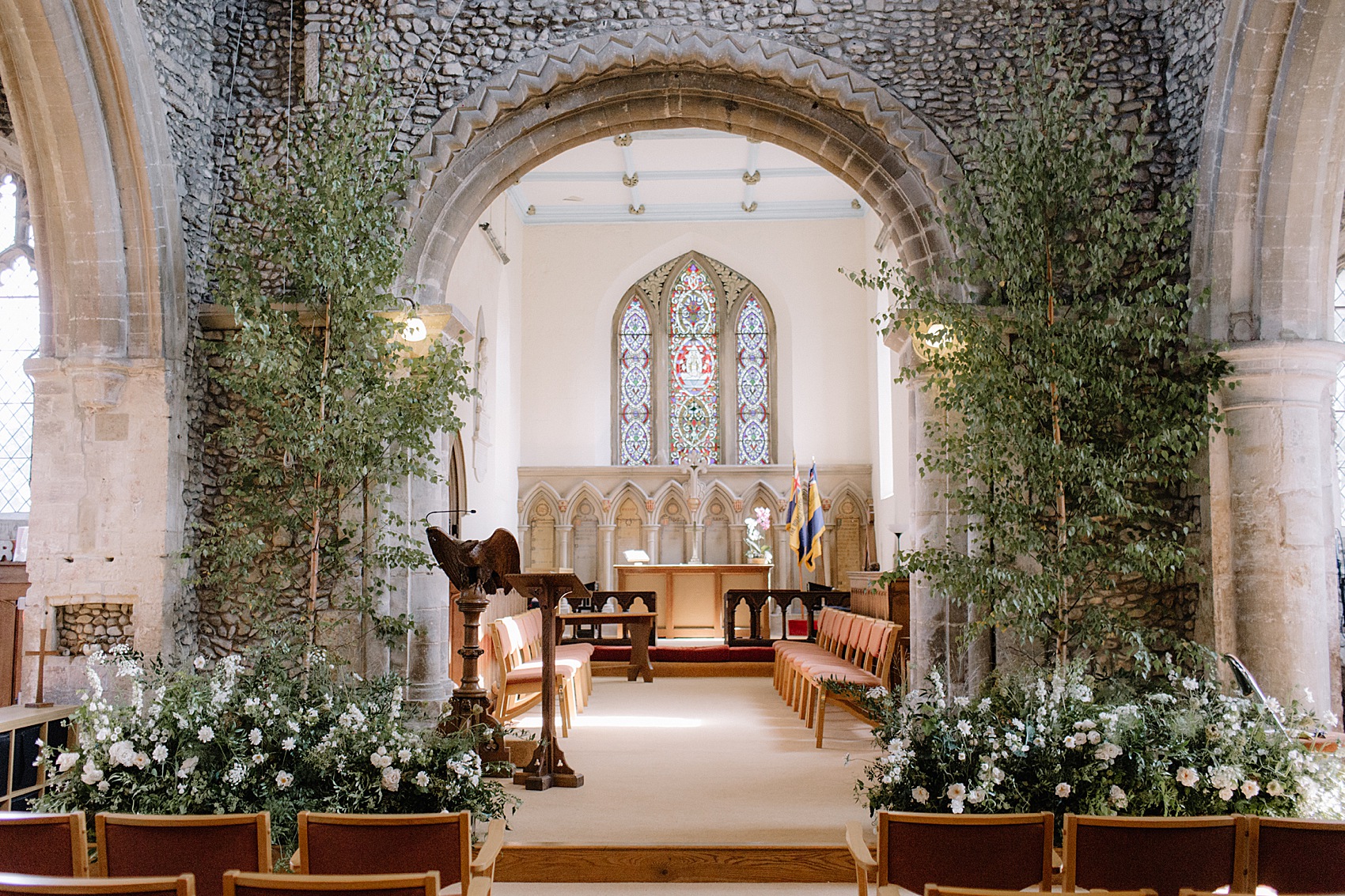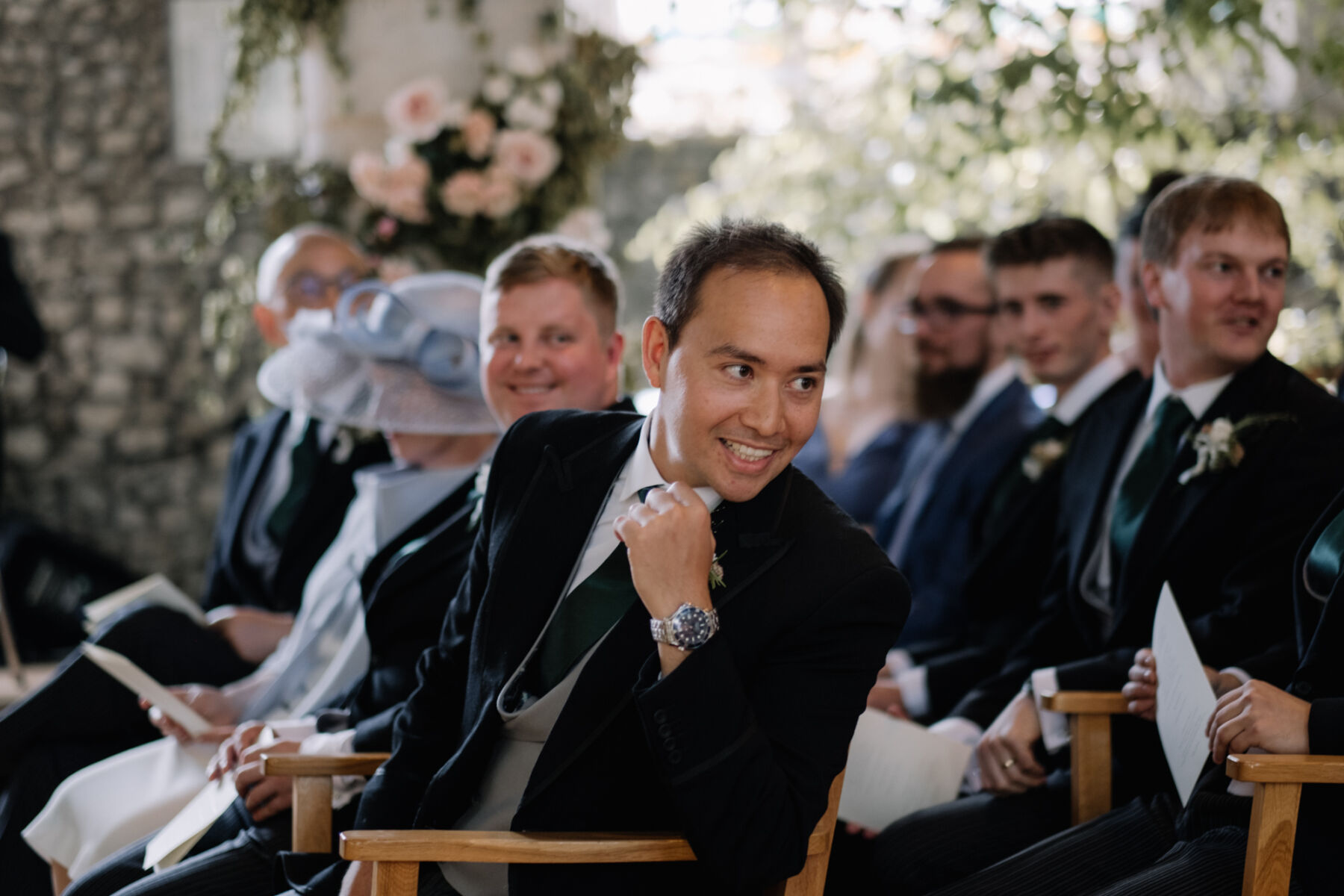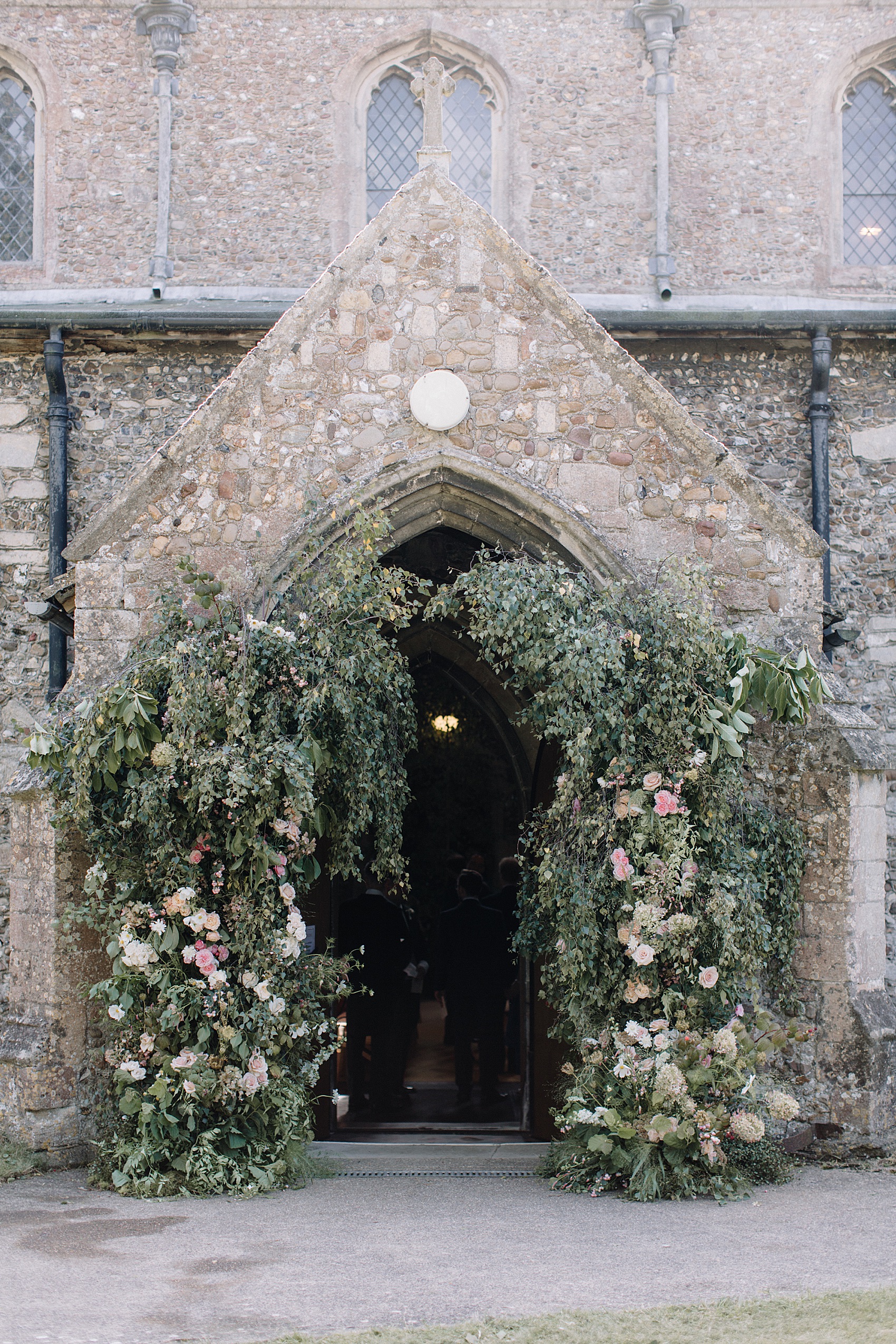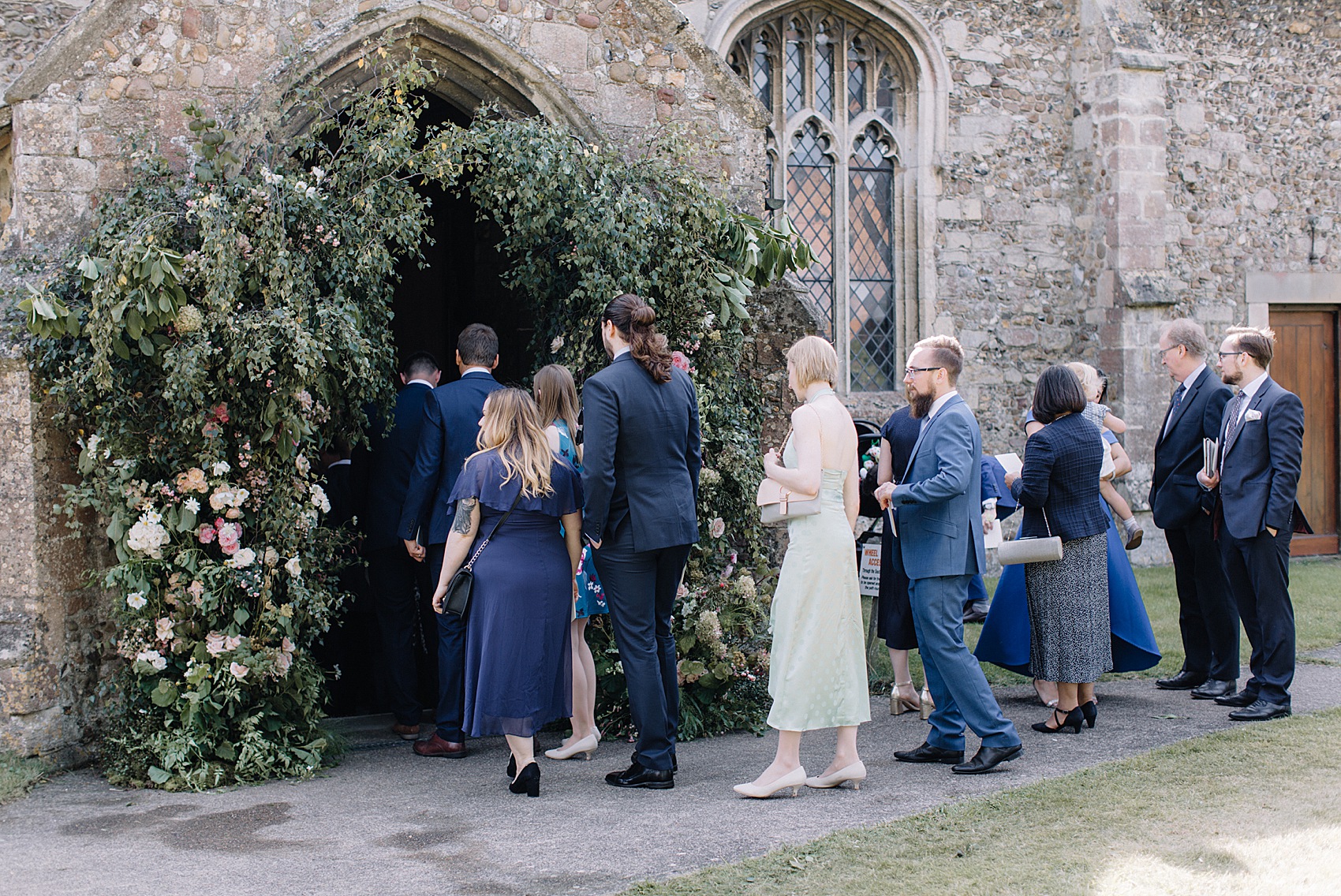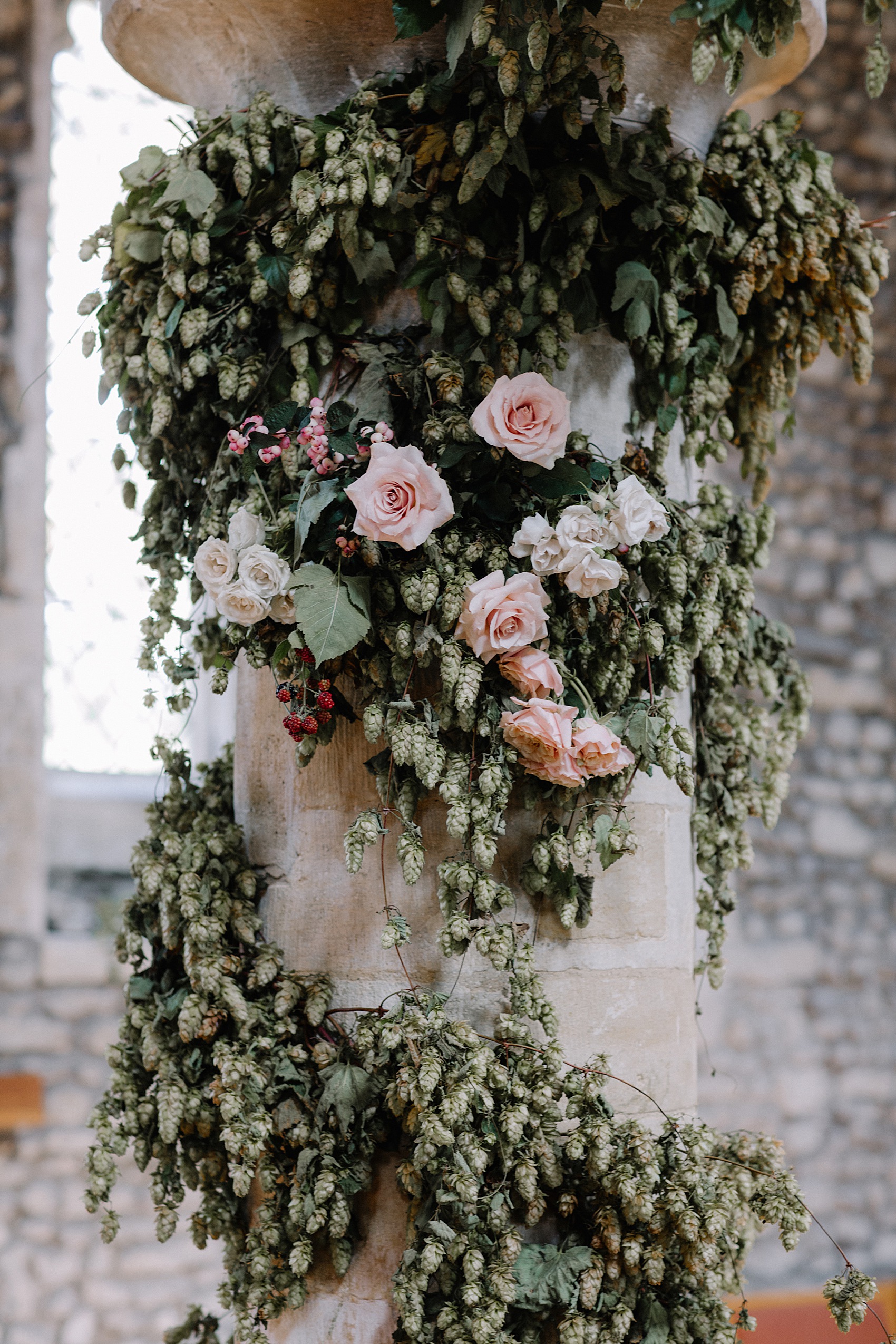 "During the ceremony and drinks reception we had The Nero String Quartet play, which we felt really created a relaxed and elegant atmosphere."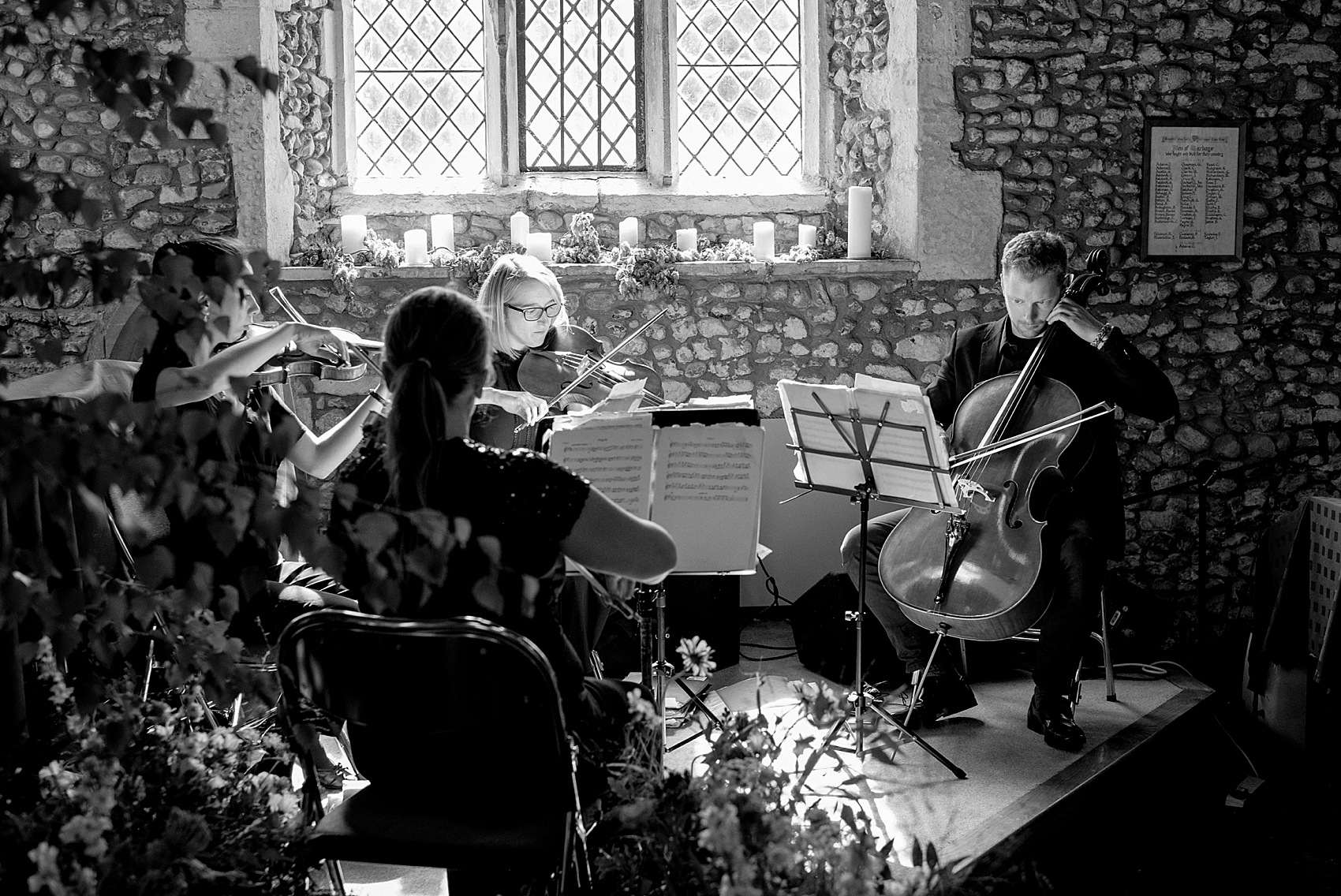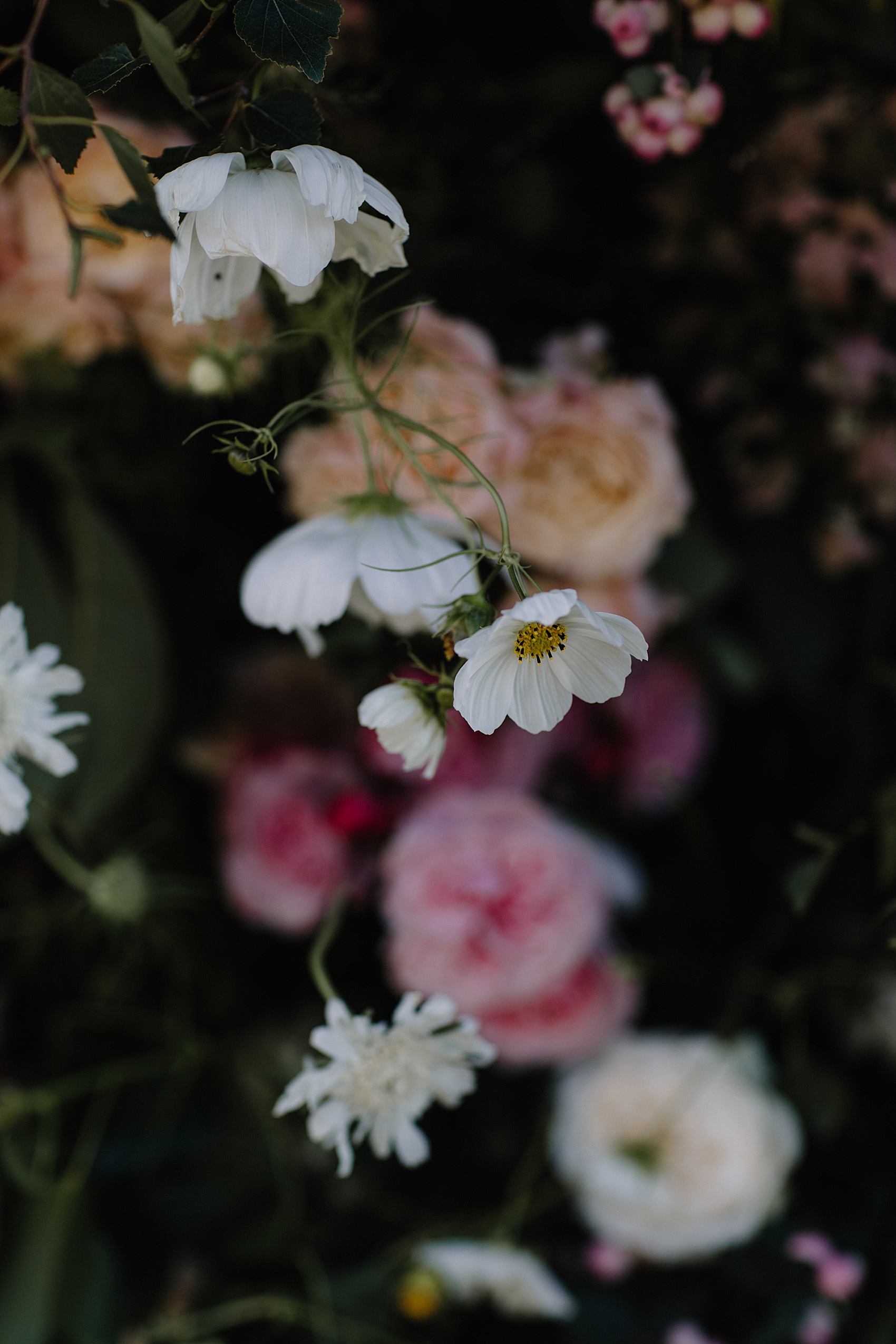 The bridesmaids wore elegant long chiffon gowns in a pretty plum colour from David's Bridal, each paired with their own choice of neutral strappy heels, and earrings from épanoui, gifted to them by Sophie.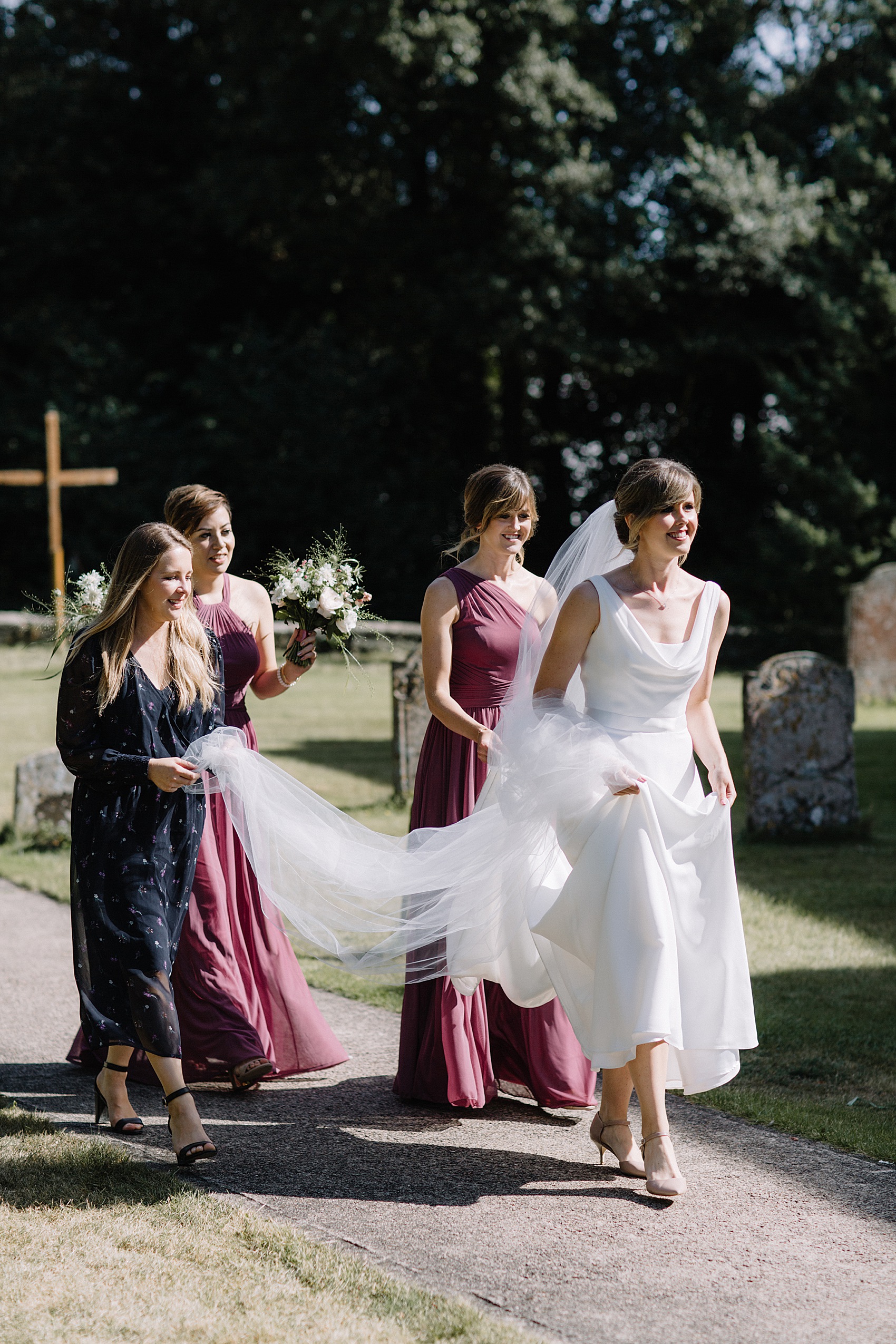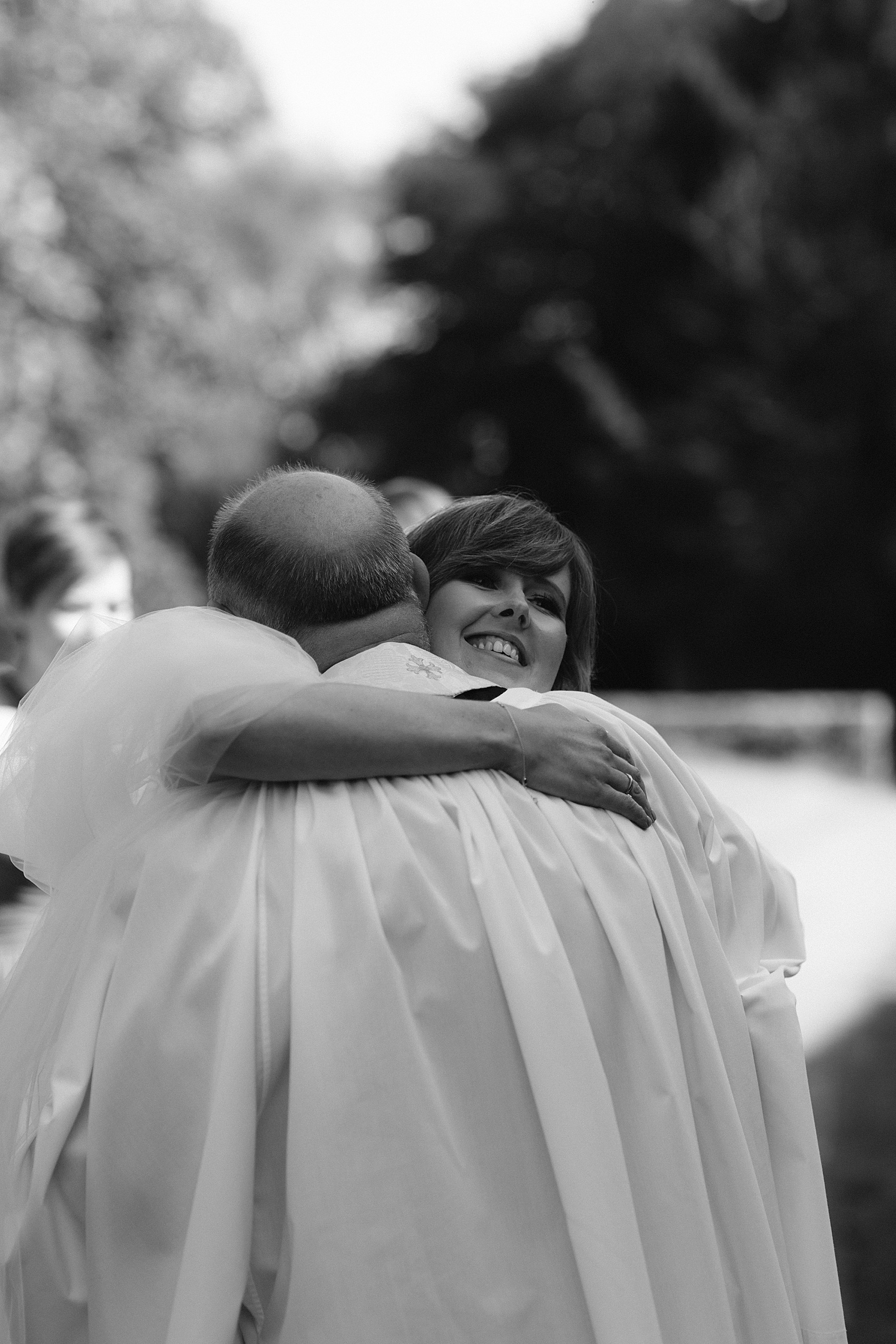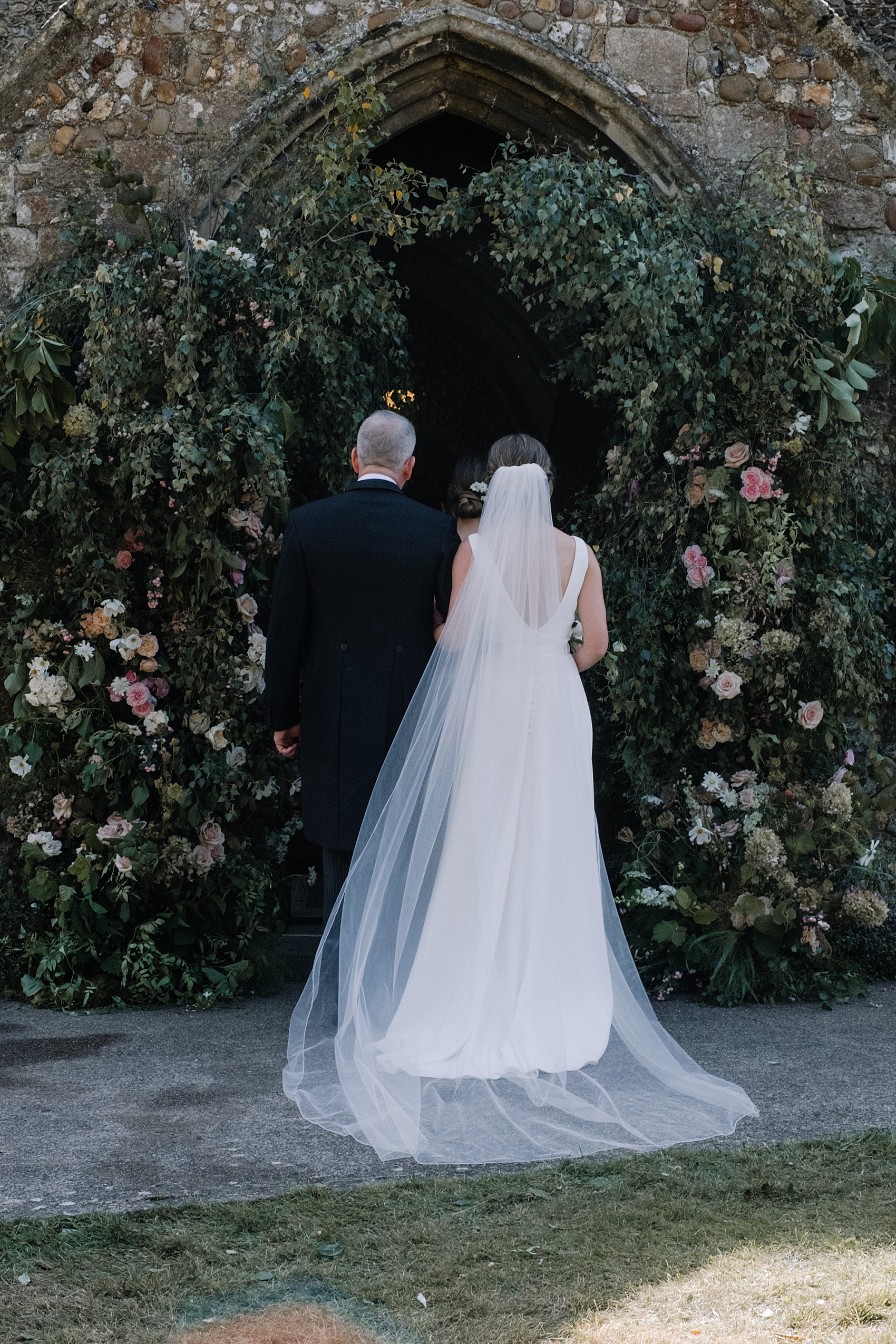 The Nero String Quartet played Chasing Cars by Snow Patrol as Sophie walked down the aisle together with her Father.
"I'll always remember the moment James saw me walking down the aisle, and he shed a tear."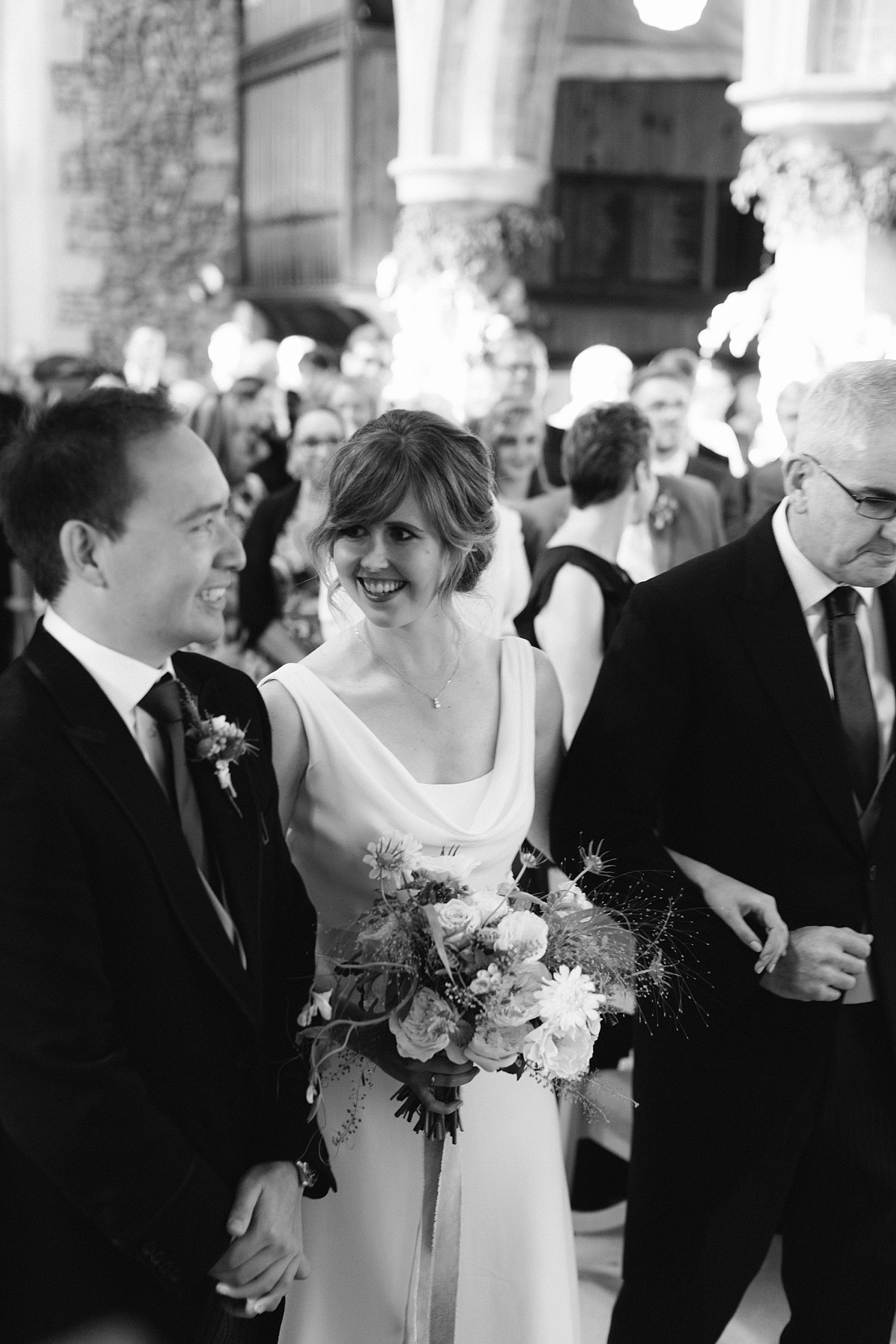 They held their ceremony at their local church in Cambridgeshire, followed by a stroll over to their home for a reception held in a magnificent Sperry Tent in the garden. I'm very happy to say that the tent hire came courtesy of our Little Book members PapaKåta, who are the UK's exclusive provider of Sperry Tents.
"We've had a few marquee parties at home before and liked the flexibility, but we also wanted to get married in a familiar setting. The location was perfect for both our families, and our friends travelling. Natalie Hewitt, our wedding planner recommended PapaKåta, whose Sperry Tents we fell in love with. It really suited the garden setting perfectly. We were incredibly impressed with their professionalism and expertise."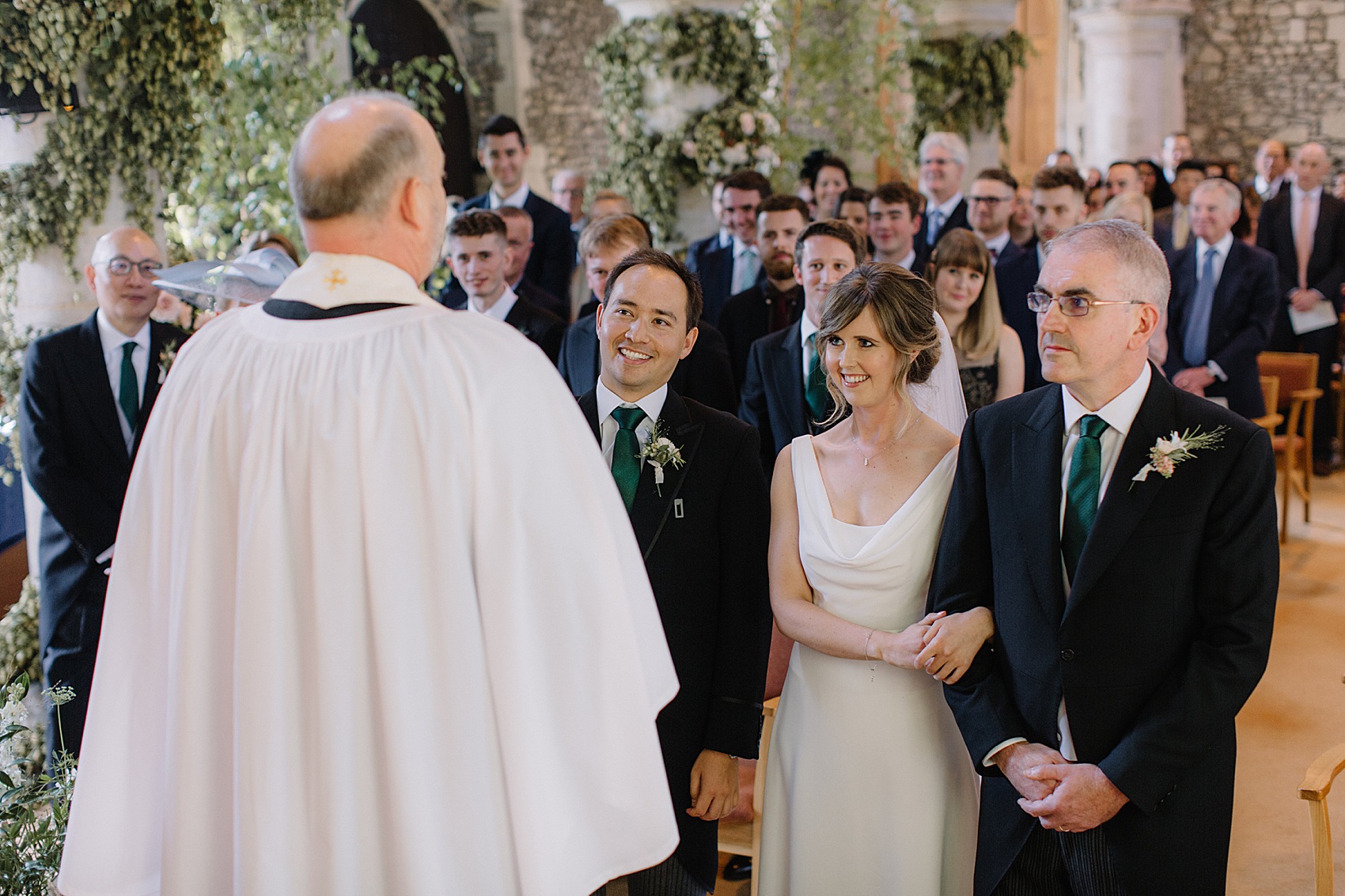 The local church rector personalised the couple's ceremony, and as they faced each other and spoke their vows, they exchanged rings made by Ingle & Rhode.
"James approached them for a bespoke engagement ring of his own design, and we wanted to get the wedding bands to complement the engagement ring."
"Our Bible reading was Corinthians 1-13, and the hymns we chose brought us back to school – Jerusalem, and we also had I Will Be There by Steven Curtis Chapman, which had a resonance about being there for each other through the highs and the lows."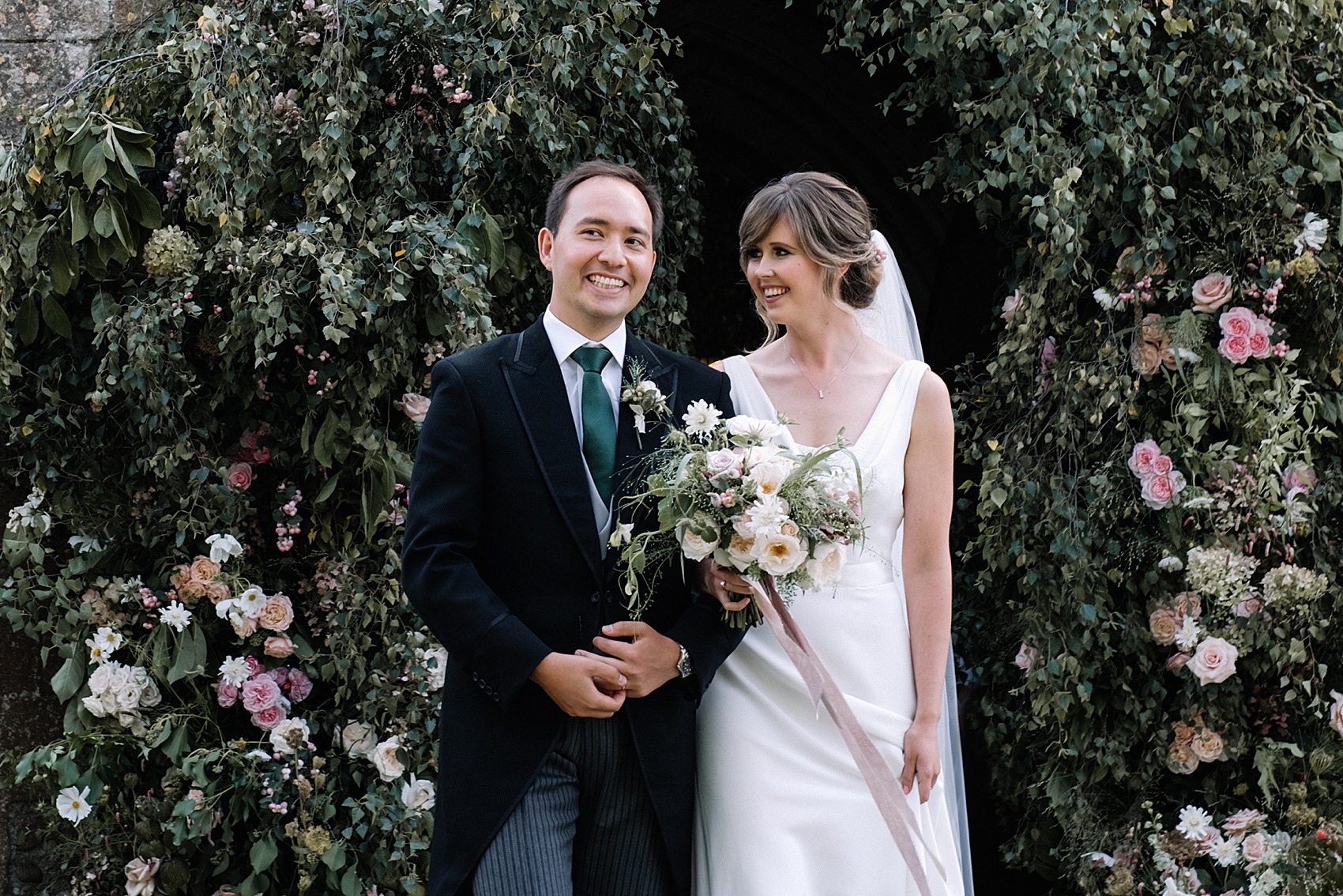 Clouds of fluttering confetti filled the air outside the church as the newly married couple walked hand in hand, and made their way home, where the most beautiful reception set-up was waiting for them.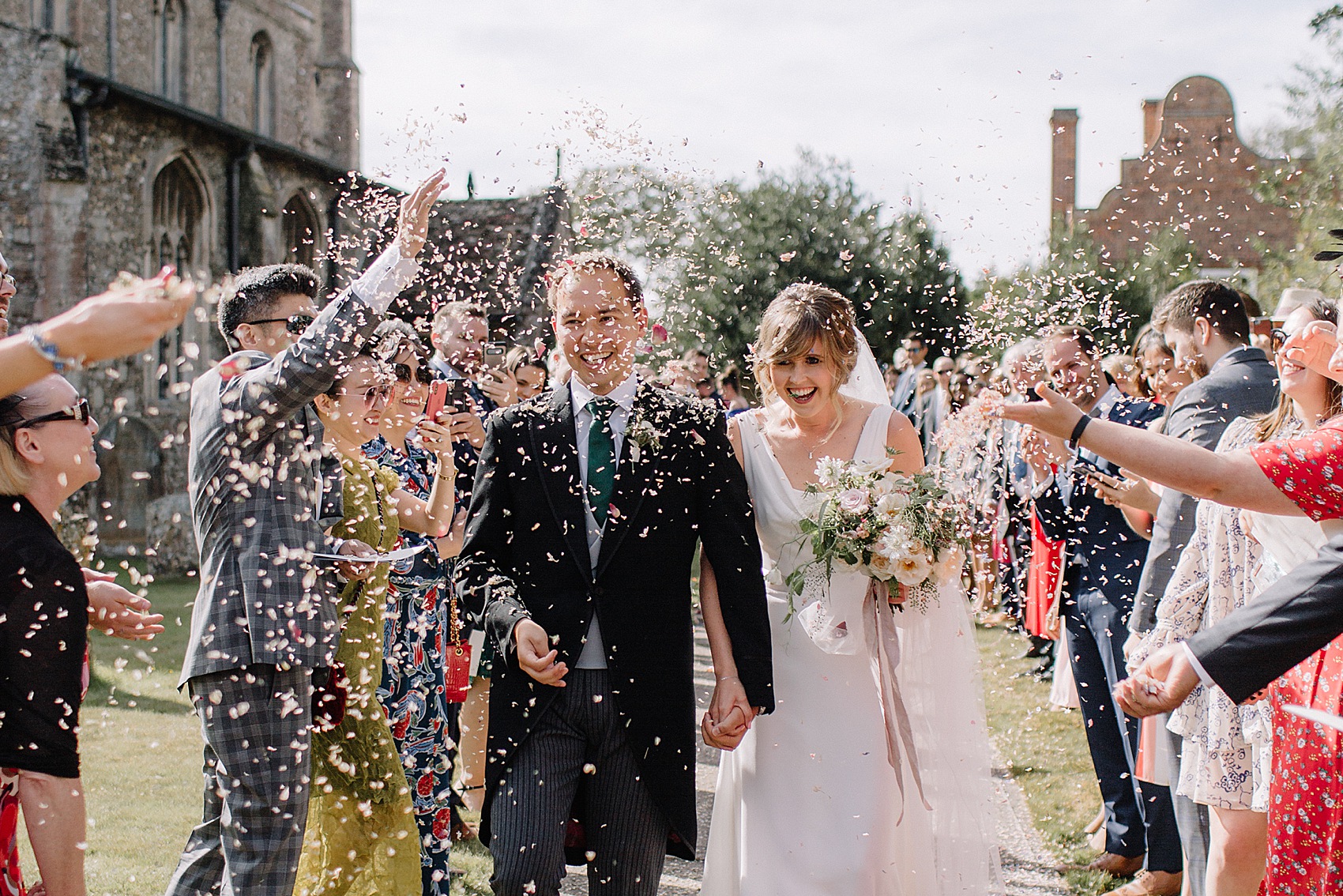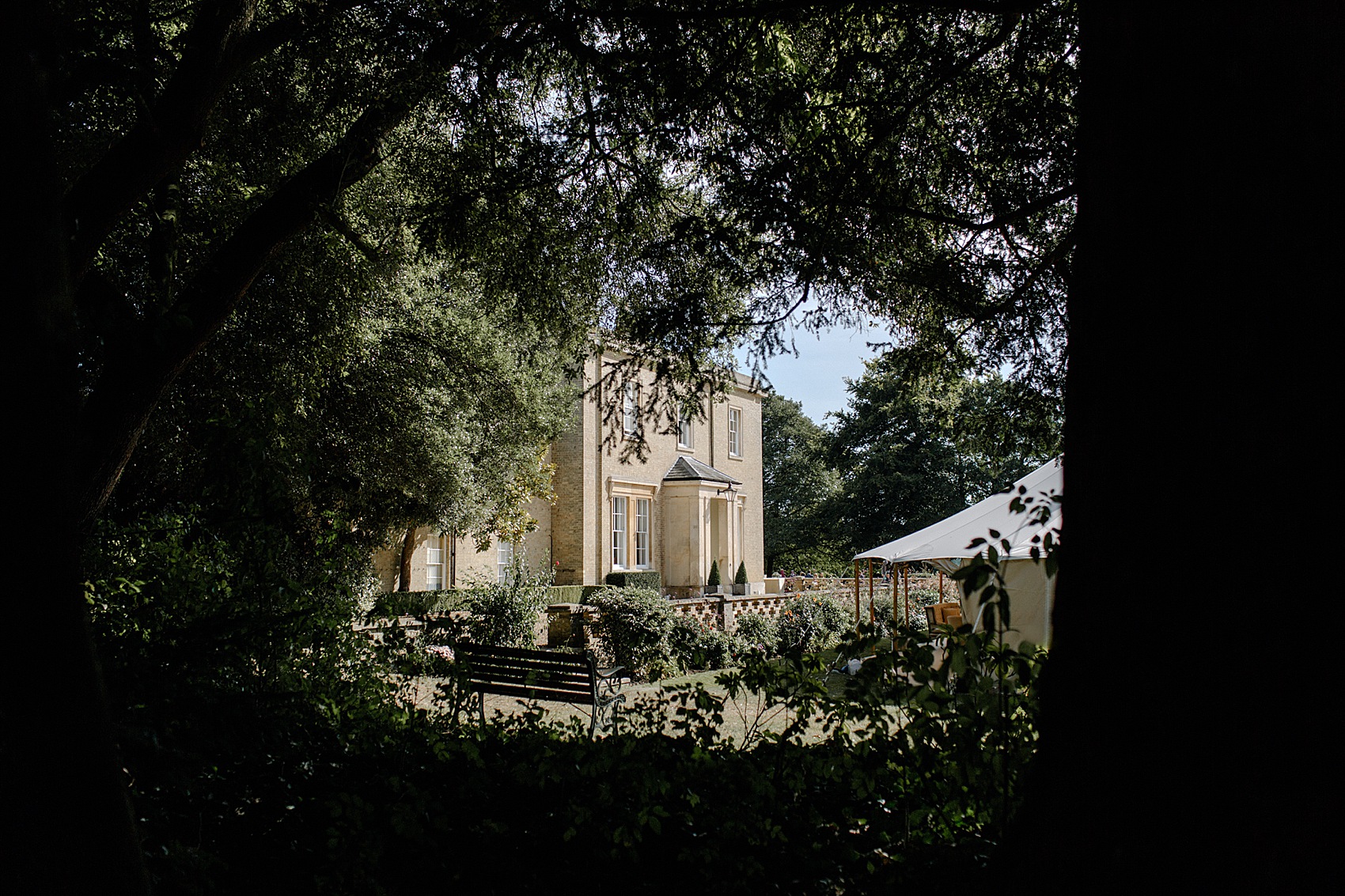 "We didn't have a theme in particular. We knew we wanted to emphasise our guests' experience and create a relaxing and fun celebration."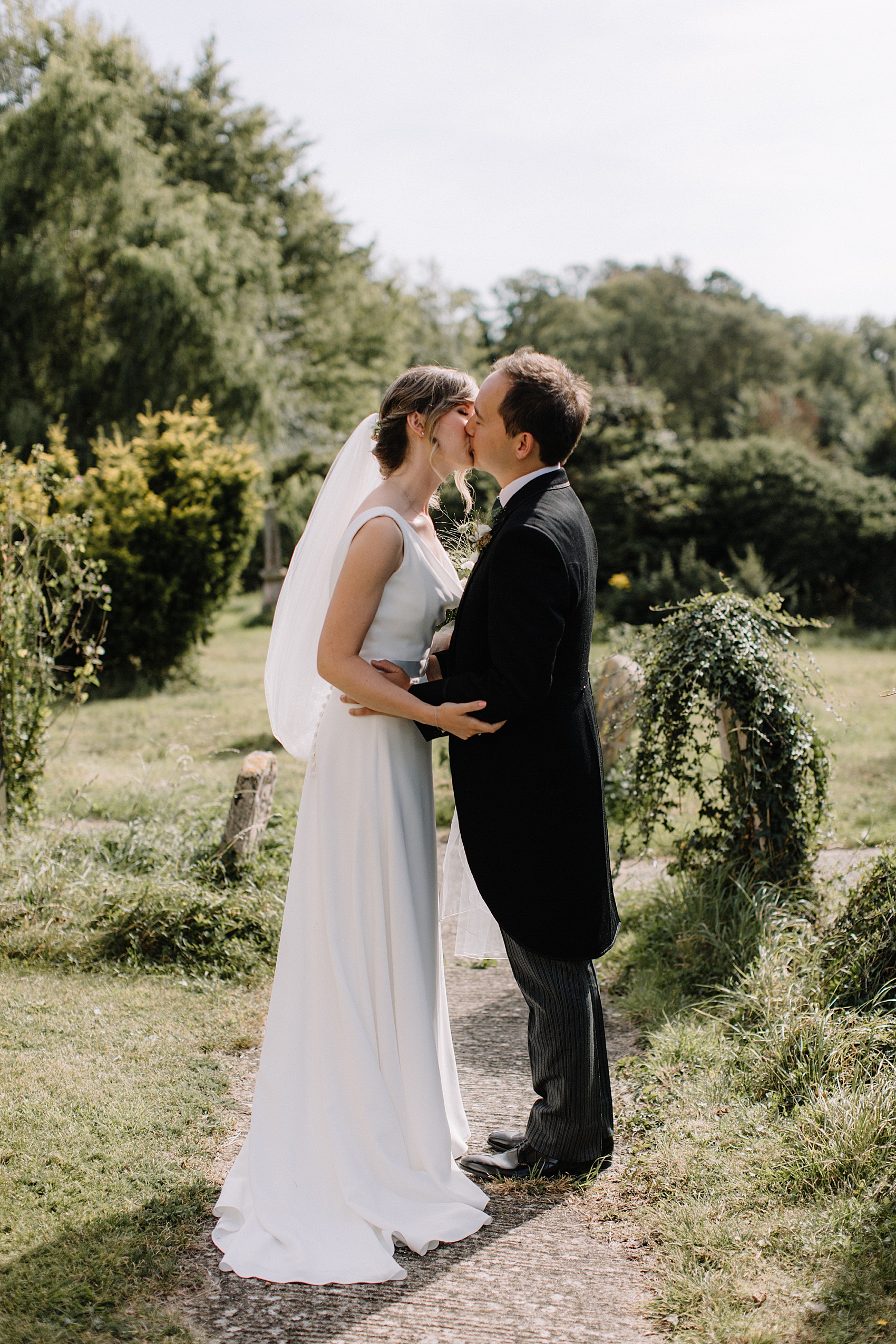 "We wanted to have a setting that flowed seamlessly from the religious ceremony to walking across to our private space to host the reception without the stress of having to re-convene at another location."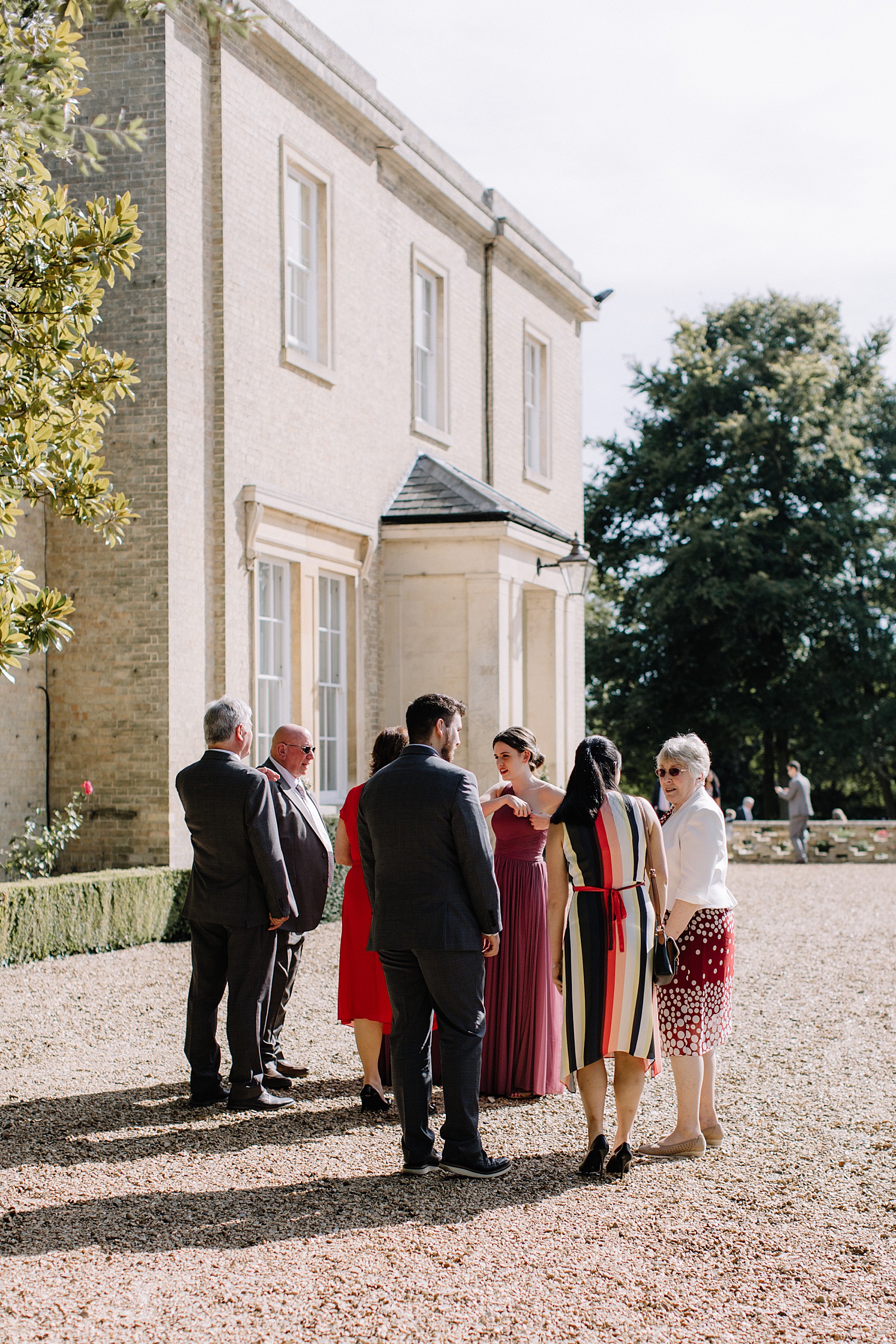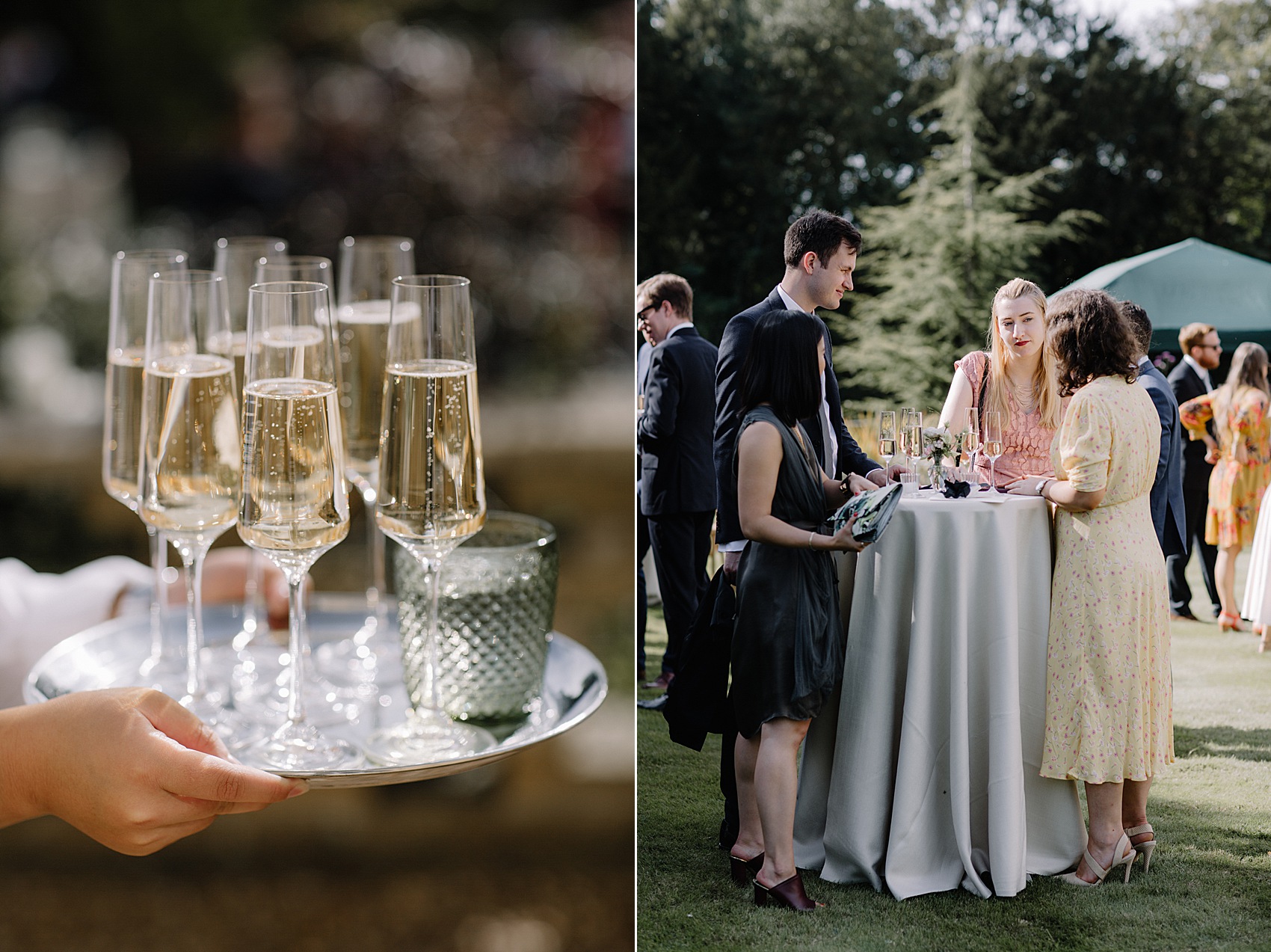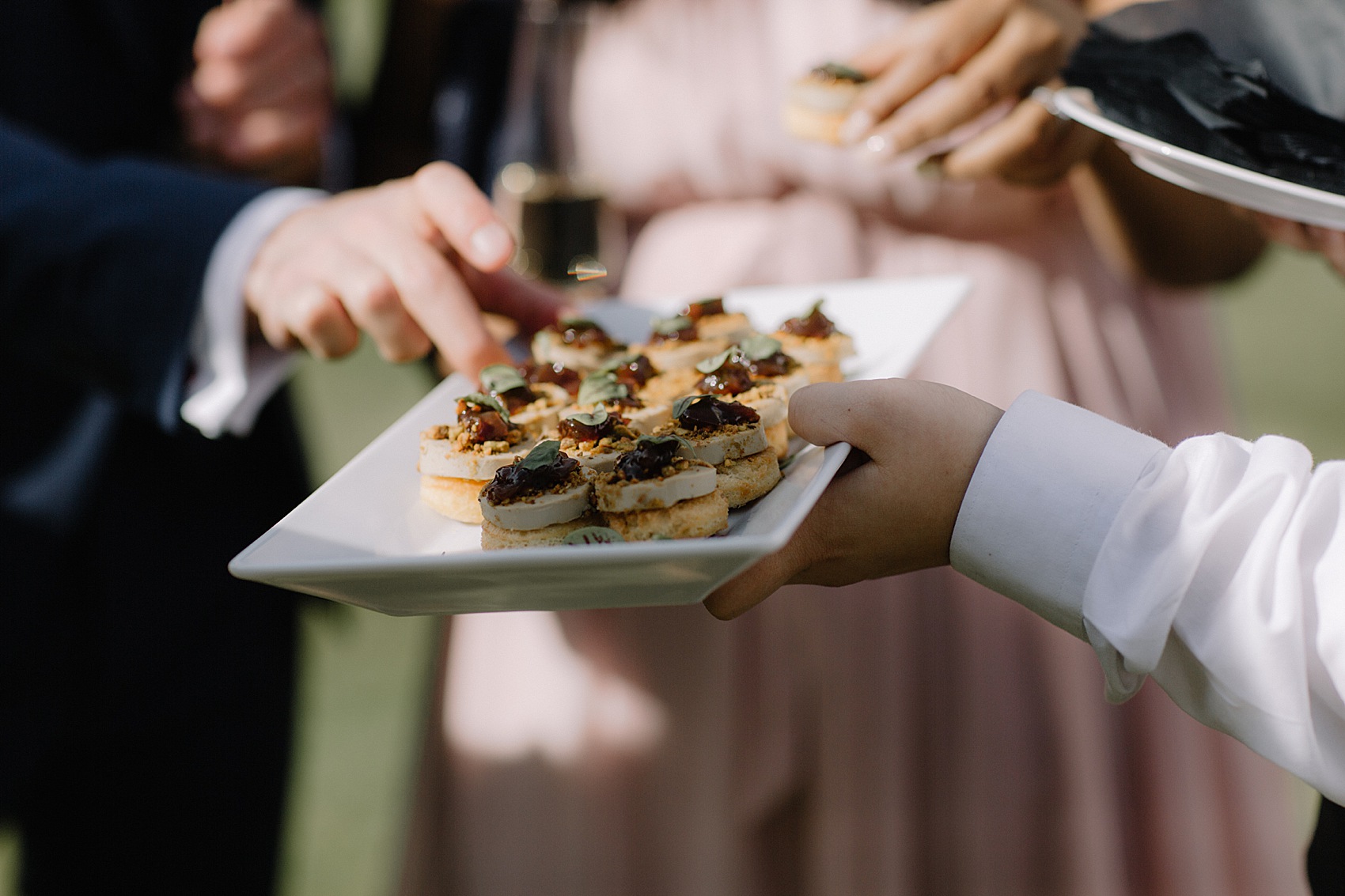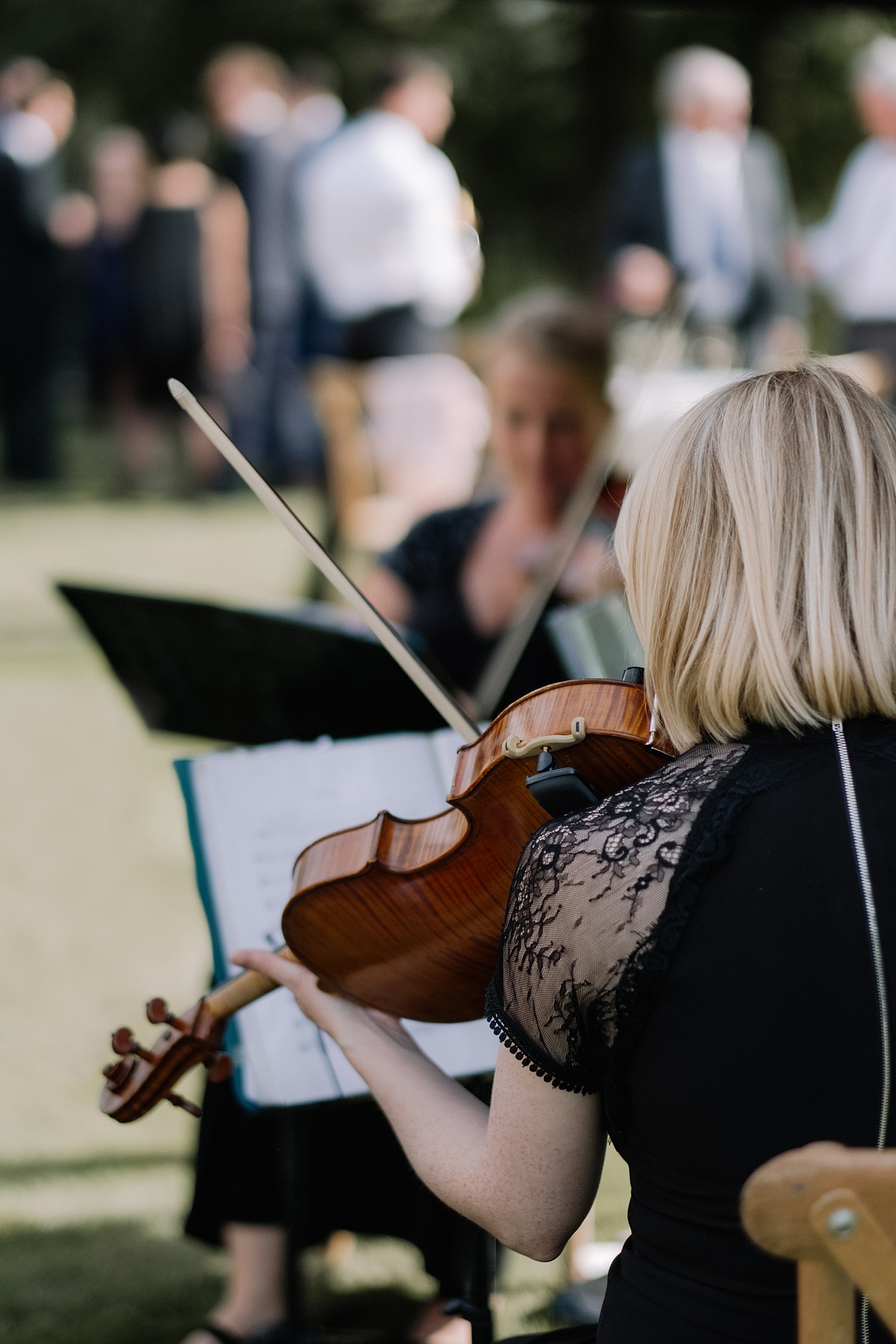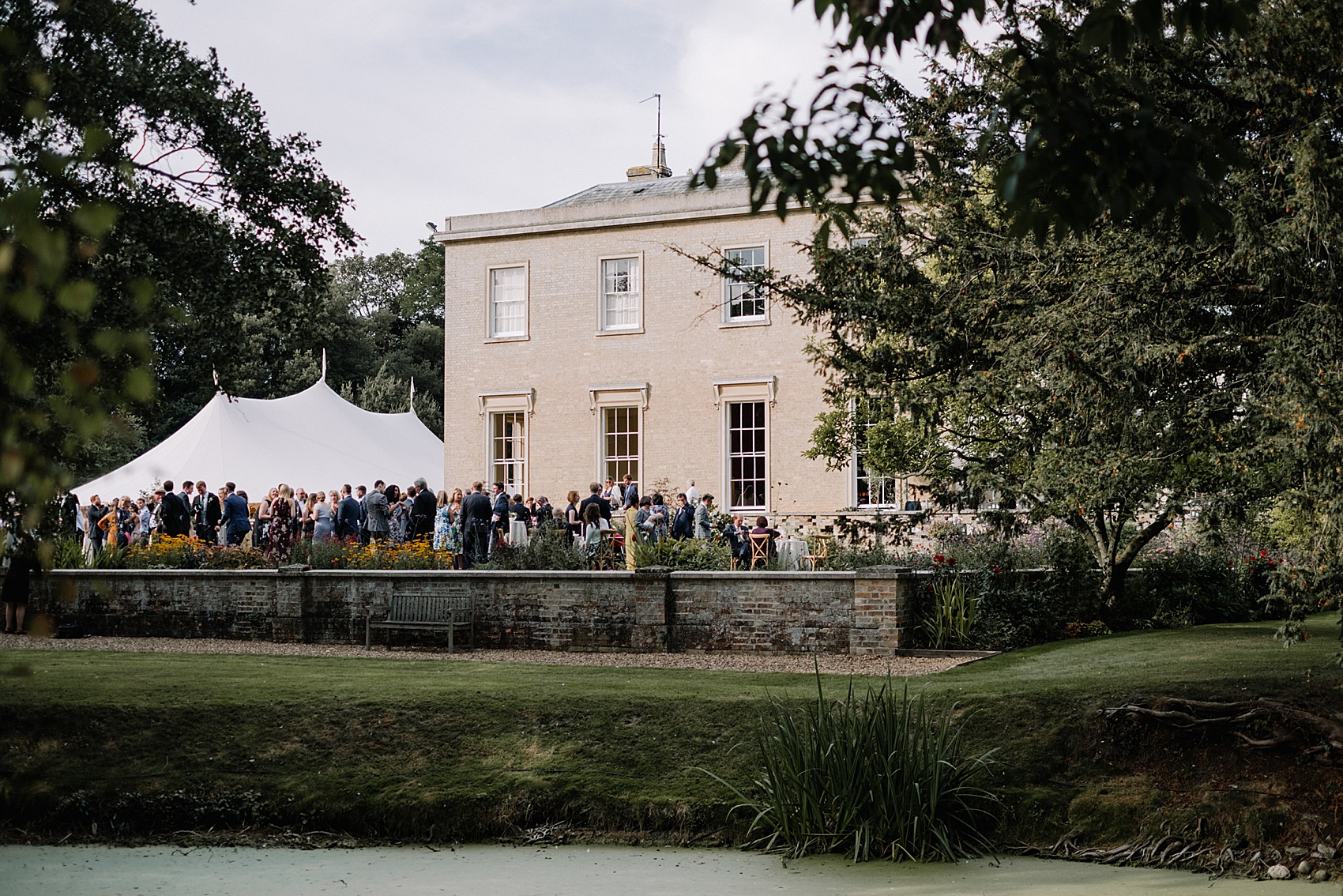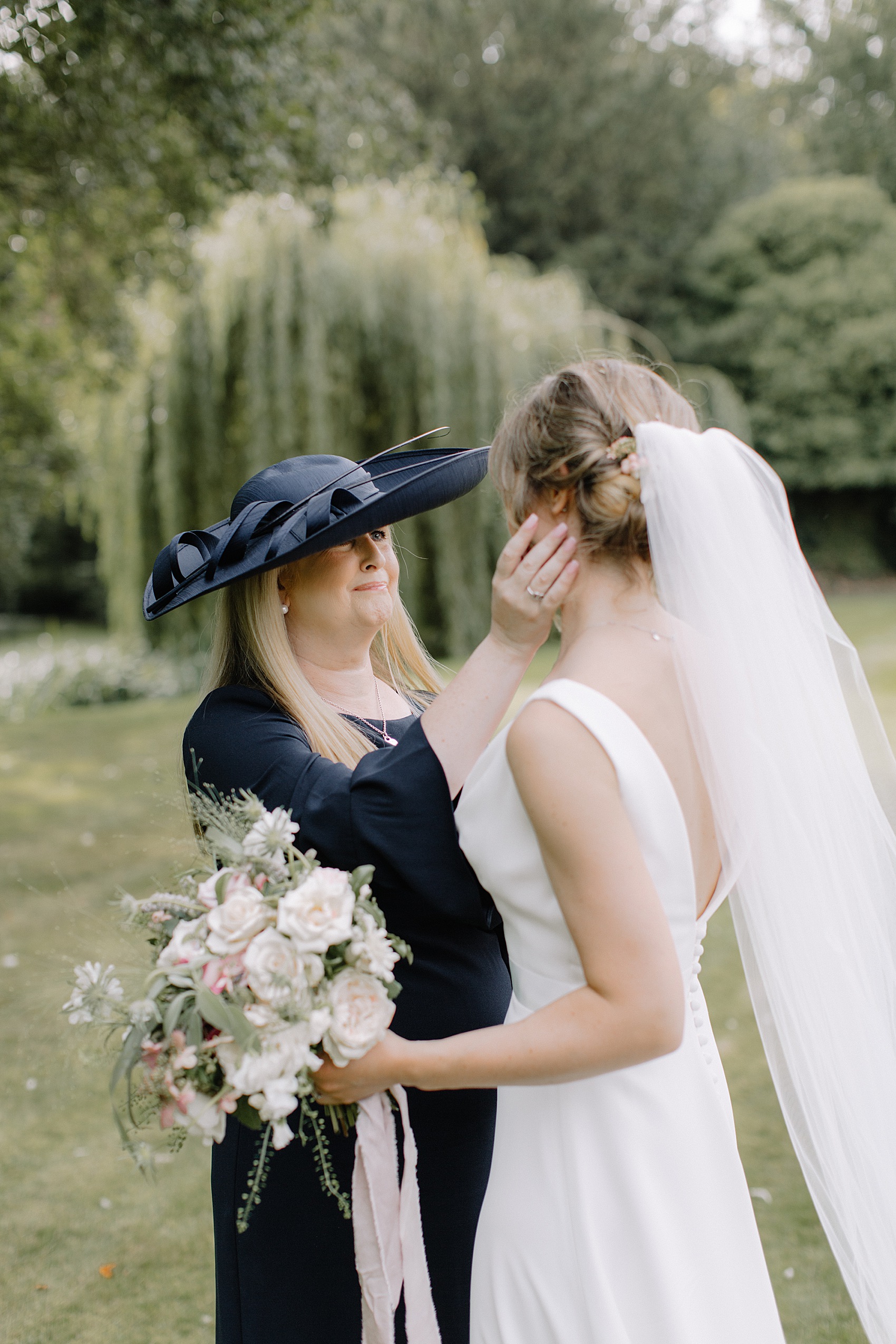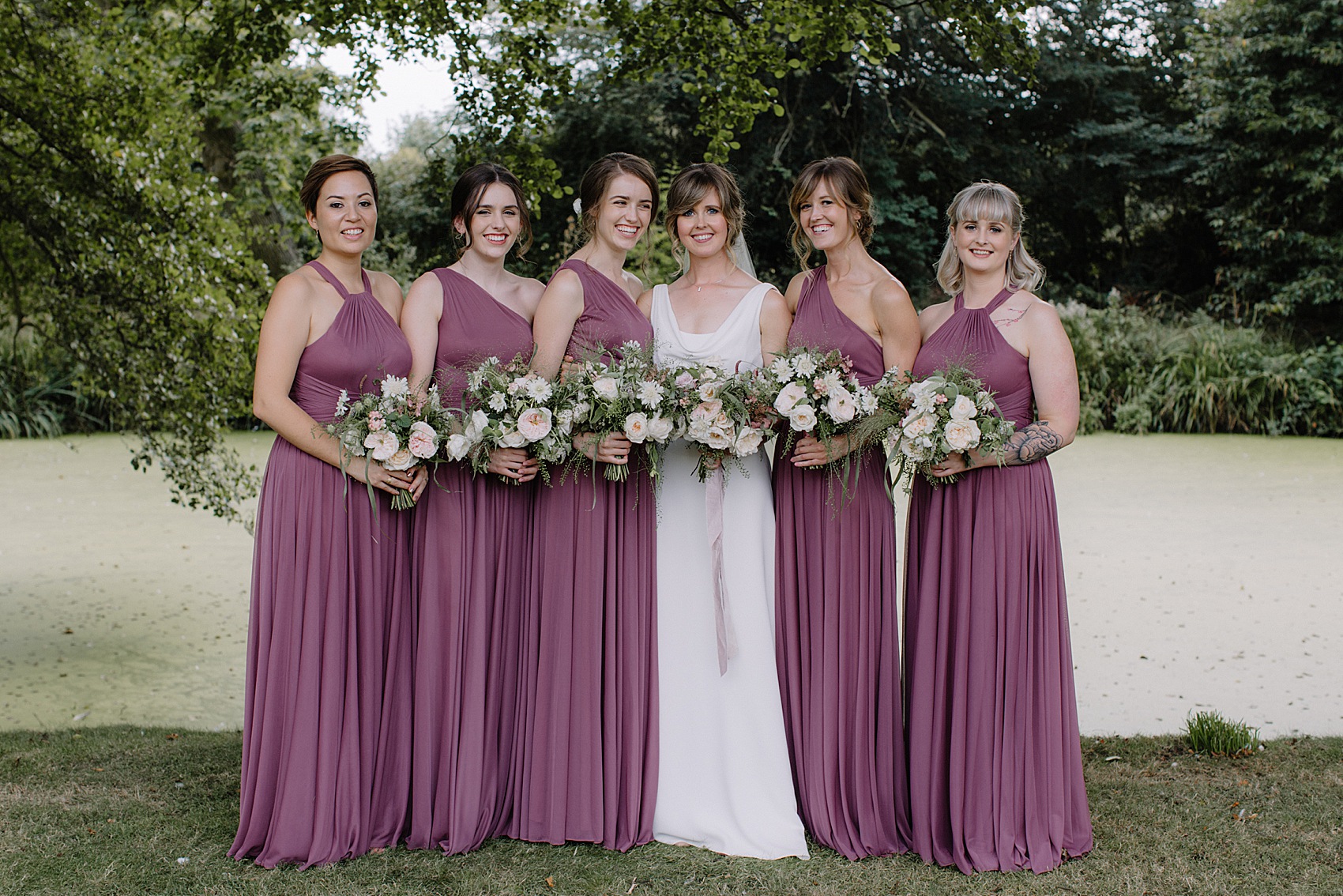 "We chose Beccy Goddard, who was one of the photographers recommended to us by Natalie Hewitt. Her style was not intrusive. We had an engagement shoot prior to the day so we could all get familiar with each other."
"I felt a bit nervous about having my photographs taken, so Beccy really put me at ease."
"We would absolutely recommend Beccy – so much so that James' sister has also booked Beccy for her wedding next year!"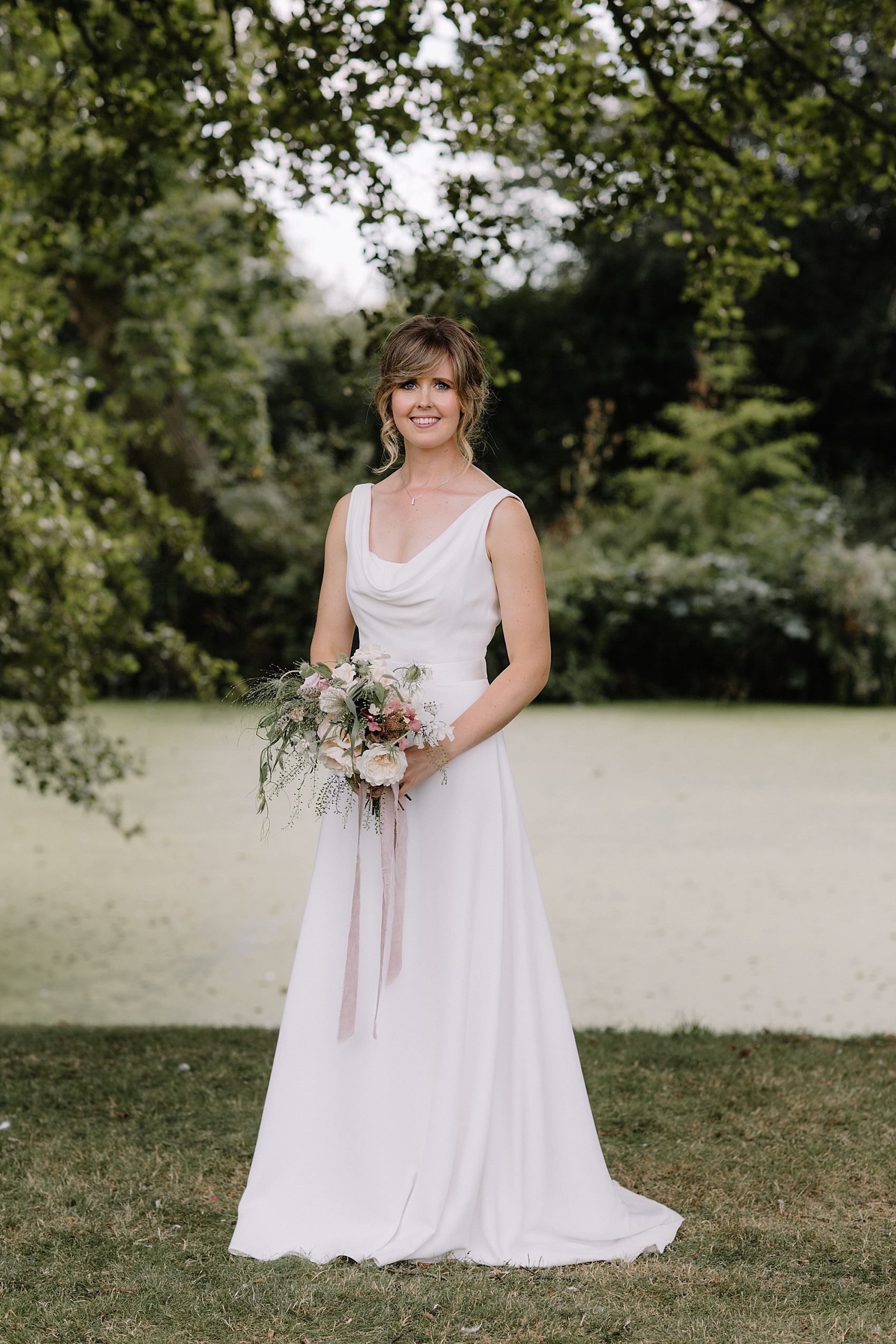 "Our videographer Ben Tynegate from Tynegate Films was fantastic and captured all the funny, emotional moments from the day, and worked so hard behind the scenes to build up the perfect summary to our day. It's so wonderful to watch our film back."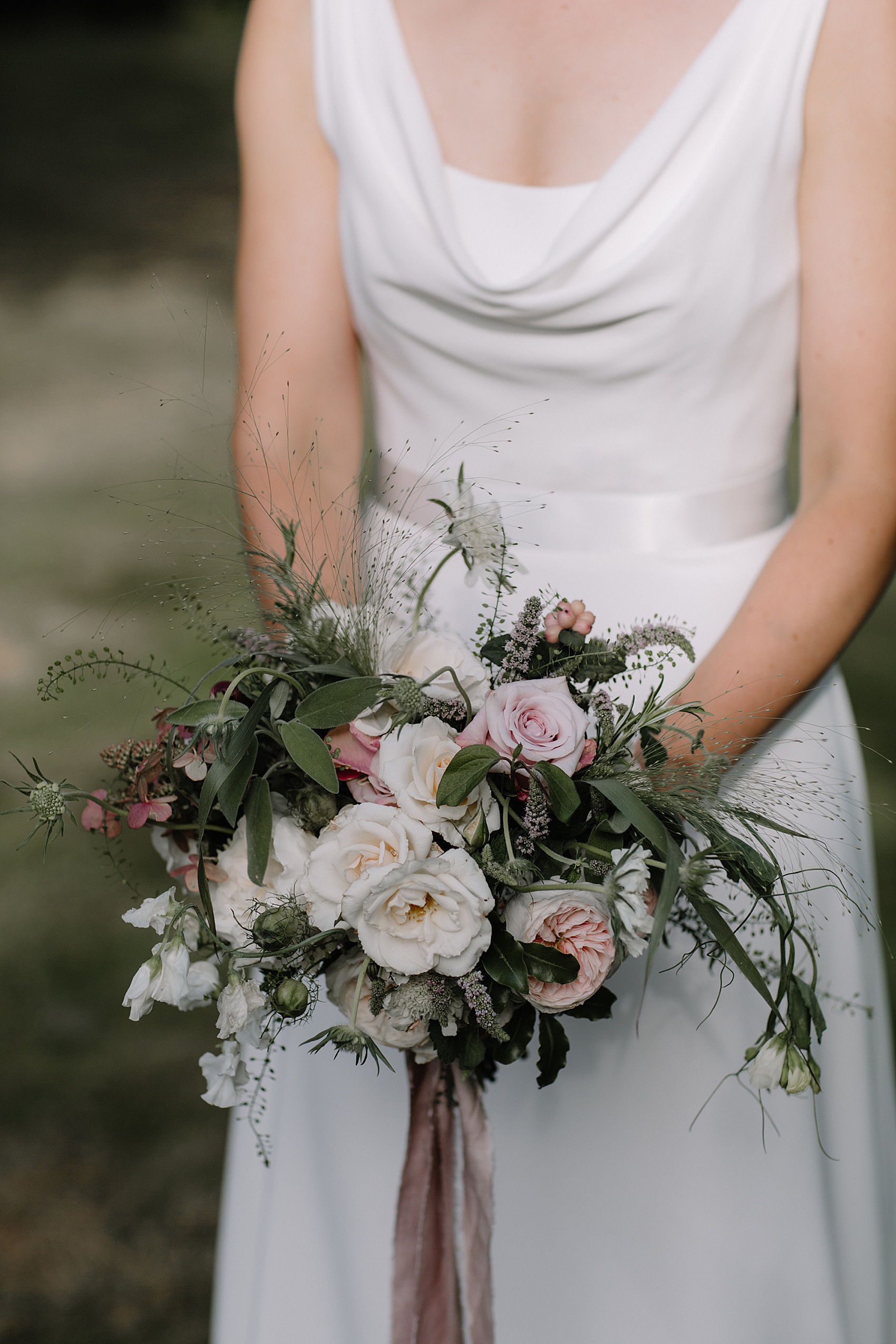 Elegant and romantic stationery was designed and supplied by Rose Press, with hand lettered and monogrammed elements, which looked wonderful alongside the flowers, and inside the marquee.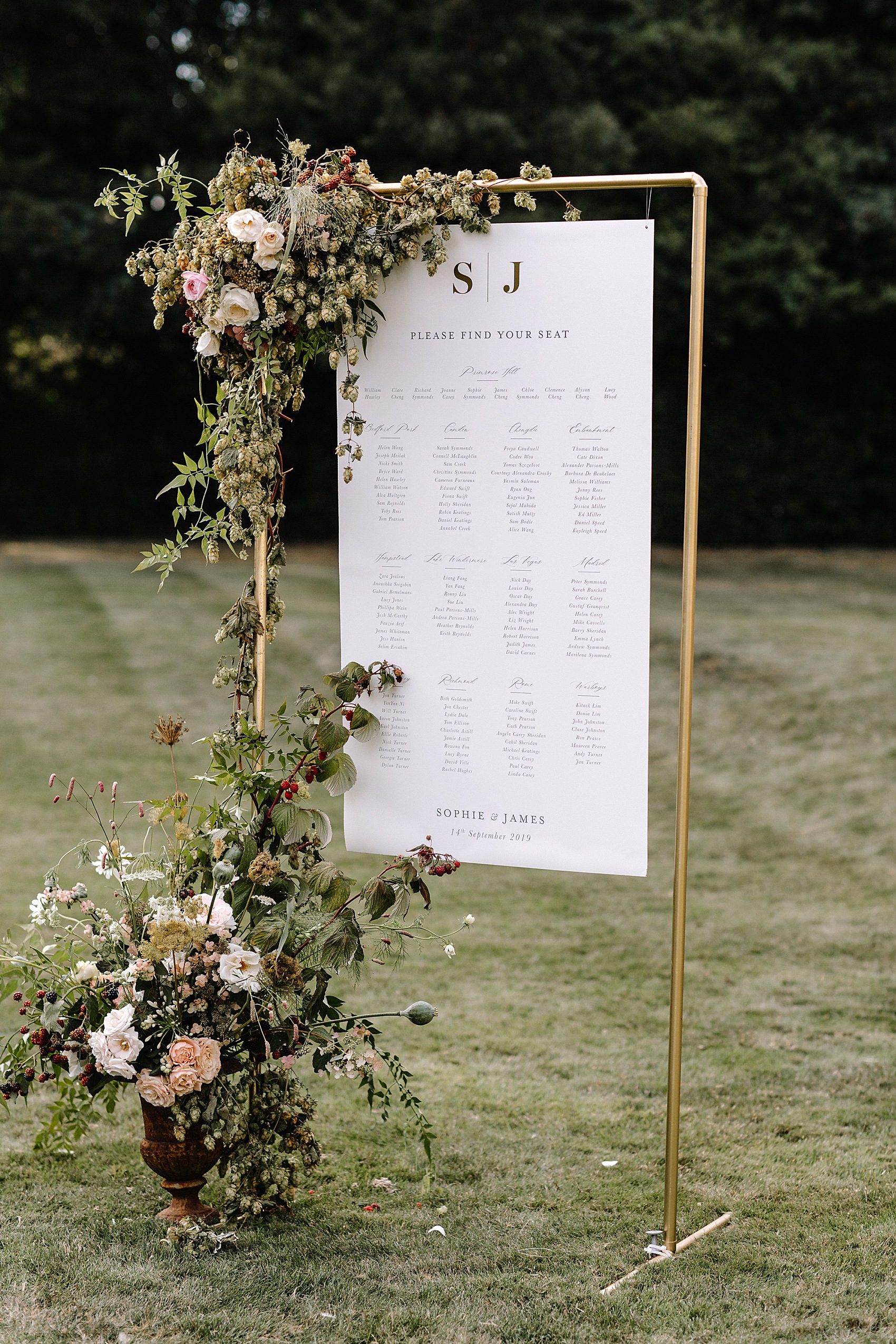 "As we have had parties at home before, it was important for us to make the styling for this extra special. As we were celebrating at home in our garden, we were inspired to fill the marquee with flowers."
"We named our tables after important places; where we first met, where we got engaged, holidays, etc."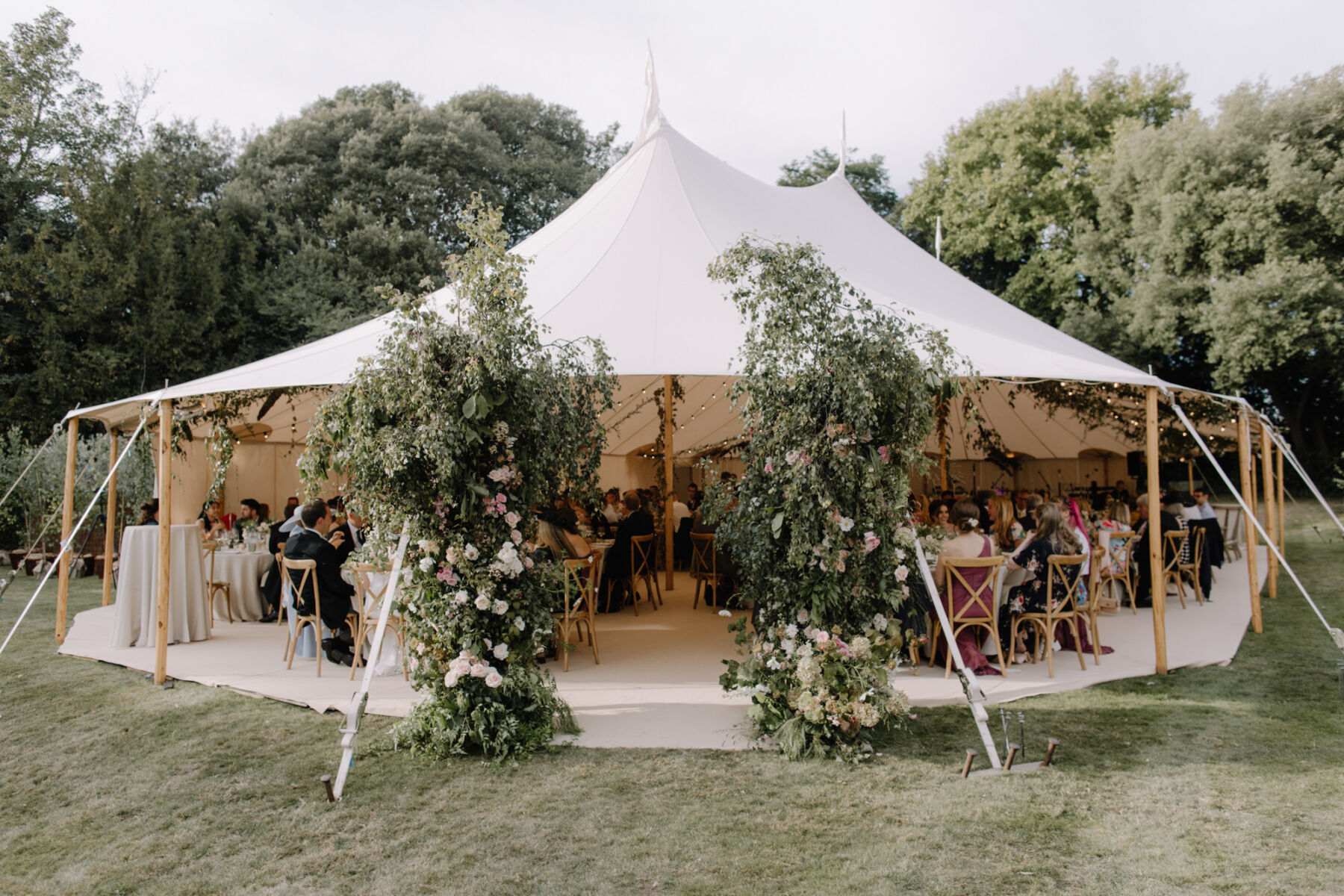 The beautiful Sperry Tent from PapaKåta was filled with soft, ambient light, and the dining tables were laid with a mixture of classic white cloths and natural hued napkins, which worked wonderfully with the floral centrepieces, green drinking glasses, simple, stylish wine glasses, and gold cutlery.
Greenery was wound around the tent supports, and in the centre of the space, florist Fiona Perry created and installed the most magnificent chandelier of flowers and hops.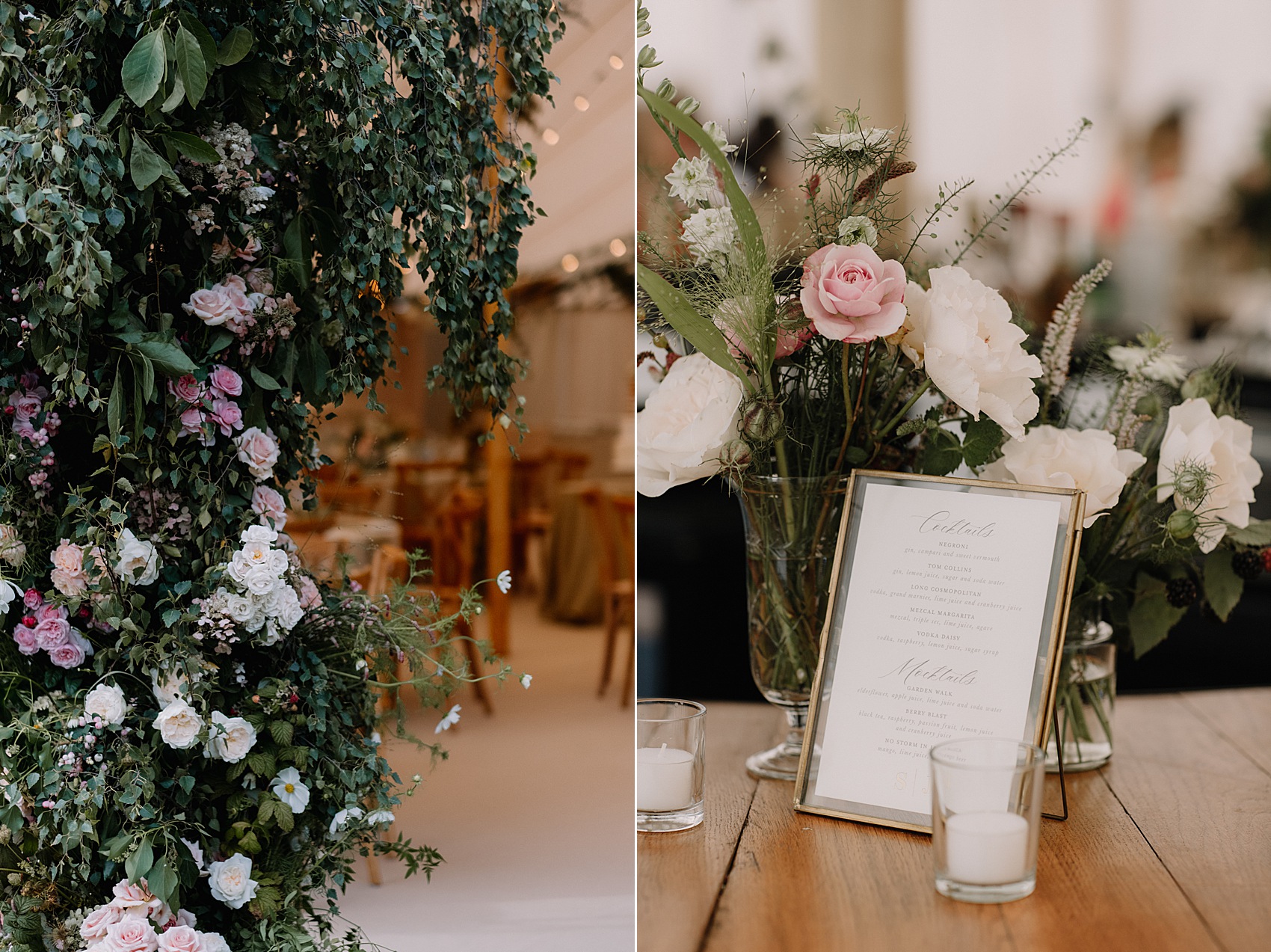 The entrance to the tent was adorned with a luscious arbour of pastel roses, hydrangeas, silver birch branches, grasses, cosmos, hypericum, and little jewel-like clusters of ripening blackberries.
"Fiona Perry created the focal point to our styling – all the floral décor. We created a hanging floral chandelier above the bar which we hadn't seen done before."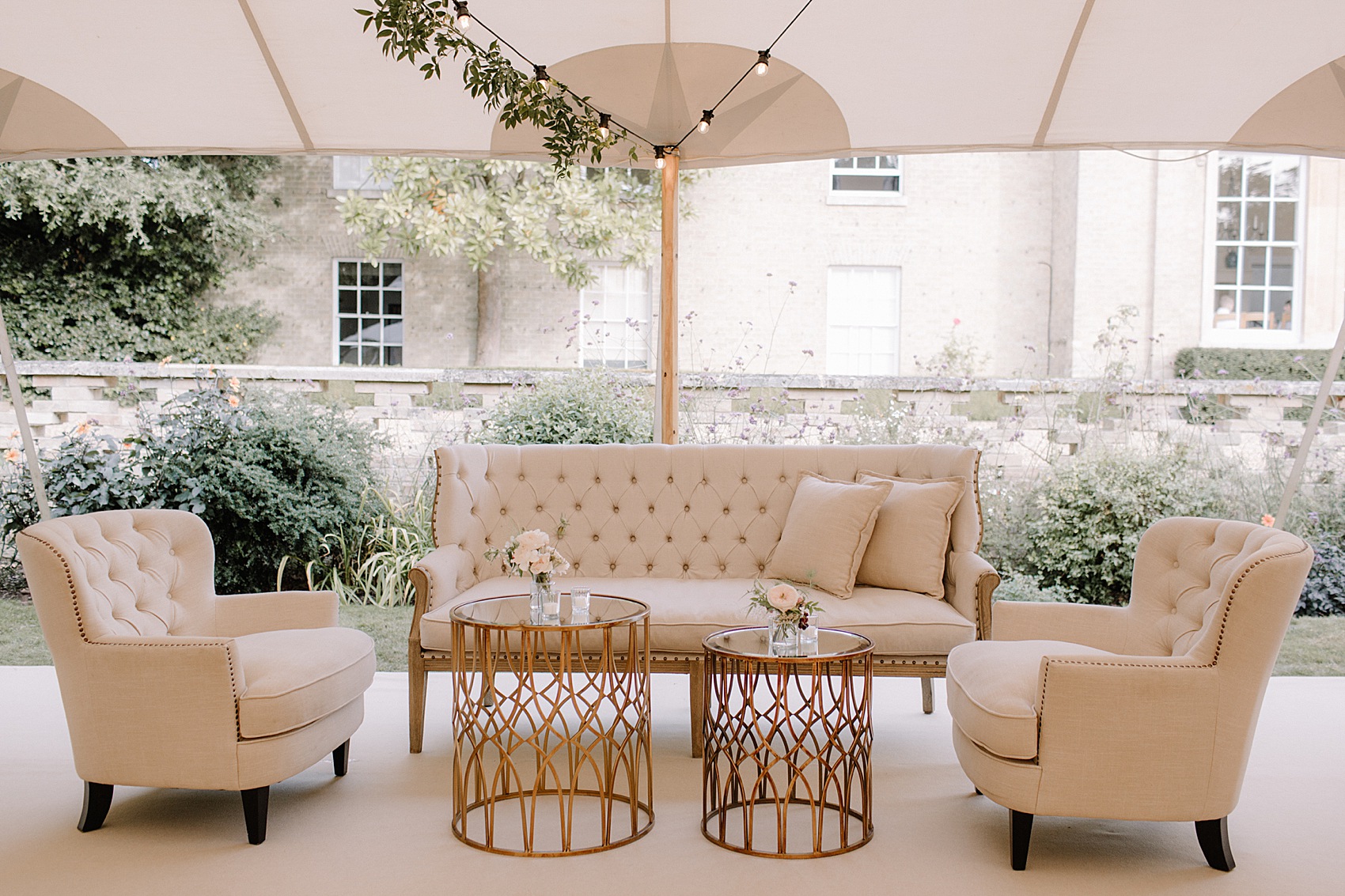 "Wedhead provided beautiful linen sofas for a lounge area by the bar, and we had the most incredible linen (Just4Linen) and tableware (Whitehouse Event Crockery) for our wedding breakfast."
"It all tied in beautifully. Our family also worked so hard to get the garden perfect for the day and we are so grateful."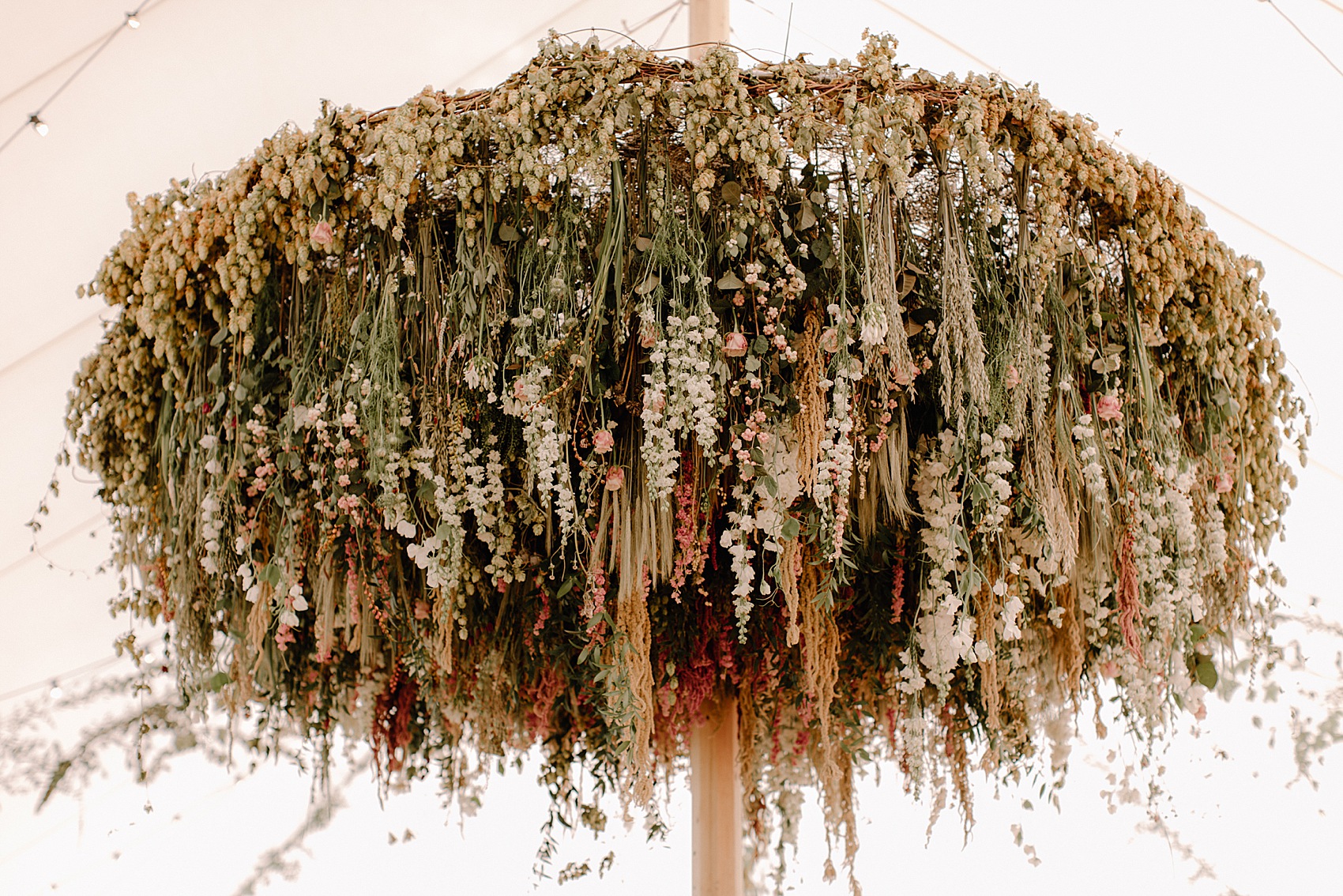 Nero String Quartet played in the garden as guests enjoyed drinks and canapés in the sunshine, whilst Sophie, James and their wedding party took a little time together (and Sophie and James alone, too) for photographic fun with the excellent Rebecca Goddard Photography.
Rebecca's beautifully composed, thoughtful and elegant work has featured in a number of our gorgeous styled shoots, and it's lovely to be able to add a real wedding feature to her portfolio on our pages.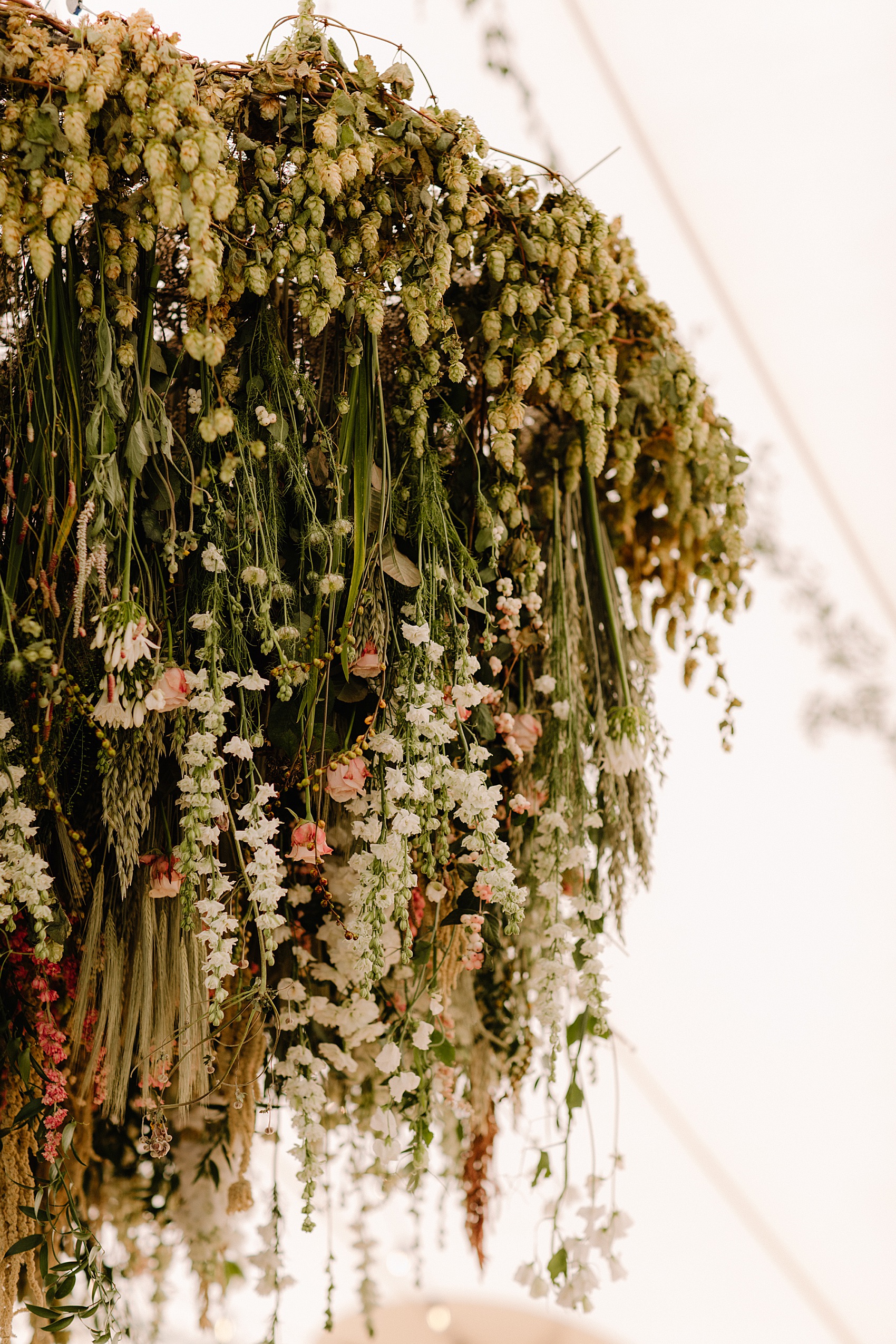 For the wedding breakfast, Sophie, James and their guests sat down to a feast prepared by Dave Paye from Life's Kitchen, which began with lightly cured spiced Scottish salmon, or oyster mushroom tart. These were followed by guinea fowl supreme with Pommes Anna, beans, heritage carrots and a cafe au lait sauce, and to finish, delicious desserts served buffet style.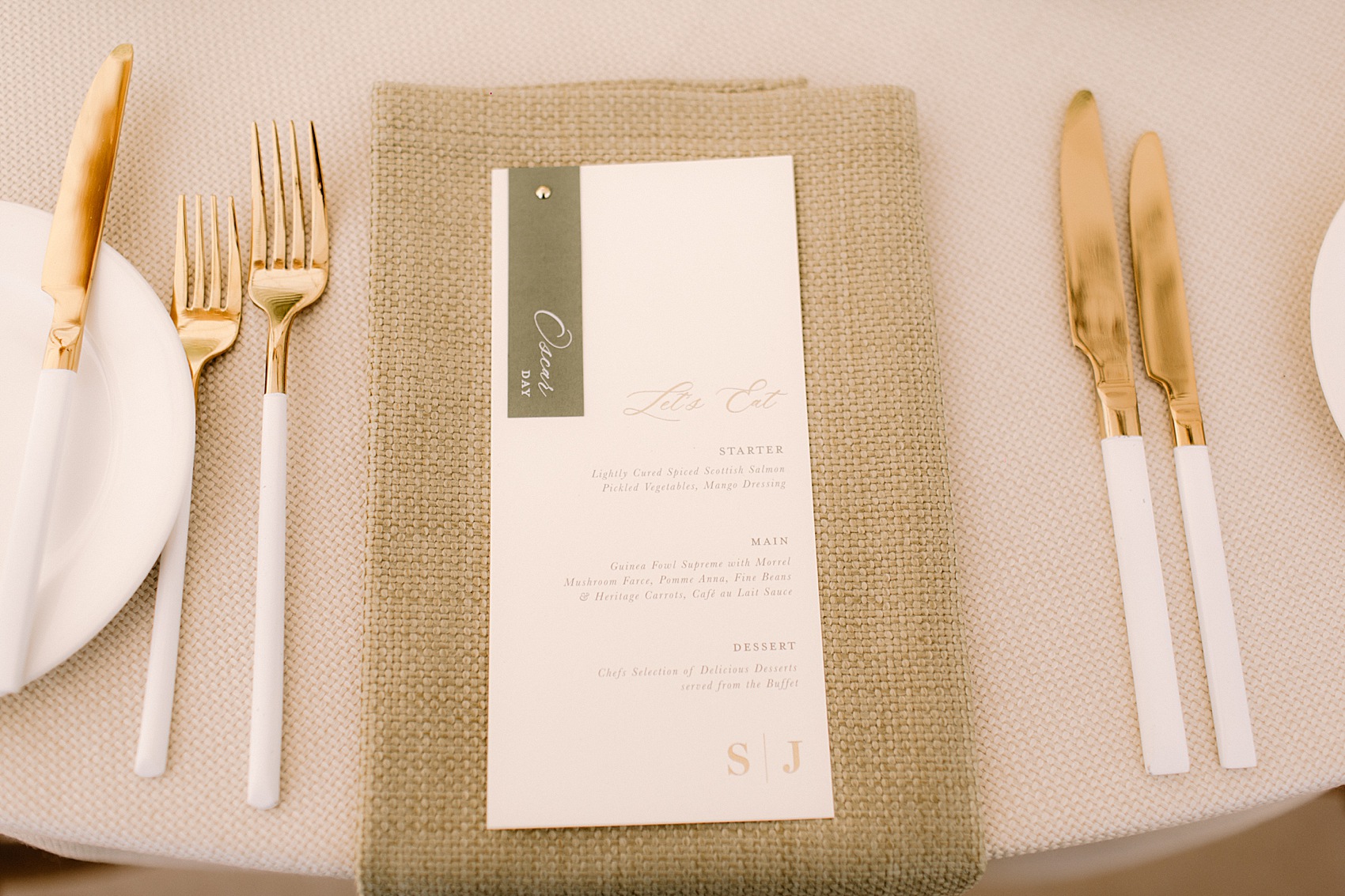 "They've catered for our parties in the past, and we felt it was great to use him again as he knew the setting. Our cake was by Couture Cakes by Katie Sanderson. Sophie is a total cake fiend and has a crazy sweet tooth."
"We wanted to maximise this with each tier being a different flavour. From the bottom, there was carrot cake with thick buttercream frosting with desiccated coconut on the outside. The icing became less thick with a gradient until it was naked at the top. The next layer up was amaretto and raspberry, coconut and lime, and the final layer Victoria sponge with a strawberry jam."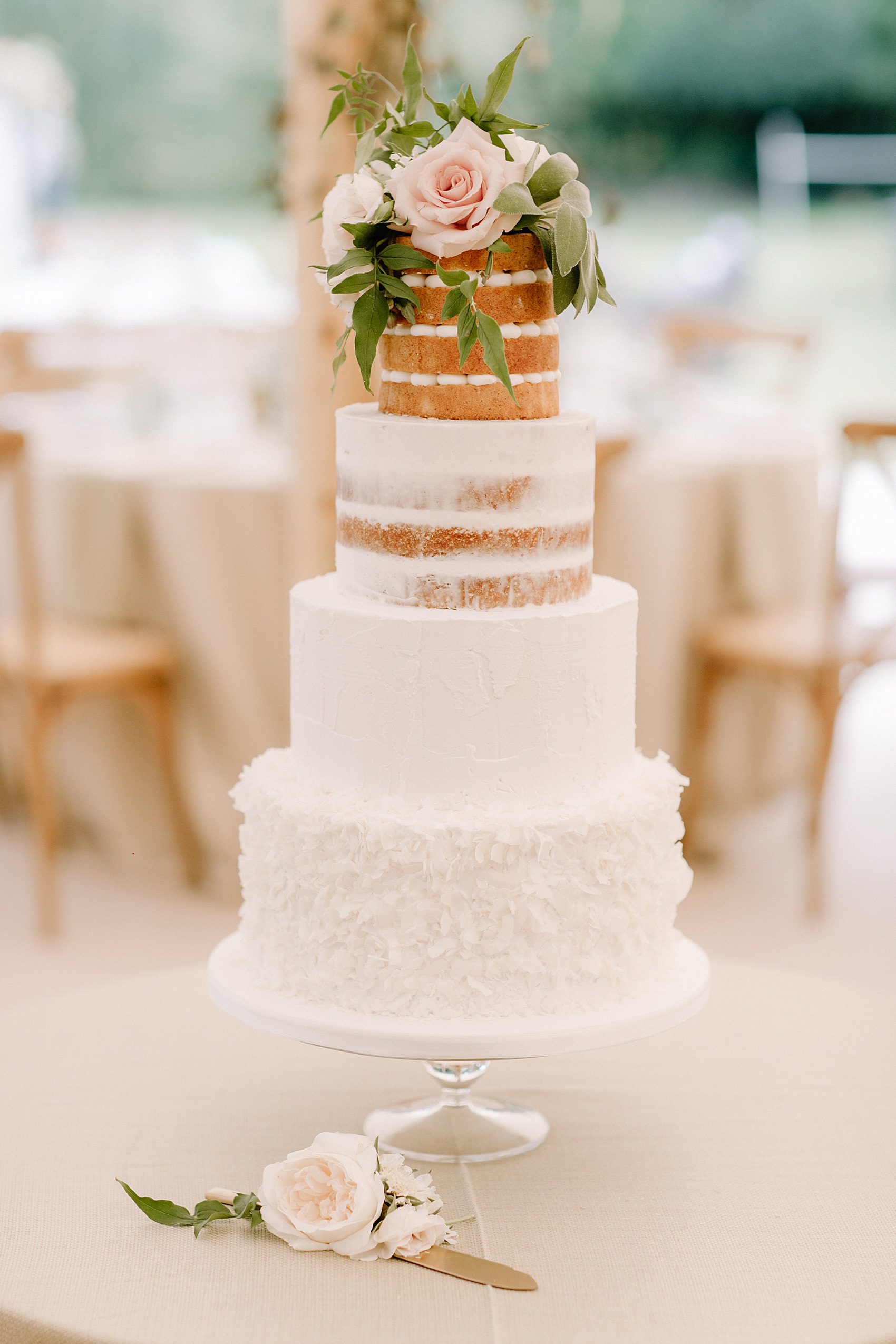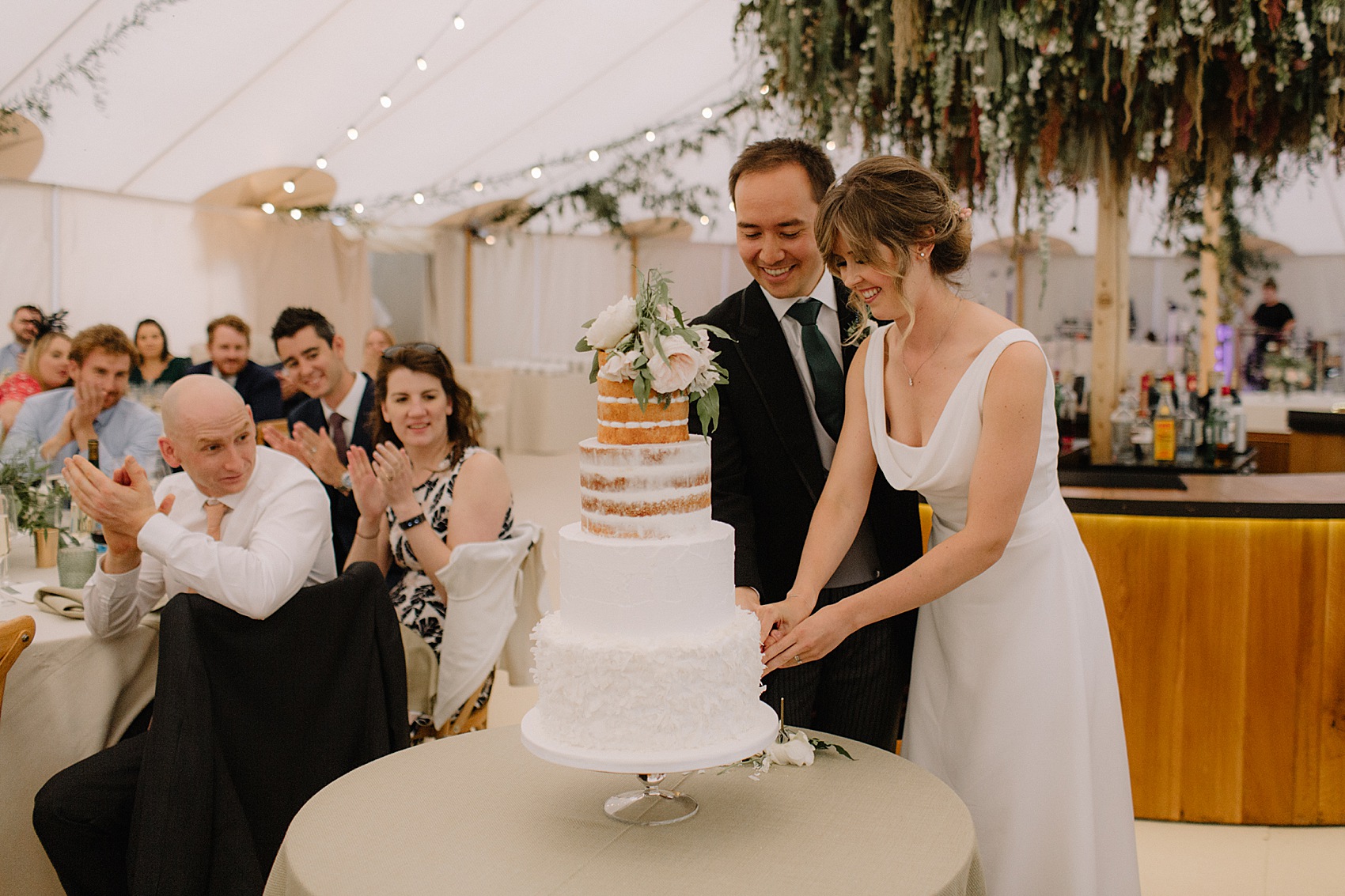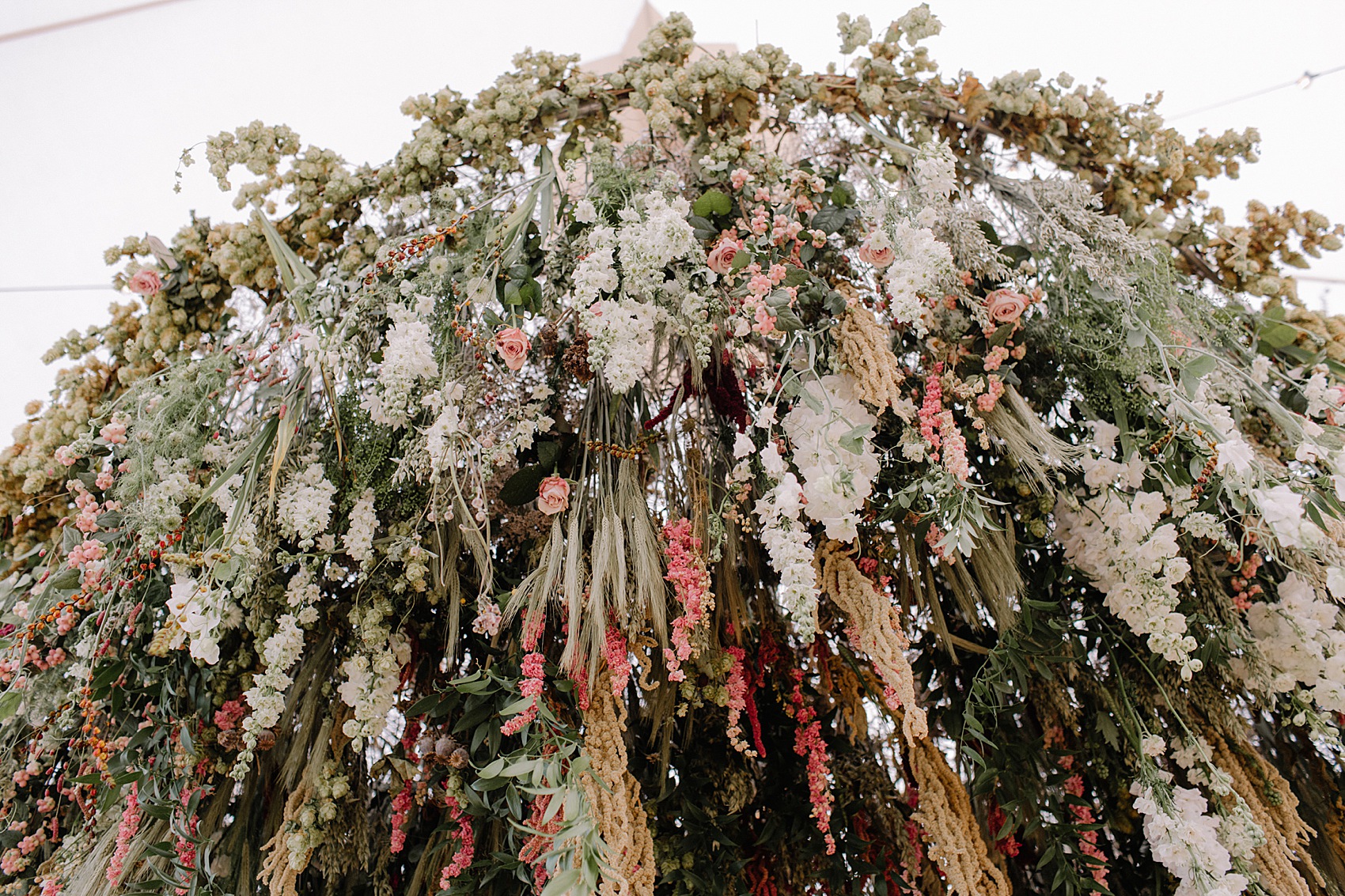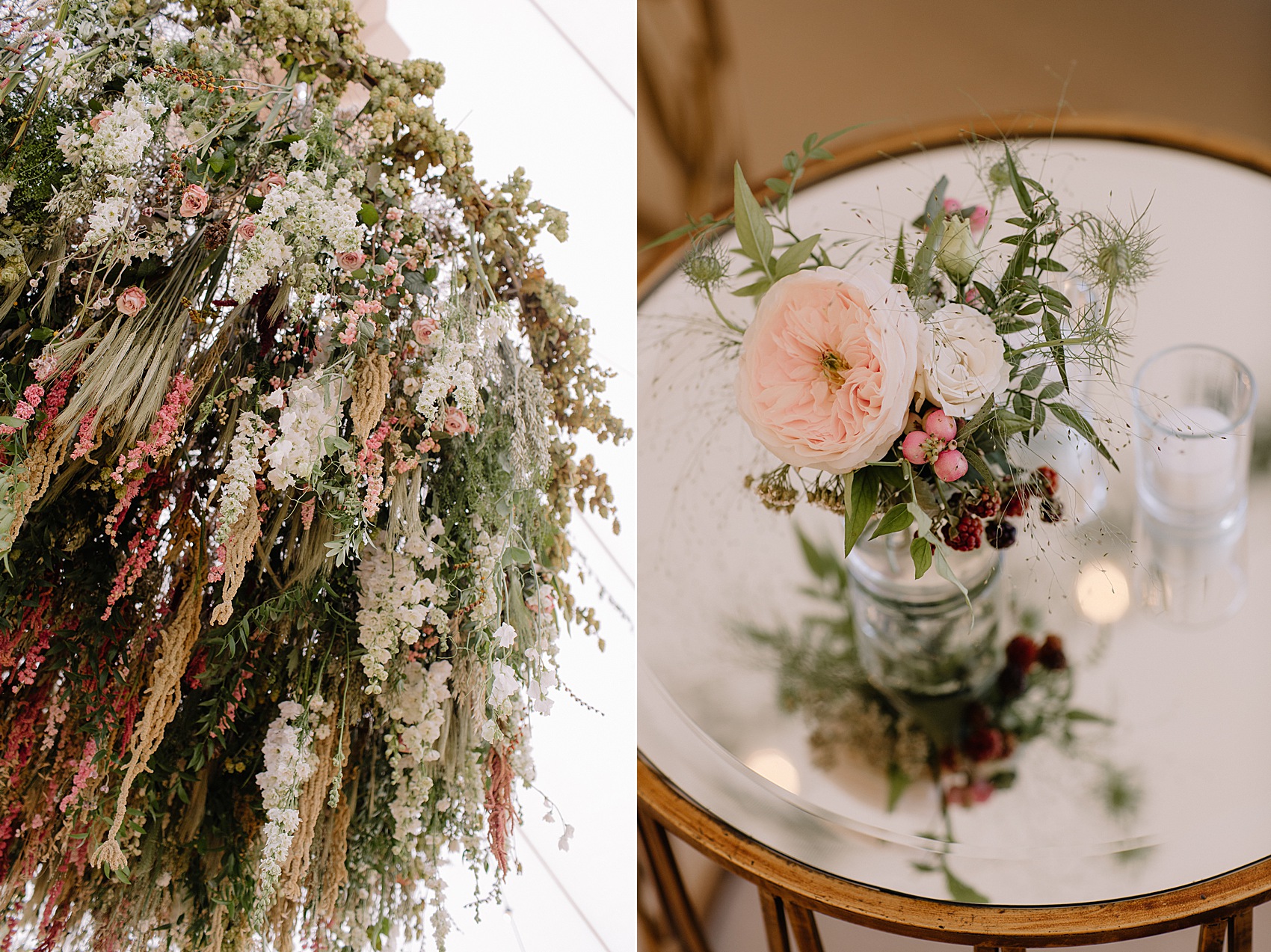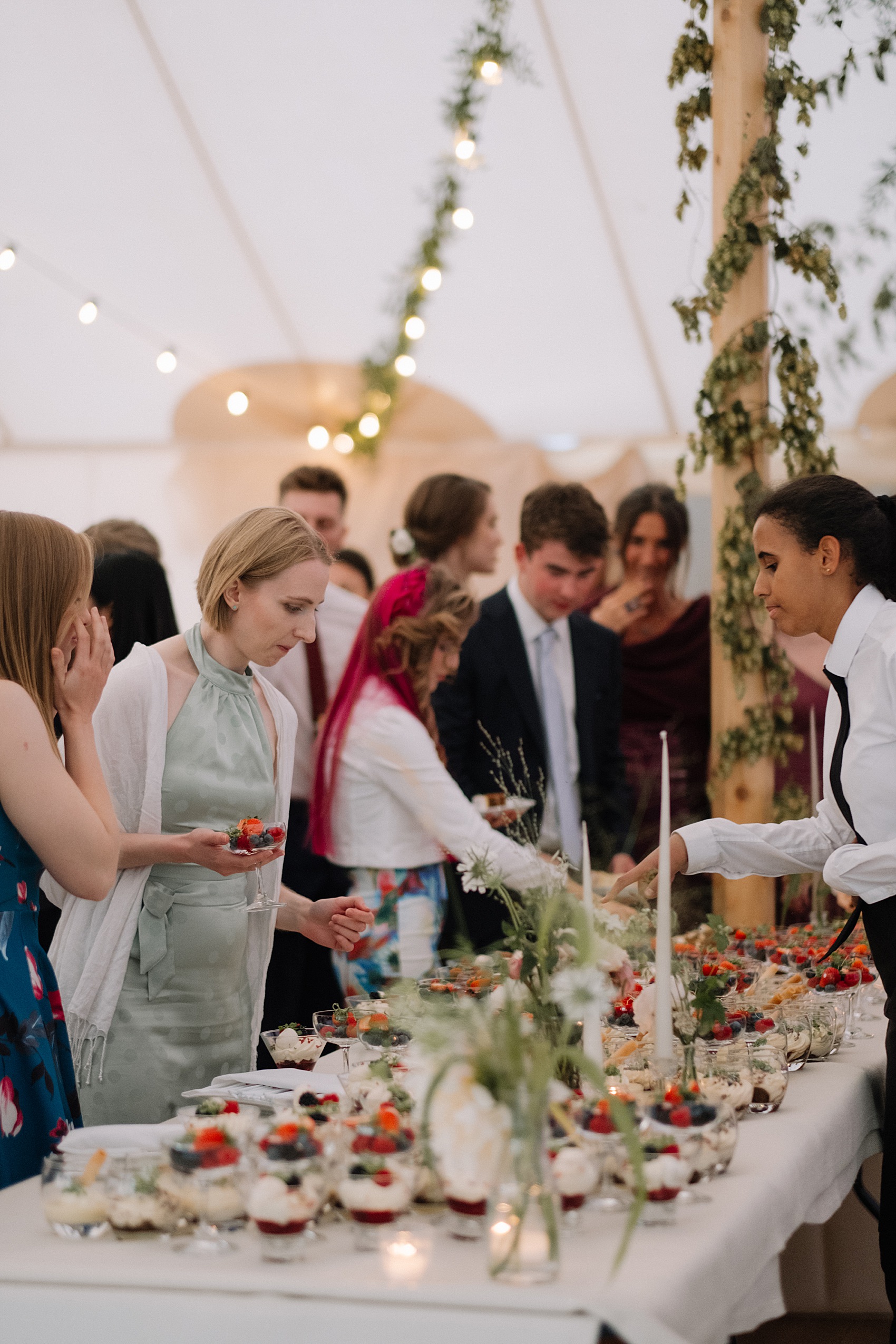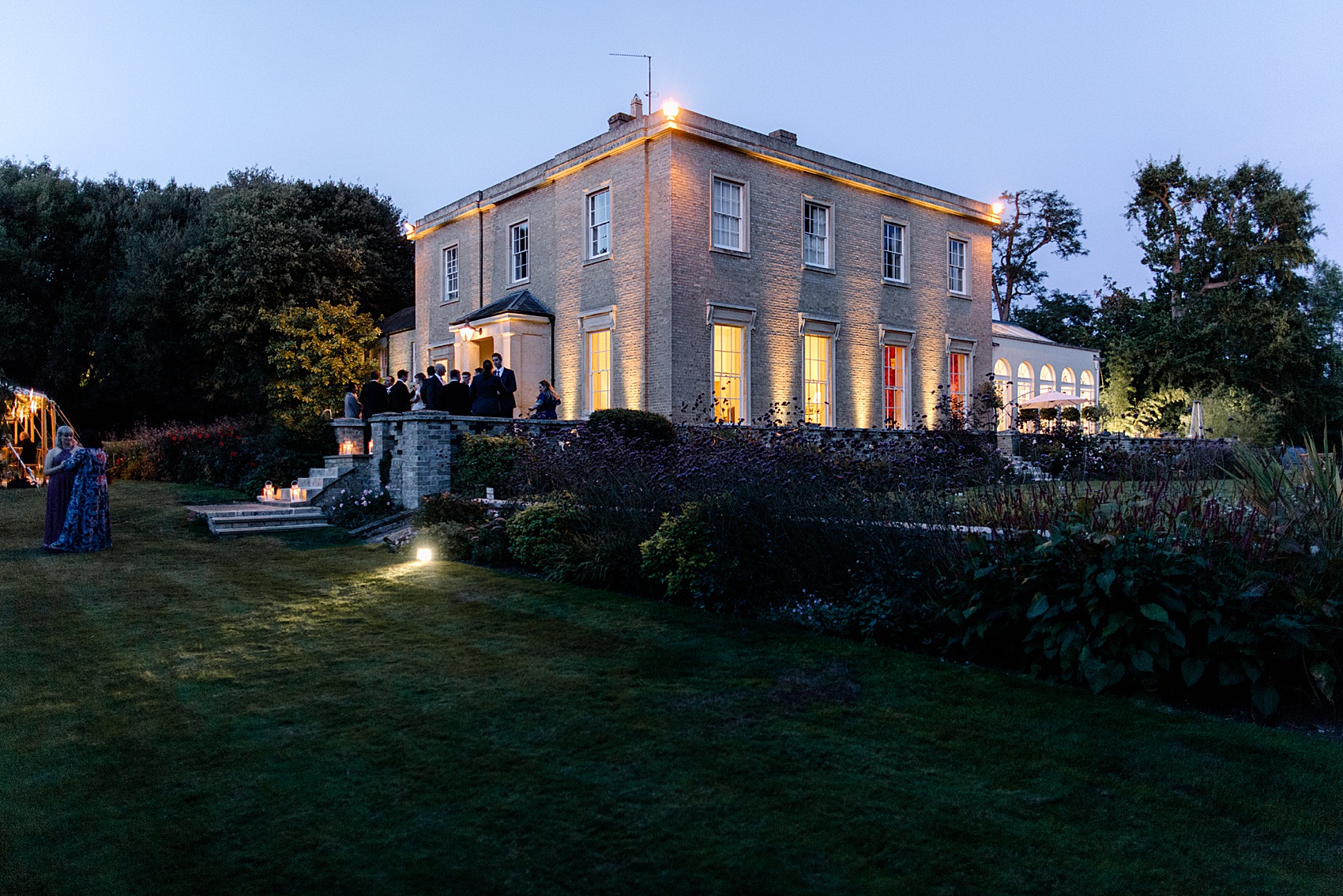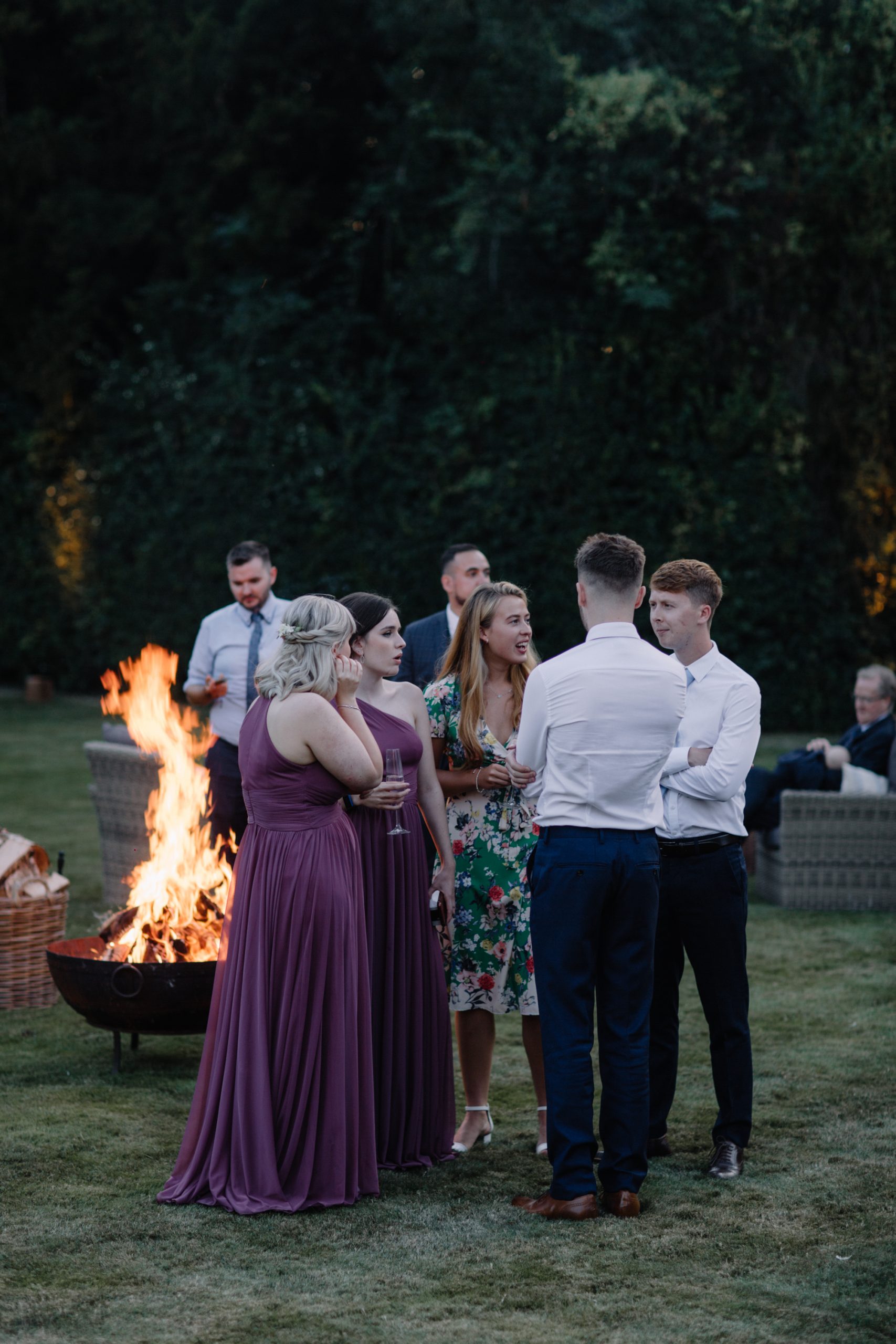 As if all of that deliciousness wasn't enough, there were cheese and biscuits served alongside the desserts, and The Mixology Brothers, who ran the couple's evening bar rounded off dinner with a cocktail, and served up lots of Sophie and James' favourite drinks. Late night food came courtesy of Wallace and Sons, serving bao buns street food style.
"James remembers sitting at the wedding breakfast and seeing all his friends and family there; everyone had come to be a part of our day."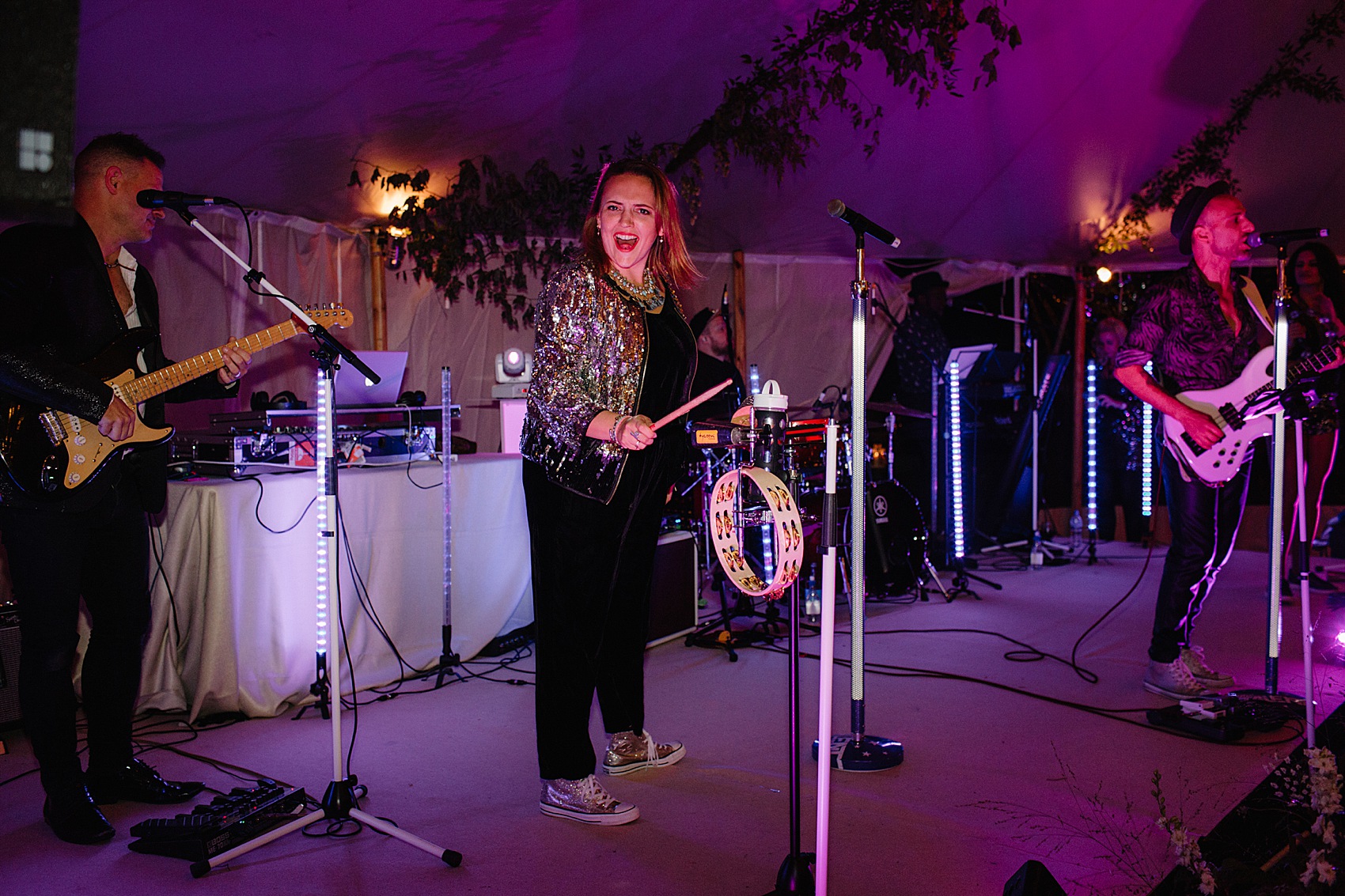 As evening fell, a fire pit was lit in the garden, and the house and surrounding trees were atmospherically lit with up-lighters from event specialists Dreamwave Events. Sophie and James' lovely first married dance together was a specially choreographed routine to Shut Up and Dance by Walk the Moon.
"Ramping up for the evening reception we had The Talent who are the most incredible party band. We started off the evening with a saxophonist playing during a cocktail hour, which was great. James and his sister got up on stage halfway through the night for a sing along. It was so much fun. We also had fireworks provided by Fully Fused Fireworks. James' Dad loved fireworks so it was a no brainer!"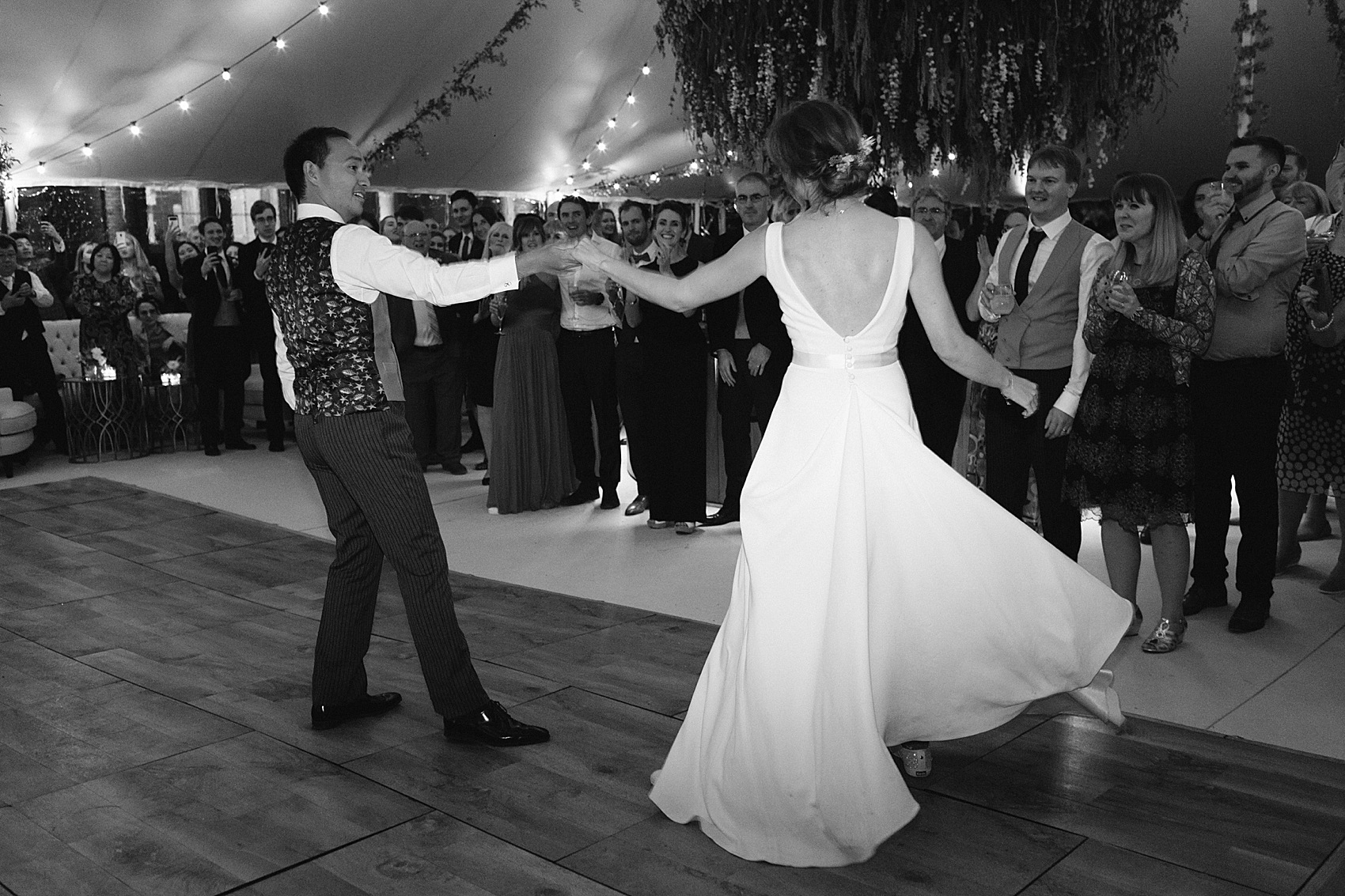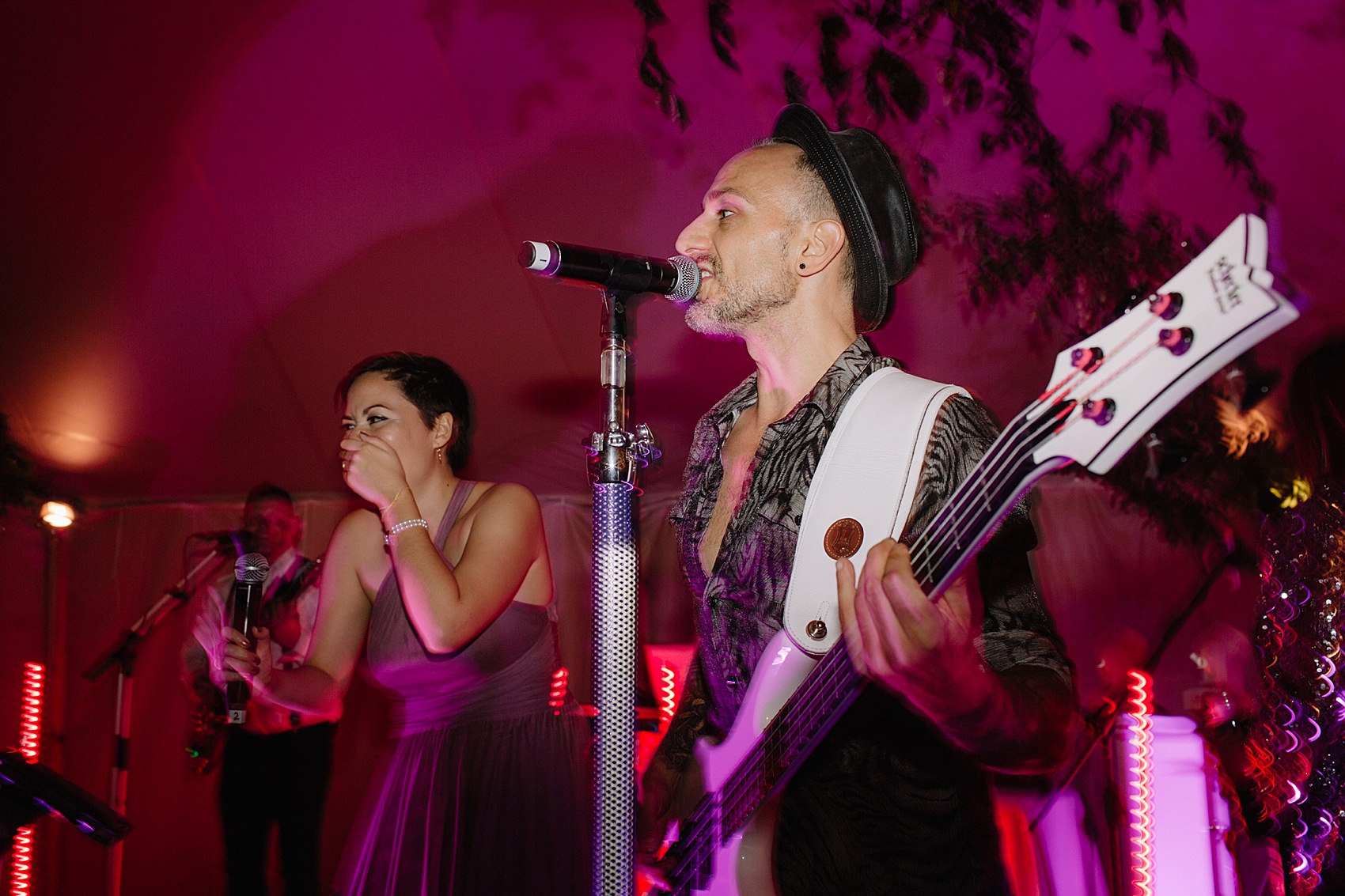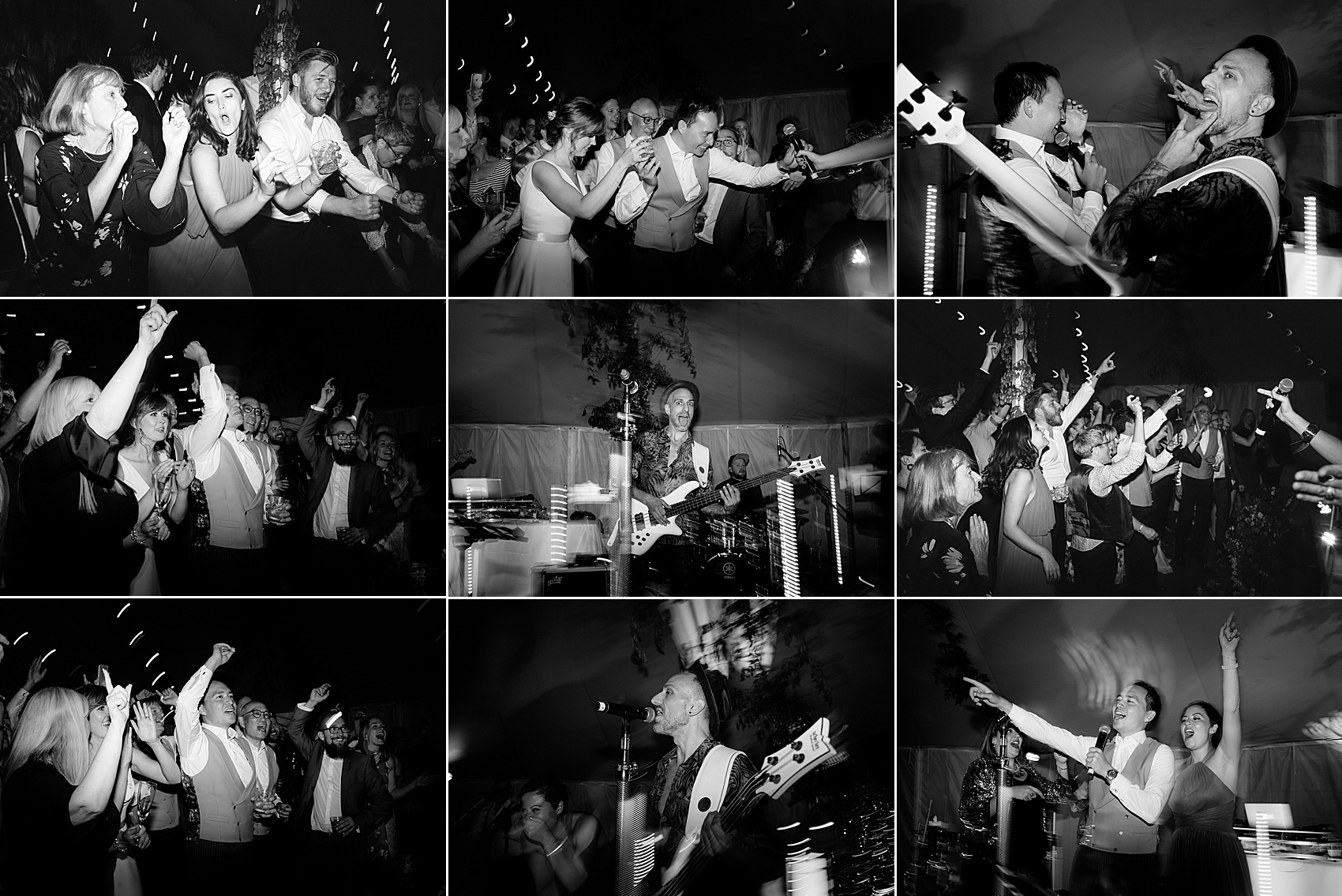 Words of Wedded Wisdom
"We didn't appreciate at the time the number of decisions and the length of time taken to build the big day. We were incredibly lucky to have most of this streamlined with the help our planner, Natalie Hewitt, and her experience was invaluable."
Find wonderful suppliers & venues selected personally by the Love My Dress team, in our Little Book Wedding Directory
"Early on sit down with your spouse to be and decide if there are any things that are key to make your day important, and prioritise those. Don't let close family opinions stress you out as they are only trying to help."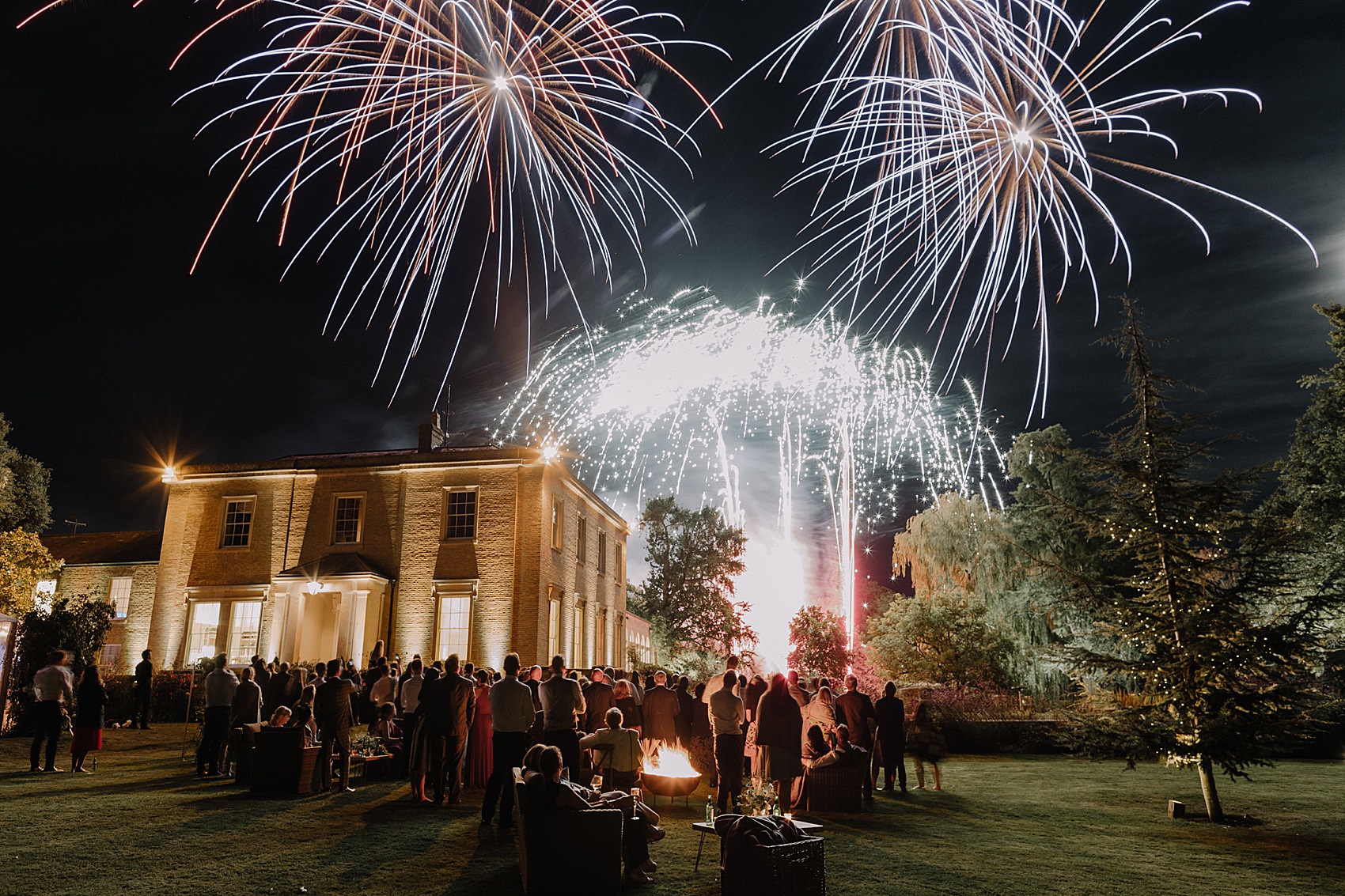 Sophie and James, thank you so much for giving us this peek into your magical day. How wonderful to be able to hold such a brilliant party at home. Huge thanks to Rebecca Goddard and Ben Tynegate for the effortlessly elegant way it was all captured.
Until next time!
Love, Laura