It gives us the greatest pleasure to share a wedding whenever one of more of our Little Book Wedding Directory members were involved.
In this case, the wonderful Low Hall The Lakes wedding venue in Cockermouth in The Lake District. This is where couple Jade and Sam  chose to marry on 28th December 2019.
Hello There Films

+ Follow
"We spent hours looking at many different wedding venues online and when we came across Low Hall we were instantly drawn in. It wasn't like any wedding venue we had seen before. Low Hall was the only wedding venue we actually visited and we fell in love with the place as soon as we arrived so we knew it was the perfect place for us. It has such a magical feel to it as soon as you turn off the motor way and down the windy roads."
Sally T Photography

+ Follow
"We would probably say we had a 'rustic' style winter wedding. We wanted to have lots of greenery, lights and stars as our main decorations. We handmade the floral hoops which were covered in eucalyptus, pine and lots of fairy lights which we hung from the ceiling."
"We also had a giant golden hoop with Edison lightbulbs, which we dressed in eucalyptus, pine and olive leaves. Throughout the venue we had Christmas themed decorations such as; stars, mini skis & sledges, mini Christmas baubles, and a Christmas tree."
"Sam and I met when we were 14 years old, we were together for almost 8 years throughout High School and College. We then had some time apart to do our own things and we met back up again in 2016."
"We are firm believers that everything happens for a reason. After we met back up in 2016, we felt like we had never been apart. We got engaged at the end of January 2019, we were away skiing and Sam proposed at the top of the mountain."
"We didn't want to have a long engagement so we started looking at venues pretty soon after we got engaged, we had always spoken about having a winter wedding so when we found out that Low Hall was available in December we got a date booked in straight away and then the planning started."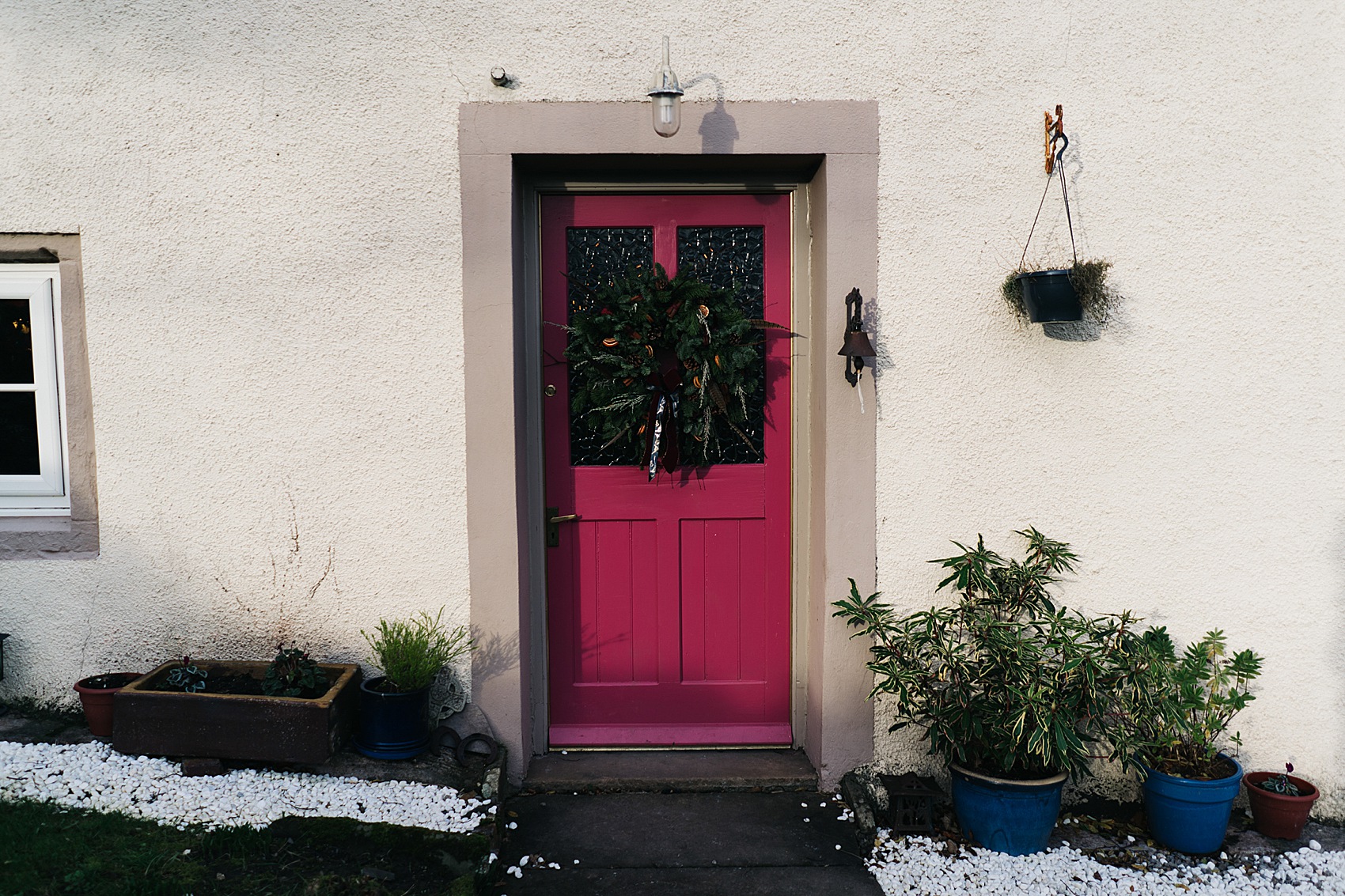 Jade got her DIY on when it came to stationery.
"I designed and made all of the invites, menus, table plans, name places etc. We used a local printing shop for all the printing."
Low Hall The Lakes provided the most wonderful setting for the couple's desired rustic winter wedding vibe. The converted barn filled with the warm glow of fairylights and hanging green decor provided the perfect aesthetic.
"One of our best friends was our florist. Her name is Emily Rose Price. We wanted to keep our flowers very simple and we wanted lots of greenery, mostly eucalyptus."
"Our parents' handmade 4 giant floral hoops to hang from the ceiling. We also hired a giant golden hoop with Edison light bulbs from a lady called Emma Jane Events. We bought 13 large stars and decorated them to hang around the venue as well as lots and lots of greenery."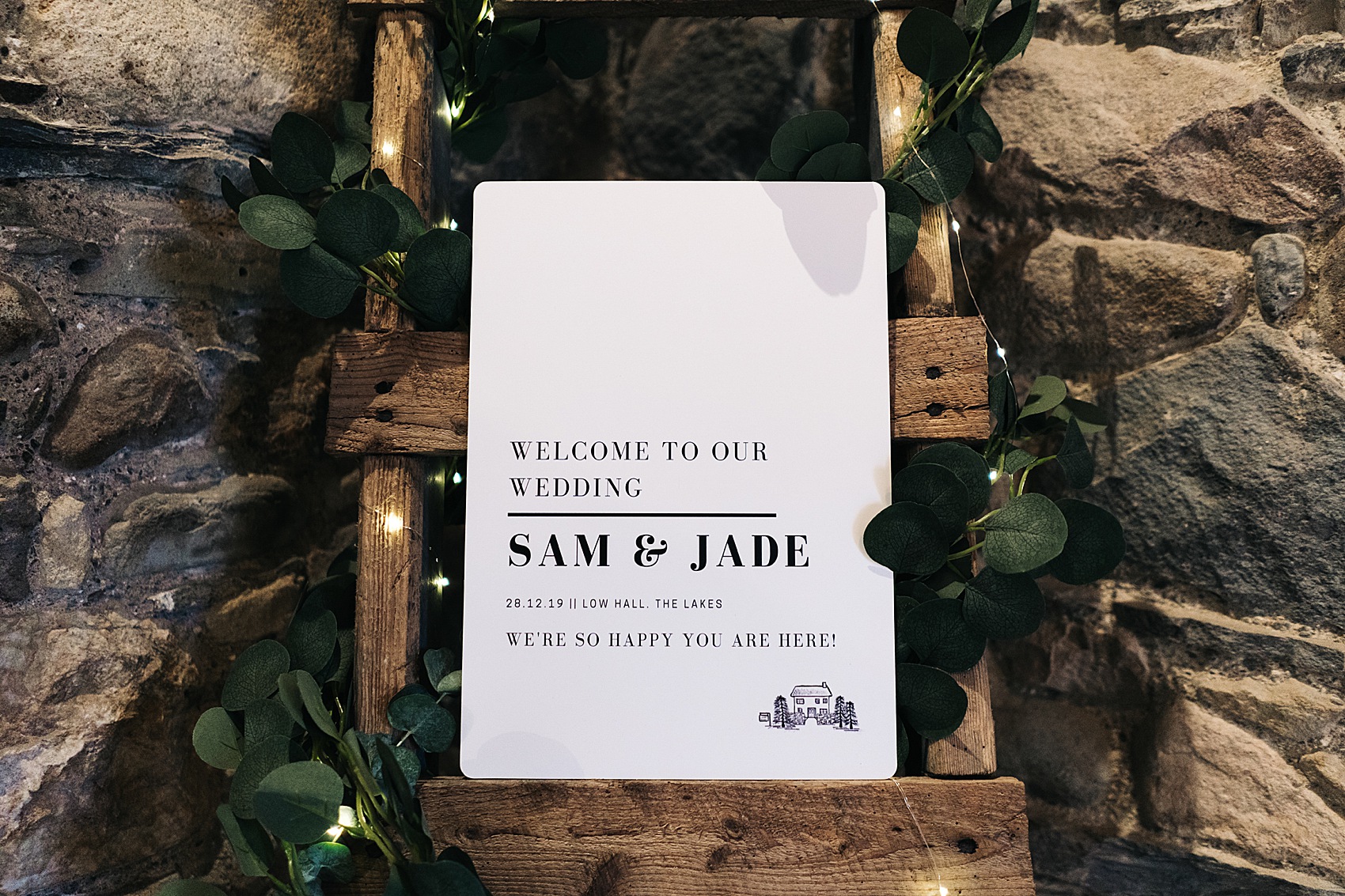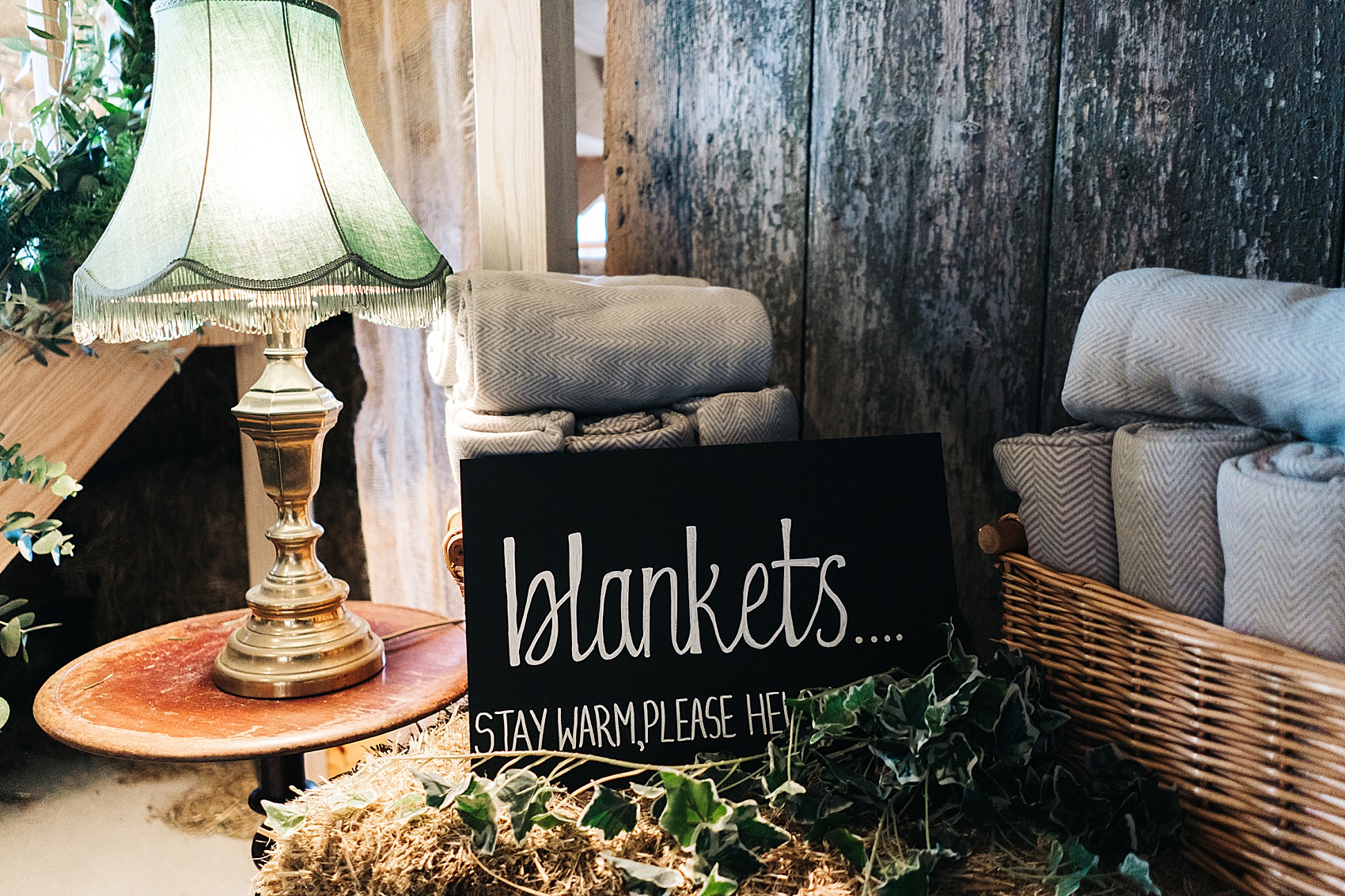 Jade wore the Rhapsody dress by Willowby, which she found at Marrime bridal boutique in Jesmond in Newcastle upon Tyne.
"The girls in Marrime were amazing, I had been to a few shops before visiting Marrime and this was by far my favourite shop, not only because of their gorgeous range of dresses but the girls in the shop were so friendly and extremely helpful.
"Jade – I always knew I wanted sleeves on my dress so when I found the Rhapsody dress it was just what I was looking for. I added a few alterations to the dress to make it more comfortable for me to wear."
"I loved all the lace detail which covered the arms and the back the back of the dress which then carried on down in to the skirt. I felt so special in my dress, I didn't want to take it off."
"I wore L.K Bennett beige suede wedge espadrilles. I also wore a piece of Gypsophila in my hair."
The bride wore her favourite ever scent on the day, Chanel Chance.  Her hair was styled by Gemma Louise of hairforawedding.com.
"I had a gorgeous pair of tiny silver hoops and a necklace to match which was bought for me by my Mum. They were from a shop in Jesmond called Williamsom Brown which is where my engagement ring is from."
"My bridesmaids also bought me a box of gifts which included my something blue and a garter which I wore on the day as well.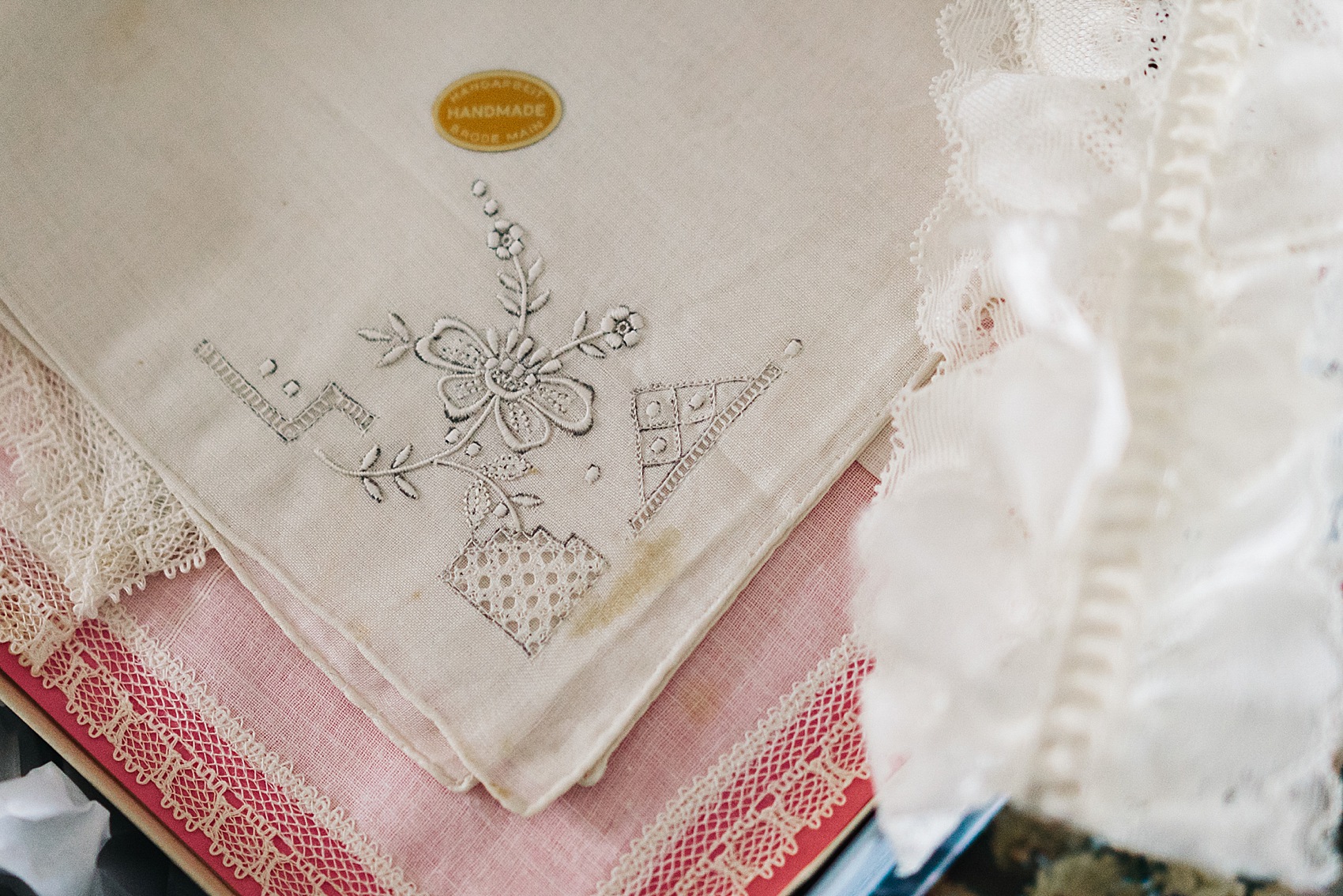 "My bridesmaid dresses were from ASOS, I bought them at the start of the summer as I fell in love with the colour over the style. I bought extra dresses so I could use the fabric to create the style of dress that I wanted them to wear."
"We had tops made to go over the dresses so they were unique and perfect for the style of wedding we were having."
"My bridesmaids wore their own shoes but I bought them all golden leafed hair clips. They also had floral hoops instead of the normal style bouquets."
"I wore a veil. It was from Marrime bridal boutique. It was a floor length veil and it had little diamonds scattered over the whole veil which made it sparkle in different lights."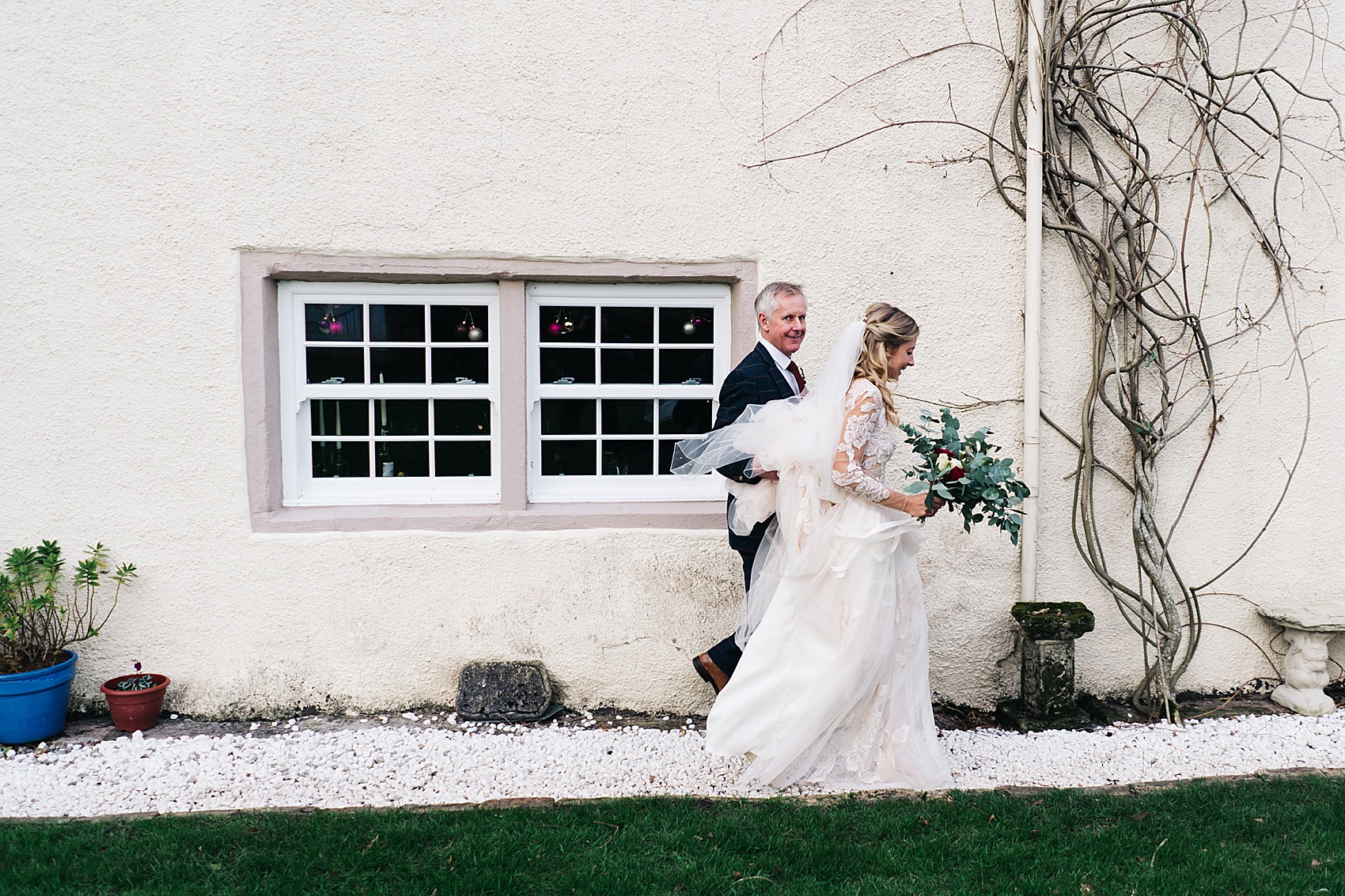 "My bridesmaids and my page boy (Wolf Davies) walked down the aisle first and then my Dad accompanied me down, to the sound of 'Here Comes The Sun', by The Beatles. Our exit song was Fat Boy Slim's 'Praise You'.
"We just kept our ceremony very simple and we used the traditional vows which were provided by the registrars."
"Our wedding rings were from our friends' shop, Northumberland Goldsmiths."
"Our friend Celyn Owen did a reading. It was an extract from the film Juno – we chose this reading because we thought it was light hearted but true."
Explore lots of more wedding readings here on Love My Dress
"In my opinion the best thing you can do is find a person who loves you for exactly what you are. Good mood, bad mood, ugly, pretty, handsome, what have you, the right person will still think the sun shines out of your ass. That's the kind of person that's worth sticking with."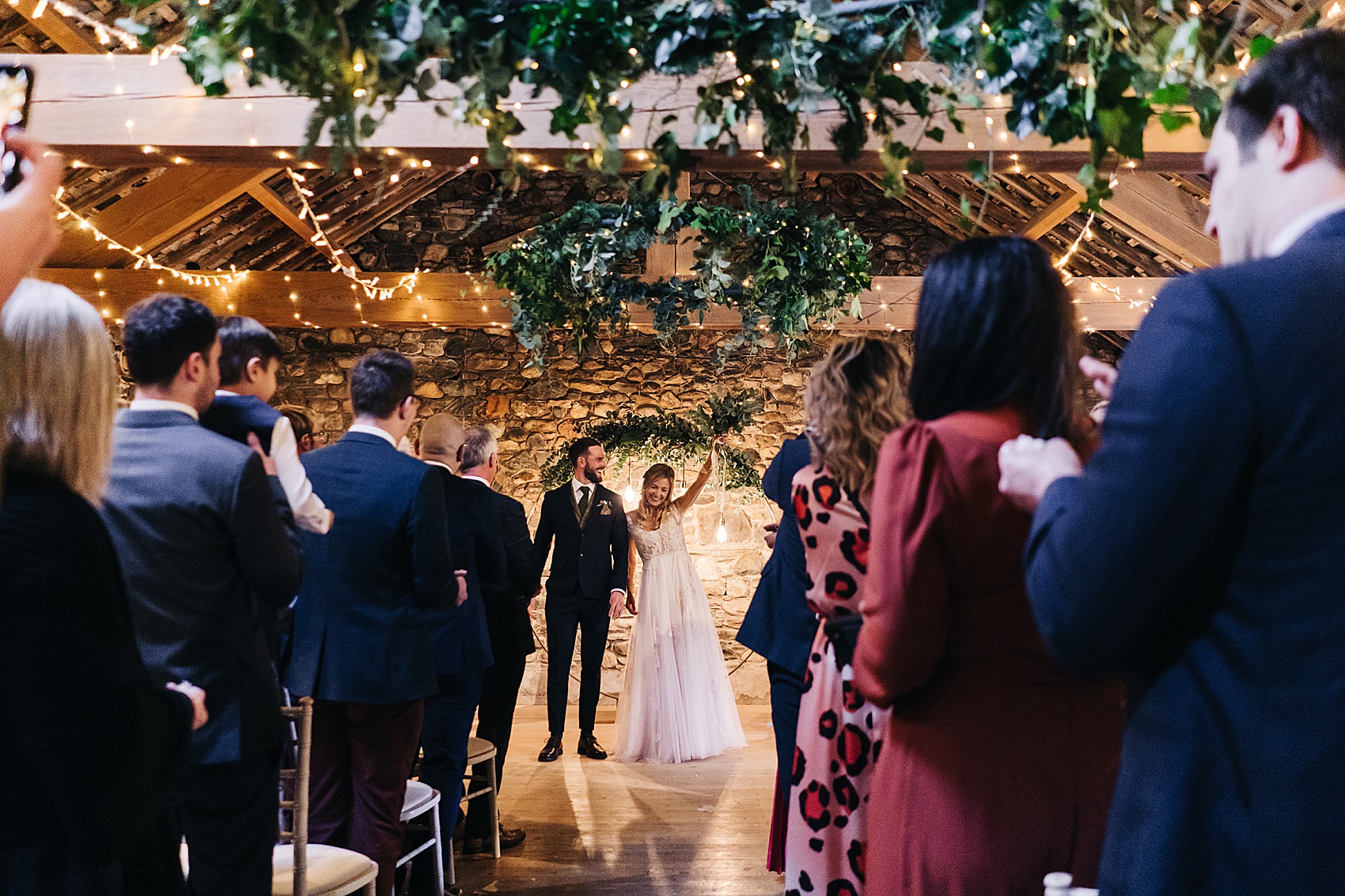 The couple hired photography Sally T to document their day in images and I think it's fair to say that Sally did an absolutely beautiful job.
"We were recommended Sally by one our friends. As soon as we had seen her work we knew we wanted her to photograph our wedding."
"Sally was amazing on our wedding day; we are quite camera shy and she made us feel very relaxed and comfortable. She captured every emotion of the day, we would recommend her to anyone – she really is amazing."
Their videographer was Hello There Films, who. Jade describes as incredible and so talented.
"We had one page boy, he wore a navy suit from Zara to match the groomsmen along with Puma polka dot trainers."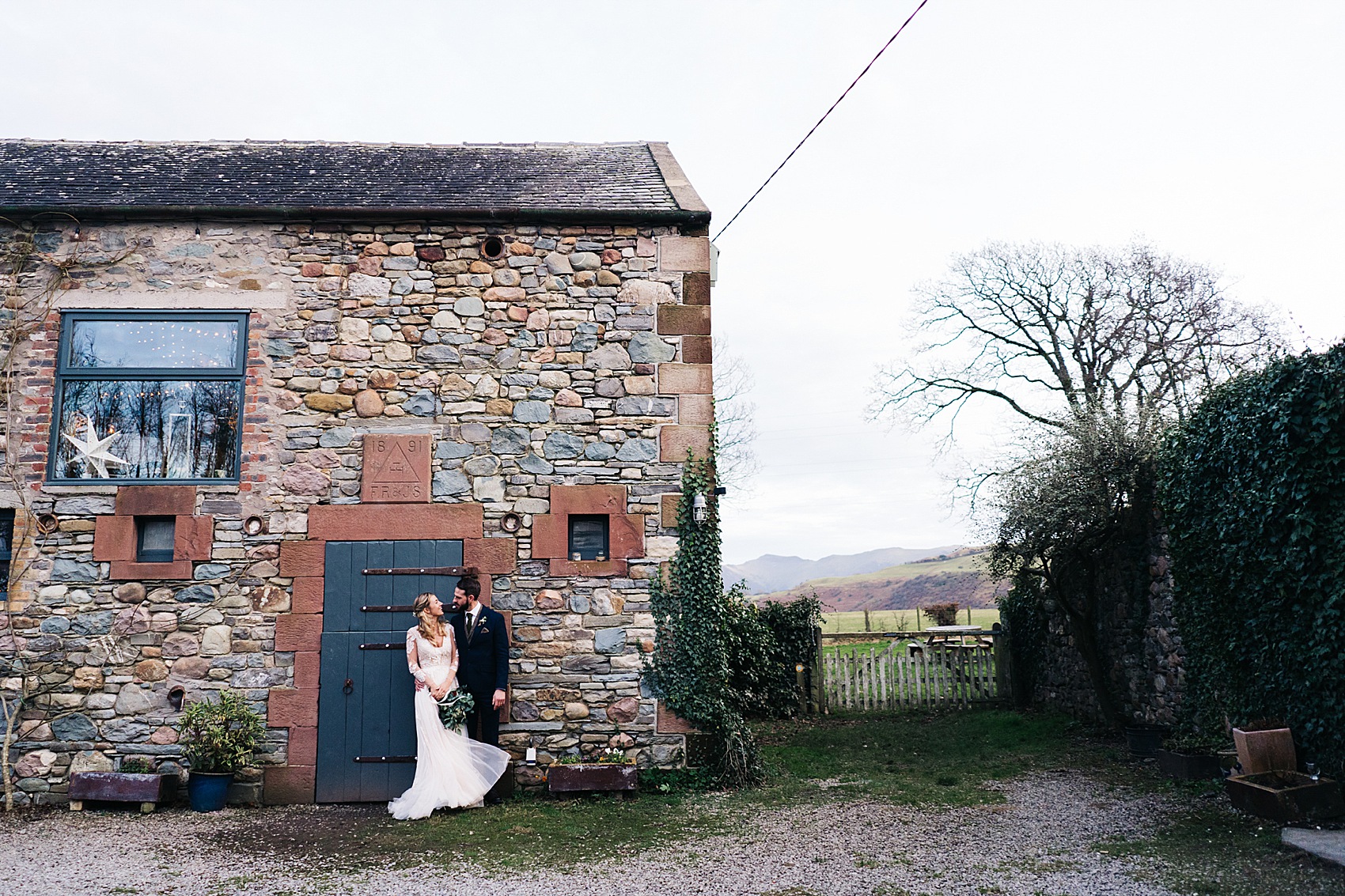 Master Debonair Name of Suit: Rathbone, Navy Herringbone Tweed
"We supplied bottles of Genepi (alcohol) on the table as our favours. Genepi is a traditional herbal liqueur popularised in the Alps. This was homemade by our friends who live in Val d'Isere. It's like rocket fuel!"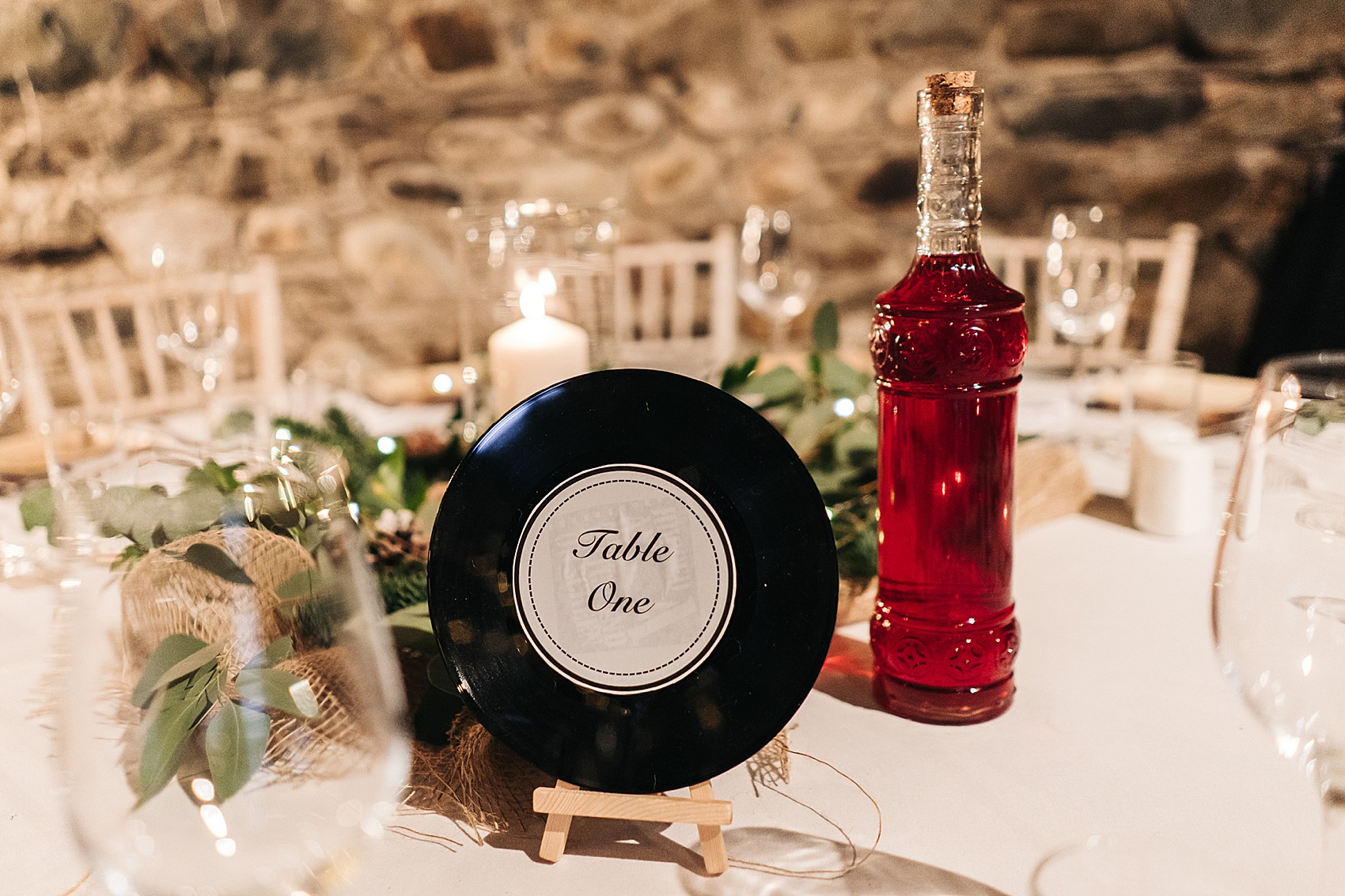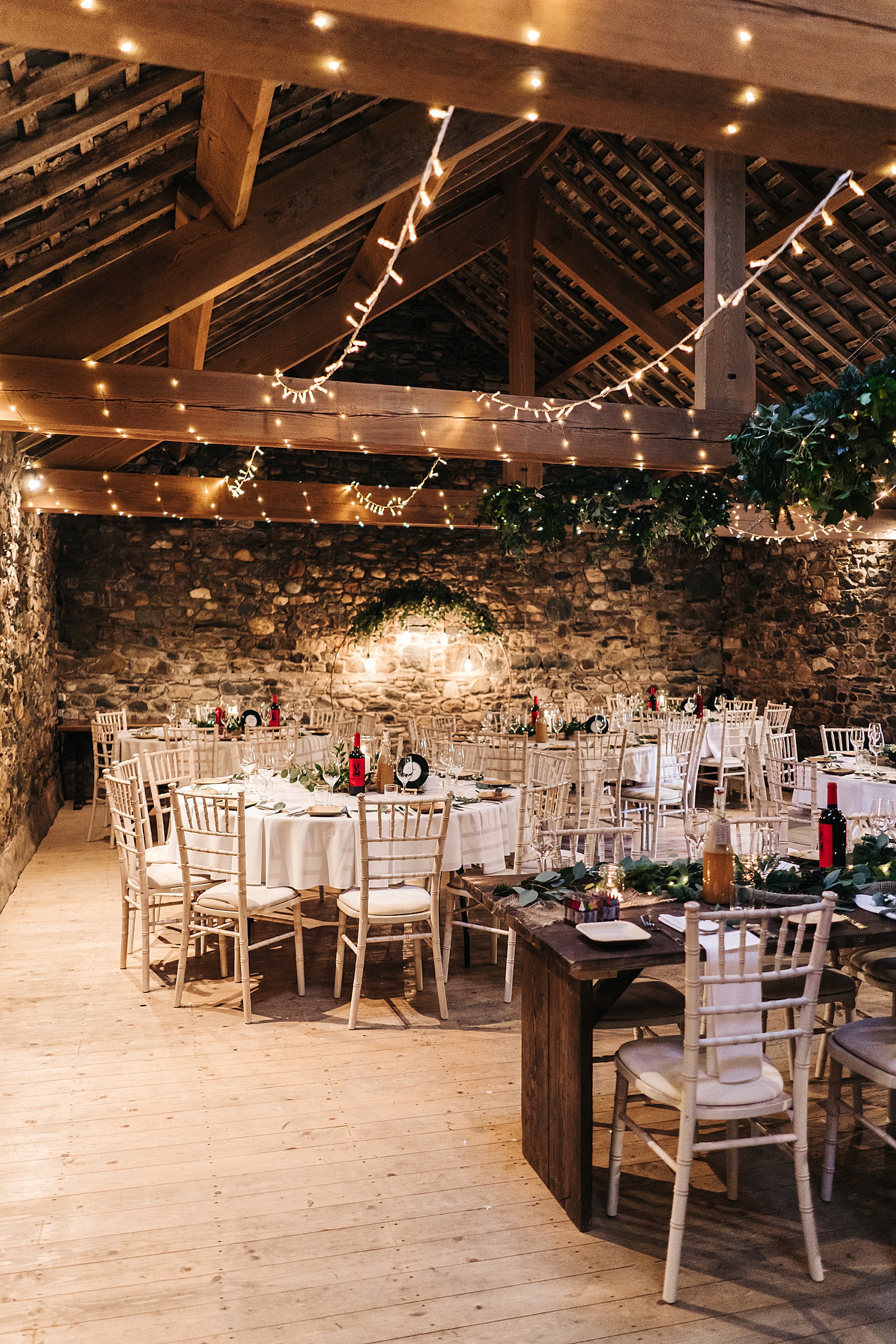 "As mentioned earlier, we used a lady called Emma of Emma Jane Events for some of the lighting in the barn and she also provided the giant hoop. Low Hall had most of the lights already up in the barn which made it super easy for us. They also had festoon lighting outside and a fire pit which was perfect in the evening."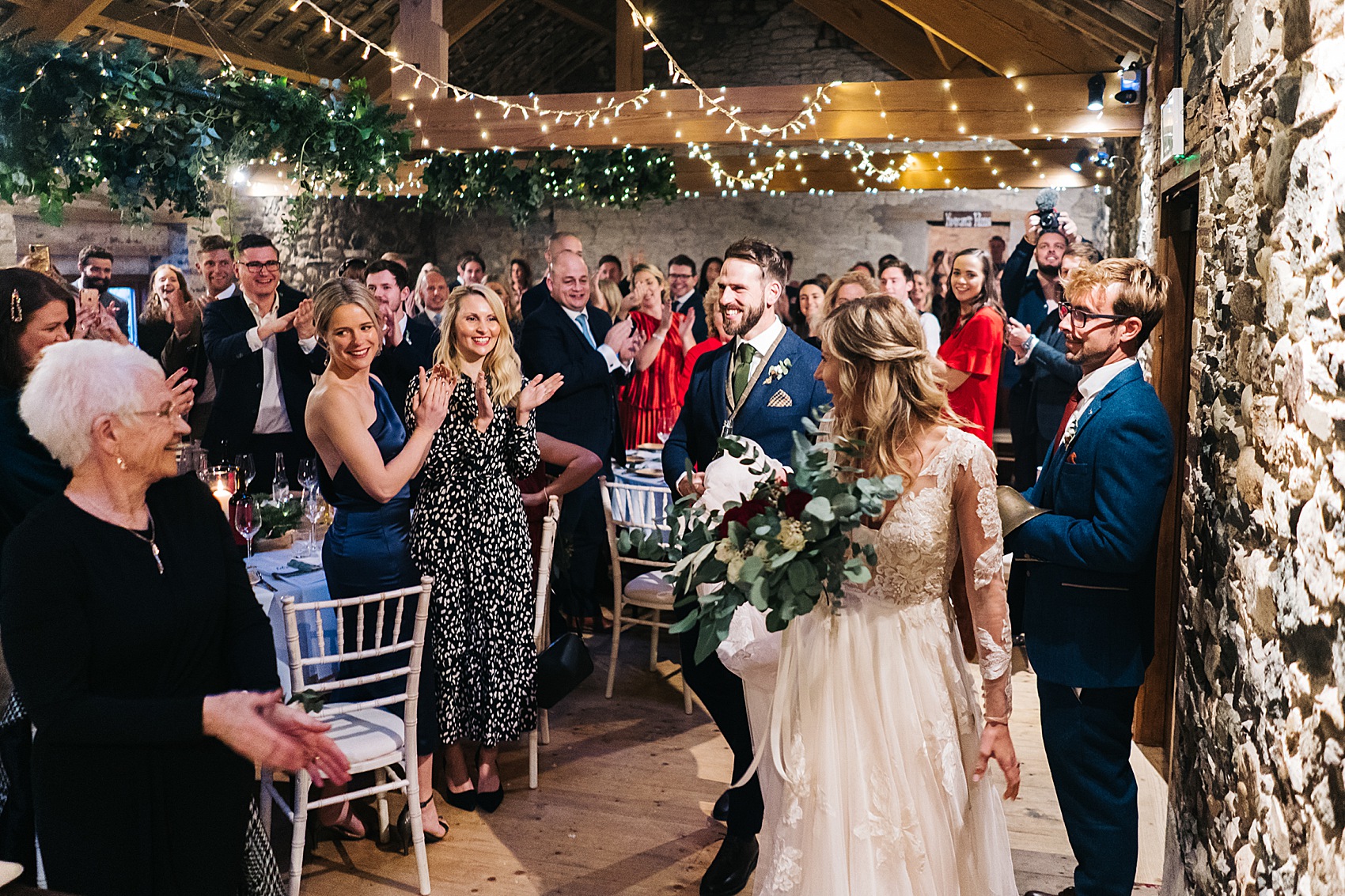 "We used a local company, Lola Jeans in Newcastle. They have two restaurants near where we live and we love their food. They supplied the food for the whole day, day & night and it was fantastic. We also used Graze&Gorge for our food on the Sunday as we had an after-wedding party back at the venue."
"We didn't have the traditional wedding cake, instead we had a brownie stack which was made and put together by our caterers, Lola Jeans in Newcastle, and an actual cheese cake which we bought and put together ourselves."
It was from the Matthews Cheese Specialists in the Newcastle Grainger Market, they were great. We were able to taste all the cheeses and pick which flavours we wanted."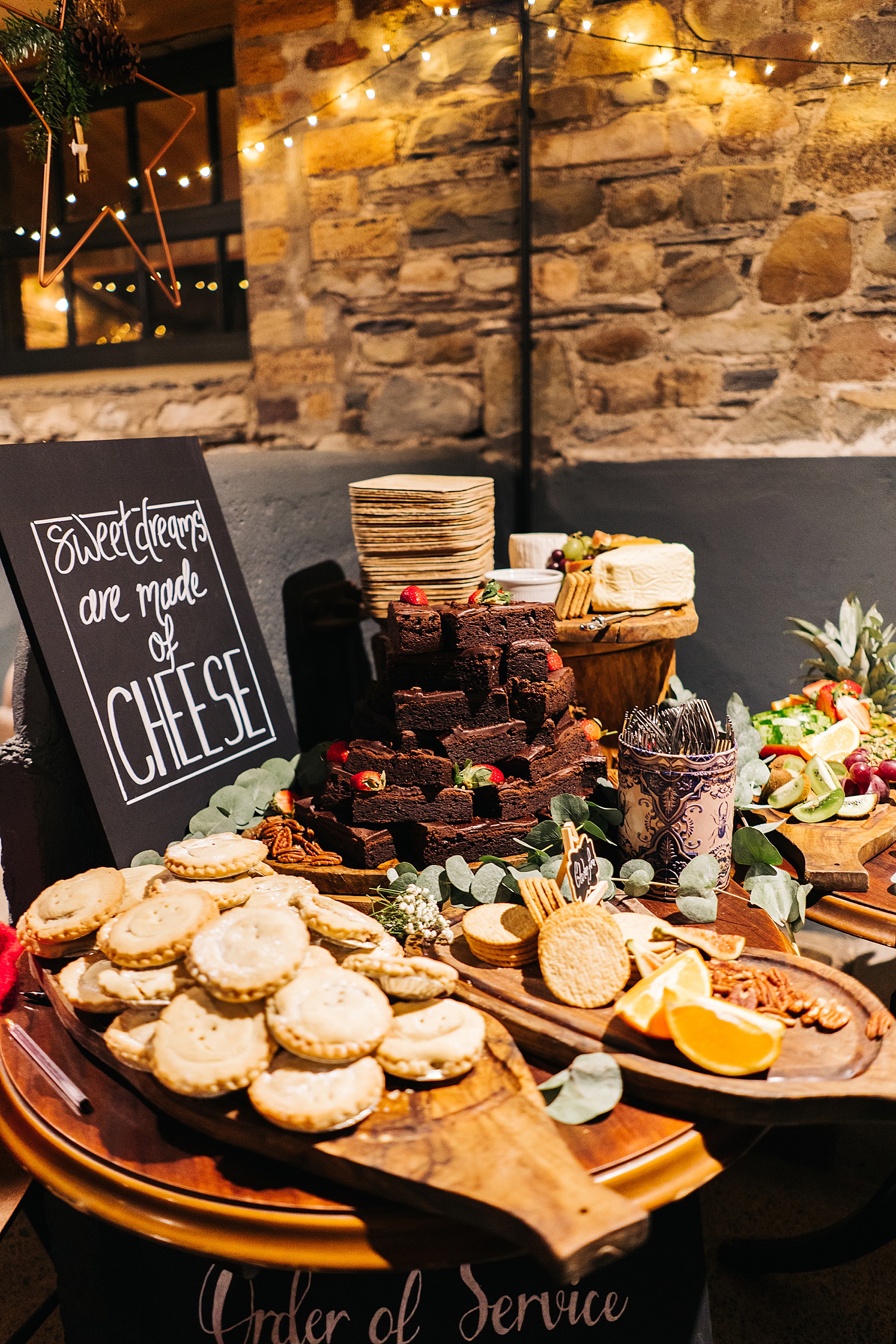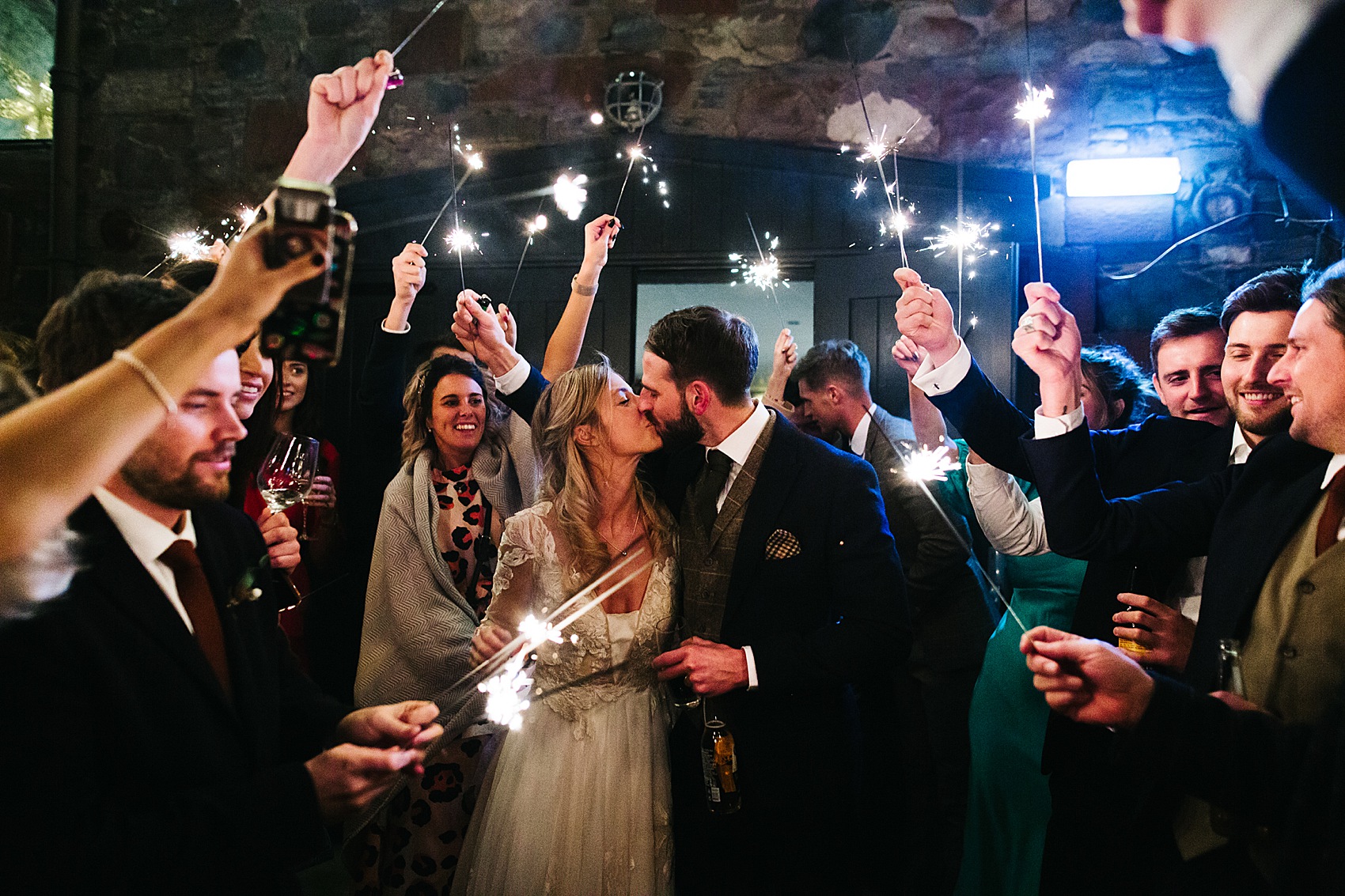 The couple hired The Northern House Band via Jonny Ross Music to entertain their guests in the evening, who they say were incredible.
Jade and Sam's first dance song was to 'She Is Love', by Oasis.
"We have always loved Oasis, from a very young age this band has always reminded us of each other so we knew had to have one of their songs as our first dance and we felt like this song was perfect."
Words of Wedded Wisdom
"Enjoy every moment from the build-up to the big day. There will be tears, laughs, a few sleepless nights and moments of panic but it is totally worth it. This is your special day and make sure you do what is right for you. On the day make sure you take a moment to step back and watch what is going on around you…. It's truly magical and it goes by so fast."
"It's amazing how much work goes in to that one day. It can be quite overwhelming at times but watching it all come together it such a rewarding feeling – especially when you've done it yourself."
What a super, super gorgeous wedding. I honestly cannot recommend Low Hall The Lakes more highly and am really proud that we got to share the couple who run the venue's wedding here on Love My Dress too. If you are looking for the perfect Lake District wedding venue, this really is it.
Love and thanks to the very lovely Sally T as always, for sharing her work.
Annabel x