I don't mind telling you that I shed a tear or two as I looked through the collection of pictures accompanying today's feature.
This is an enchanting Indian beach wedding in Goa, followed by an elegant black tie reception, and you're not going to want to miss a bit of it! On the 15 February 2020, Swati married her love Joshan. Swati runs her own property development business, and Joshan works for a West London lettings company, and they were married at the Zuri White Sands Resort in Goa, India.
"We chose Goa and Zuri White Sands because this is where Joshan proposed to me exactly one year before our wedding. Goa was the perfect choice for both of us, as we love the beach and the outdoors."
"What is also great about Goa is that we could maintain aspects of our culture, such as the food. We are both massive foodies, so this also played a part in our choice of destination."
Ed Pereira Photography

+ Follow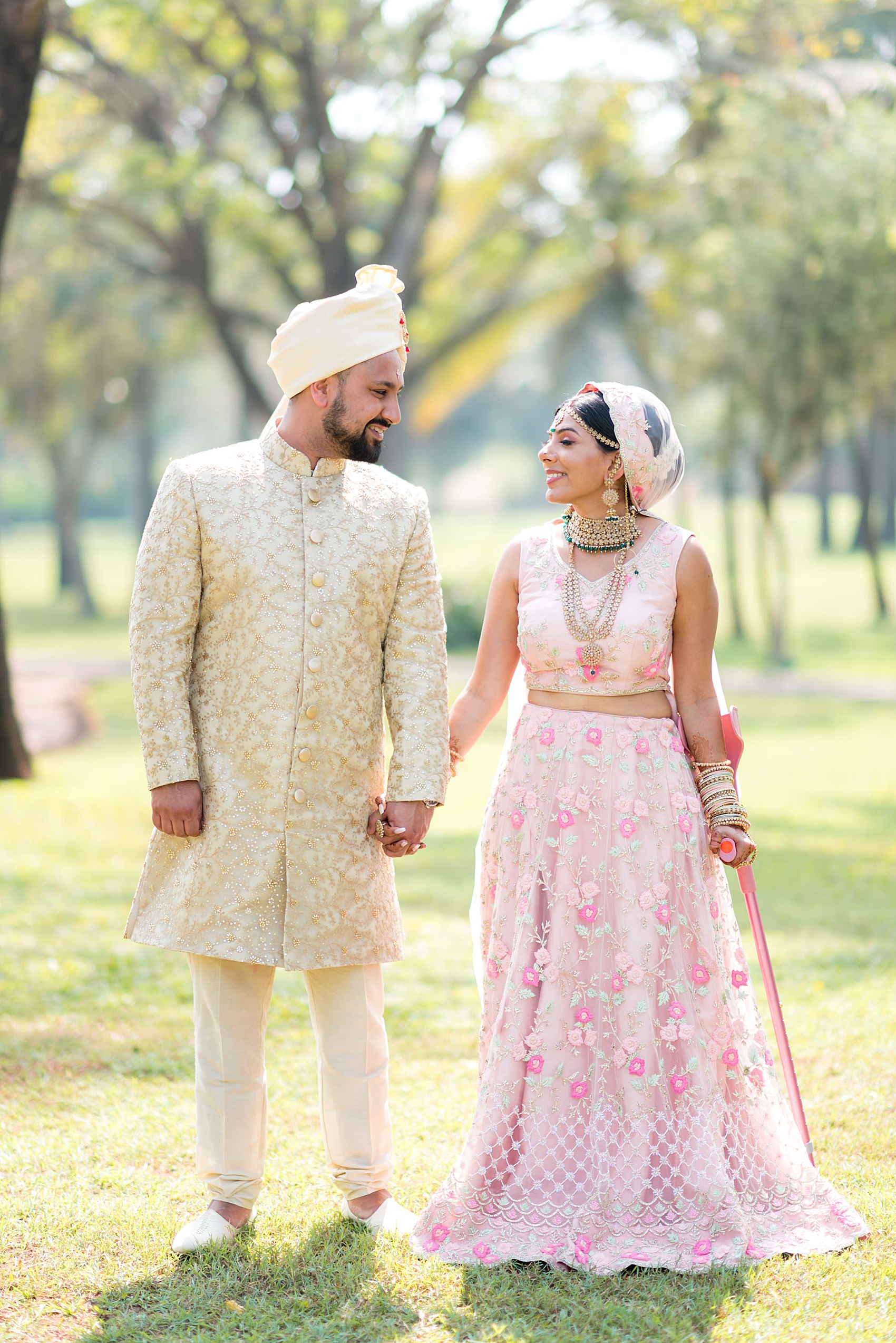 Swati first met her talented stylist Suky Gill when she did her hair and make-up for Swati and Joshan's engagement party, and on their wedding day, she did a marvellous job once again.
"Knowing I was going to have a beach wedding, I wanted all of my outfits to reflect that sort of vibe, in terms of colours and fabrics. Traditionally, a lot of Indian brides wear the colour red on their special day, but I always had a pastel shade in my mind, with contrasting handcrafted emerald green jewellery to really stand out. I thought it would be more in keeping with the setting."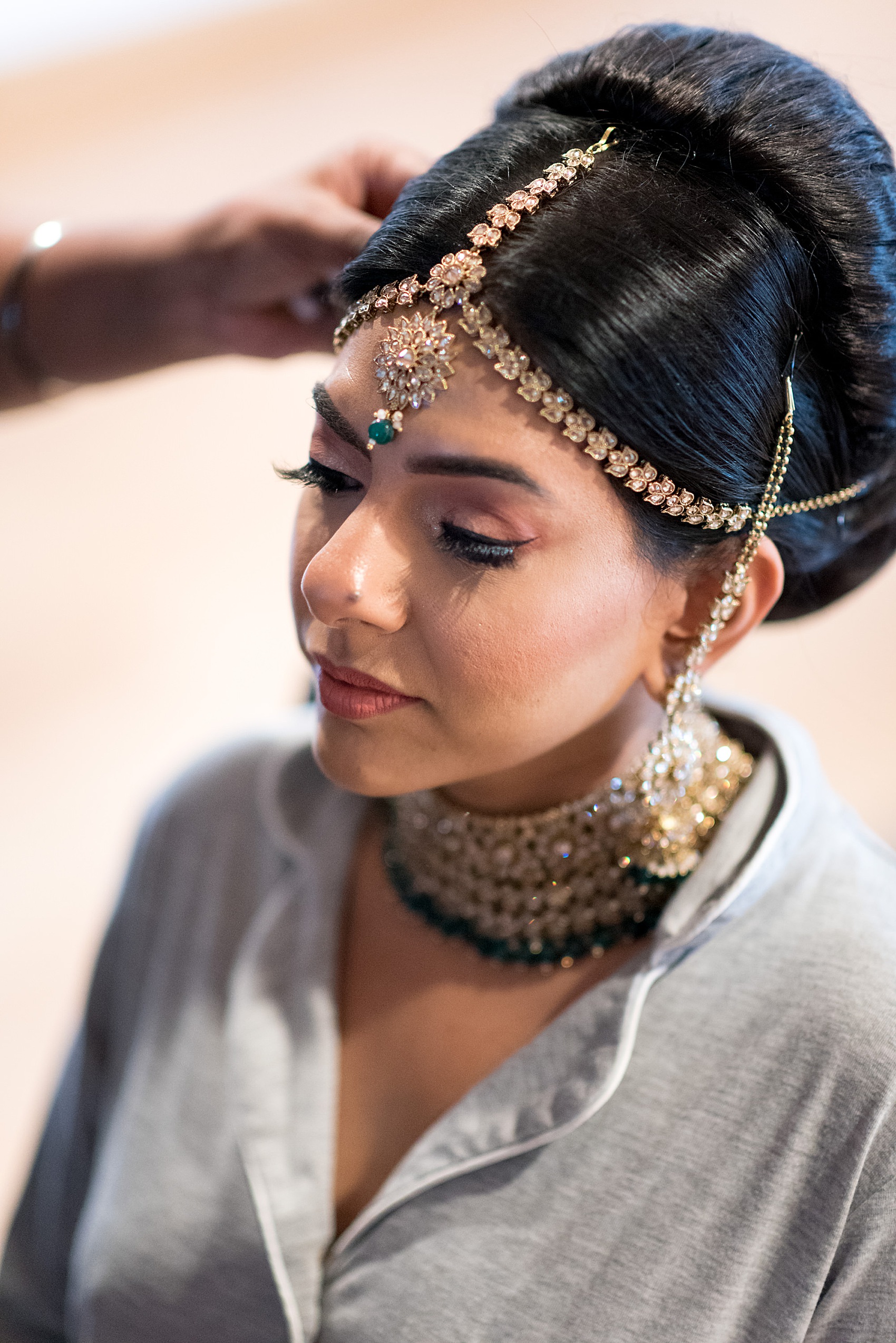 "When it comes to style, I have always believed that less is more, but being the bride I really wanted to go all out on the special day with the full bridal jewellery including the headpiece. The flowers in my hair added a nice Goan twist to my entire look."
All of Swati's outfits were chosen at Mumbai boutique Aza Fashions, and I just love the beautiful shade of rose pink for her ceremony look, with floral motif embroidery in shades of pink and mint green.
"They stock a variety of India's leading and upcoming designers in Indian Bridal wear, including Sabyasachi. I had a very positive experience there, as no request was too much for them. They took the time to understand my style and showed me outfits in line with that."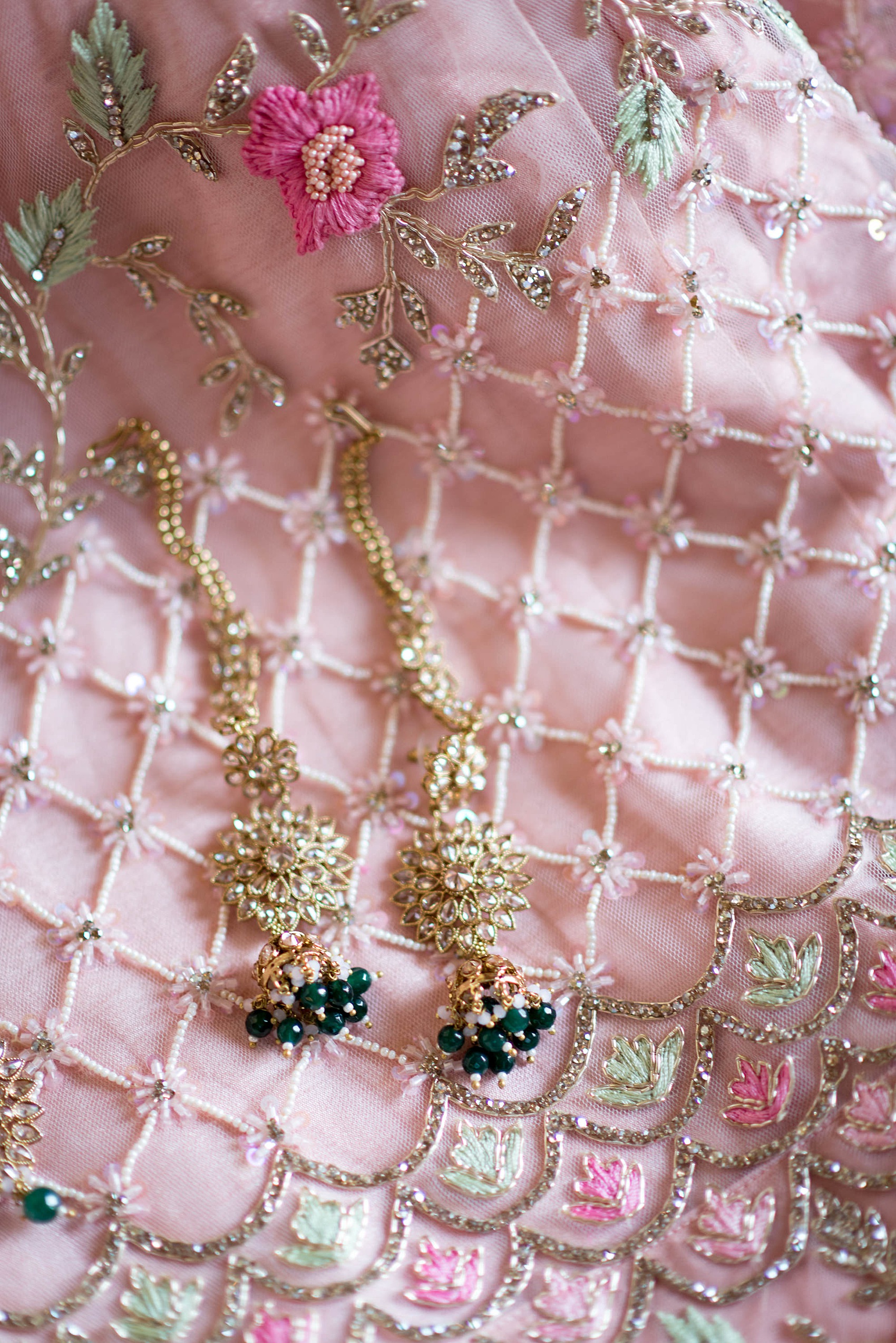 To complete her elegant look, Swati's mother placed a delicate tulle chunni, edged with floral embroidery onto her hair.
"When I first saw my actual wedding day outfit, I had no hesitation in knowing it was the one, even before I had tried it on. The colour was perfect, on trend, and I could imagine the entire look on the day in an instant. I particularly loved the subtle but contrasting floral embroidery, which really brought life to the outfit in an elegant way."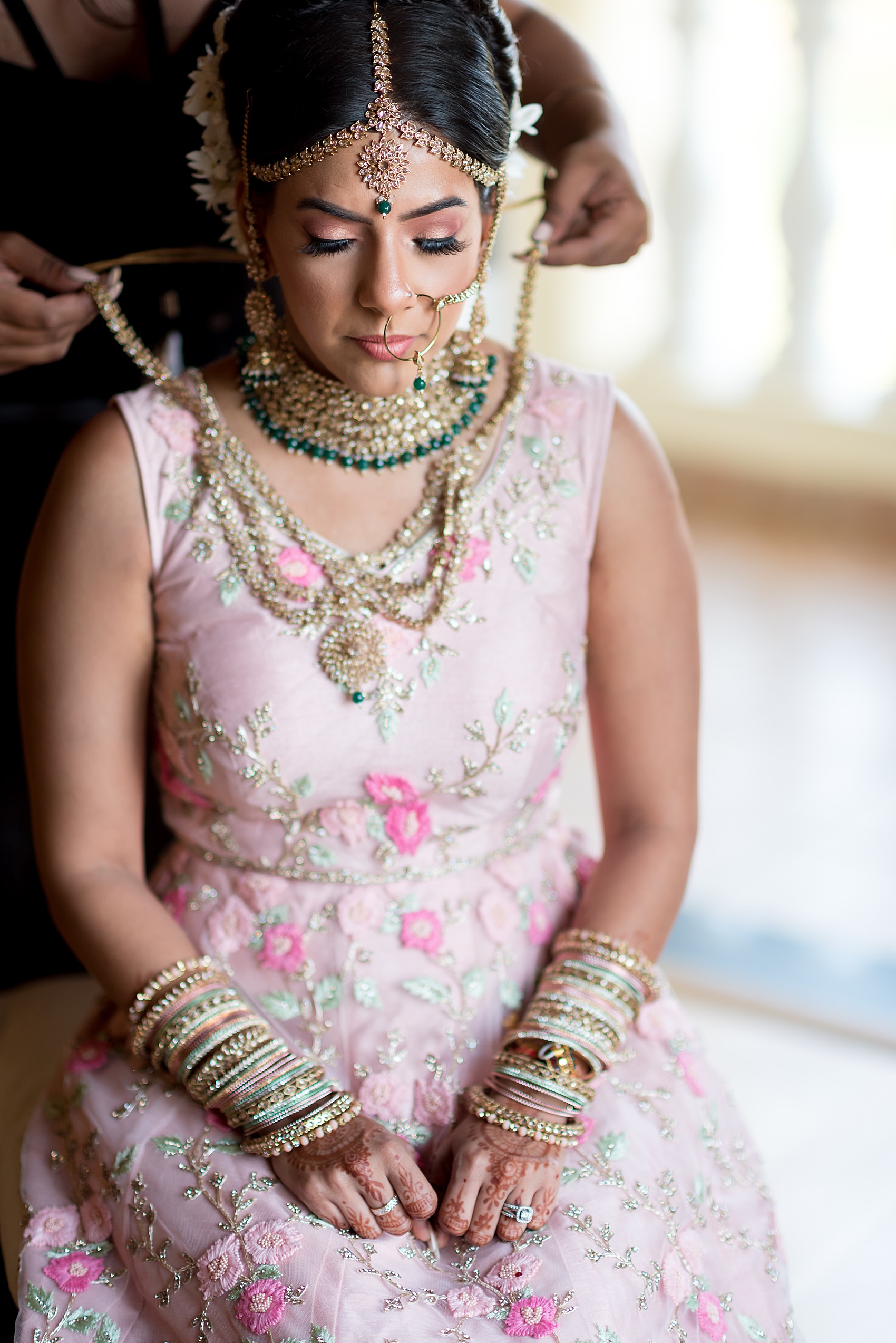 All that remained was for a mist of perfume – Acqua di Parma's Peonia Nobile; a nostalgic fragrance remining both Swati and Joshan of their first romantic getaway to Rome.
"It was one of our most memorable trips to date. Joshan loves the scent, so I had to wear his favourite on our special day."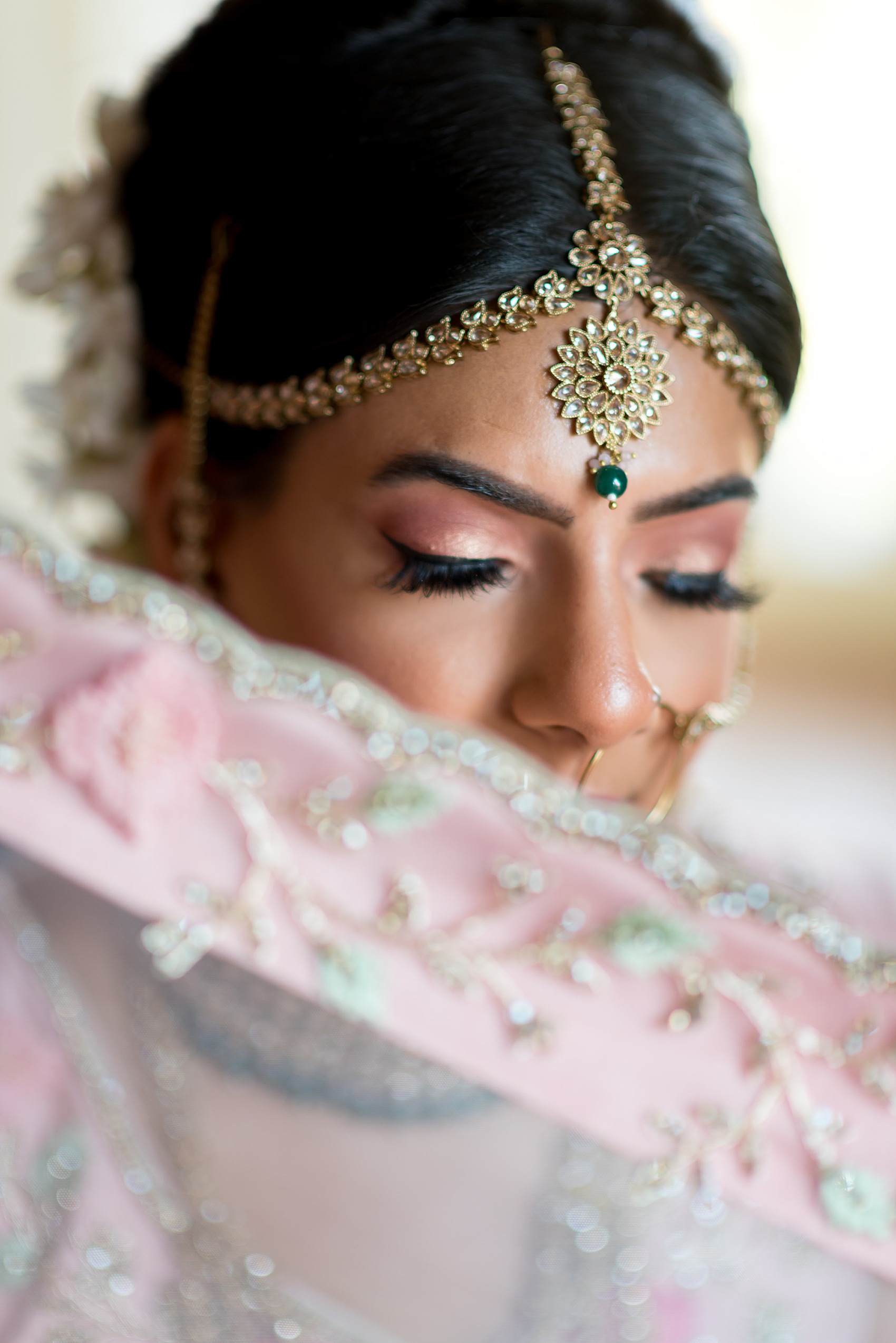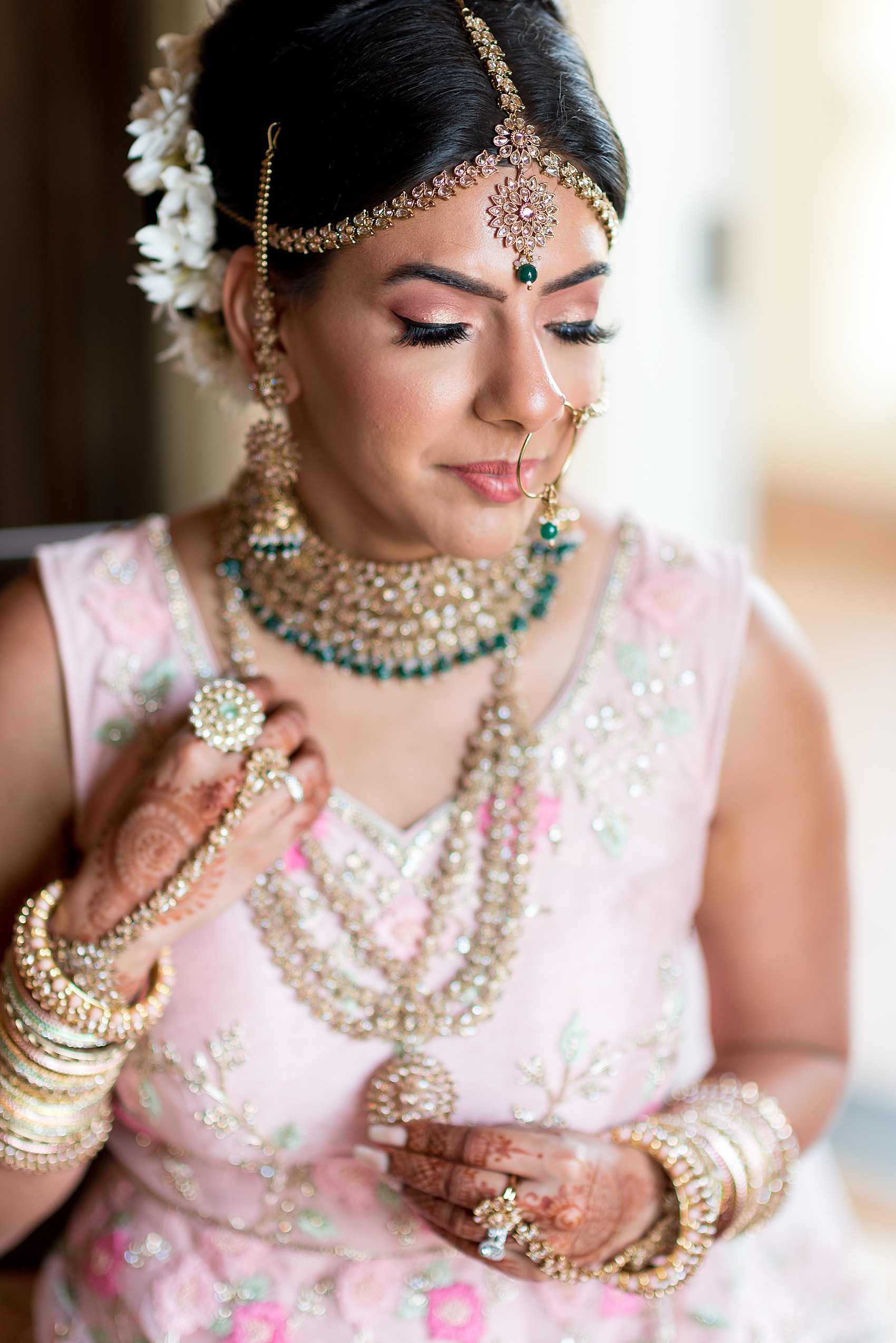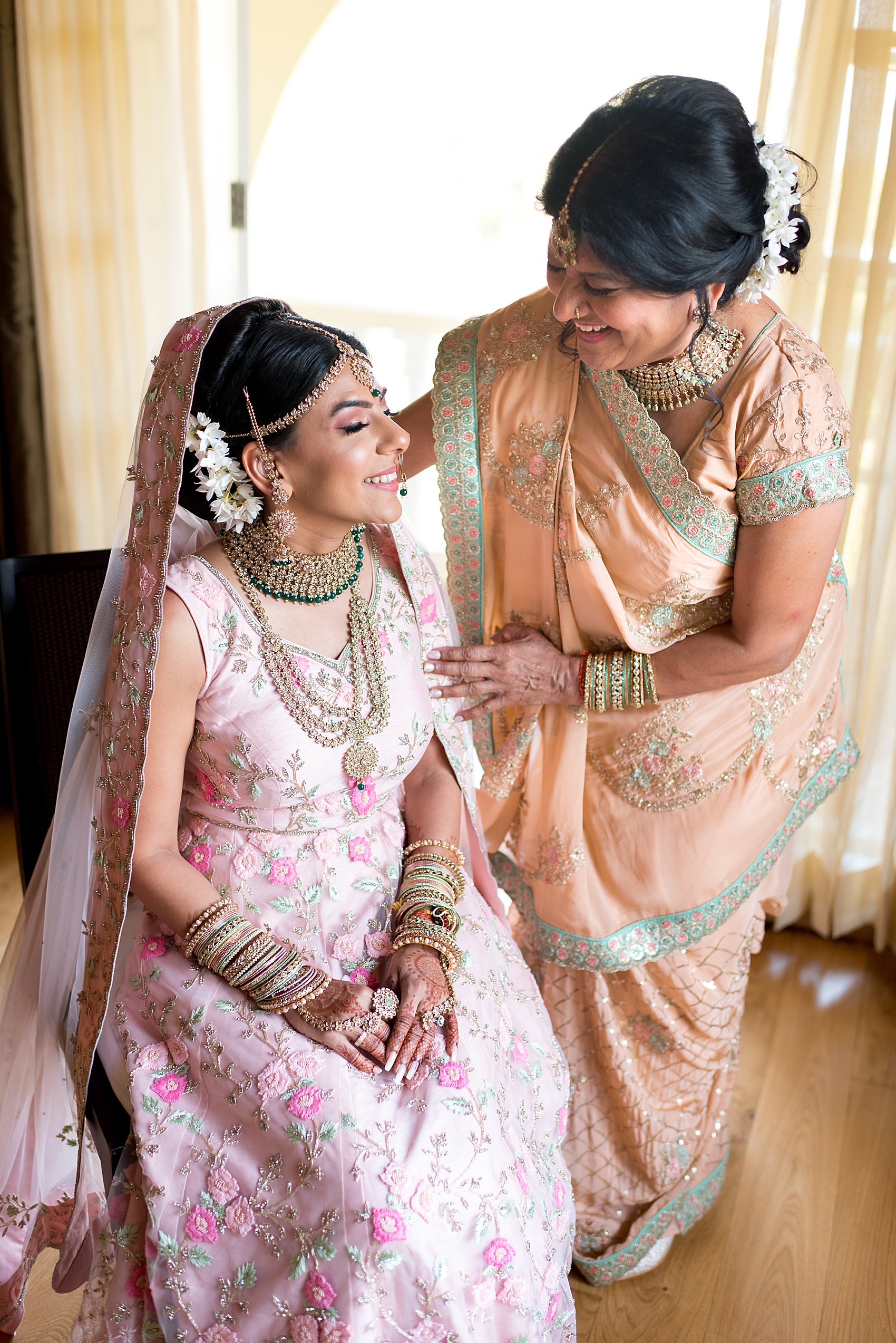 "Joshan wore a beautiful ivory embroidered silk sherwani, which was custom made by a designer based in Ealing. His shawl was matched to my wedding outfit, and also custom made, and he wore a 'safa' on his head during the wedding day. It is a traditional headpiece worn by the groom."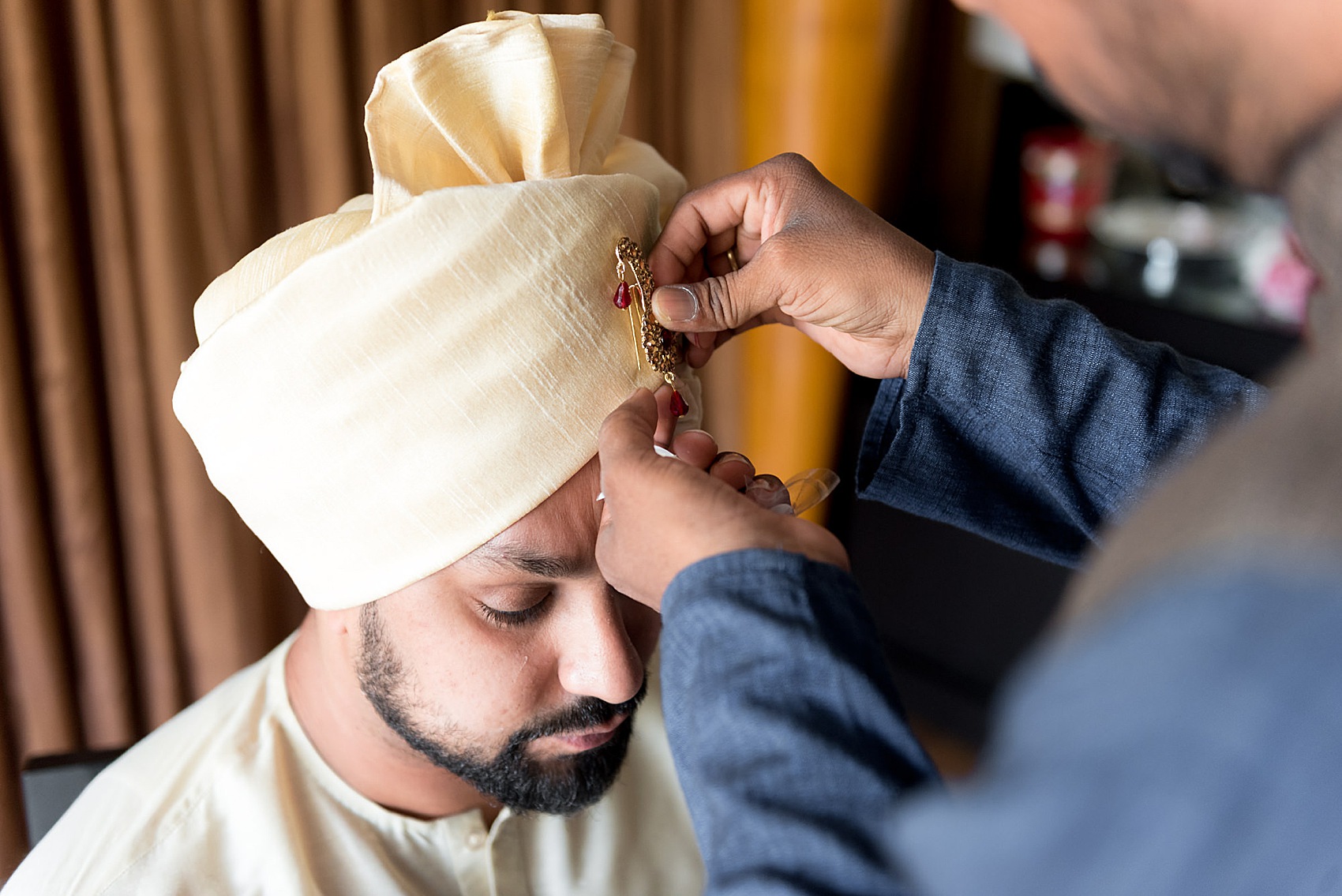 Swati's bridesmaids wore gorgeous golden dresses with sequin spangled dupattas from Indya.
"All the designs were so contemporary, and they had a cool mix and match concept, which was great for customising the outfits."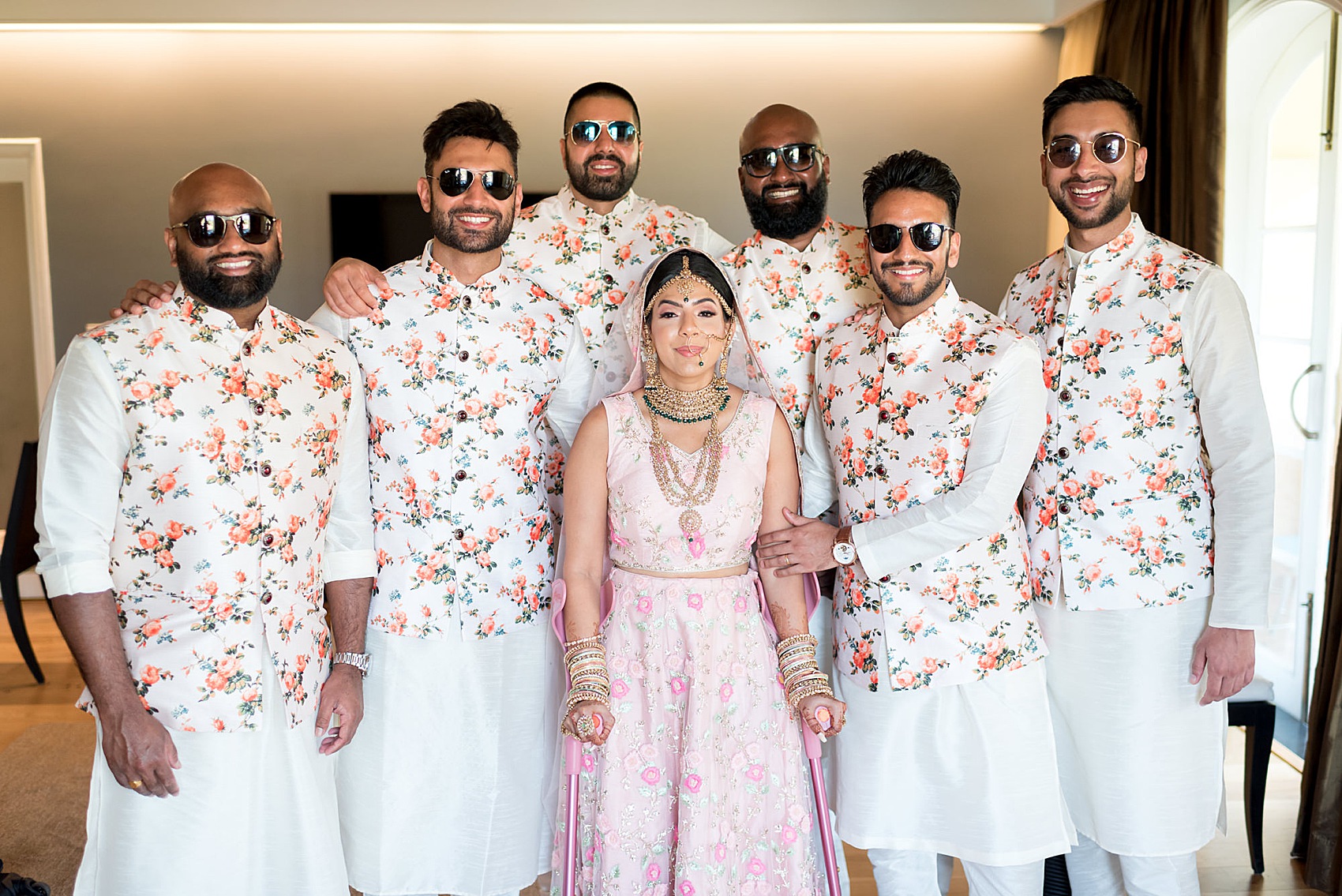 Ahead of the wedding, Swati and Joshan took a trip out to Goa to talk to potential planners, and were impressed with Reynold Weddings' work and approach.
"What we loved about Reynold Weddings was their professionalism and efficiency with regards to responding to our queries. We always felt we were in safe hands from the start."
"Reynold Weddings beautifully customised the wedding day décor. The main 'mandap' setting, where the actual Indian wedding takes place, was created with fresh red and white flowers, with the ocean as the backdrop."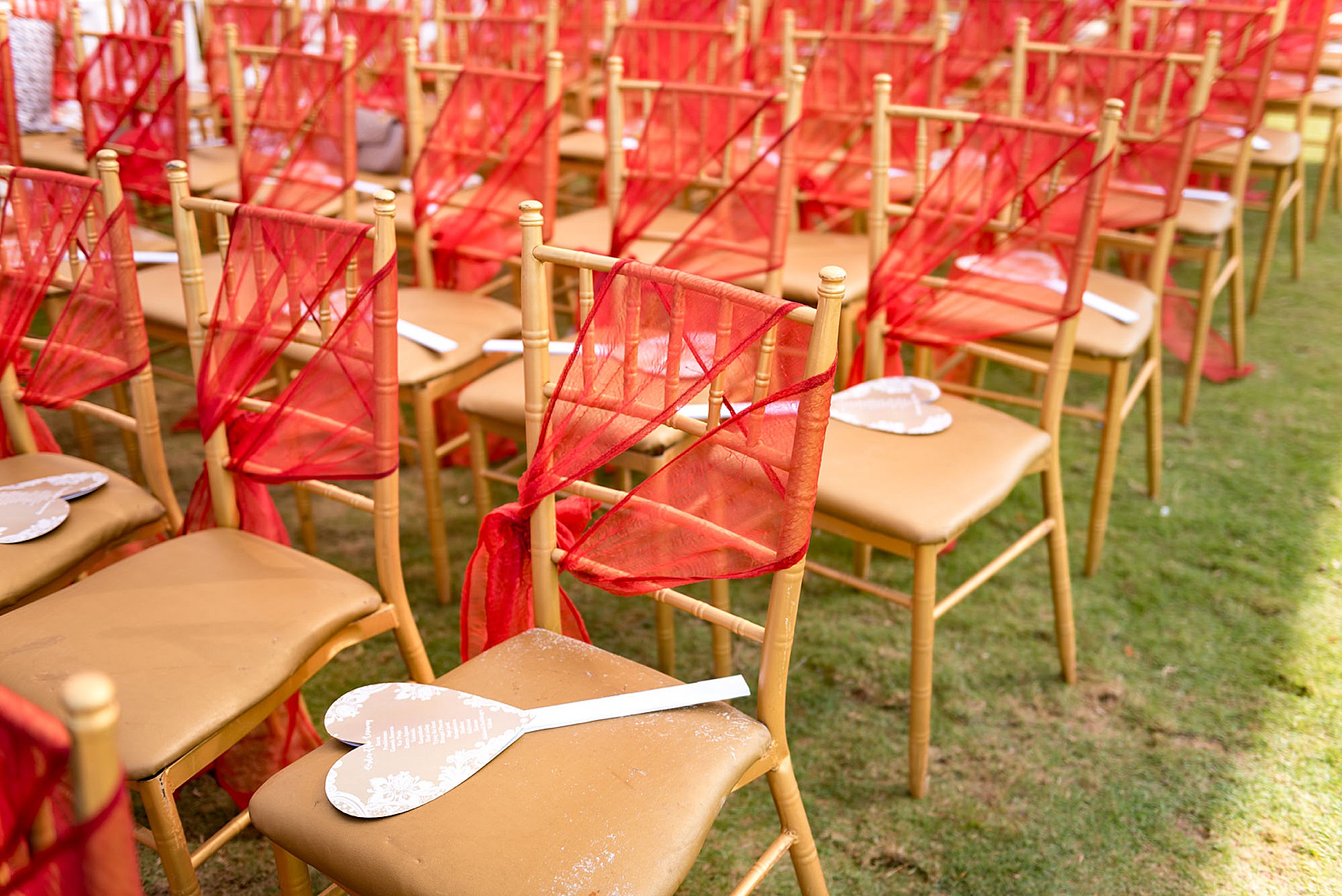 "The guest seating area was creatively covered with gold and white drapes. The entrance of the mandap had beautiful sculptures of the Lord Ganesh (the Hindu god of beginnings)."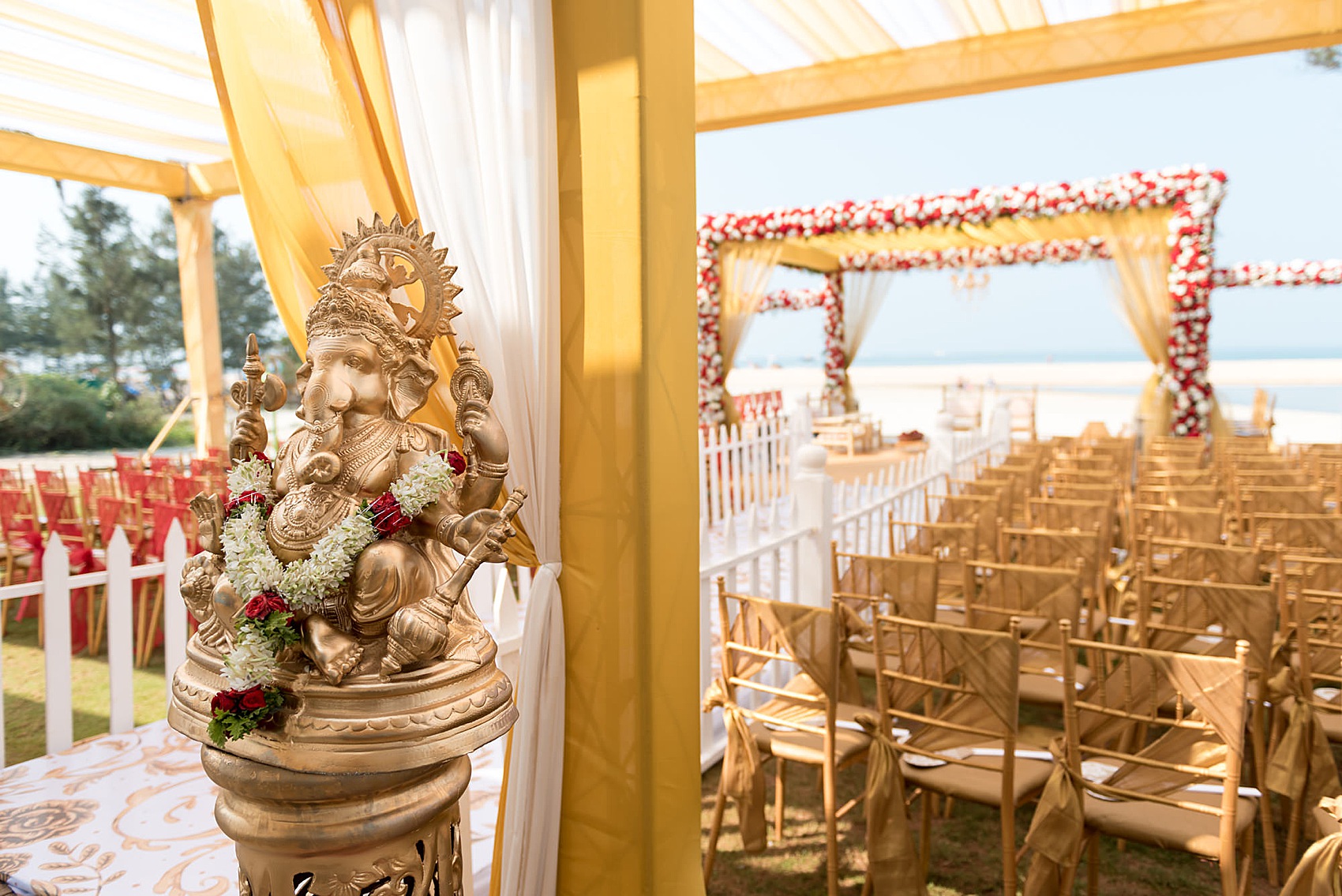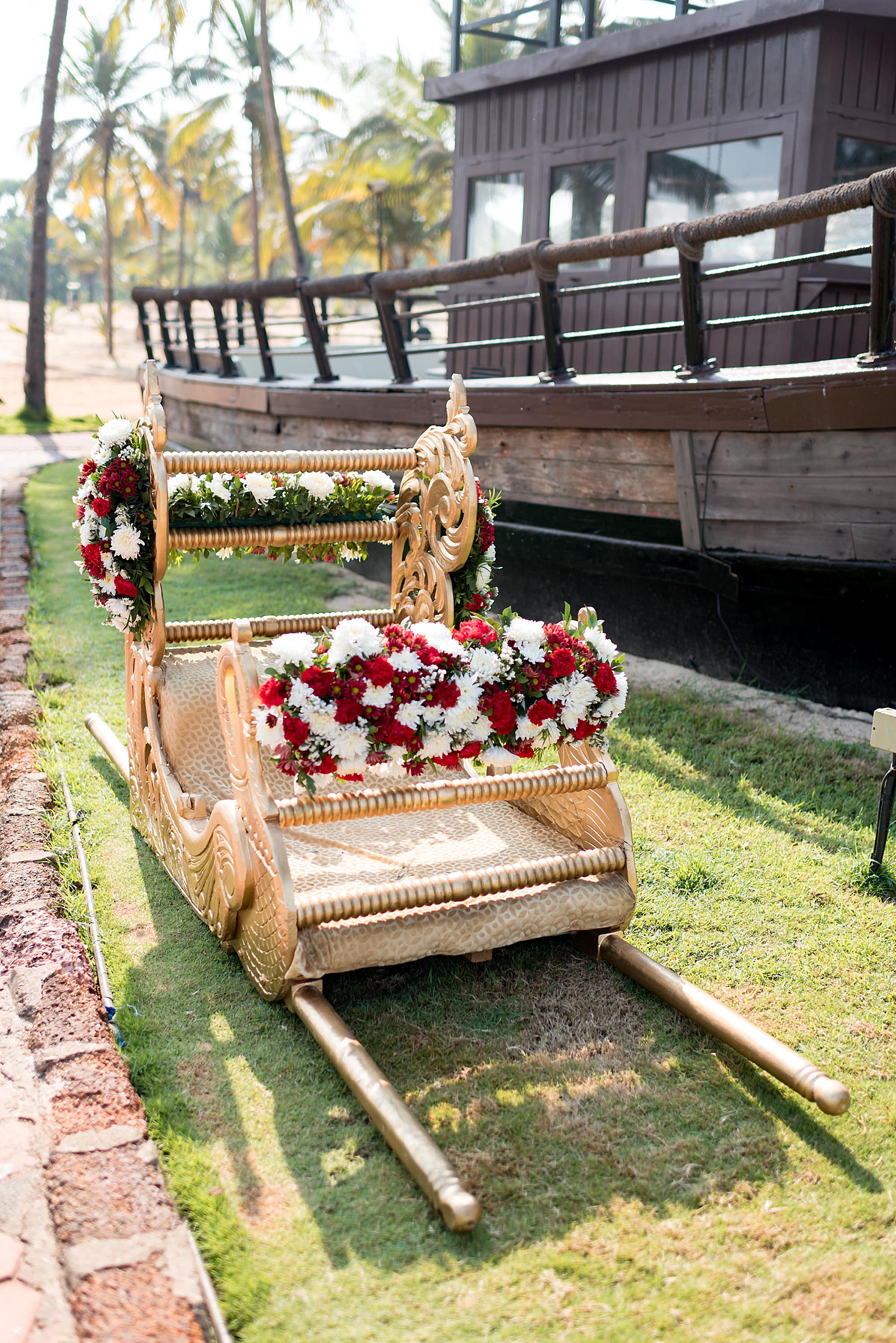 To begin proceedings, Joshan and his family made their way to the mandap together, accompanied by traditional drummers. Some were on foot, some were carried by the drummers themselves, and there were vibrant smoke bombs, too!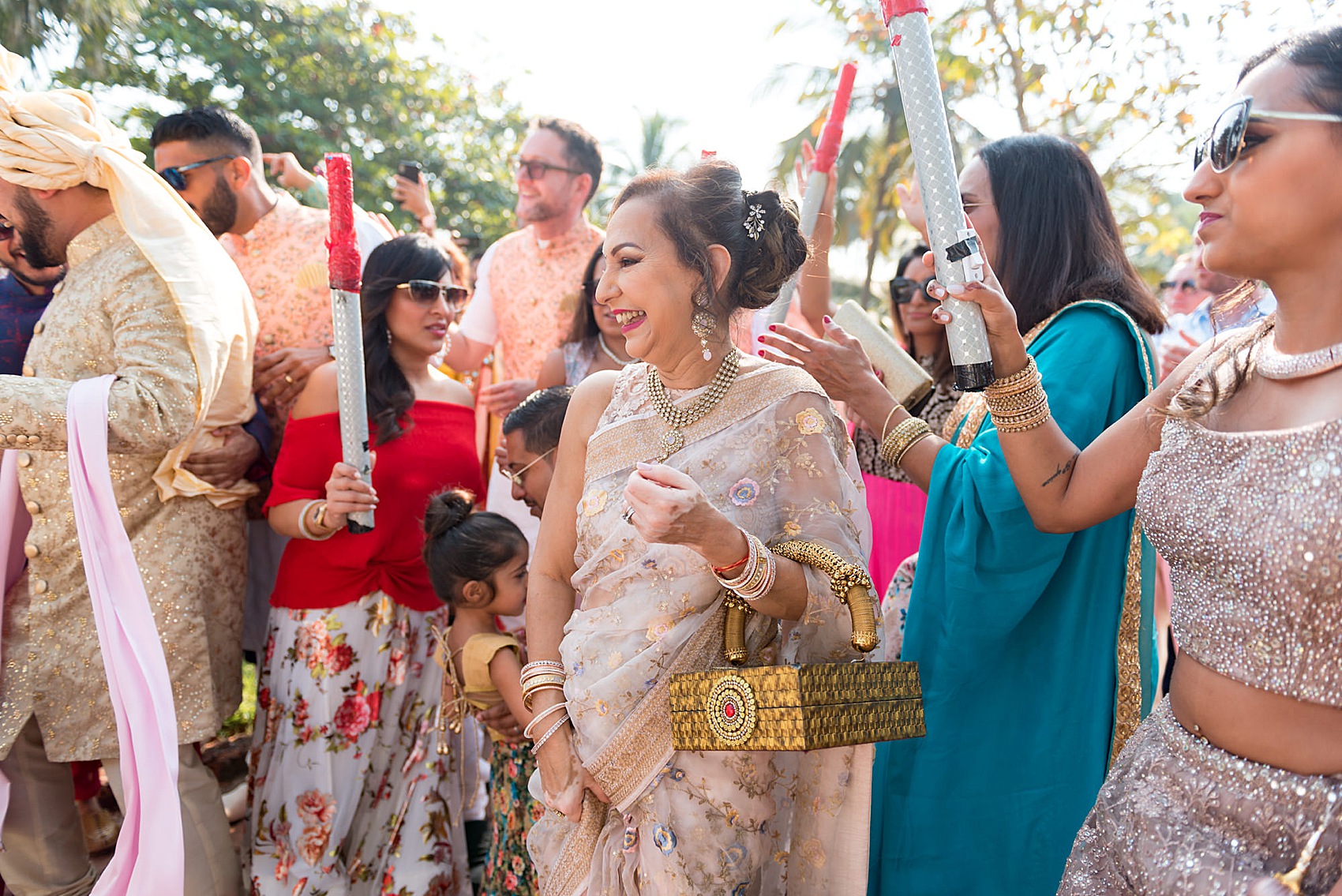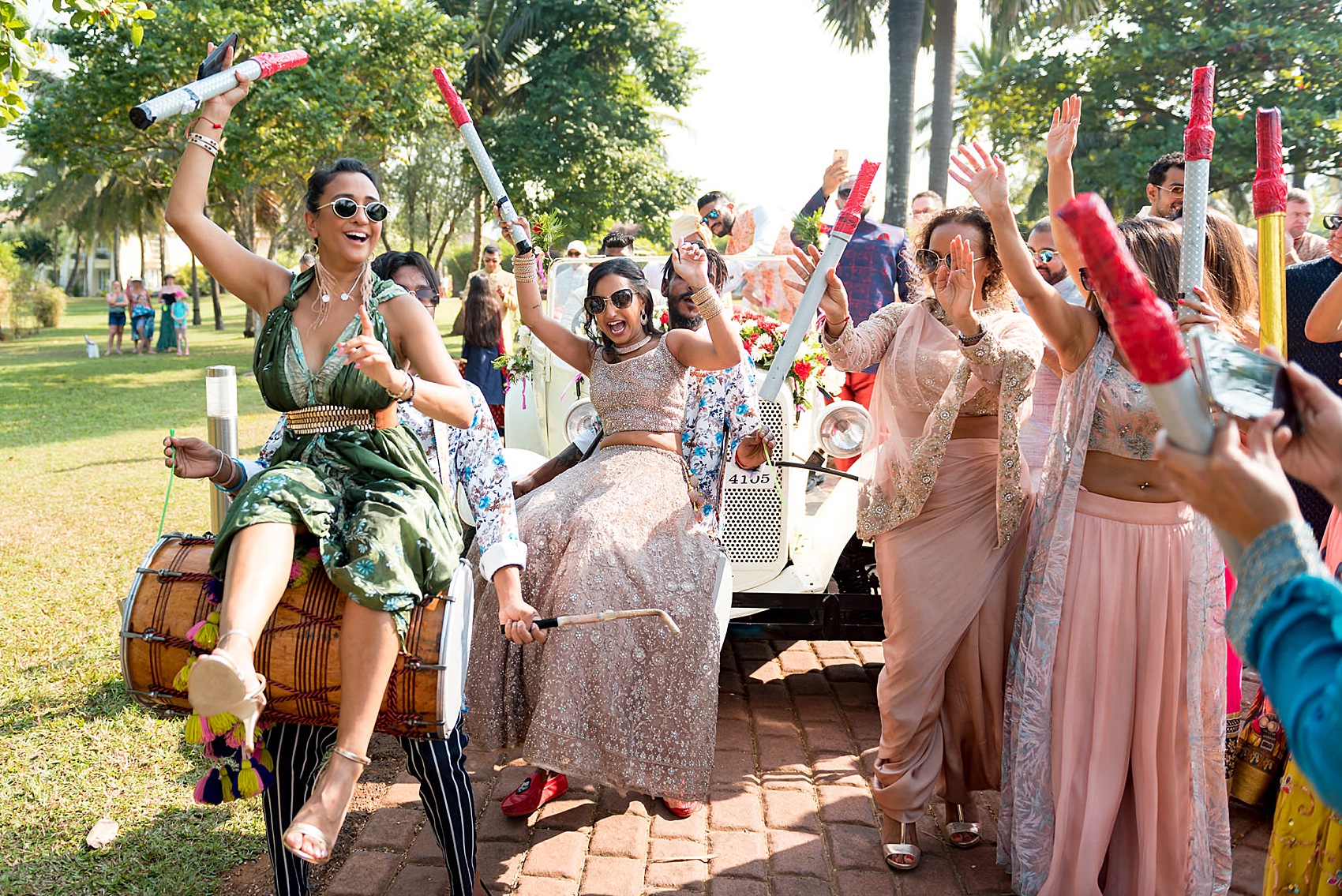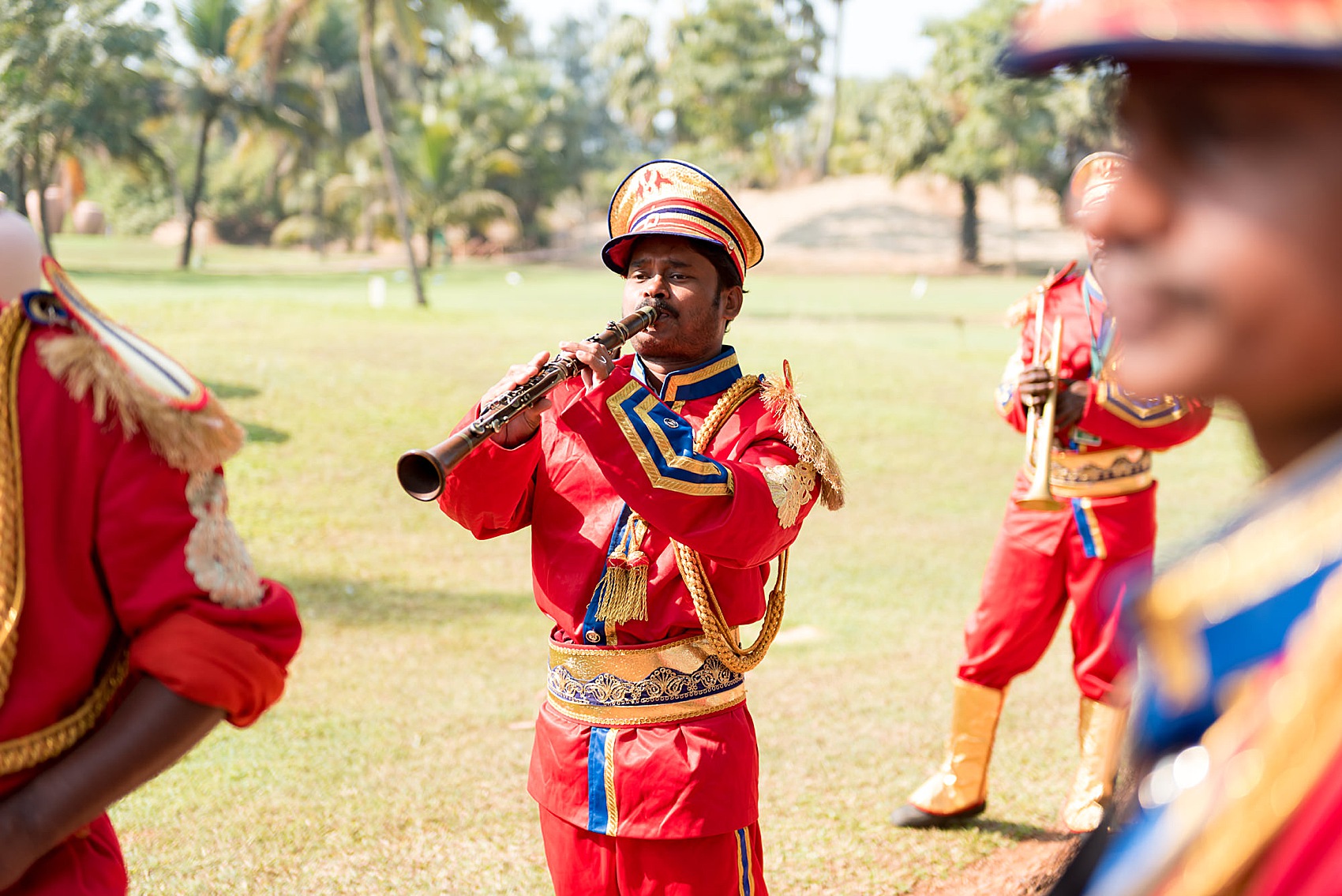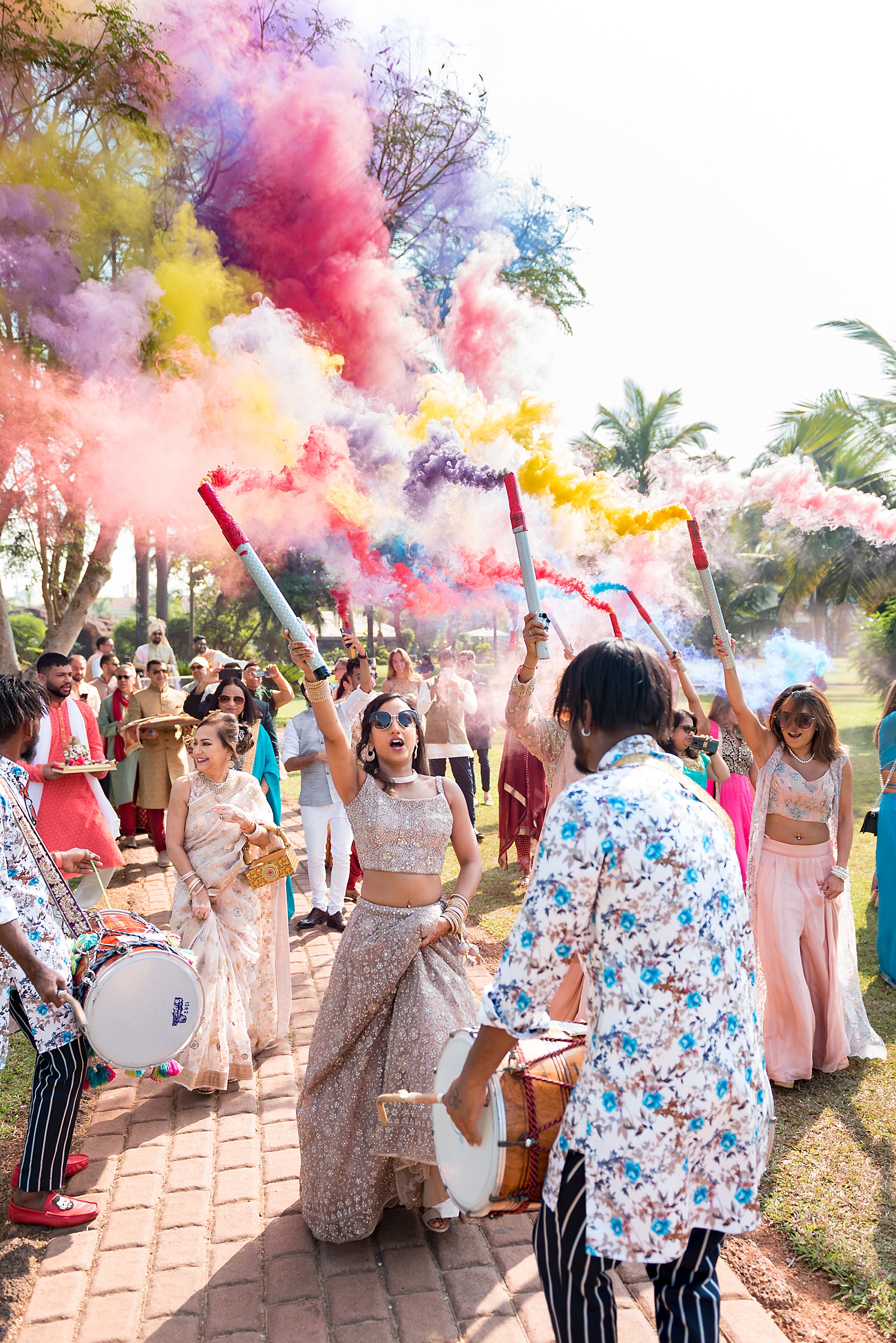 Joshan and his groomsmen then got into splendid open-top vintage car for part of the journey. Finally, he was accompanied down the aisle to the mandap by his parents, where he awaited the arrival of his bride.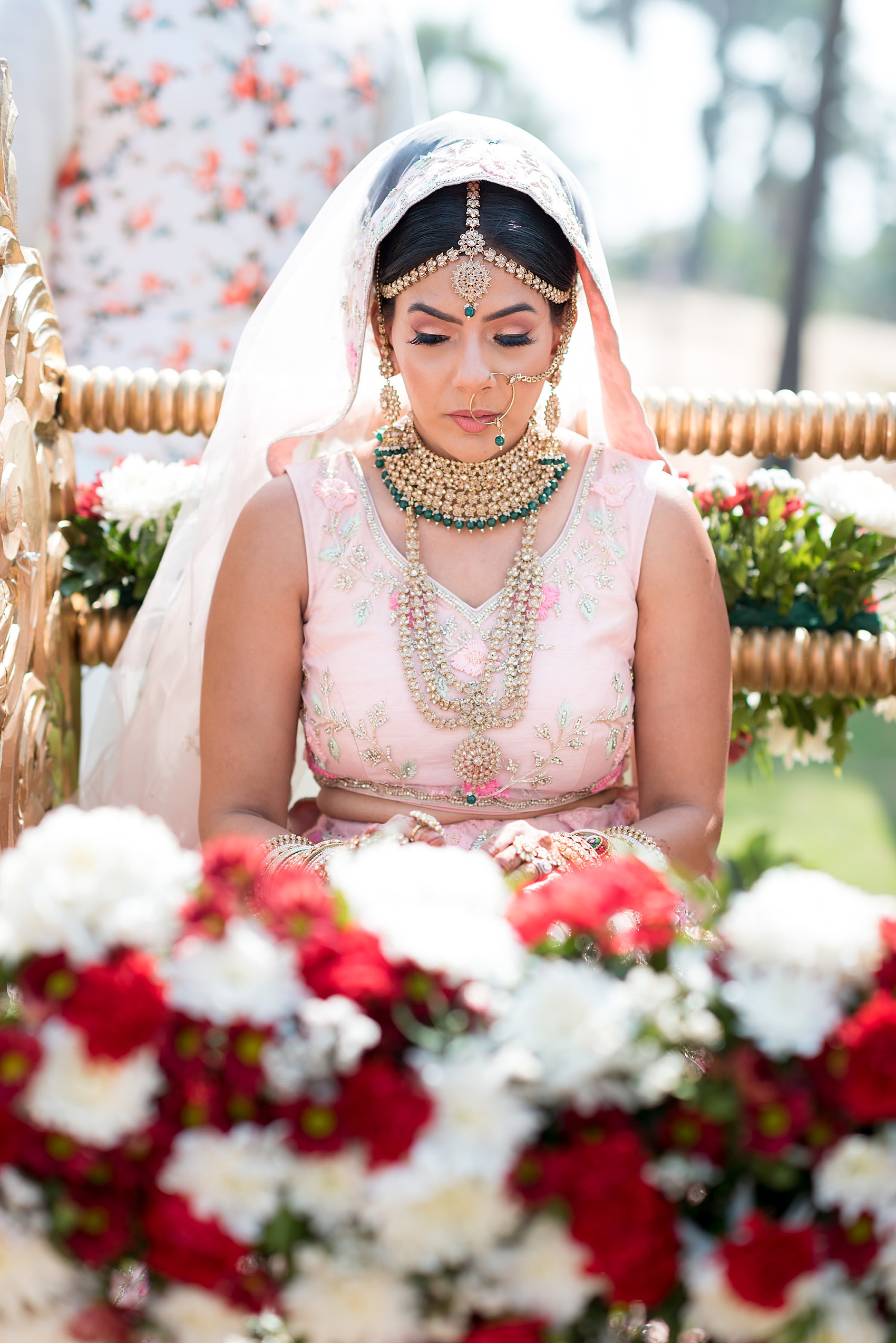 "Both my older brother Sunil, and younger brother Mayur walked me down the aisle to the mandap. It was a very special moment for me. However, I was carried into the venue by all my extended brothers on a gorgeous carriage. My entrance music was an Indian song known as In Dinon, from the Bollywood film Superstar."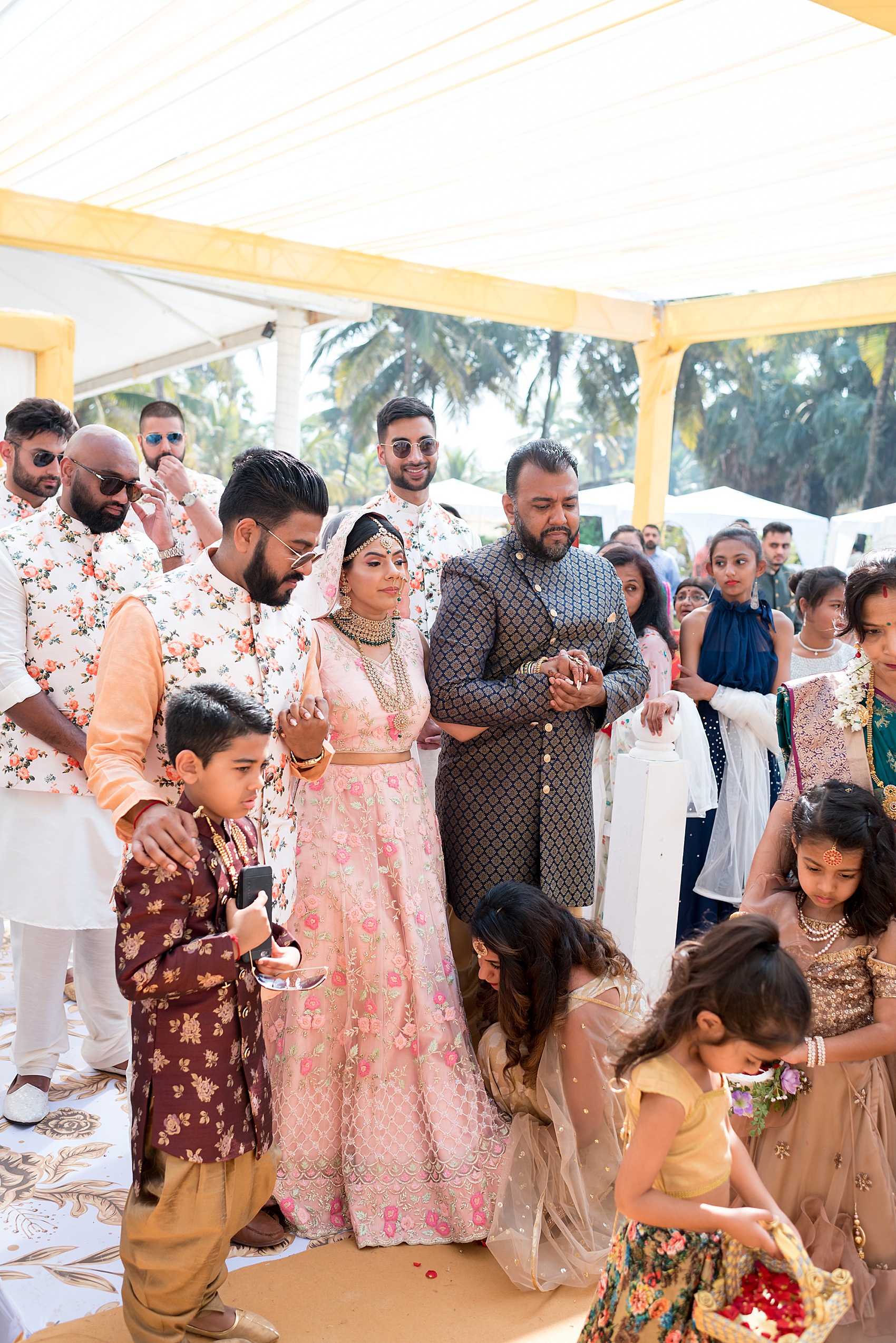 "There were so many amazing moments during the wedding, so it's hard to pinpoint my favourite, but it was amazing to see Joshan's face for the first time as he laid eyes on me walking into the mandap. I could see that he was getting quite emotional. In a single moment, our whole journey flashed before my eyes."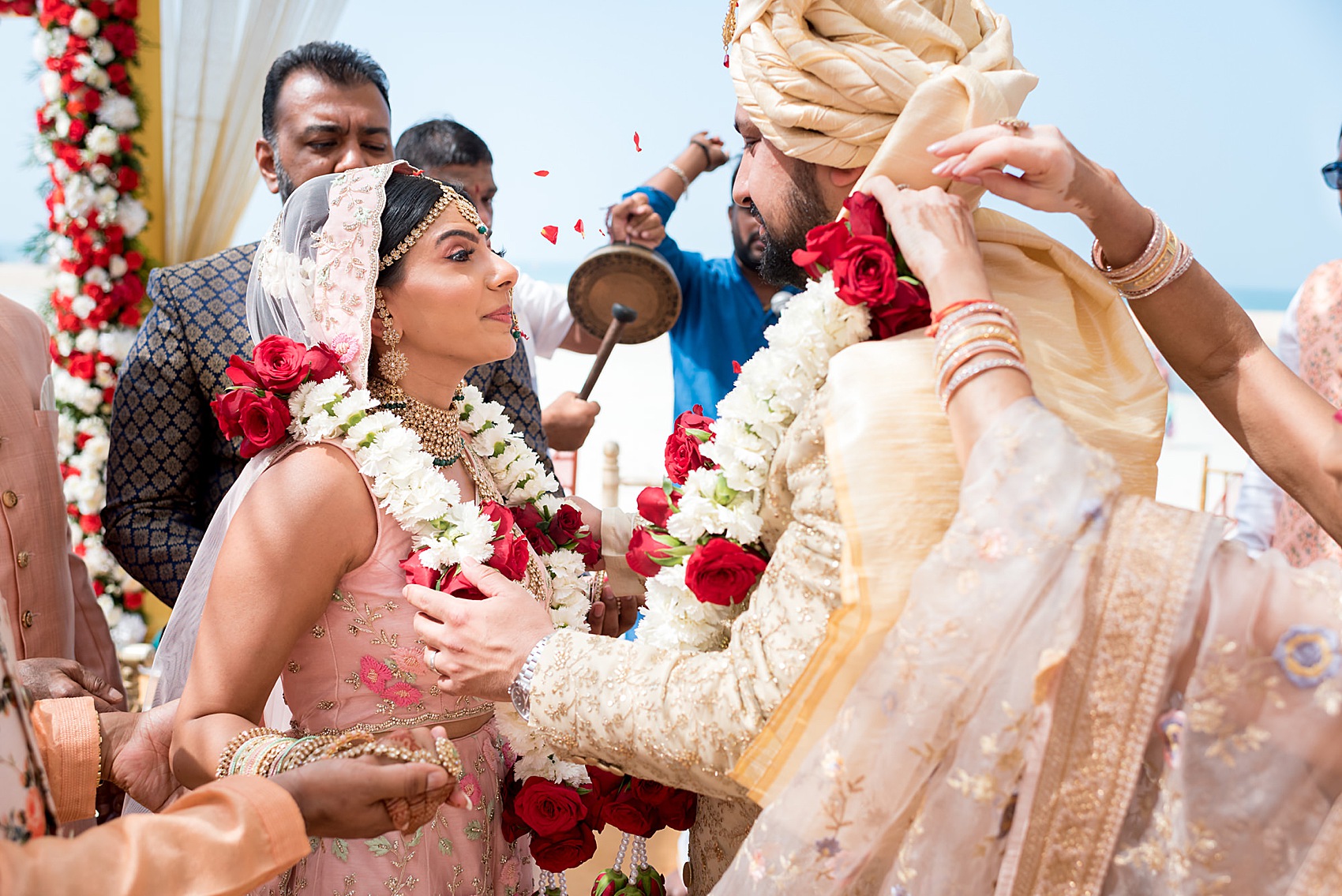 The wedding was officiated by a Hindu priest, centred around the holy fire, as Swati and Joshan took their seven steps around it as their vows were made. Rings made by Dubai jeweller Petra Zuci were also exchanged.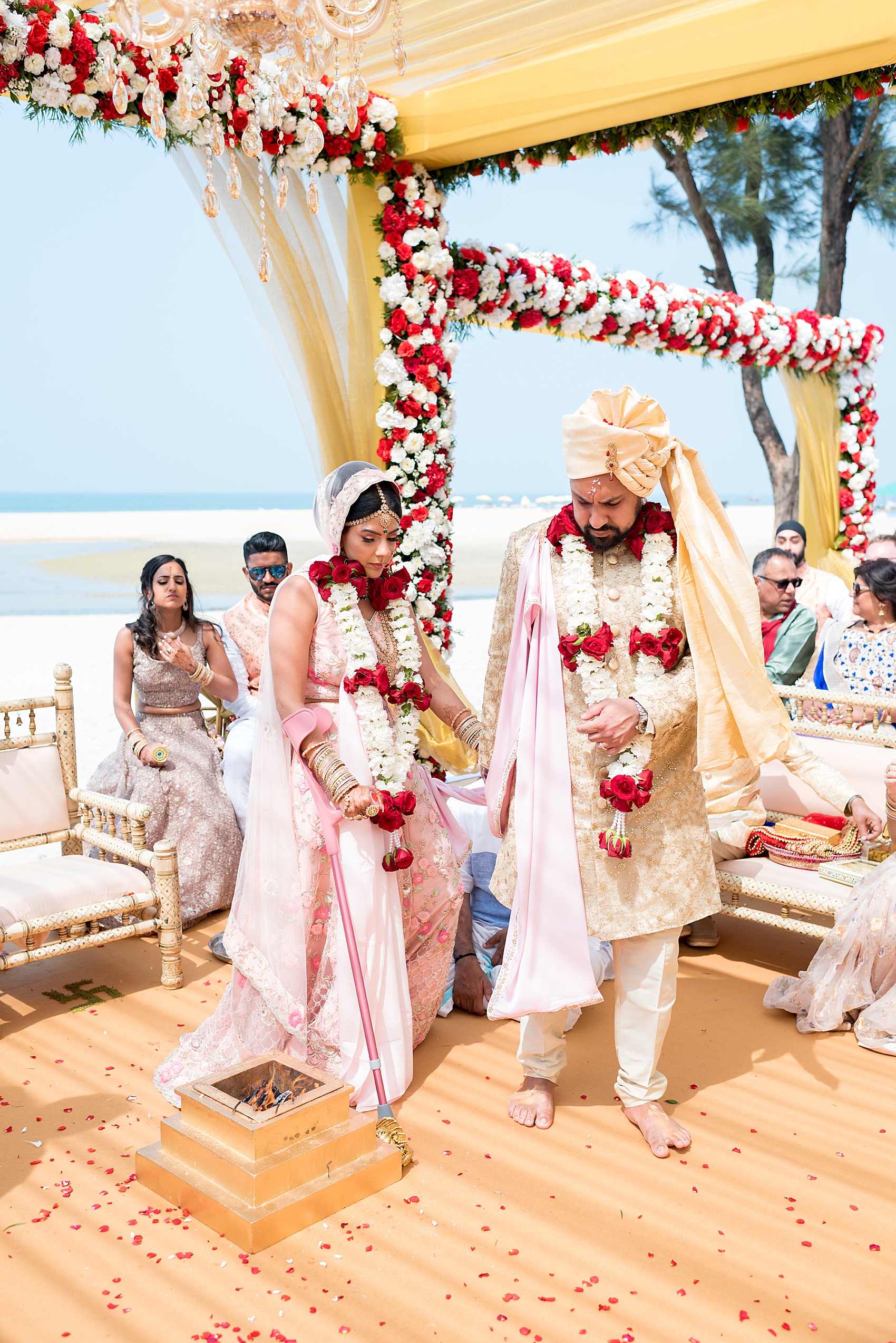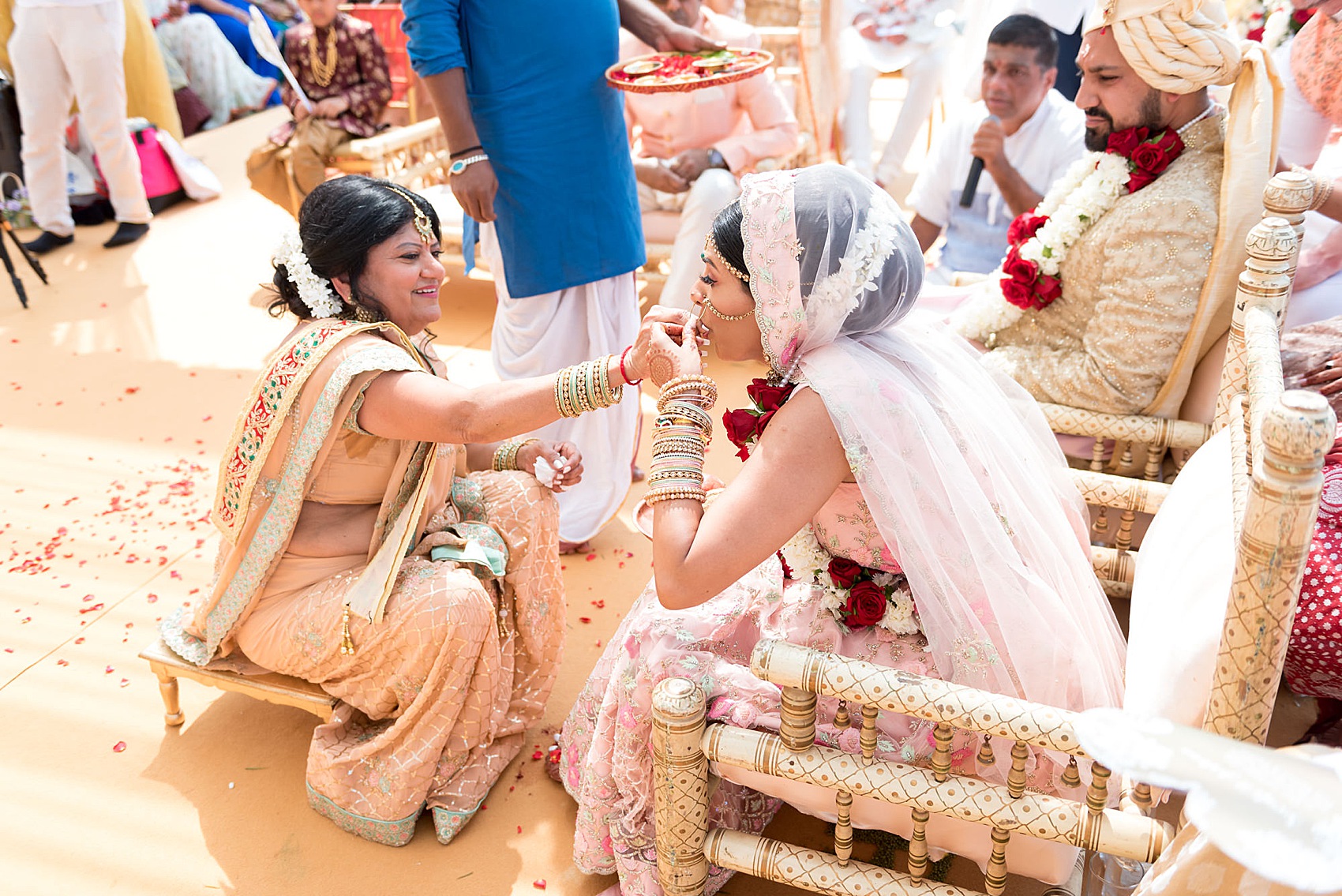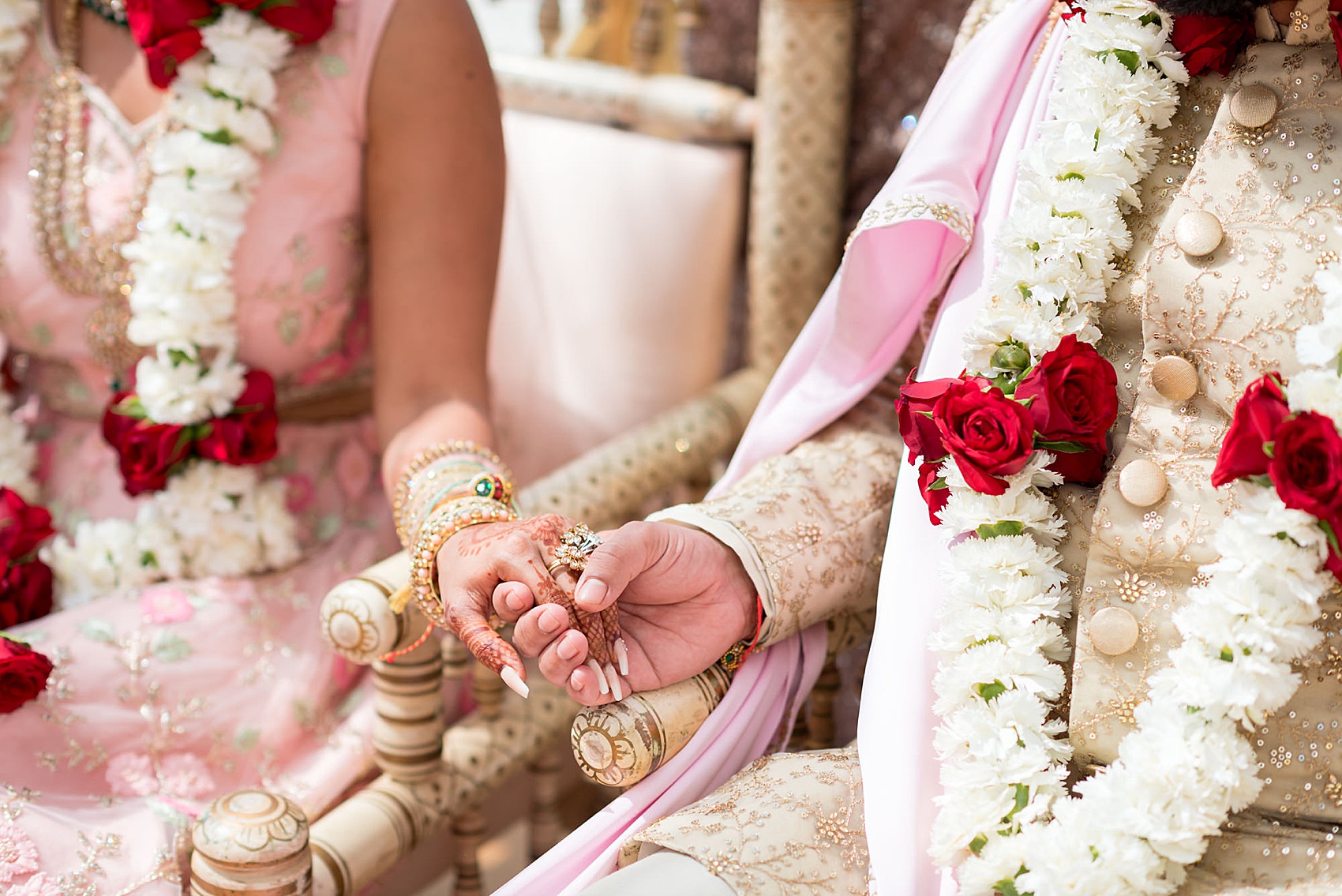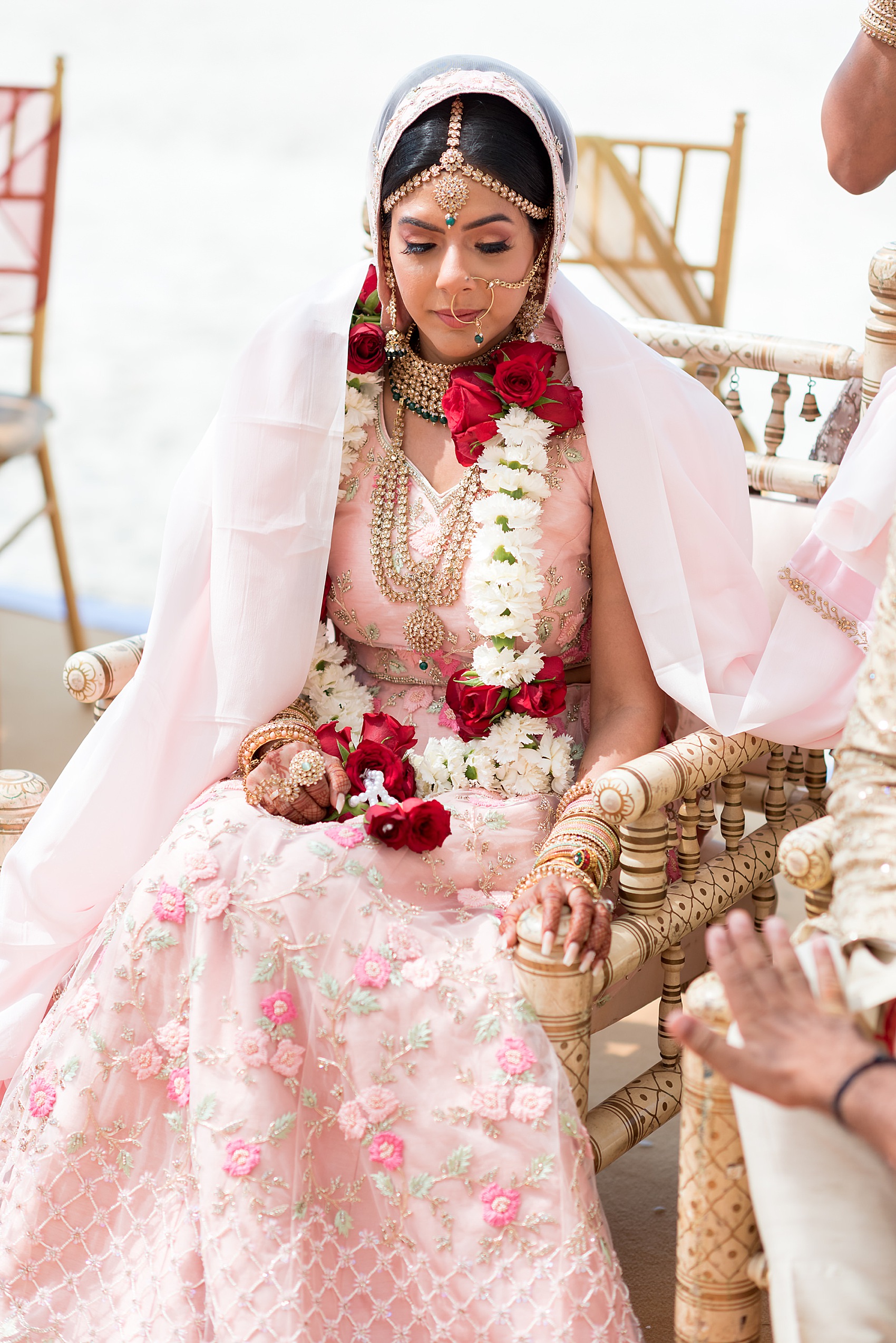 "Towards the end of the ceremony, the priest read out a beautiful letter to the audience, which was written by my parents to me. In Indian culture, it is a particularly emotional moment for the parents to give their daughter away. This was captured beautifully through the priest's readings."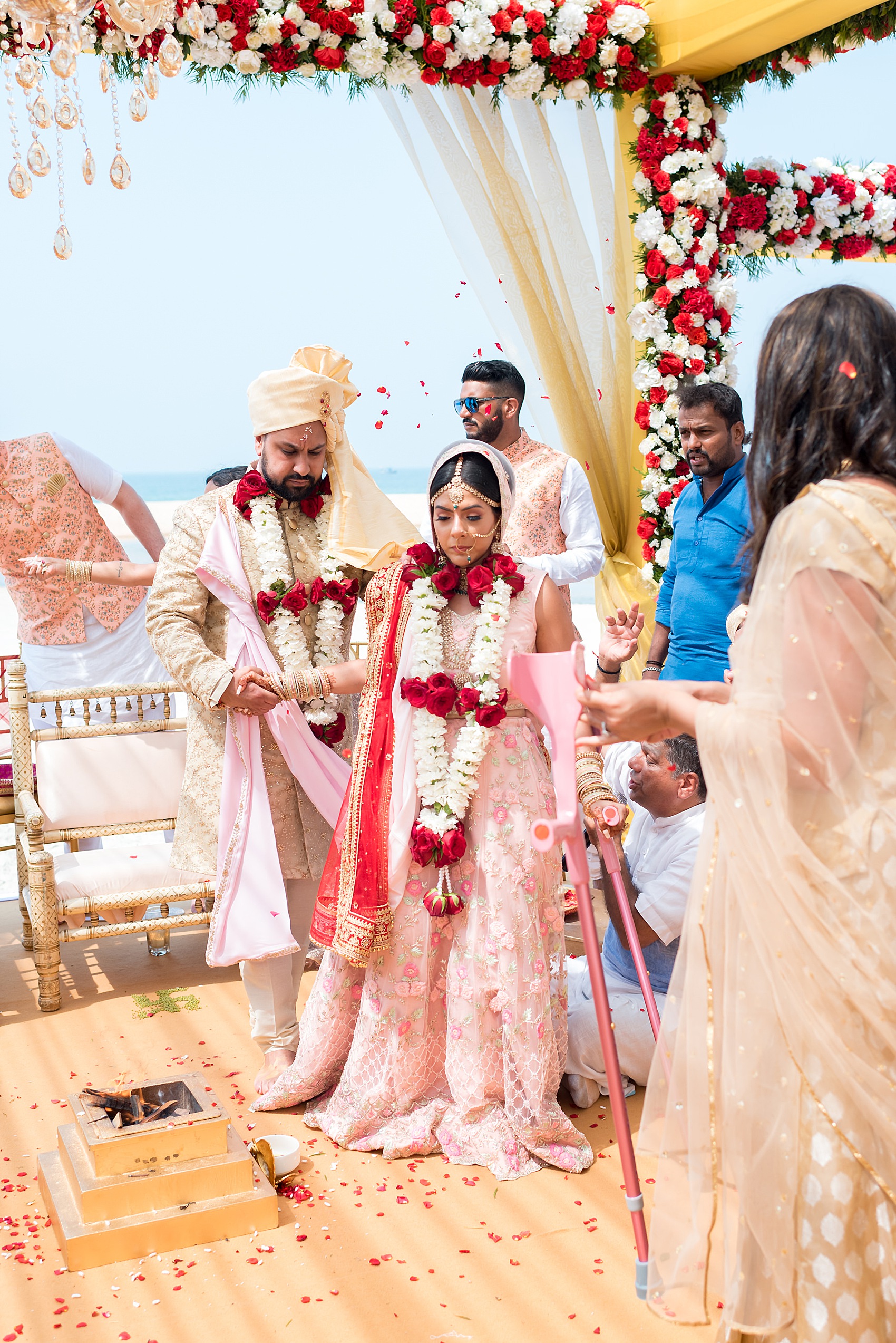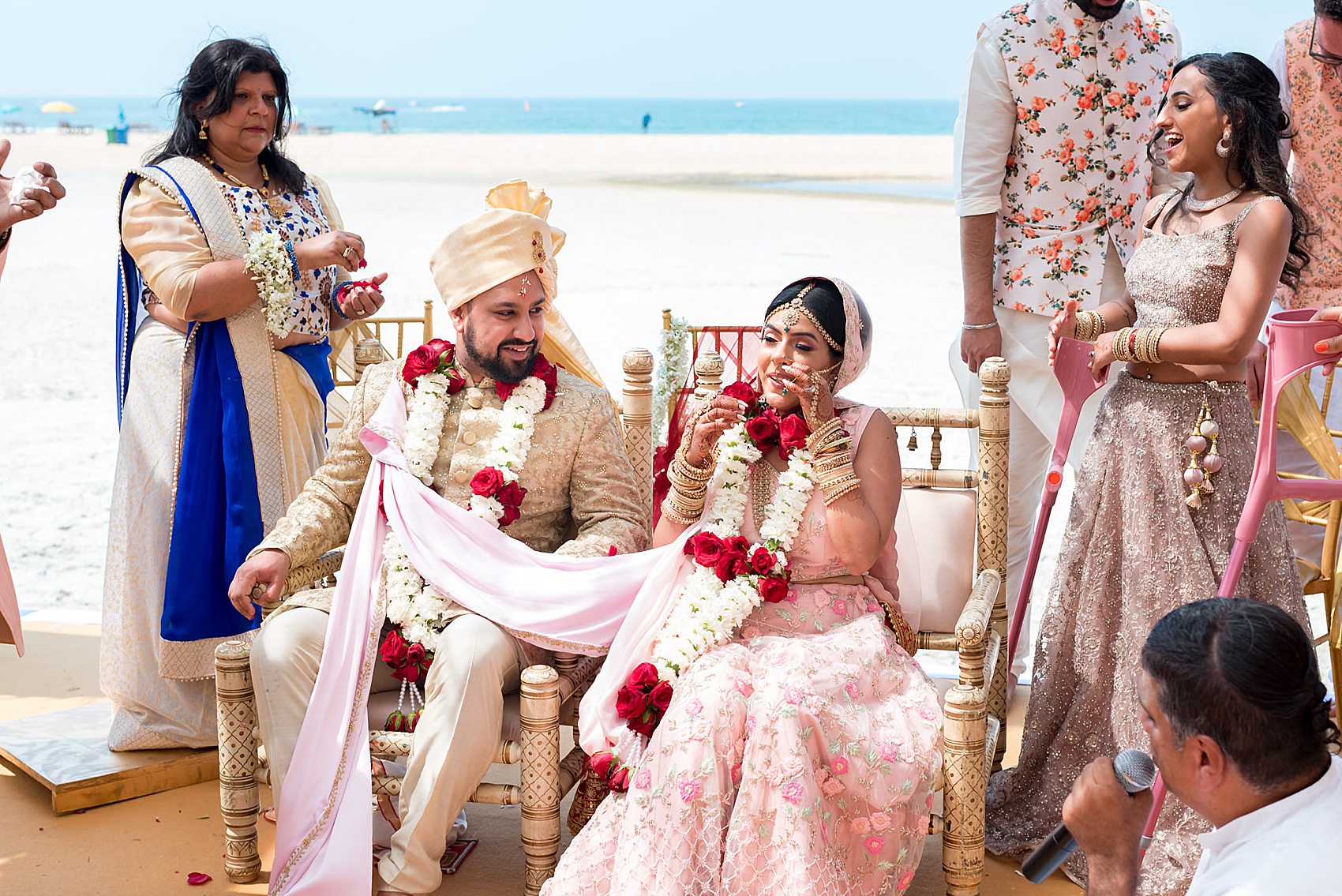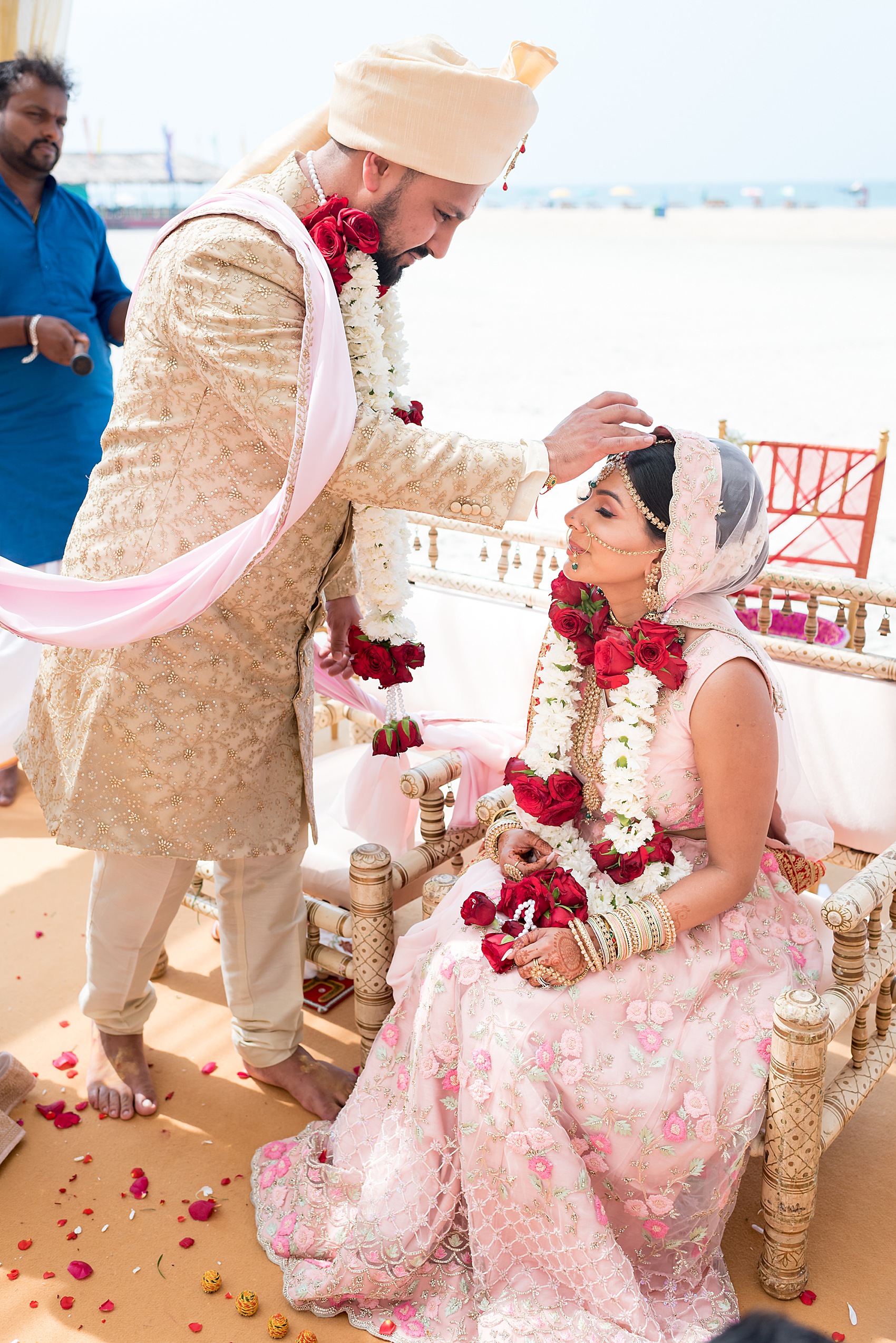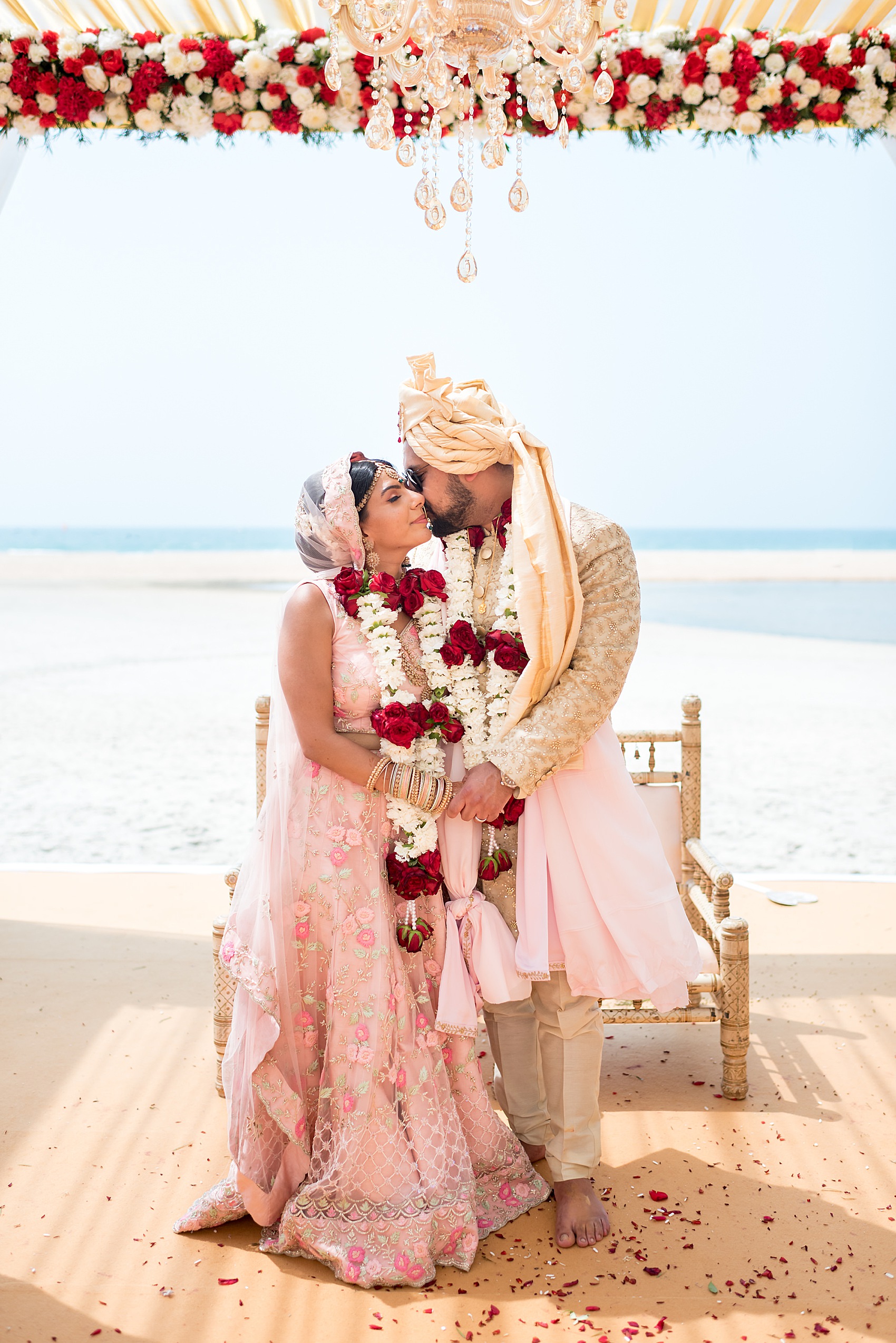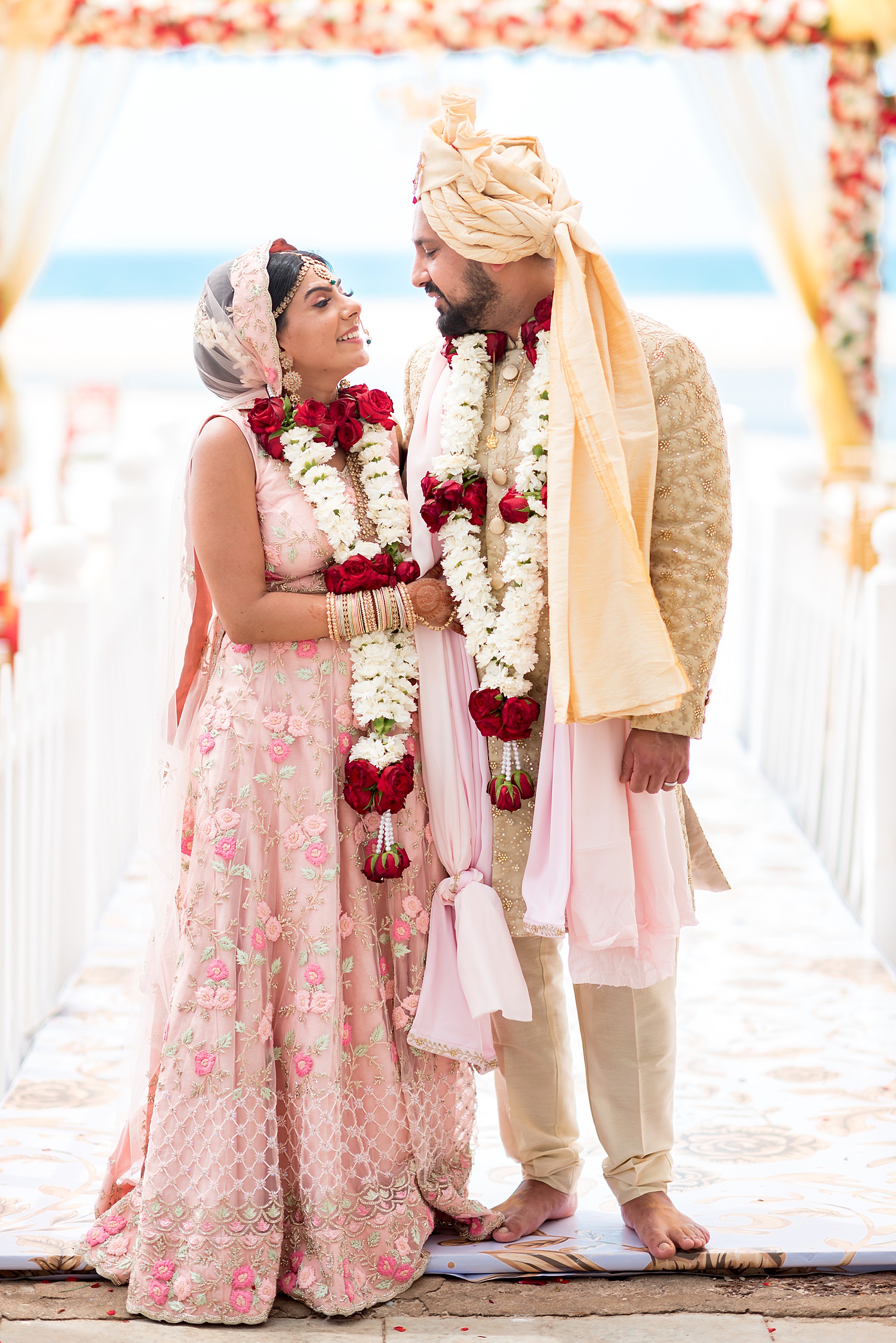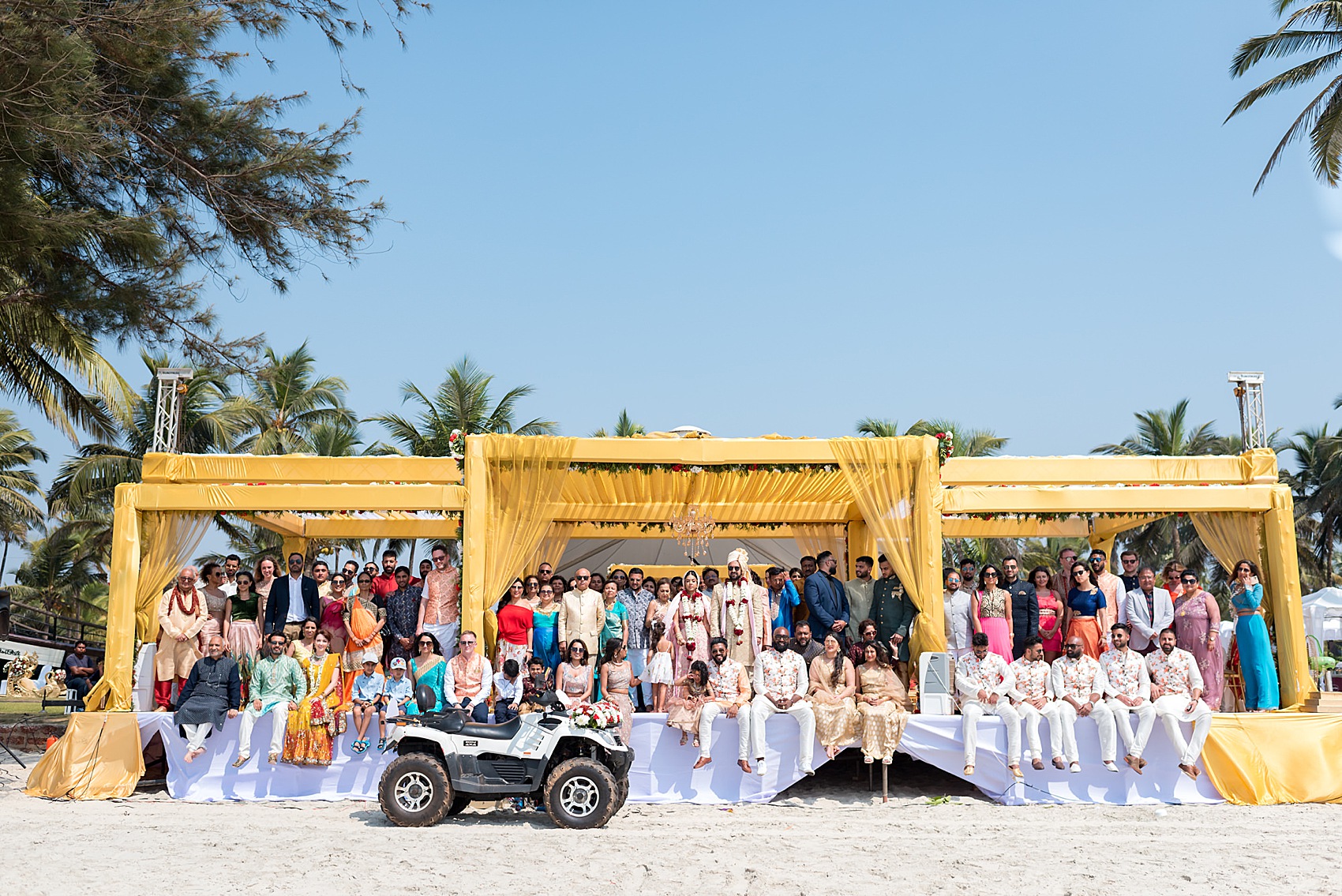 The series of images that caused me to shed a tear were those taken just after the ceremony had ended, as Swati is embraced by her parents and brothers, and they are overcome with such emotion in those beautiful moments together.
I take my hat off to photographer Ed Pereira for the way he captured that, and everything throughout the couple's enchanting day.
"We had heard a lot about Ed through friends and family who had used him before. The feedback was nothing short of positive. After a few conversations with him over the phone, we were ready to commit to him as our wedding photographer."
"So easy going, humble, polite, and above all makes you feel so comfortable throughout. That includes his second shooter Carmo Braz. I can't recommend him enough to anyone looking to get married. You will not be disappointed. Our wedding pictures were a dream."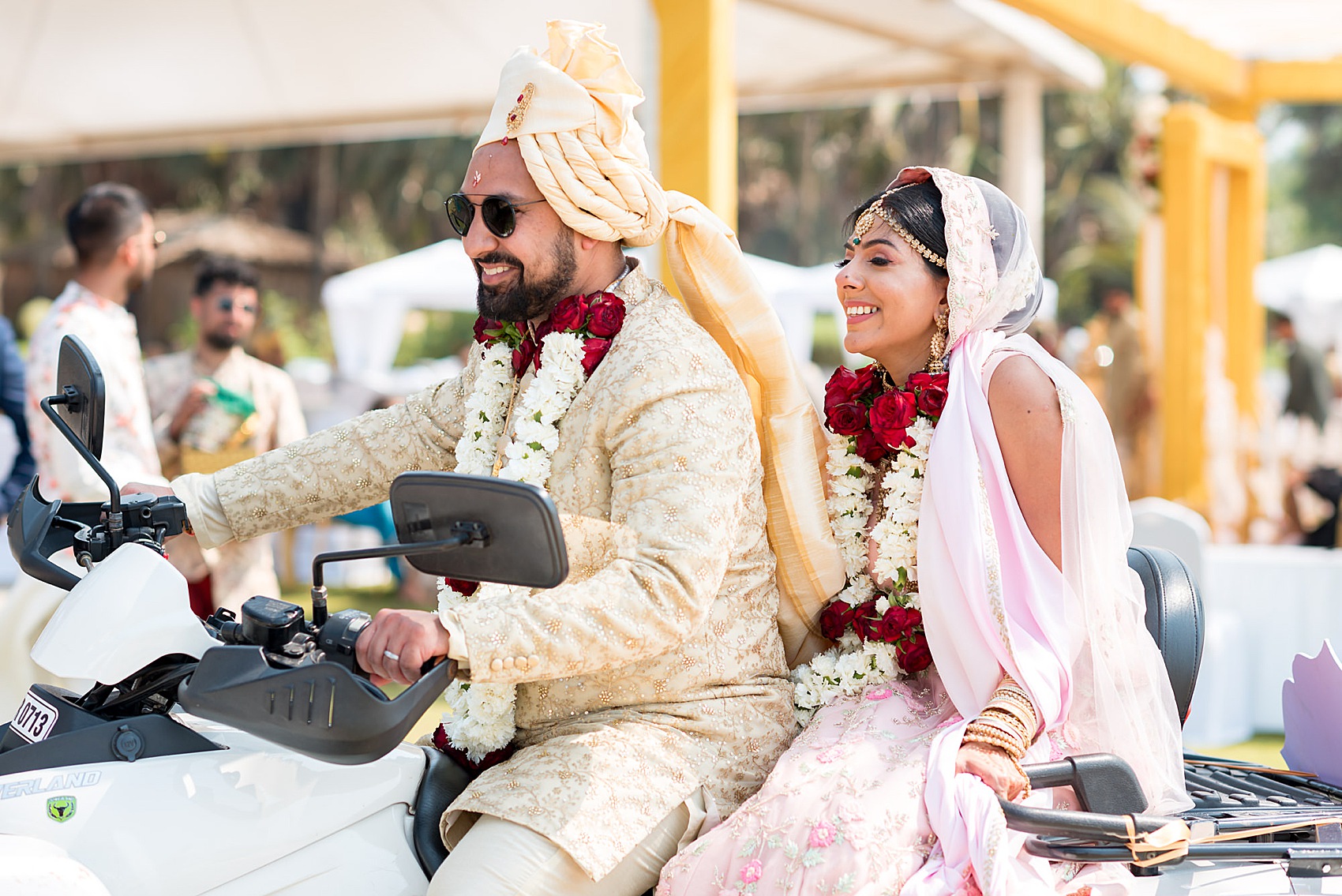 Swati and Joshan didn't quite ride off into the sunset together, but very nearly – a beach buggy, that is, for a drive across the sands and some time spent together, just the two of them.
"We both came across each other online, on an Indian dating website. No shame in saying it, it worked wonders for us. We started speaking around August 2017. It started off quite slow, and we were only messaging over WhatsApp as opposed to speaking over the phone."
"But then we actually just jumped straight into meeting face to face around 3 weeks after initially communicating online. Our first date was at a lovely pub in Beaconsfield (a town not too far from Joshan's family home). We ended up talking and staying there for around 4 hours. It was the perfect date in many ways. I felt as though I was speaking to someone I had known for years."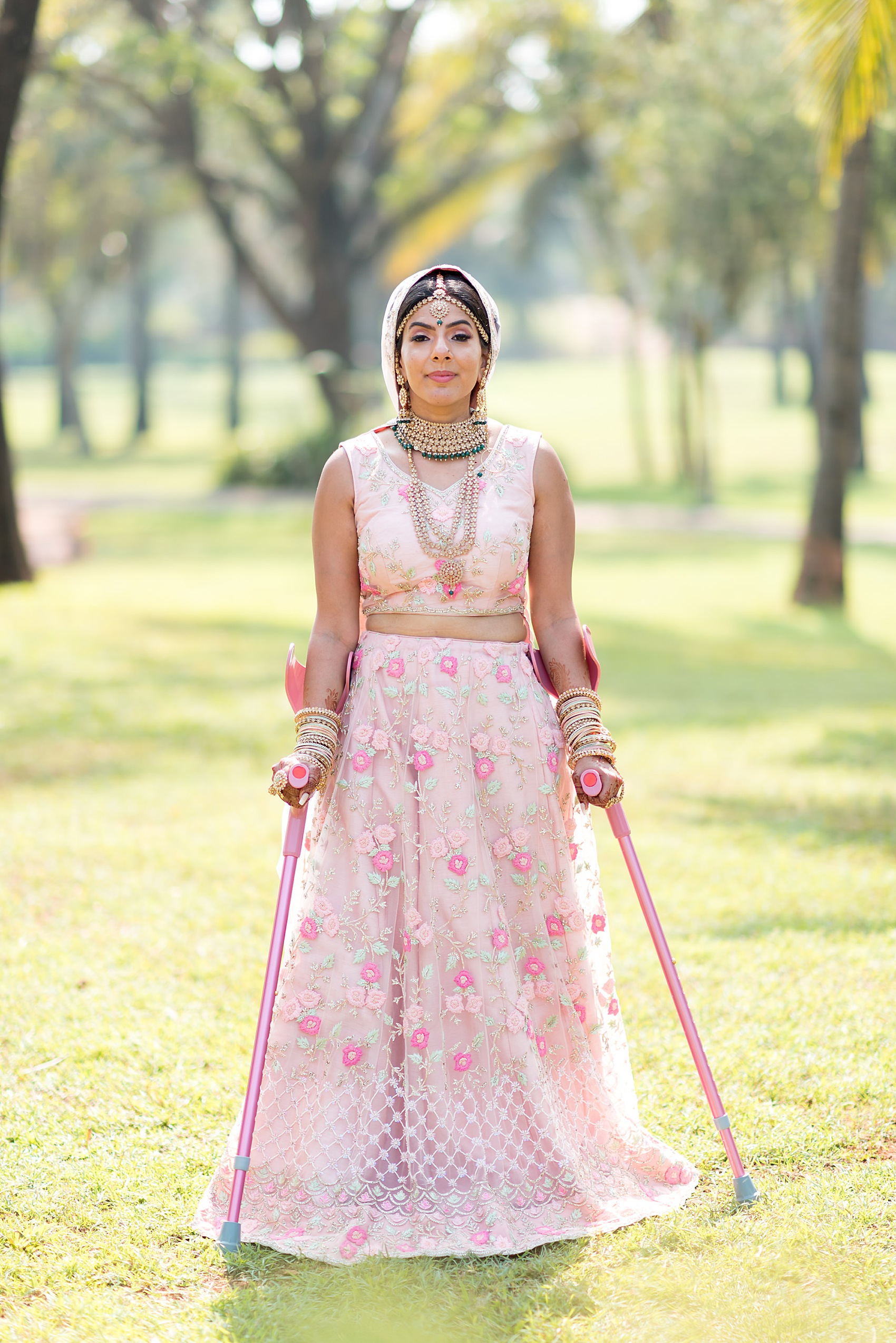 The couple had been together for a year and a half when they booked a trip to the Zuri White Sands for a friend's wedding. It was also Joshan's first time back in India since he was a child, so they made sure they planned a fun itinerary of activities.
"Our visit to Goa for the wedding began a few days before Valentine's Day. We had loads of fun during the wedding, and wedding fever got me thinking, but I wasn't going to get carried away. Joshan told me we'd do a nice dinner for Valentine's Day. I had no idea where we were going, but I followed his request to wear something nice, and glam myself up a bit."
"Unfortunately, I wasn't feeling too well, and had pretty much lost my voice in the days prior, but then came a knock on our hotel door, and a buggy whisked us away towards the beach at 5pm. To my amazement, I saw a beautiful romantic candlelit dinner set up for two on the beach, with an unimpeded view of the sunset."
"I was in awe, but the rather naïve side of me still didn't see what was coming next. After being poured some champagne and 10 minutes of talking about our journey so far, whilst taking in the stunning scenery, Joshan got down on one knee and asked me to be his wife. It was the happiest moment of both of our lives. And exactly one year later, we got married in the very same spot."
Before the evening reception, there was an epic outfit change for Swati and Joshan. Swati looked magnificent in a draped red dress with asymmetrical ruffle detailing across one shoulder, and her hair worn down in long, loose waves. Joshan changed into a smart, floral print tuxedo with matching bow tie, waistcoat and pocket square.
Guests had also changed into their best evening attire for a feast under the stars, with food courtesy of the Zuri White Sands resort, as well as the wedding cake (and cupcakes) adorned with red flowers.
"Our first dance was to Ed Sheeran – Best Part of Me. We chose this song because the lyrics were so relevant to our story. The song encompasses what comes across as dialogue between a couple on a day-to-day basis. It was just so us!"
For their evening entertainment, the couple flew out London-based DJ Sachy for a night of amazing music.
Words of Wedded Wisdom
"I know it sounds like a cliché, but just enjoy it even though it maybe daunting. Every couple has to start their planning somewhere, but you would be surprised at the pace at which everything starts falling into place once you initiate things."
"Try to be as organised as possible by keeping a diary, and having regular contact with all suppliers to iron out any issues early on. Preparation is key to avoid any nasty surprises."
"Weddings are all about the people you choose to celebrate the most joyous moment of your life with you. If doesn't matter how much money you end up spending, but it's the energy that your guests and loved ones bring that is the most important factor."
Swati and Joshan, congratulations and thank you very much. I've just loved taking in all the gorgeous details and moments of your day. Many thanks to Chaz Fliy and Ed Pereira for the beautiful, sensitive way they captured it all.
With love,
Laura