Whenever I see one of our Little Book member Hermione de Paula's dress designs, I'm instantly entranced by their unique, whimsical beauty, and today's bride looks resplendent in hers.
It's also wonderful to see that our couple spotted another Little Book member, Ayla of Wagtail Productions in a Love My Dress Instagram post, and ended up booking her as their videographer. This is the lovely wedding of Justine, who works I'm visual merchandising, and Cesare, a removals specialist.
Wagtail Production

+ Follow
The couple were married on the 7 September 2019 at West Dean Gardens, near the South Downs in West Sussex, in the grounds of West Dean College. These beautifully restored gardens include a Victorian glasshouse, flint bridges, and a 300 foot pergola.
"September has always been the favourite time of year. I love the change in seasons and colour palette, paired with the bright blue, crisp skies and gorgeous golden evenings."
"Ayla from Wagtail Productions produced the most beautiful film. The way she edits and tells your story is simply like no other."
Esme Ducker Photography

+ Follow
Each bridesmaid wore a different dress design in pale pink by Ghost London, and they all carried exquisite bouquets in soft, romantic seasonal tones, made by Marion at Kingfisher Farm Shop. There were beautiful Cafe au Lait dahlias grown by Justine's Mum nestled alongside apricot roses and love-lies-bleeding, and accents of dramatic deep burgundy, like chocolate cosmos.
"My bridesmaids' shoes were their own. It was very important to me that they were comfortable. Jewellery was also their own, aside from a bracelet I gifted to each them (different for each). The girls have great style and I wanted that to show through."
Stay in the know – join our mailing list.
Taking care of Justine's grooming on the wedding morning were two talented friends: make-up artist Gemma Page, and hair stylist Vicki Olney [unable to find any contact details for Vicki].
Having two friends there helped to put Justine at ease, and feel relaxed while she was getting ready. In her hair, Justine wore Eden b. Studio's delicate floral 'Lola' hairpins.
Justine's glorious, botanical inspired dress by Hermione de Paula had a champagne underdress, which beautifully highlighted the floral embroidery over the top, with little accents of soft pink here and there. Justine actually discovered her dress pre-loved through website Still White, with skilful alterations by Emma K. Wilkinson.
"I was incredibly lucky to find my absolute dress of dreams on Still White, and it fitted perfectly – this allowed me to wear a dress that would never have otherwise been accessible to me, although I had dreamed about Hermione's designs."
"I tried some beautiful, more formal styles in some lovely boutiques, though they felt like the dress was wearing me, rather than something that truly reflected my style. The exquisite embroidery in the HdeP gown, blush tone and silhouette with the cinched, embroidered waist felt me to a T, and the leg split offered a little modernity and informality which matched our day."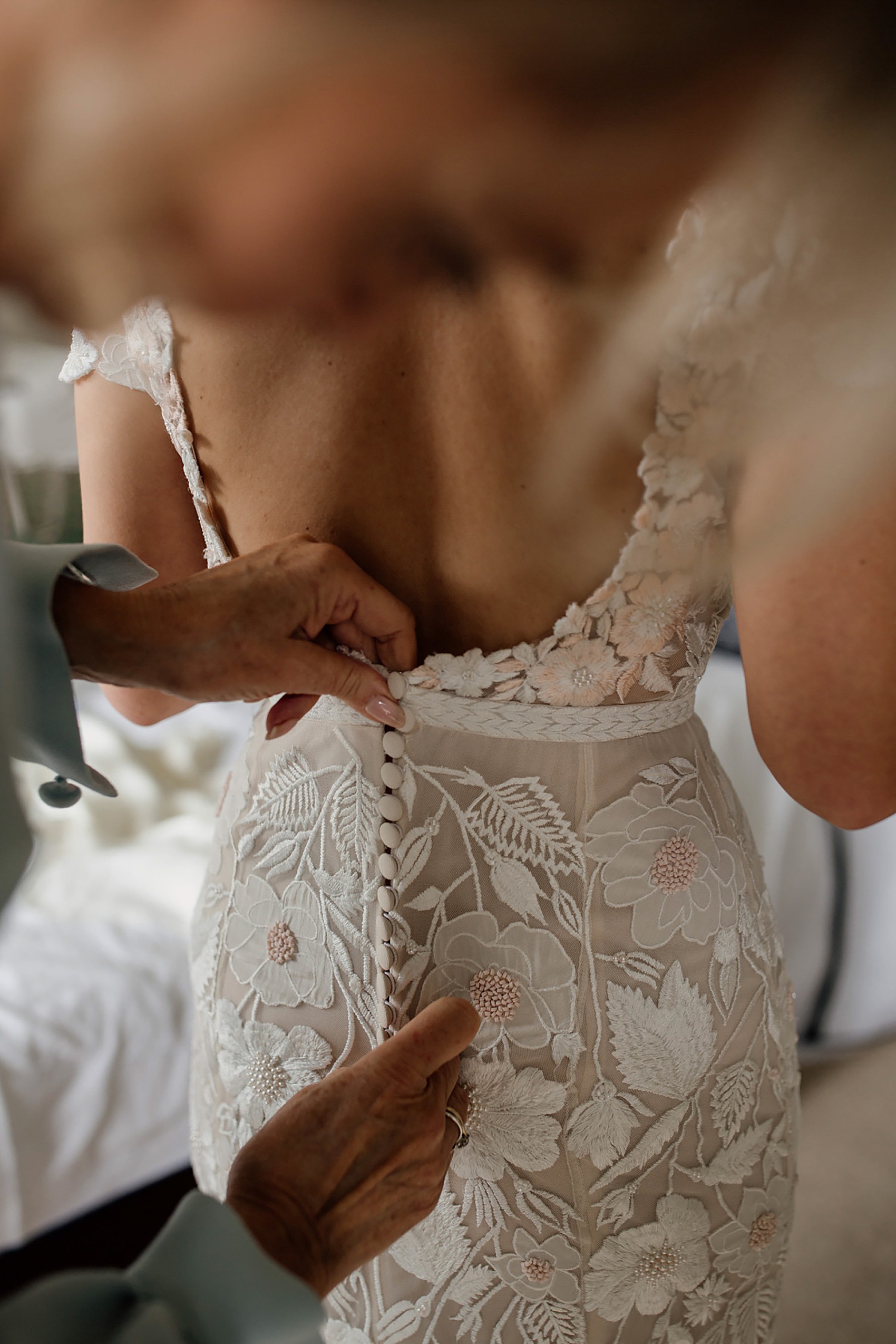 "Emma Wilkinson is a friend of Mum's and a very talented designer/ dressmaker, who tweaked the dress to ensure a truly perfect fit, and very cleverly lined the top front of the dress to an exact match of the silk lining in the skirt, following the embroidery and line of my bra (I wasn't brave enough to wear it with boobs covered by embroidery alone!)"
Find & book suppliers we love & recommend, in our Little Book Wedding Directory
Justine slipped into a pair of burgundy velvet courts from L.K. Bennett, and added a pair of pearl earrings – heirloom pieces from her late Granny, who she was very close to, and who would have absolutely loved her granddaughter's wedding day.
"I sourced some blush veiling that matched the dress, which Emma (who also made Mum's coat) cut to cathedral length in the shape of my train and finished with a comb, and my talented Mum then hand embroidered with our names, the date, floral motifs and scattered pearl beads. Mum is @gmgrist on Instagram – not that she's planning on doing any more veils!"
"We chose West Dean Gardens because after visiting several venues, varying from very formal grounds to simple fields and lakes, it struck the perfect balance for us between having a little touch of formality with the sunken garden, yet in other ways wildly romantic and relaxed. The venue's team were incredibly helpful and open-minded, as well as allowing us to use whichever suppliers we wanted. Little things like the scent of honeysuckle growing up the pillar by our 'altar' also won us over, reminding me of my grandparents' garden."
"Marion at Kingfisher Farm Shop was great. I wanted something informal and romantic to match the vibe of the day. We went with a loose asymmetrical bouquet with blush from the dress echoed in the café au lait dahlias from Mum's garden."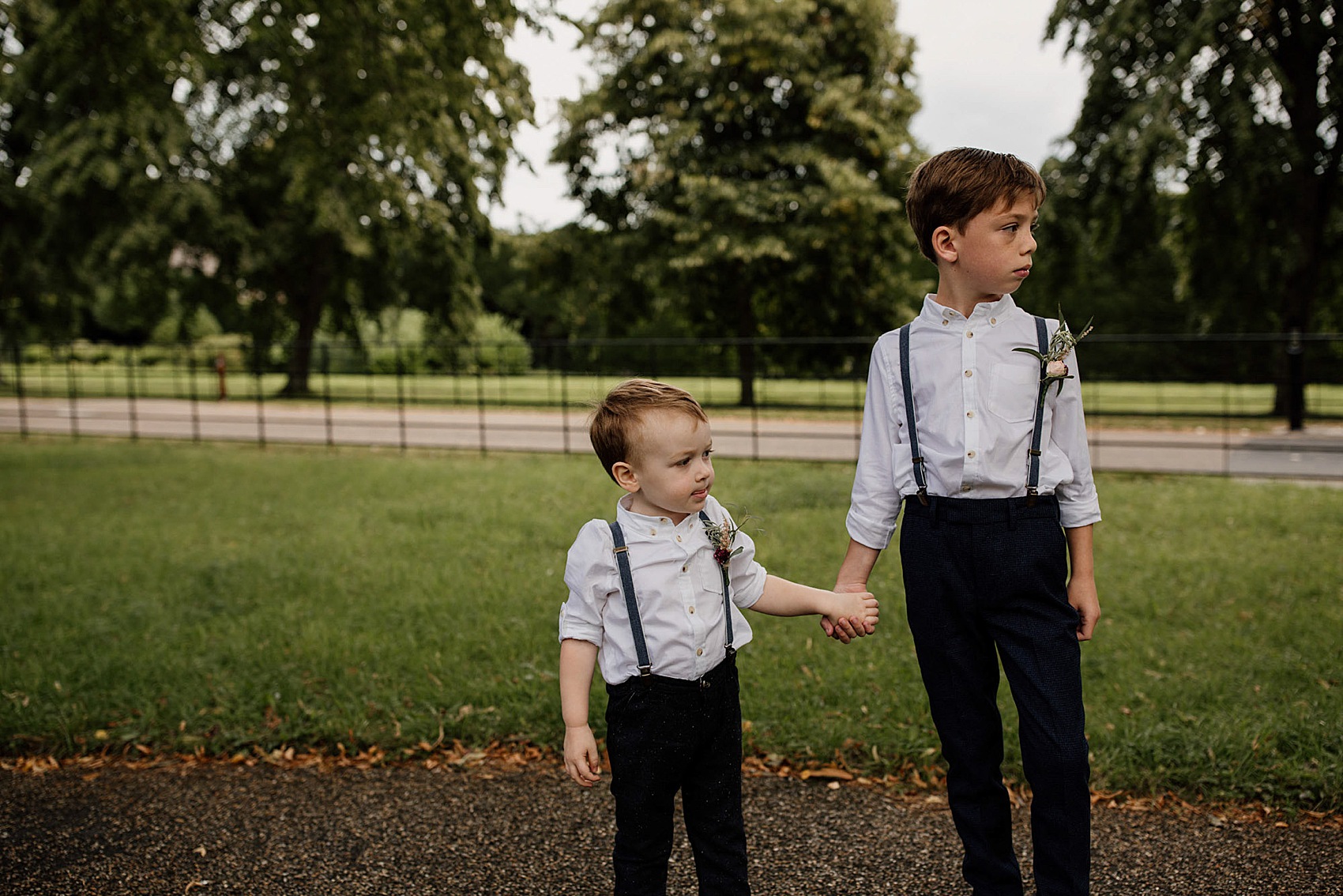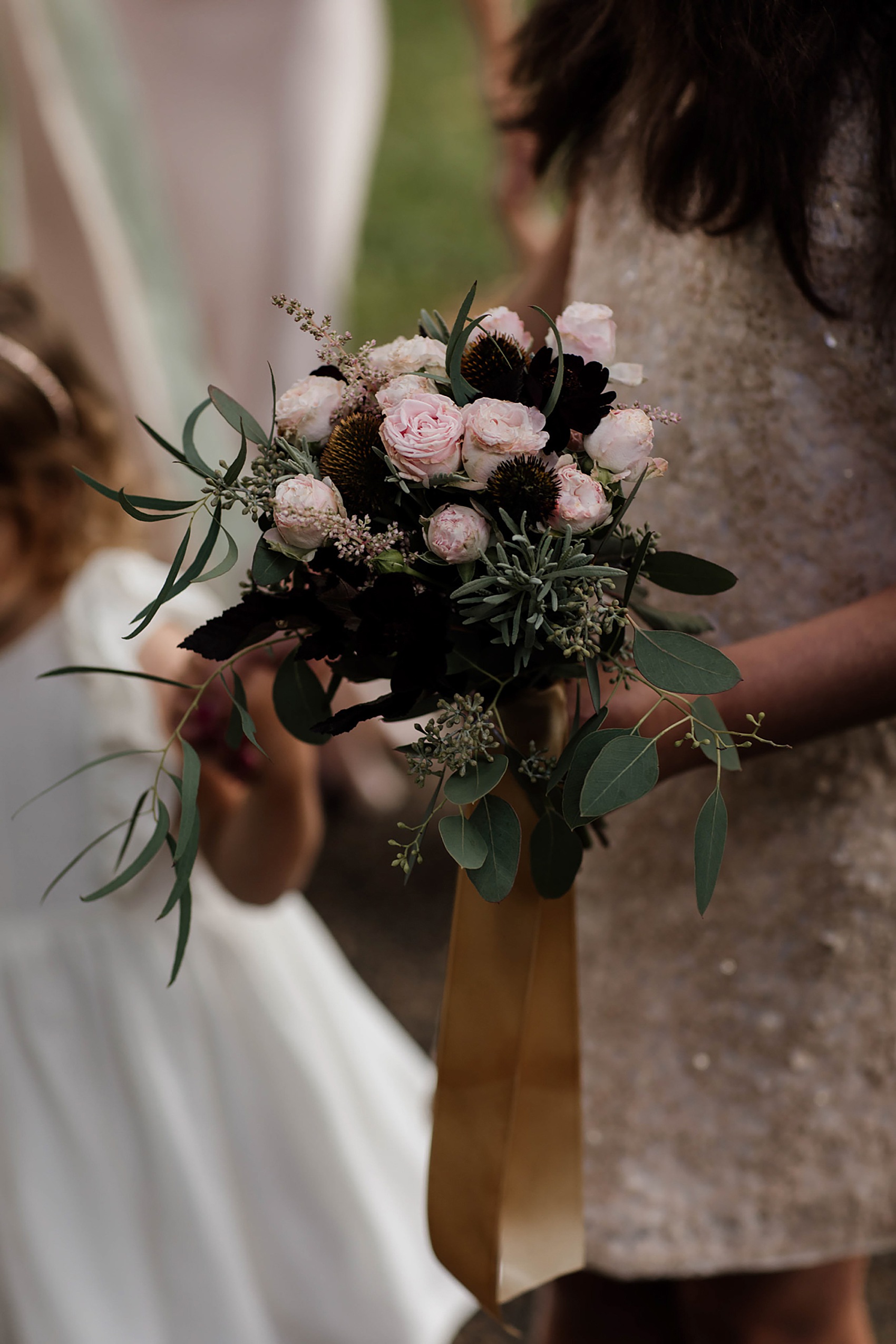 Older flowergirl Scarlett wore a lovely pink and gold sequinned dress from Jigsaw, whilst the little ones wore ivory silk dresses from Mamas & Papas. The page boys wore smart outfits from Mamas & Papas and Marks & Spencer.
Scarlett also wore an amazing feather crown trimmed with glittery ribbon, made by Justine and her Mum, along with a pair of angel wings worn by flowergirl Summer. Beatrice's gold glitter crown was from Mimi & Lula.
"We met at a party at the age of 15, nearly 17 years ago and have been together ever since. Ces proposed in July 2018 in a beautiful cliff top restaurant in Cinque Terre, Italy with a really beautiful gold Deco inspired ring he designed with a jeweller who is a friend of the family, so totally worth the wait!"
Justine walked down the garden aisle with her Dad to the song What the World Needs Now is Love, by Jackie DeShannon, where Cesare waited with his sister India, who was ceremony celebrant.
"India was perfect. This was important to us, as we wanted every aspect of the day to be personal to us, and to feel at ease surrounded by those who knew us best. We worked with India on a template for vows that we liked the gist of, and tailored it to us."
Cesare's talented jeweller friend Thomas Skinner not only helped Cesare with the design of Justine's engagement ring, but also with the design and making of their wedding bands, too.
"My sisters Lottie and Jessie read a passage each, one from a classic; My sisters Lottie & Jessie read a passage each, one from a classic; Captain Corelli's Mandolin by Louis de Bernieres, and one from another book with a much more contemporary feel that we tweaked to match our own story; Everything I Know About Love by Dolly Alderton. I gave the latter to my Brit School trained younger sis as it was a bit of a tongue twister!"
What a gorgeous setting the sunken garden at West Dean was, with that spectacular pergola covered in honeysuckle. This area of the venue also became the setting for post-ceremony drinks and live music from Leigh Jones and family friend Lauren Davies.
"Cesare's suit and shirt were both from Marks & Spencer. Knitted silk ties for him and the wedding party were also from M&S in varying tones of copper, burgundy and dark rose to match the flowers – shout out to the buying department for helping me out on tracking down the colours! (M&S is my employer!)."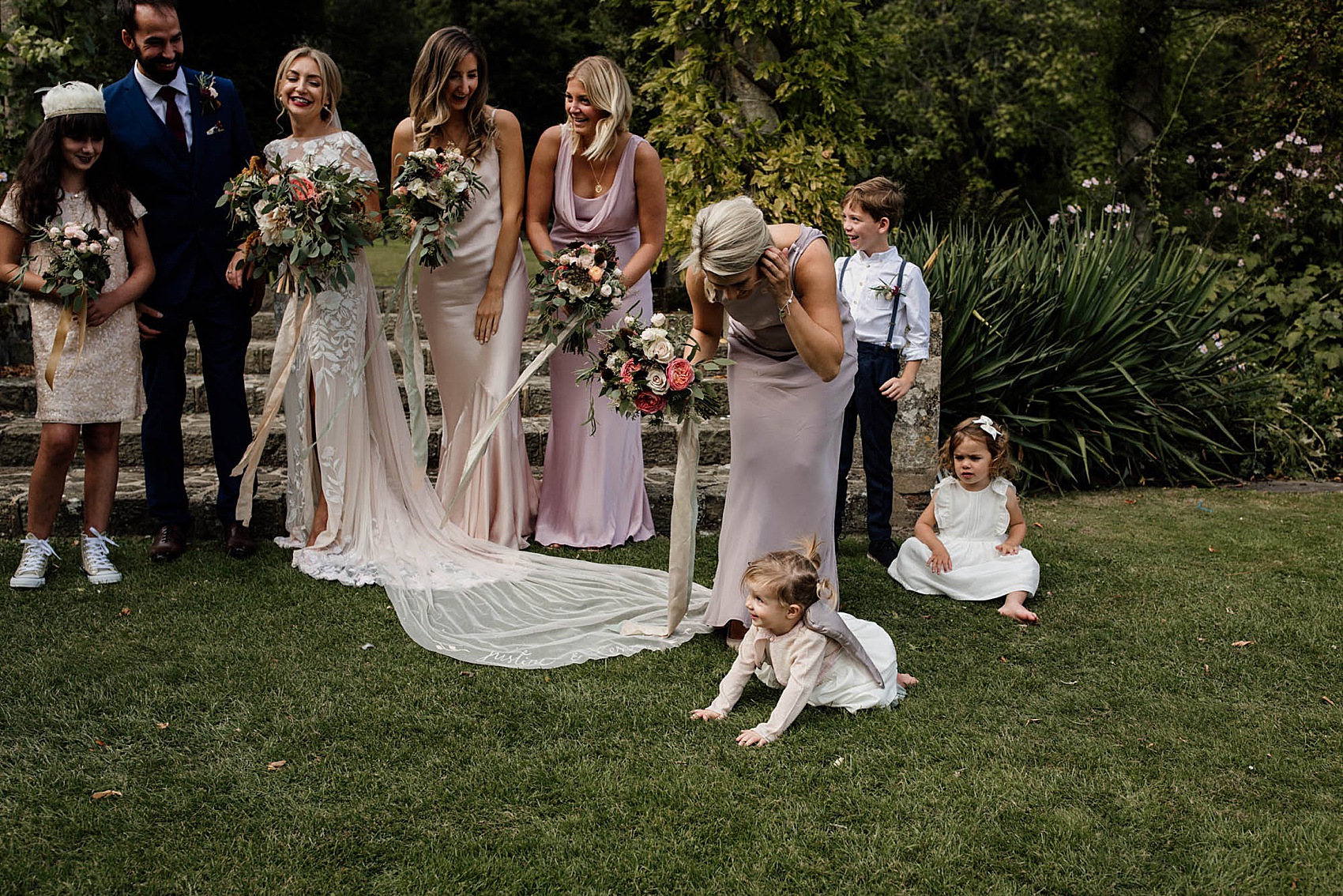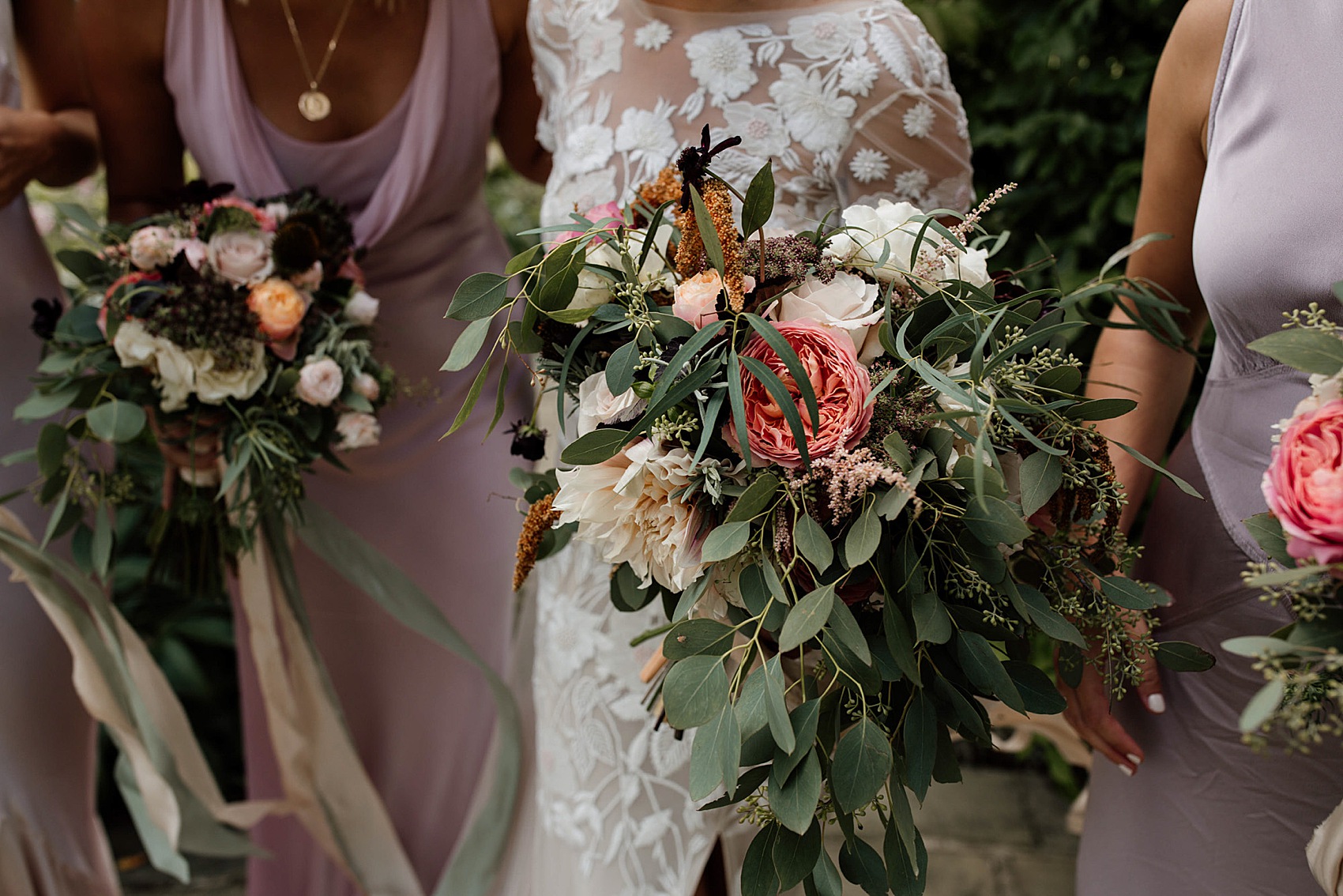 Justine and Cesare took some time together to wander the gardens and beautiful, flower-filled glasshouses, and I just love the way their photographer Esme Ducker caught every moment, so creatively and thoughtfully rendered through her lens.
"Esme was one of the best decisions we made. We picked her because of the emotions her portfolio portrayed, and the way she captured the story of the day and everyone in it so well."
"We wanted our day to be captured as a whole with all those closest to us whom we couldn't have contemplated our day without."
"We would recommend Esme again and again, she was professional, discreet, great at communicating and produced a set of pictures that reduced me to tears. They captured every moment and mood in the day so perfectly."
The couple chose to hold their reception inside a traditional pole tent, decorated with festoon lights around the ceiling canopy. This was hired through Tents N Events.
Visit the #WhatAboutWeddings website to find out how you can lobby for government support, be you a couple planning a wedding, a supplier or venue owner.
"They were an incredibly helpful and knowledgeable supplier – thoroughly recommended! Gave us great peace of mind throughout, and particularly while advising us on hanging our 20kg metal hoop!"
The hoop was made by Justine's brother Ben, who added gold fern leaves along with fresh asparagus fern, and inside the hoop, an acrylic disc with Justine and Cesare's names, their wedding date, and the words, 'Come away with us.' Family also helped the couple suspend nearly 100 3D paper stars on branches fixed around the edges of the tent.
"Absolutely everything stationery-wise, from gold foiled invites, brass menus and table numbers, acrylic table plans, to our vows book was designed by my little brother Ben and I, and created by his brilliant company he is the founder and managing director of, Oakdene Designs. They produce personalised gifting and stationery. I promise I realise how lucky I am!"
Tables were laid with charcoal grey cloths, and places set with gold beaded charger plates and napkins tied with forest green velvet ribbon. Tableware, linens and chairs were all hired from Couvert. Justine also spray painted miniature toy animals as place settings, too.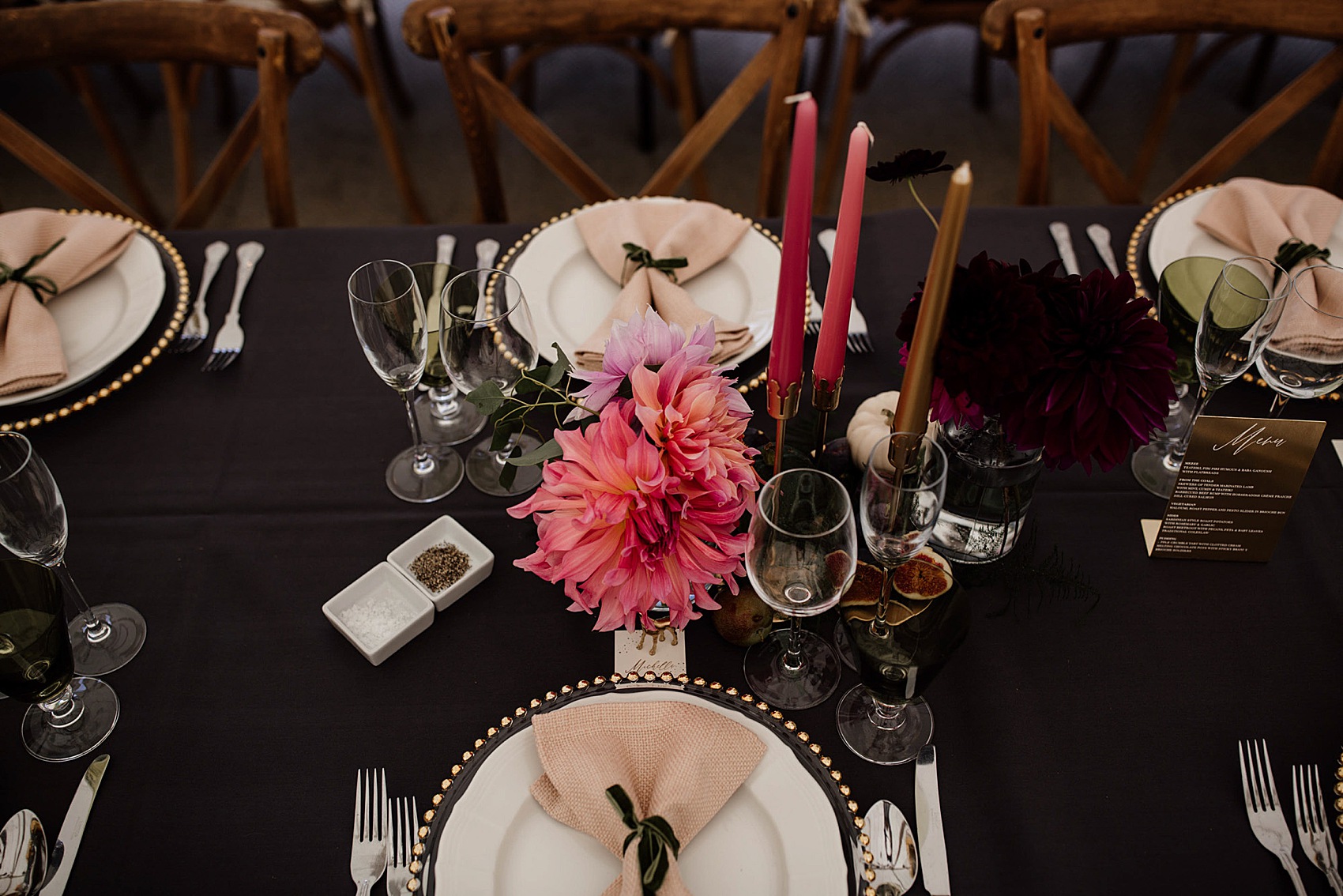 "My amazing Mum grew the many, many dahlias on the tables and displays, all in her garden and a few extra from her friends, and all arranged by herself and my aunt – I'm incredibly lucky to have a creative family! I've always loved dahlias, and my family have always grown them. I knew I wanted some strong splashes of autumnal colour and so they were the perfect choice."
"To dress the tables, alongside Mum's dahlias in various bottles, we grouped gourds and squashes with figs and foliage and scattered sequins among the candlesticks. I'm a bit of a collector of weird and wonderful objects – or clutter as my husband affectionately calls it, which came in use for styling the marquee."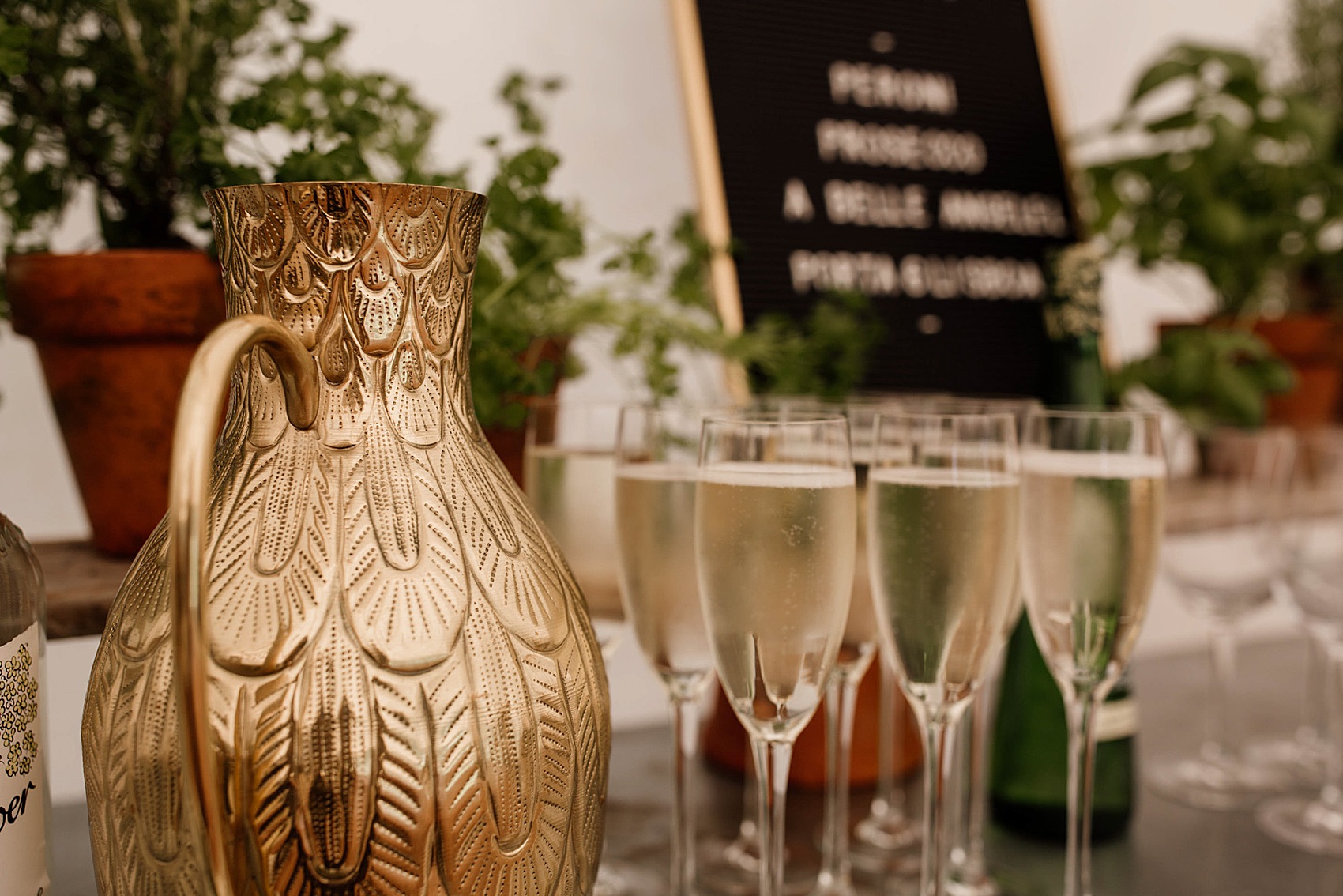 The Secret Restaurant served up a delicious, relaxed feast of mezze and grilled platters to share, placed in the middle of the long dining tables so that everyone could help themselves.
"So many guests said it was the best wedding meal they've ever eaten. They were so helpful, attentive and professional – we couldn't have asked for more."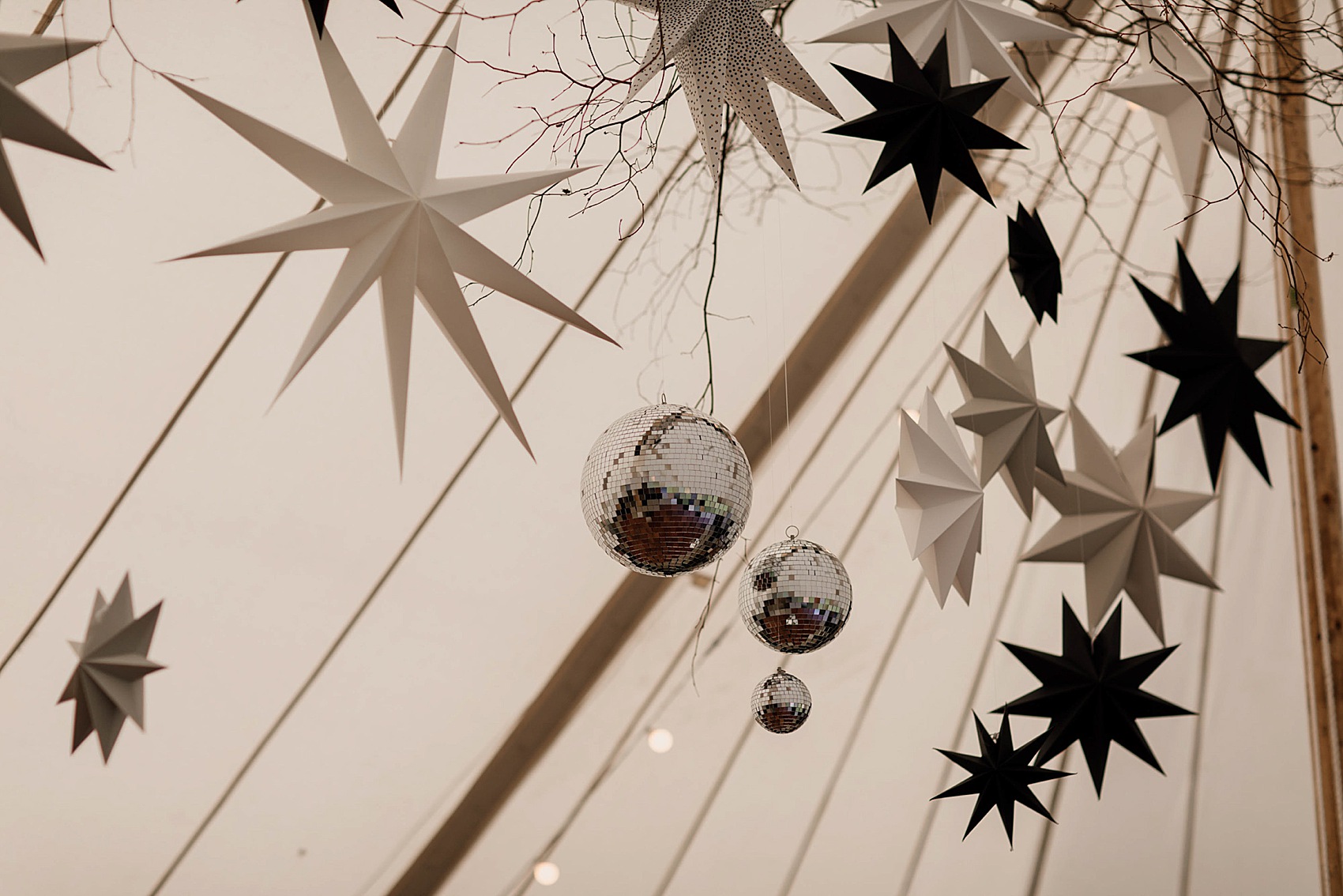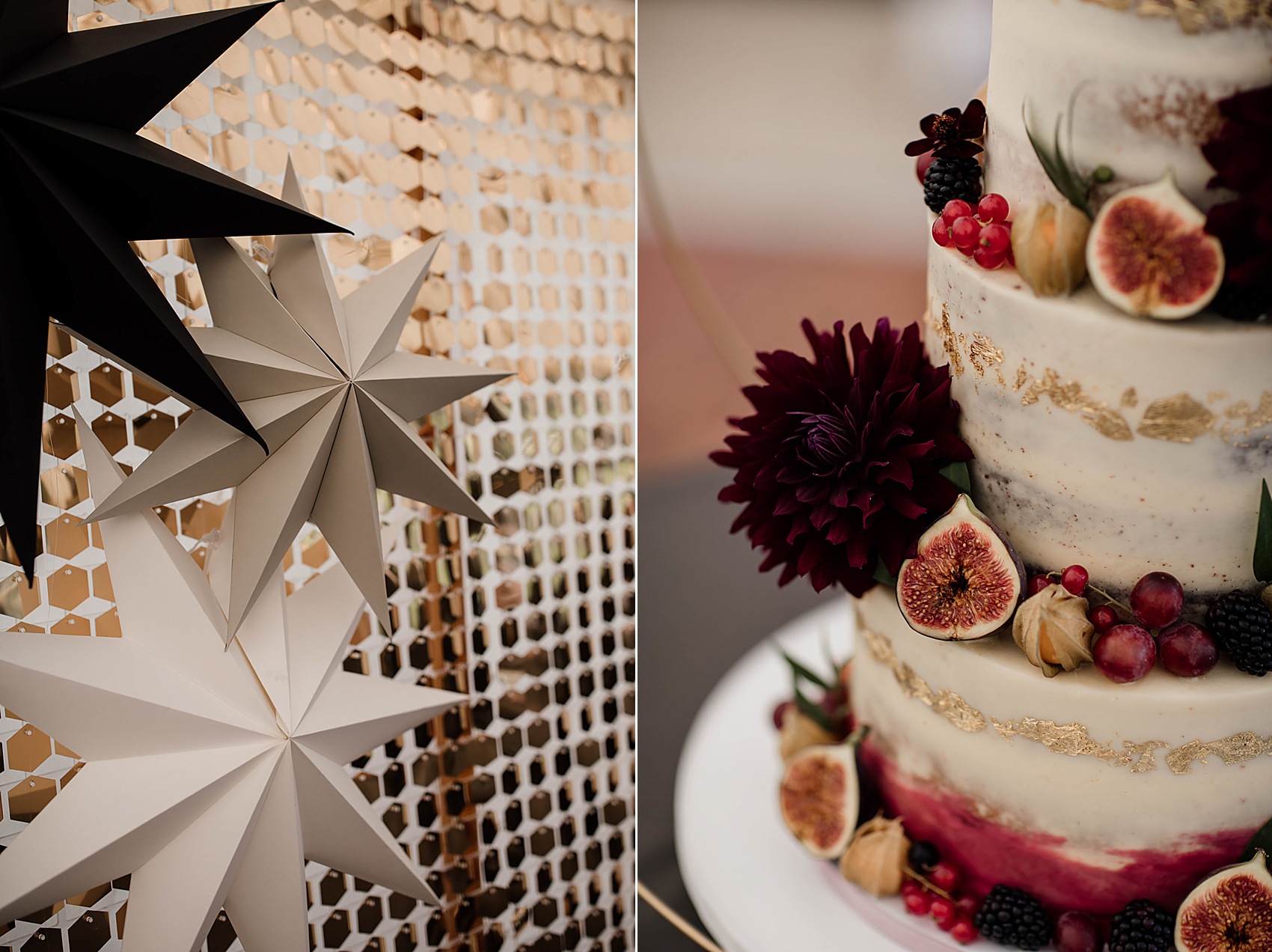 "Georgia at Hubbard's Cupboard Cakes produced the most incredible cake. I gave her a pretty loose brief – flavours we liked, a rough colour palette used in the day and a few Pinterest pins back and forth, and voila!"
"She produced the most delicious masterpiece. It was our wedding gift as she also happens to be Ces's cousin. We are so lucky to be surrounded by so much talent."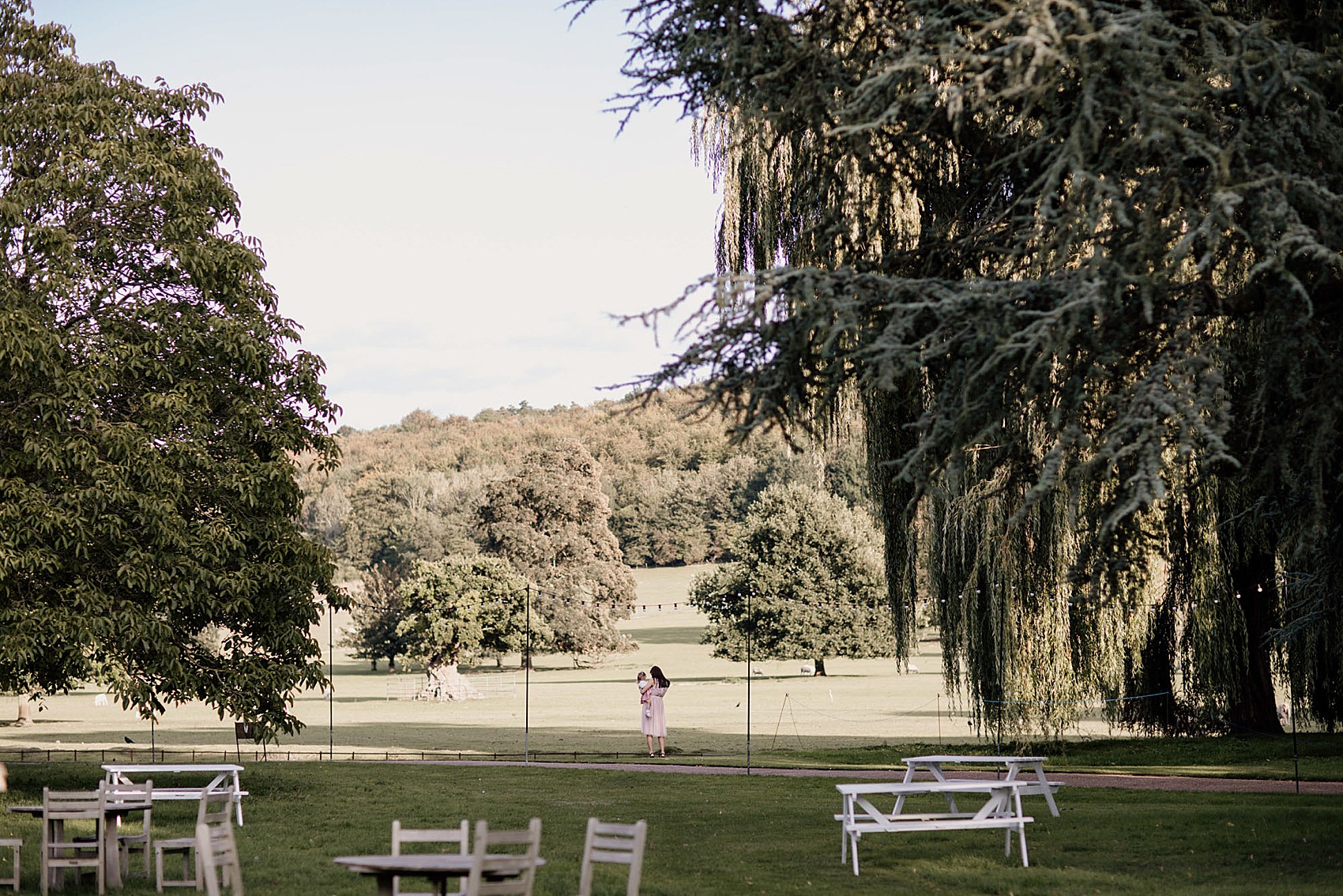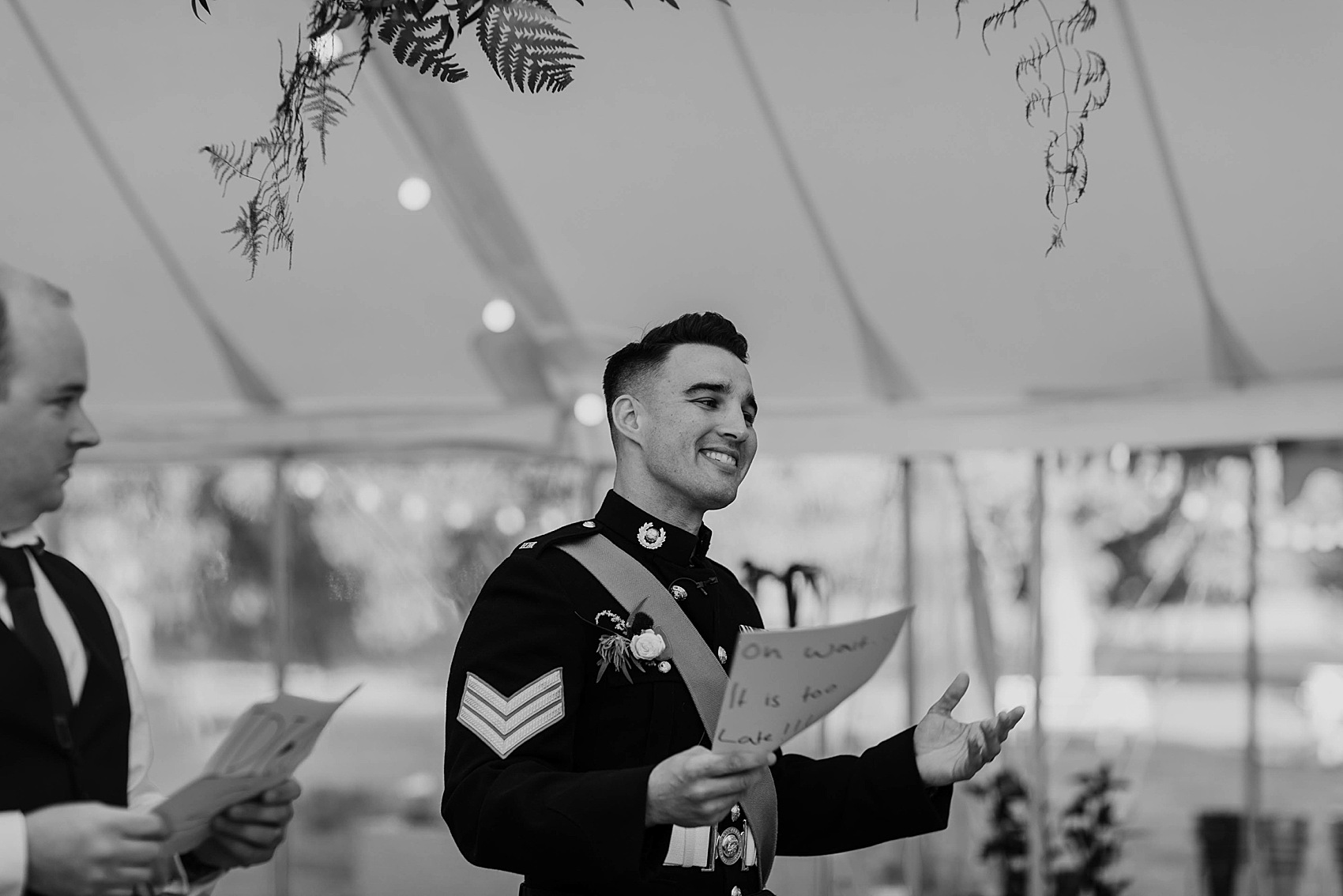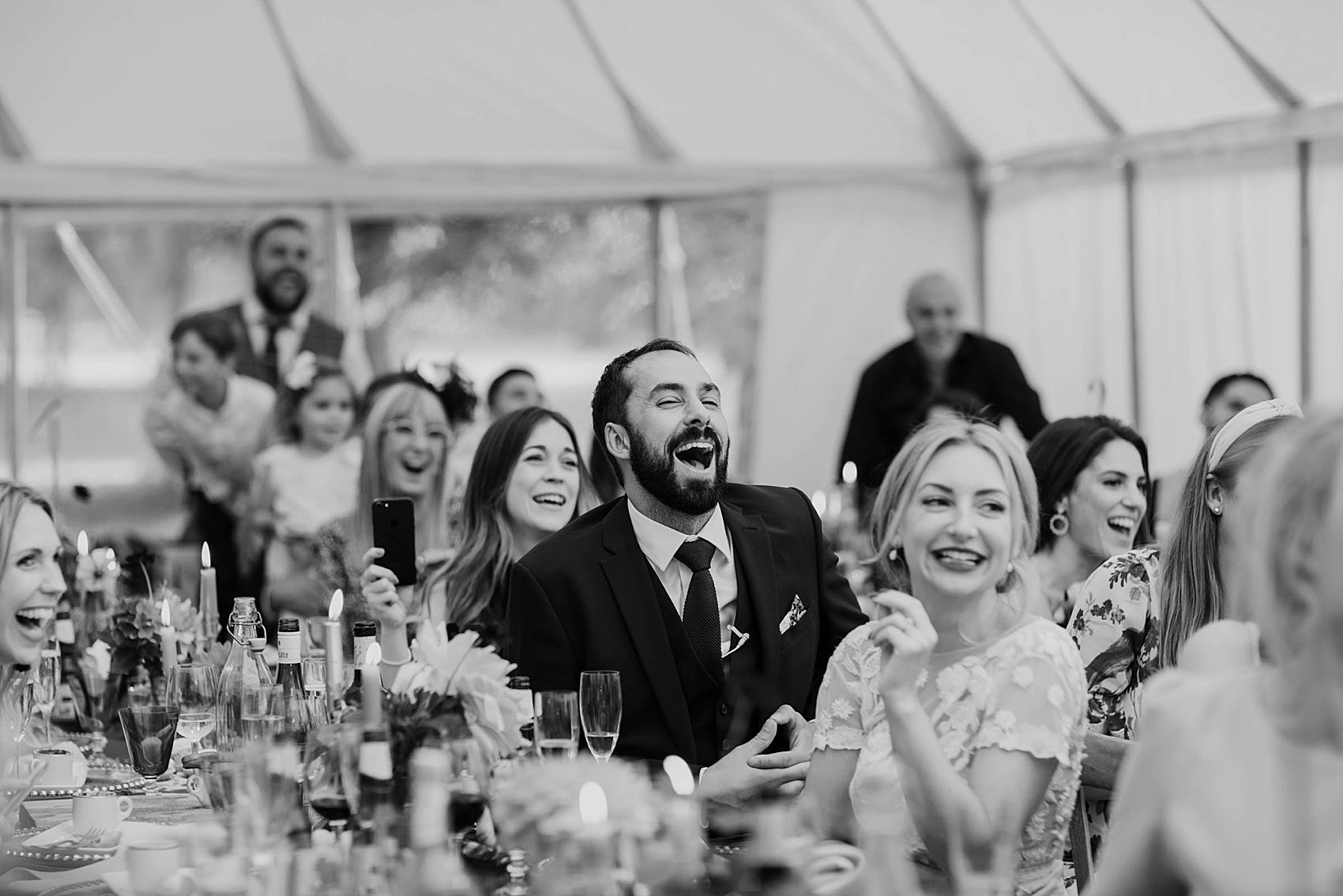 The array of family talent continued into the nighttime, too, with a set from band 48 Thrills, who Cesare's Dad is lead guitarist for. This was followed by a DJ set from a friend of Cesare's brother, Terry Withers.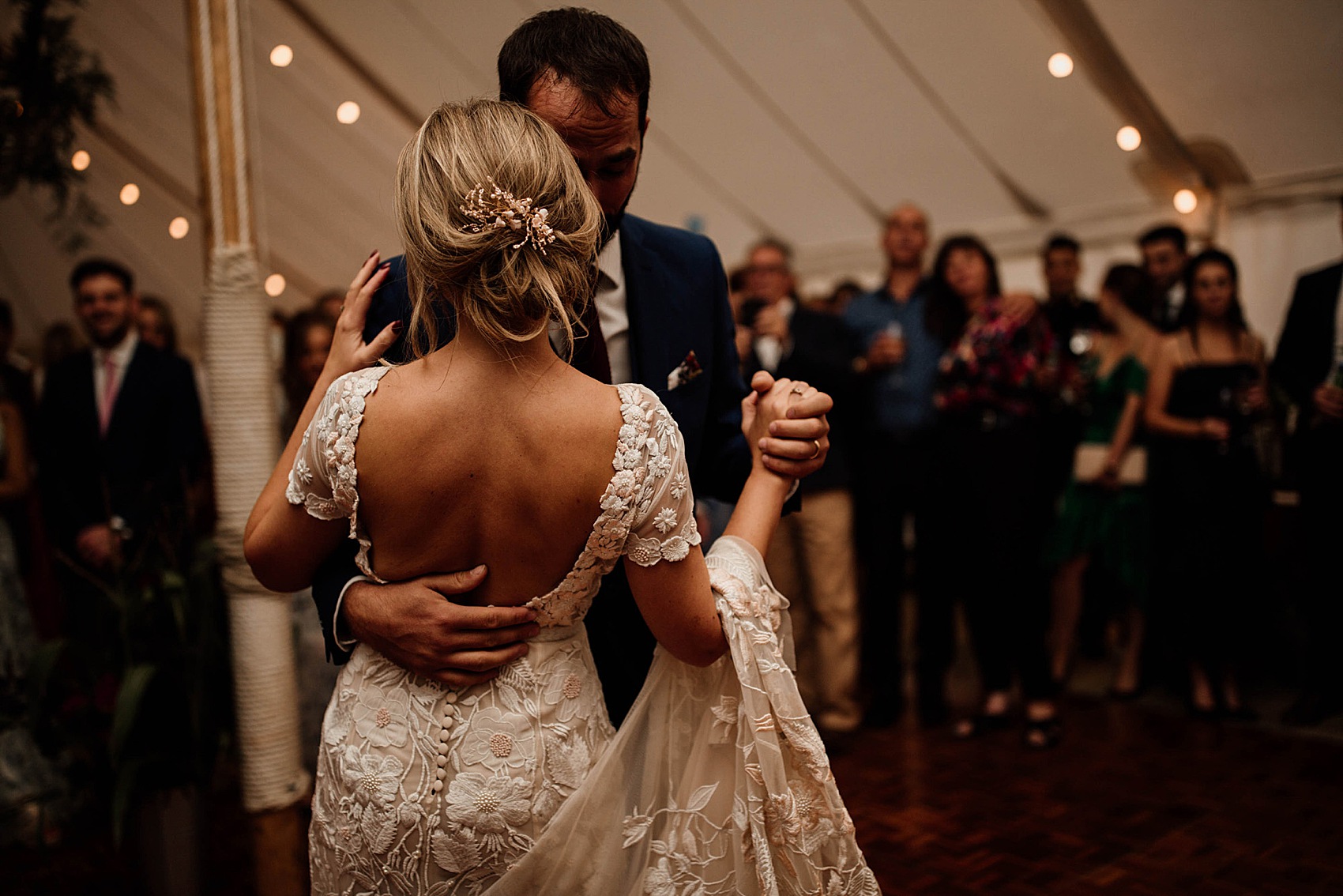 "We chose Can't Take My Eyes Off You covered by Muse as our first dance, as we didn't fancy slow dancing for much longer than 30 seconds and wanted a great rock intro to start the party!"
"We truly loved every second. I guess pushed we would have to say the party, but in general it was the feeling of being surrounded by so much love from our family and friends."
"This is particularly true of Ces's Italian heritage, when half the marquee chanted 'Bacio' at their tables until we kissed – an Italian tradition. Having one of my bridesmaids Chloë and my sister Lottie come over from Australia was also amazing. We couldn't have pictured the day without them."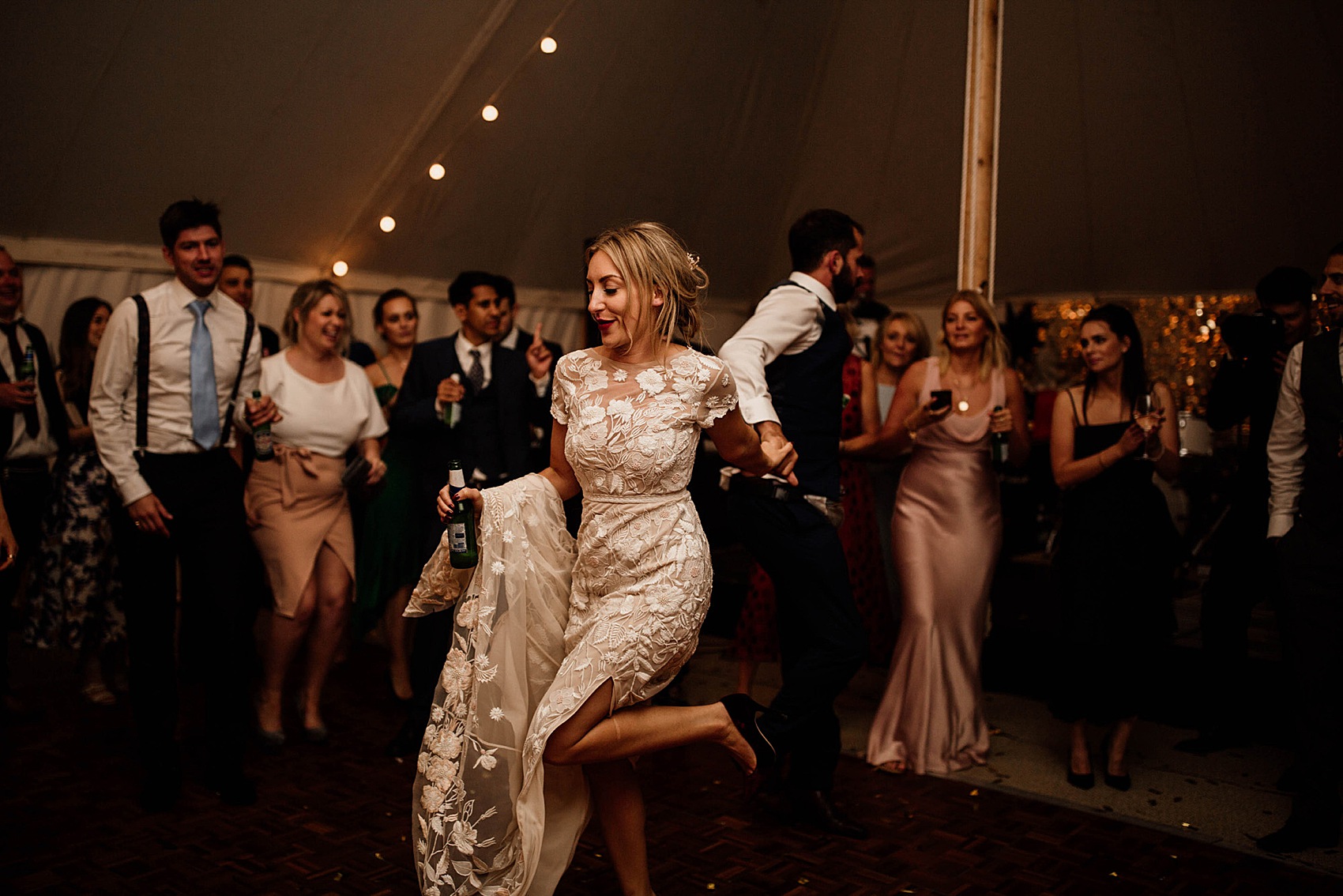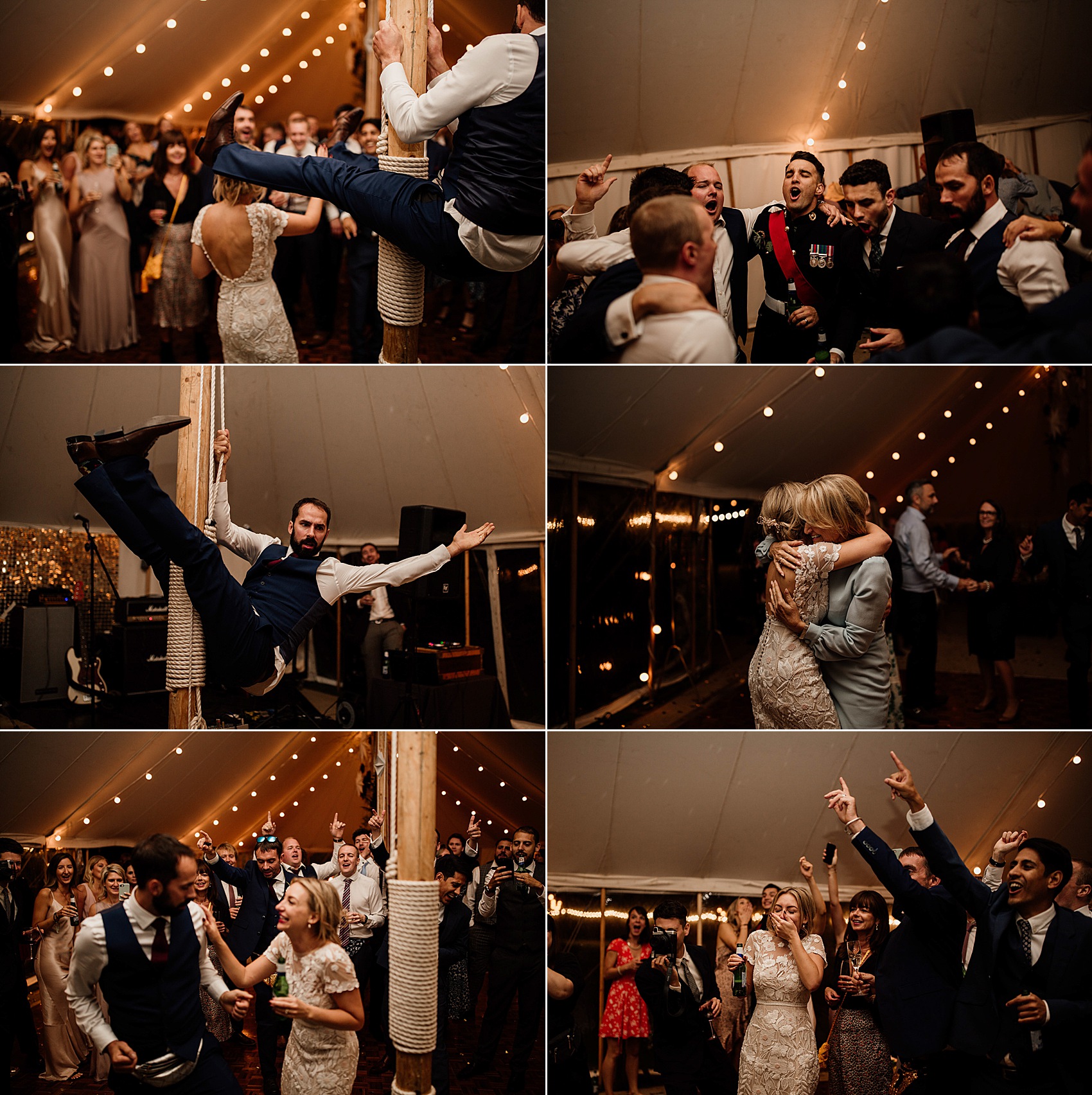 Words of Wedded Wisdom
"Take time and do your research to find your suppliers, not just for the work they produce but the kind of people they are – with the right ones by your side don't underestimate how much easier this will make planning your day. I would have been a wreck come the day had I not had the support of all our amazing suppliers, especially as we took on so much ourselves, having their expertise was so valuable."
"If you plan to do a lot yourselves and with help from family and friends, document it. Take pictures of the process. Having their input and support was as important to us as the final outcome, so it was lovely to have a reminder of all the work that went into it! I took pictures of mum embroidering my veil, my brother soldering the metal ferns together, Ces spray painting the hoop – you name it!"
Join our closed Facebook group for brides – a safe, protected space with a wonderful community of supportive fellow brides
One of my bridesmaids, Amy, also surprised us with an amazing video she put together from covert little snippets taken on her phone from the day of setting up the marquee right through the wedding to the pack up the day after – it was so special and captured so many beautiful little moments otherwise missed."
"Everyone says it but – don't sweat the small stuff and enjoy the process!"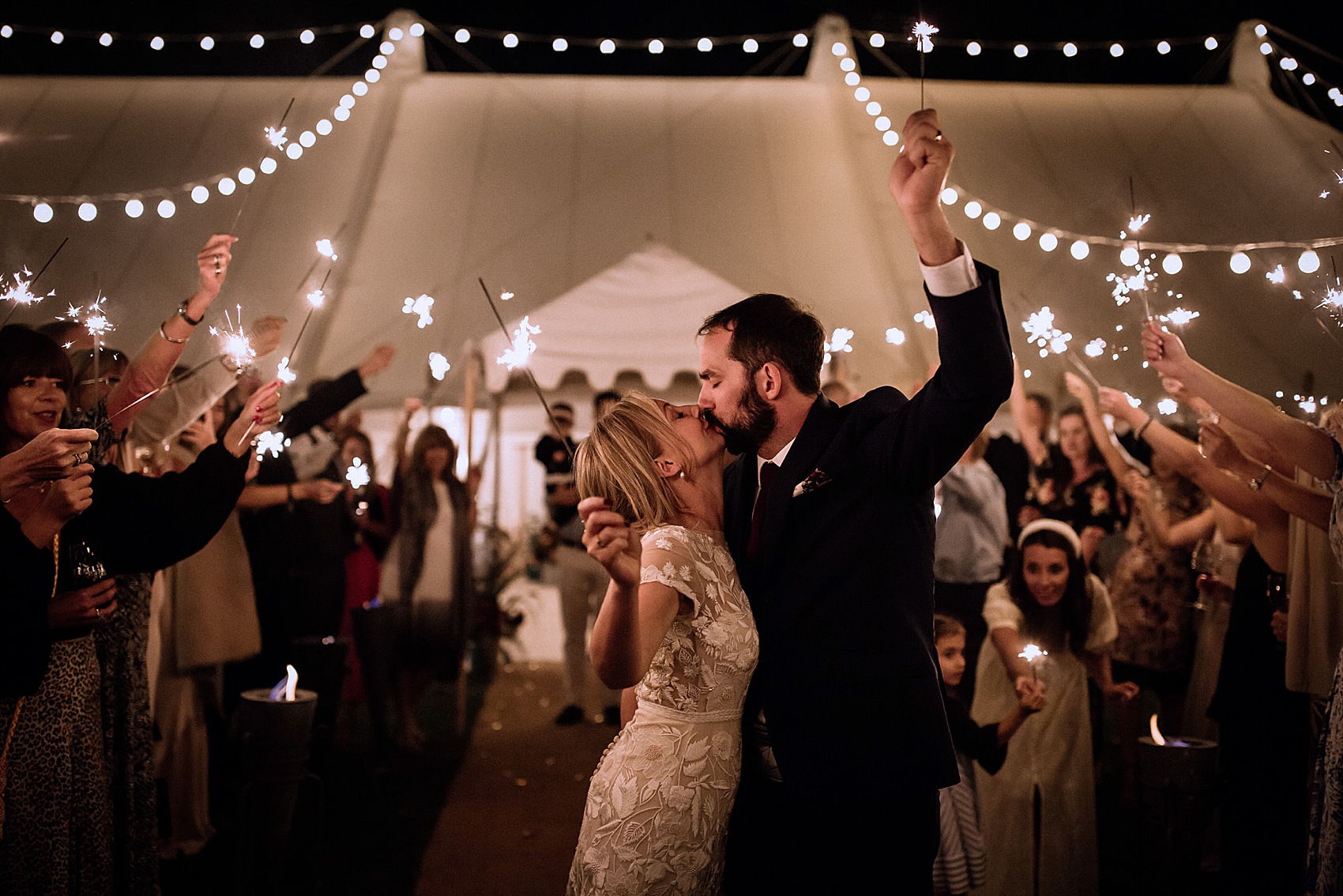 Justine and Cesare, congratulations and thanks a million to you both for this. How wonderful to be surrounded by so many creative talents within your families, and to have their support in planning and on the day itself. Huge thanks also go to Ayla from Wagtail Productions for her gorgeous film, and to Esme Ducker for these spectacular pictures.
With love,
Laura