Over the years here, we've featured many wonderful cultural fusion weddings, and today's celebration is a touching testament to our couple's love, their life together, and the love of family and friends.
This is an Indian and British fusion wedding uniting two cultures, but also celebrating them distinctly in an elegant country house setting. On the 20 December 2019, Reena married her love Chris. Reena is a child psychologist, and Chris is a lawyer, and they celebrated in eighteenth century splendour at Hawkstone Hall & Gardens on the Shropshire/Cheshire border.
The couple chose the magnificent Hawkstone Hall & Gardens as their venue because of the flexibility and sheer space that it offered. One way in which they kept the parts of their day distinct was to make use of the venue's many different rooms, with the first – the Hindu ceremony – taking place in the light-filled orangery.
Stay in the know – join our mailing list now…
"Our wedding consisted of a Hindu ceremony, Indian street food lunch, civil ceremony, drinks reception, wedding breakfast and a party! Each event took place in a different room. We had so much to pack in, so the availability of rooms was key to making this wedding the way we wanted it."
"The orangery was a big open space large enough for all our guests, and also the mandap required for the ceremony. It was also a blank canvas, allowing us to apply our own touches, turning the room into a temporary colourful Hindu temple for the day."
Dhol drummers kicked off the celebrations outside, as guests gathered with Chris and his groomsmen. Chris' suit – a bronze embroidered jacket with red trousers was bought in India [no further details supplied]. One of the drummers was multi-talented family friend Jaz Singh, who provided lots of entertainment throughout the day and into the evening.
"We would absolutely recommend Jaz – professional, hard-working, and can work with all kinds of music to create the day you want."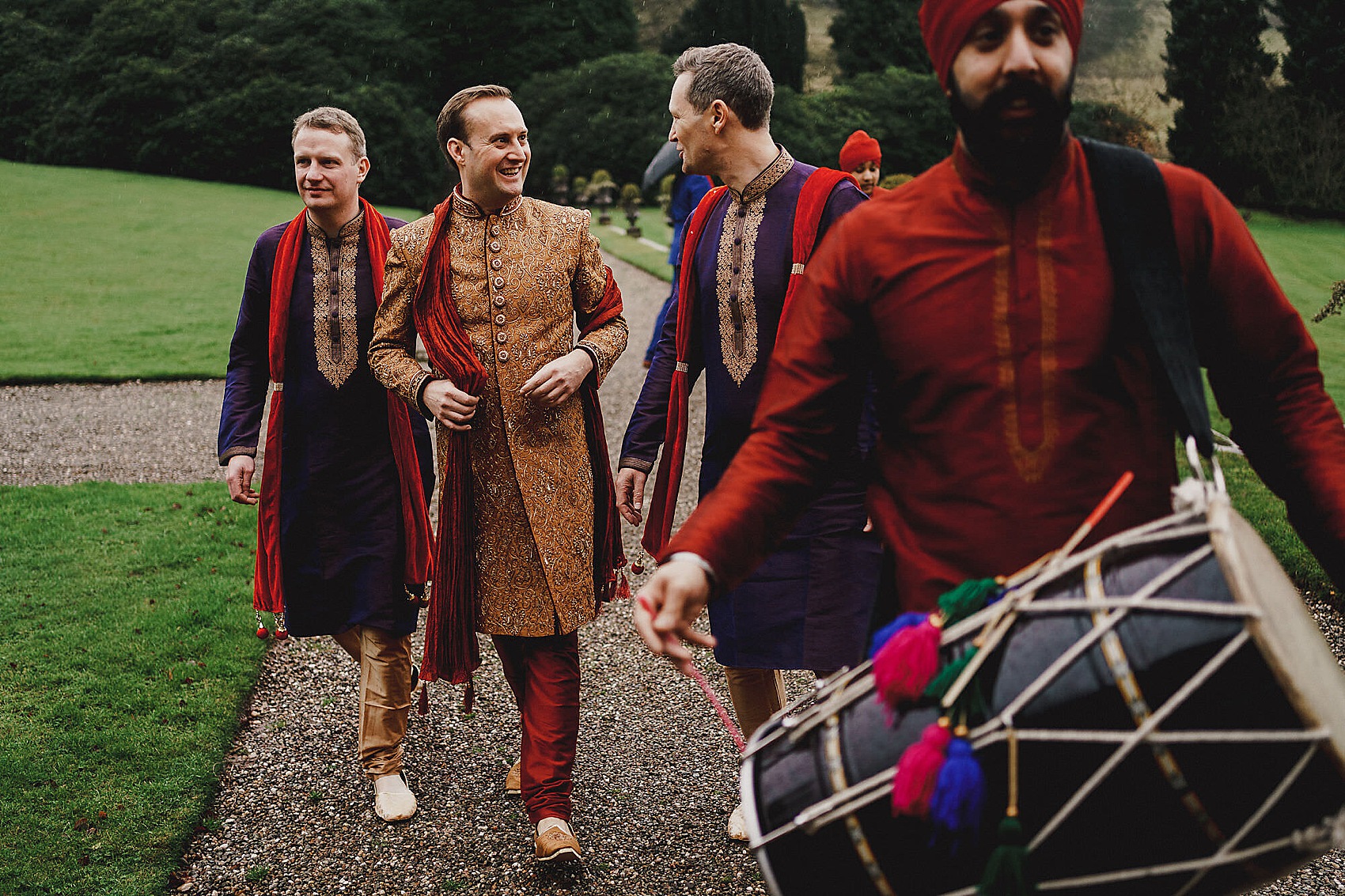 Theirs was not a long engagement, and Reena and Chris knew they wanted to get married in the UK. Living in Hong Kong together, they chose a December date close to Christmas so that they could stay on and spend the festive season with family afterwards.
"The idea of a winter wedding in a stately home with open fires and that festive feel was also incredibly appealing and offered us a great opportunity to get all our family and friends together and start the Christmas celebrations early!"
Reena paired her lehenga with a set of beautiful and ornate jewellery from Sandook Gems, including a tikka and nose ring to complement her look.
"Hair and make-up artist Reshma Patel's work is stunning, and I knew I wanted her for my big day. We had a FaceTime meeting and she put me at ease immediately when working out the logistics for the two looks I was going for on our day."
On the weddding day, she was calm, professional and a really fun person to hang out with whilst I was getting my make-up and hair done."
There was a suitcase of bindis for guests to help themselves too, and Reena and Chris used Etsy to buy stationery templates, including a brilliant guide to the Hindu ceremony, explaining each step and the symbolism behind them. Reena's uncles (her mum's brothers) accompanied her down the aisle to the song Tujh Mein Rab Dikhta Hai.
"As Chris is English from a Catholic background and I'm from an Indian and Hindu upbringing, we wanted the day to be a fusion of these two cultures – focusing on the tradition, the food, the music and the dancing."
"The photography for me was going to be one of the most important areas we invested in, given that photographs are for life. Coming from an Indian background, I am so used to going to Asian weddings where you often see 4 or more photographers. For me, I did not want this and together with Chris, we knew that we wanted candid, natural, in the moment photographs."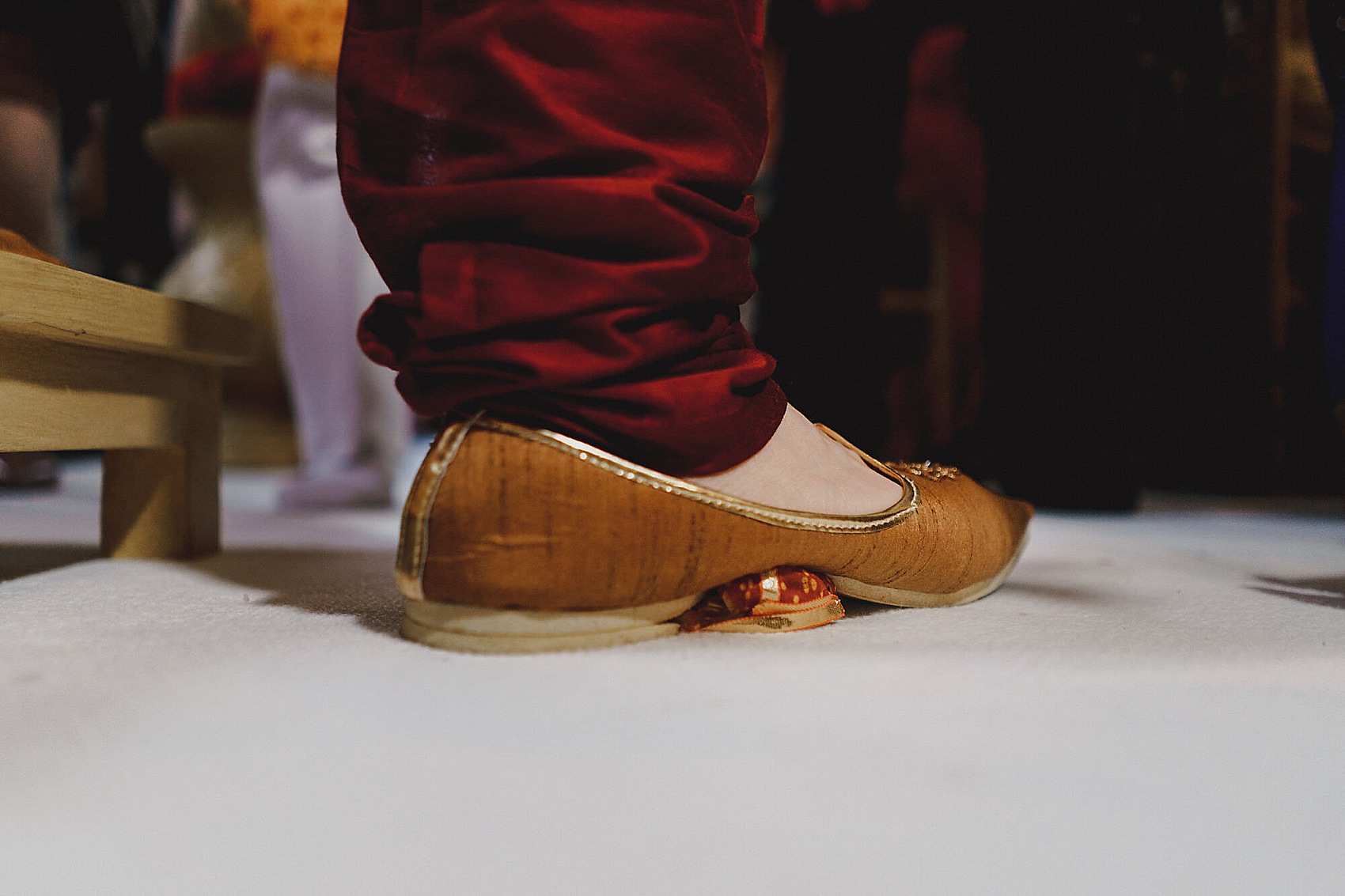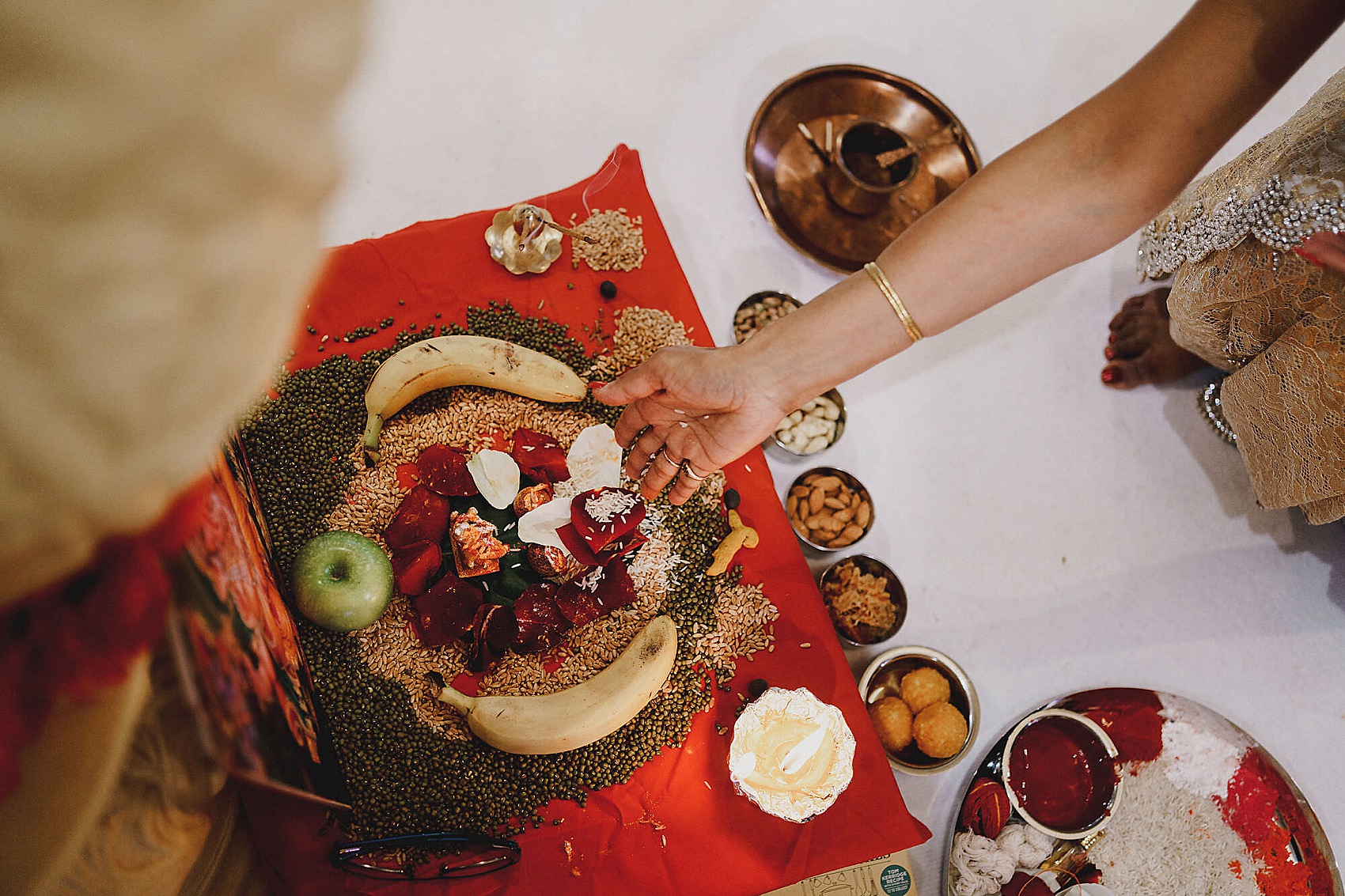 Reena's spectacular embroidered and embellished lehenga was a bespoke creation by Ekta Solanki in traditional Hindu bridal colours of vibrant red and gold.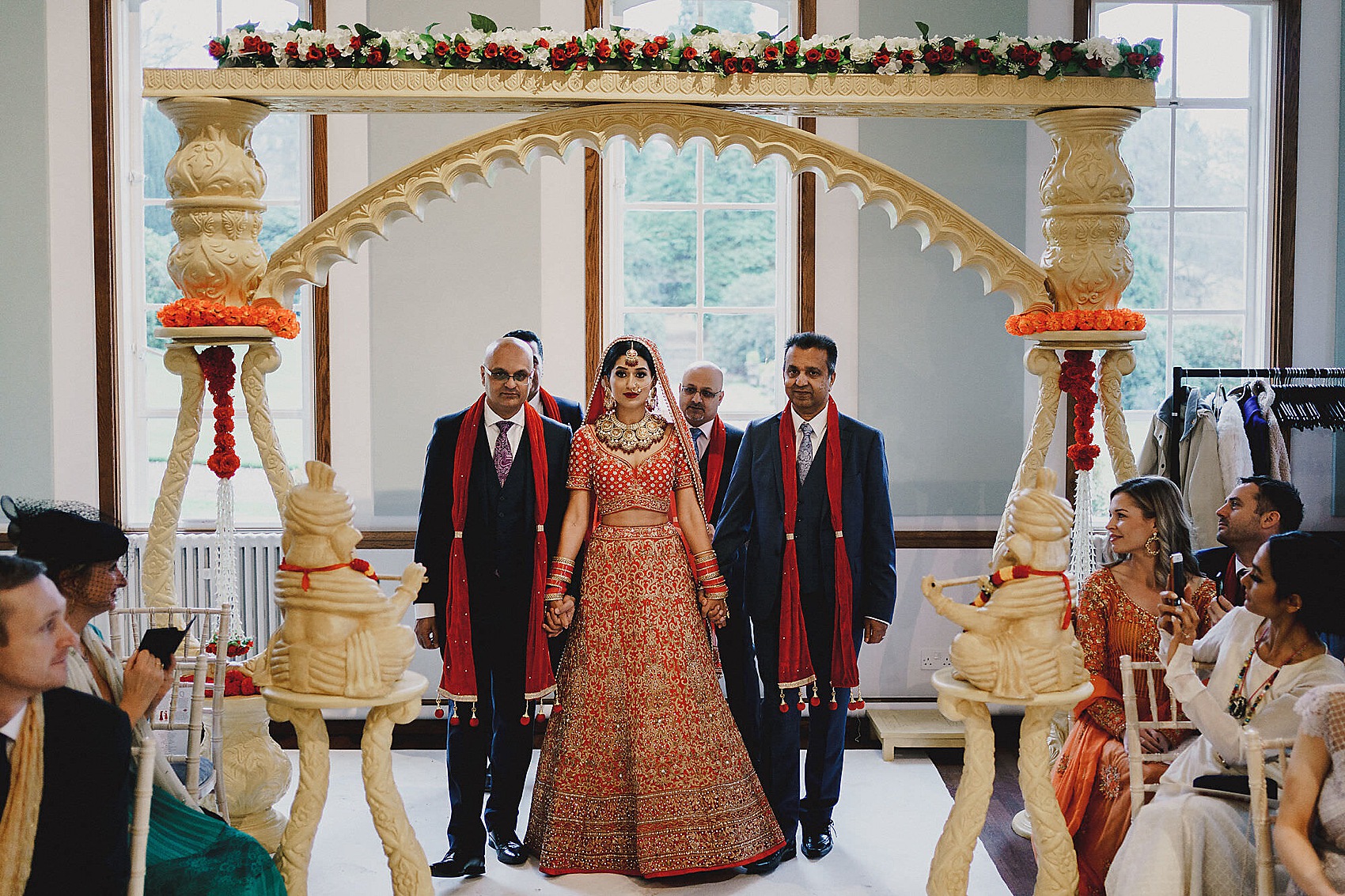 "I went for red and gold to reflect a traditonal, regal looking bride. I loved the look and was only sad I couldn't stay in this for long! From start to finish Ekta was so professional and a perfectionist."
"She really listened to what I wanted, and made that vision come to life. She was an absolute pleasure to work with and made the wedding planning process so much fun."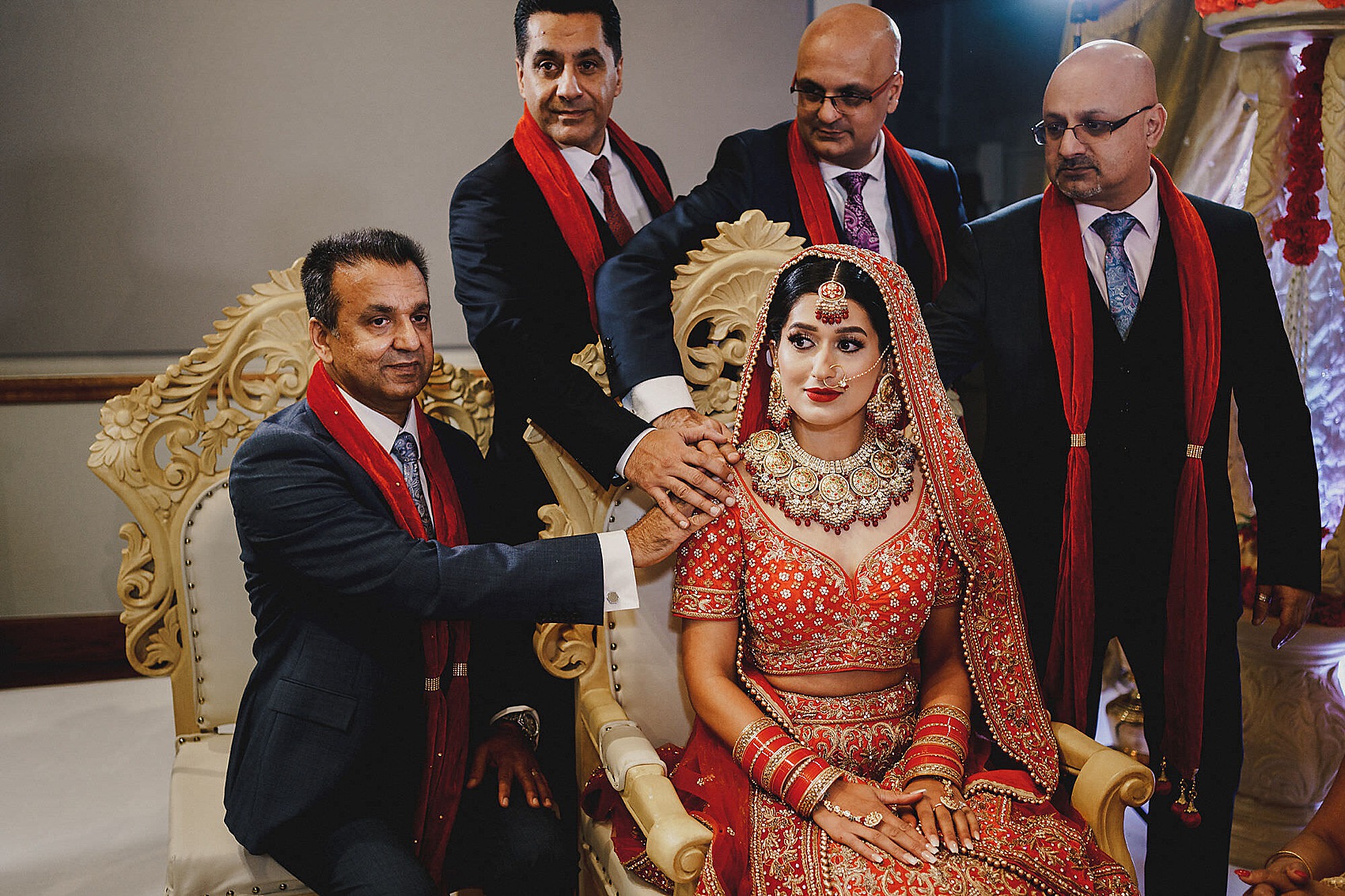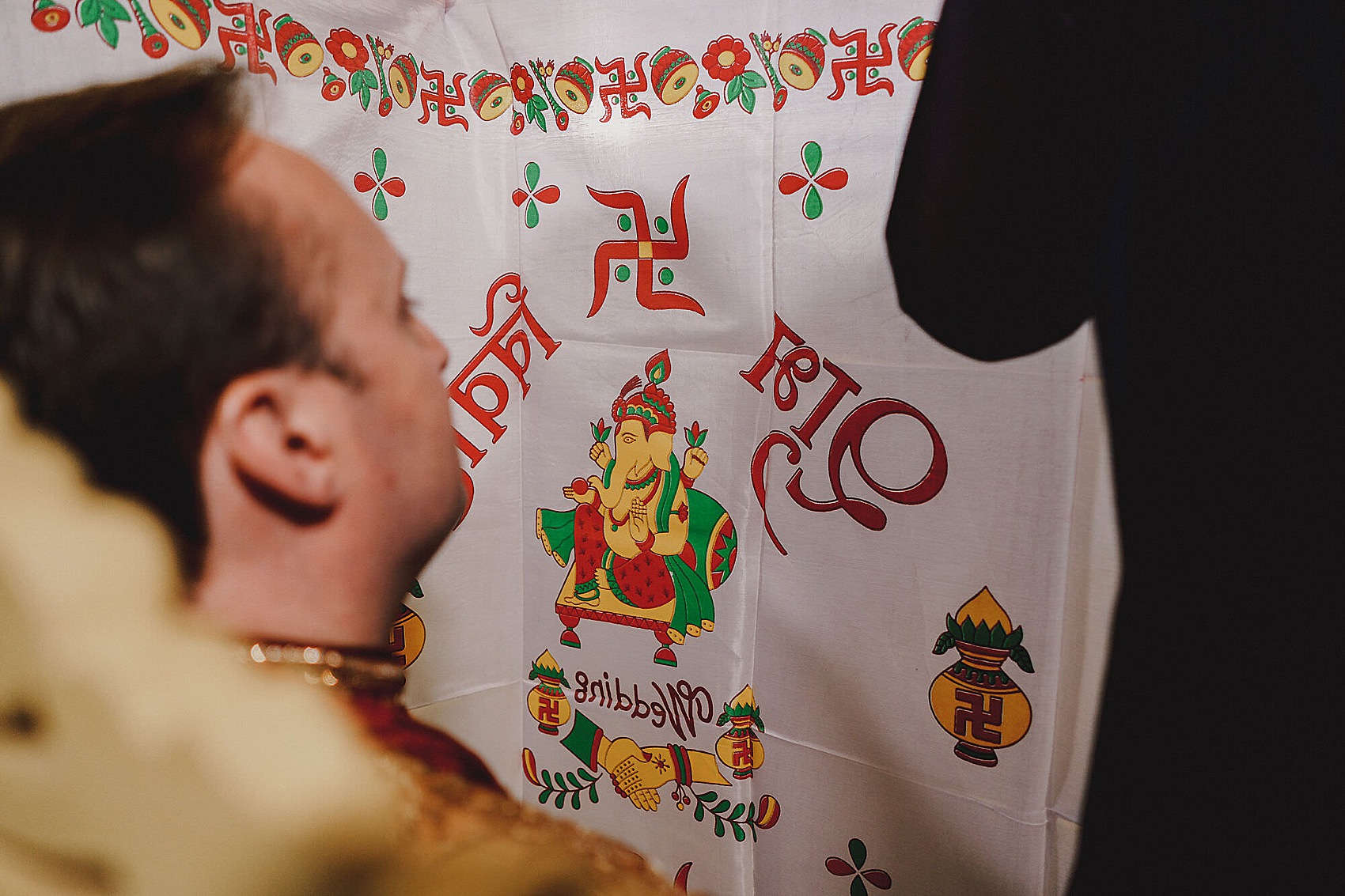 "For the Hindu ceremony, we focused on the most important parts of the ceremony and the pre-events we would normally have at an Indian wedding, like a Mendhi party."
"Given it was just a one day wedding, we focused on the key elements and made sure the room was bright and colourful to reflect Indian culture. I wanted vibrant colours like red, gold and orange to reflect what a wedding looks like in Indian culture."
"The ceremonies were so personal to us, and that is where I could truly be with Chris and it was about us. The meaning behind the ceremony was shared with our families, and I felt like everyone was there with us, supporting us."
The Hindu ceremony had the booklet explaining all the steps, and I could see how much our guests embraced it."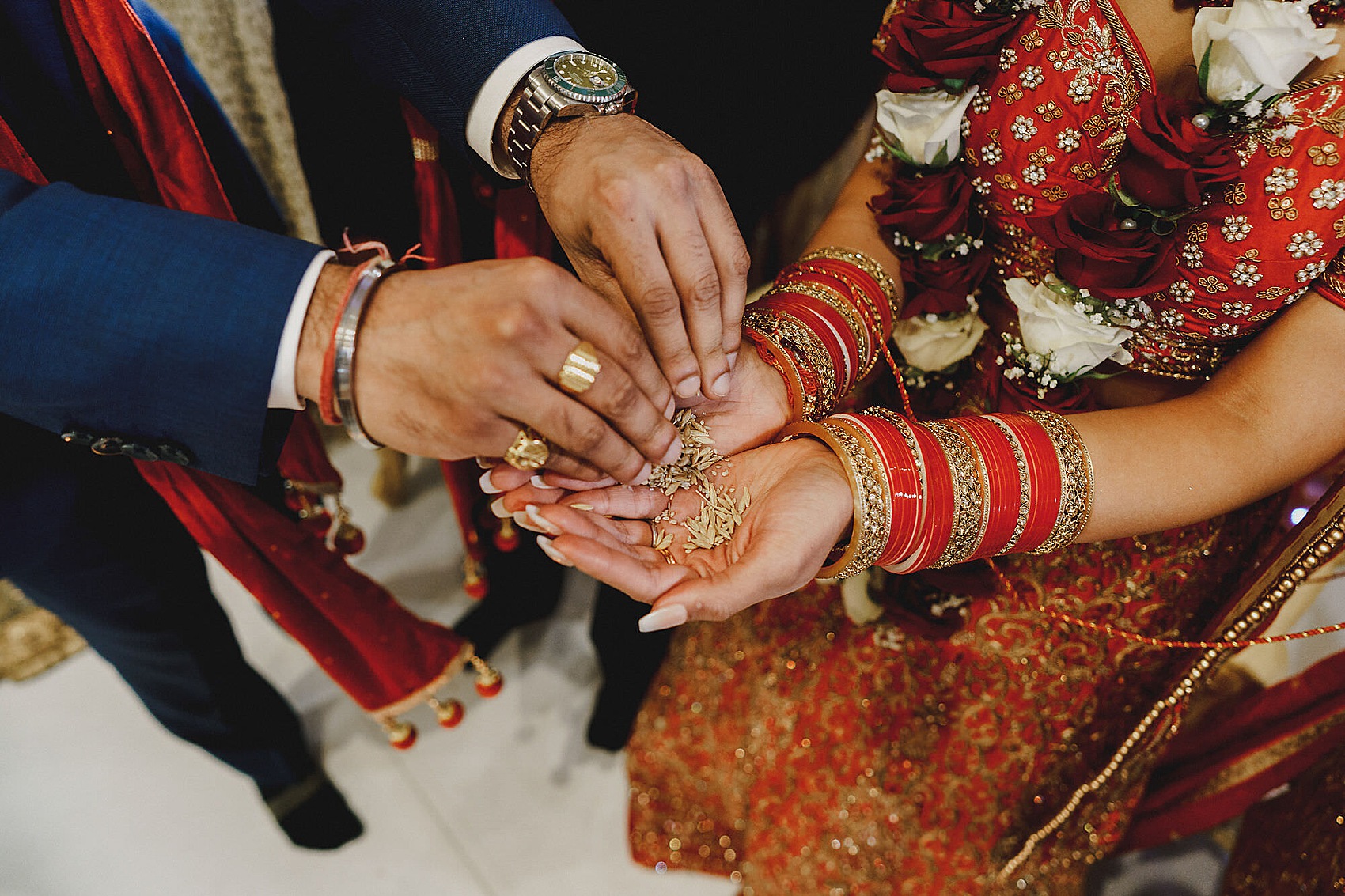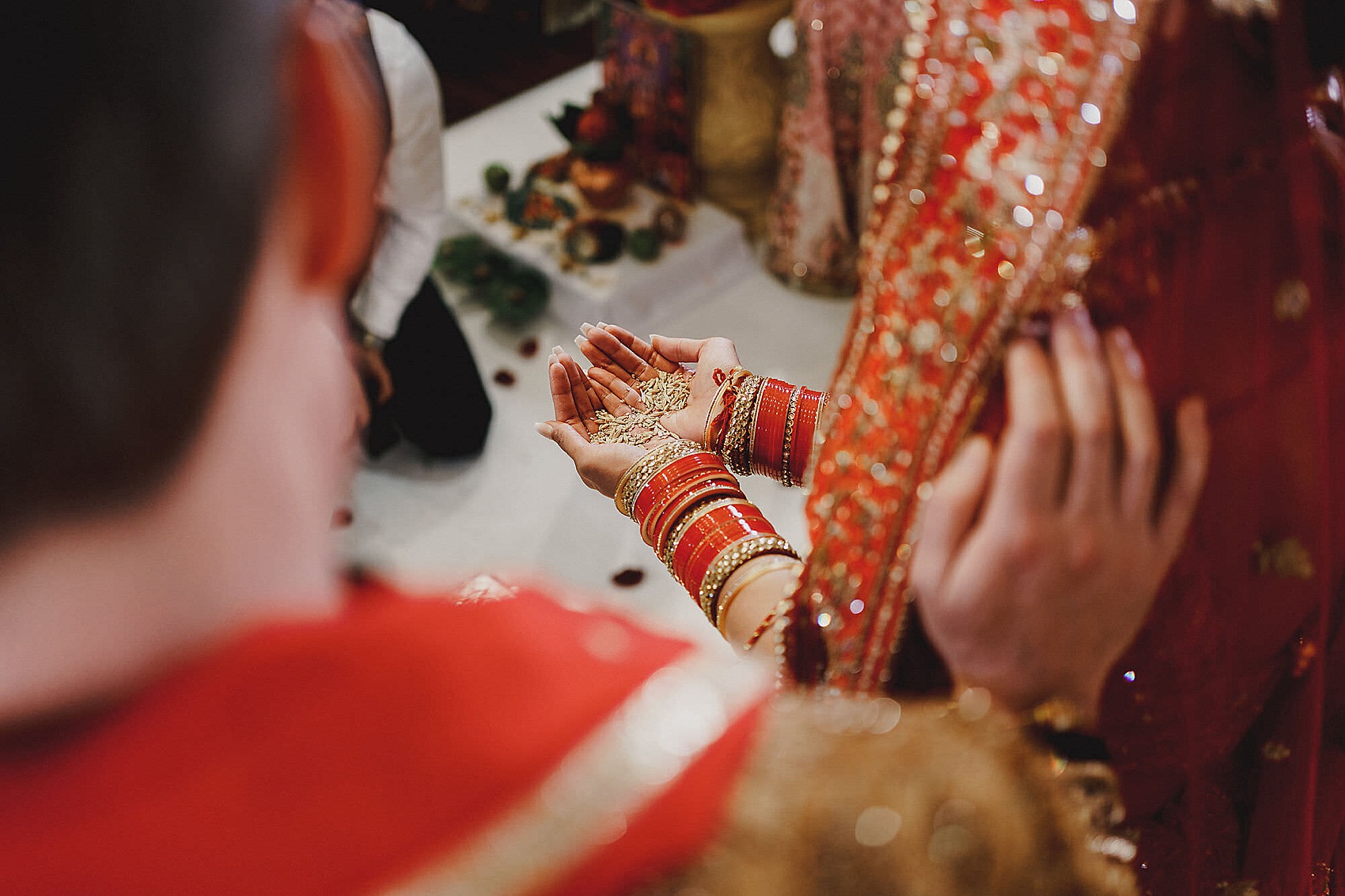 Ash and Mick from Miki Studios captured every detail and so many important, emotional moments, both in photo and film format, leaving Reena and Chris with an enchanting collection they no doubt treasure.
"We agreed that we wanted to see emotions captured in our wedding, along with significant events occurring throughout the day. I began my research by looking up websites and using Instagram."
After the Hindu ceremony, there was a Punjabi street food lunch [no details provided about the caterer, sadly] with canapés of Amritsar fish and chips served in cones, pani puri with three different chutneys, aloo tikka chana, lamb seekh kebabs, vegetable samosas, chicken tikka Hyderabad, and paneer shashlik. This deliciousness was followed by mains of black dal, aloo baingan, North Indian chicken lababdar, and lamb achari. To finish, there was mango kulfi served in a chocolate cup.
"We had Mehndi artist Sunny B in the afternoon following the Indian street food lunch, so our guests could enjoy the authenticity of a Hindu celebration, alongside Indian street food and classical Indian music playing. Sunny was so friendly and professional to work with, and our guests had a wonderful time getting their Mehndi done. We also had a violin and piano player – Craig Owen Music – playing English classics before and during the civil ceremony, the cake cutting and drinks reception."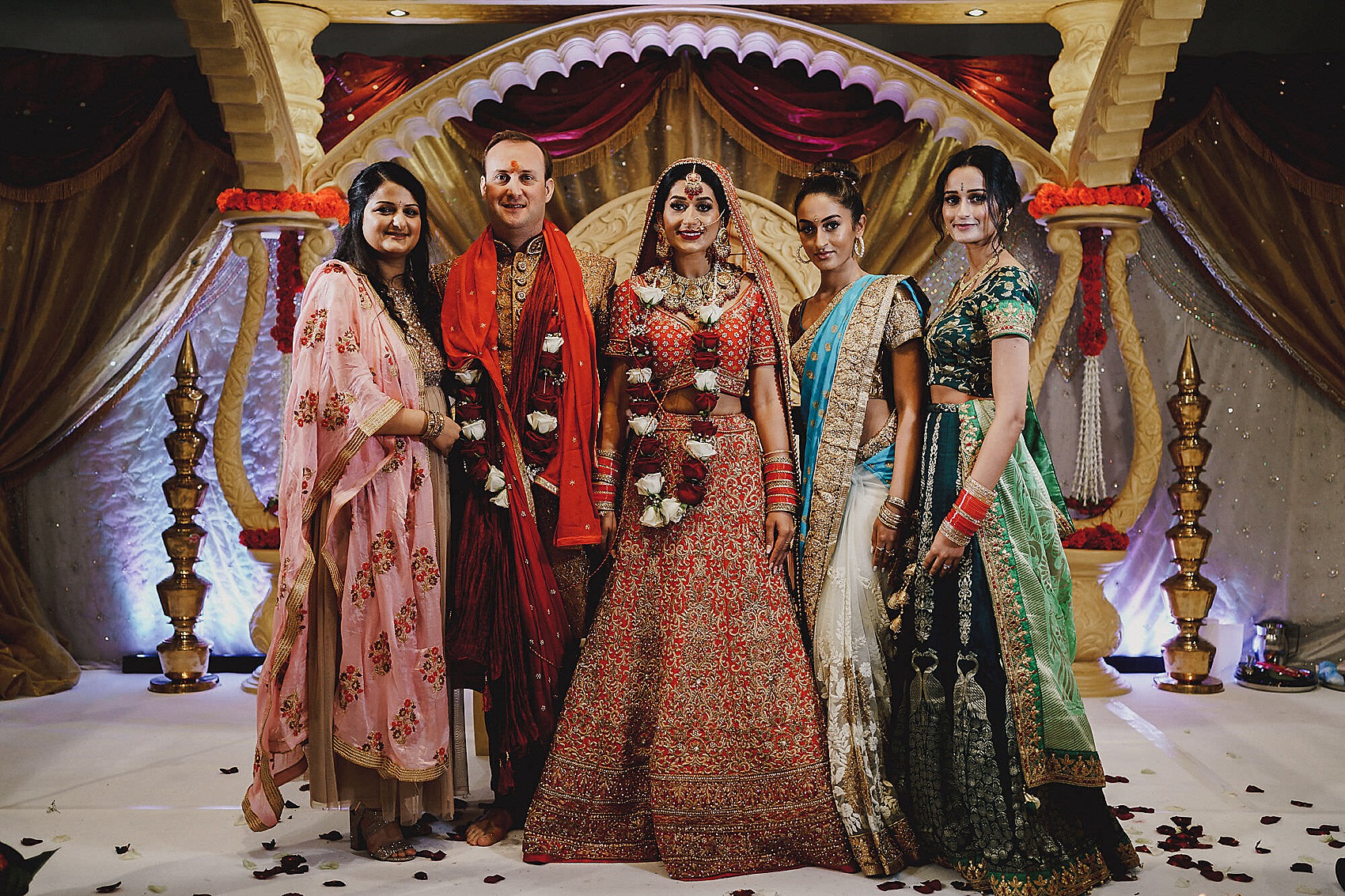 "When I came across Miki Studios, I instantly fell in love with the way they captured images, and their style. On our wedding day itself, Ash was so professional and discreet – to the point I didn't remember seeing him very much, but I am glad to say having seen our photos, we have some beautiful memories captured."
"I first spoke with Mick via FaceTime to talk about his work and the possibility of doing our wedding, and on first impressions, I immediately knew that he would be the kind of person I would want on our special day."
"He was personable, asked such important questions and made an effort to get to know who I was and who me and Chris were as a couple. Chris and I met Mick to do a pre-shoot in London and he immediately put Chris and I at ease and we just had a laugh!"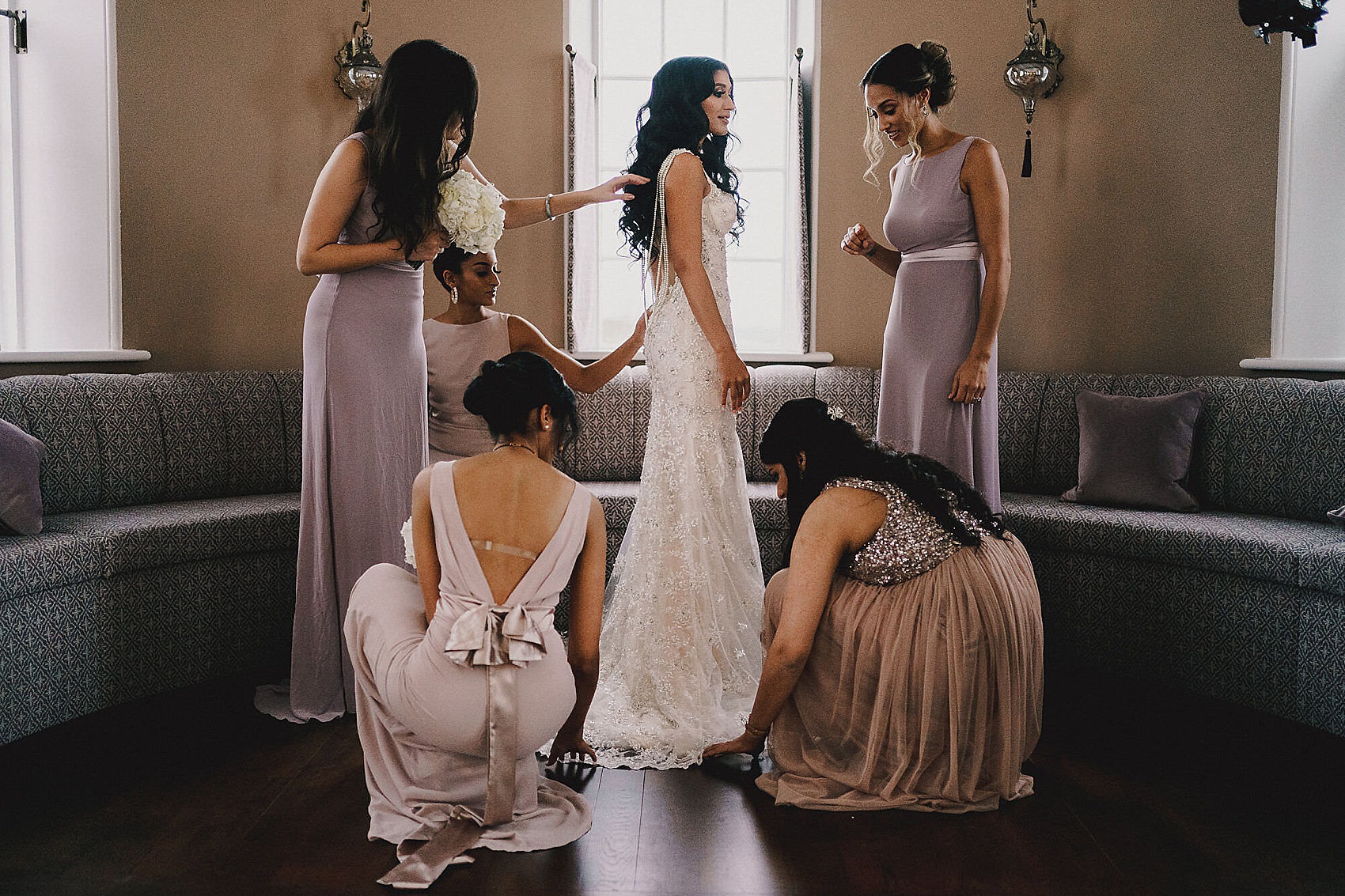 For the civil ceremony, Chris changed into a smart blue three-piece suit with a white shirt, and a red tie and pocket square from Suit Direct. Reena's bridesmaids wore different dresses in soft dove grey and blush pink from ASOS. Their make-up was by Emily from Beau Beauty & Make-up.
"I was lucky enough to attend a trunk show and to meet Galia Lahav representatives there. They were so professional and helpful, and I knew I had to have my dress by them."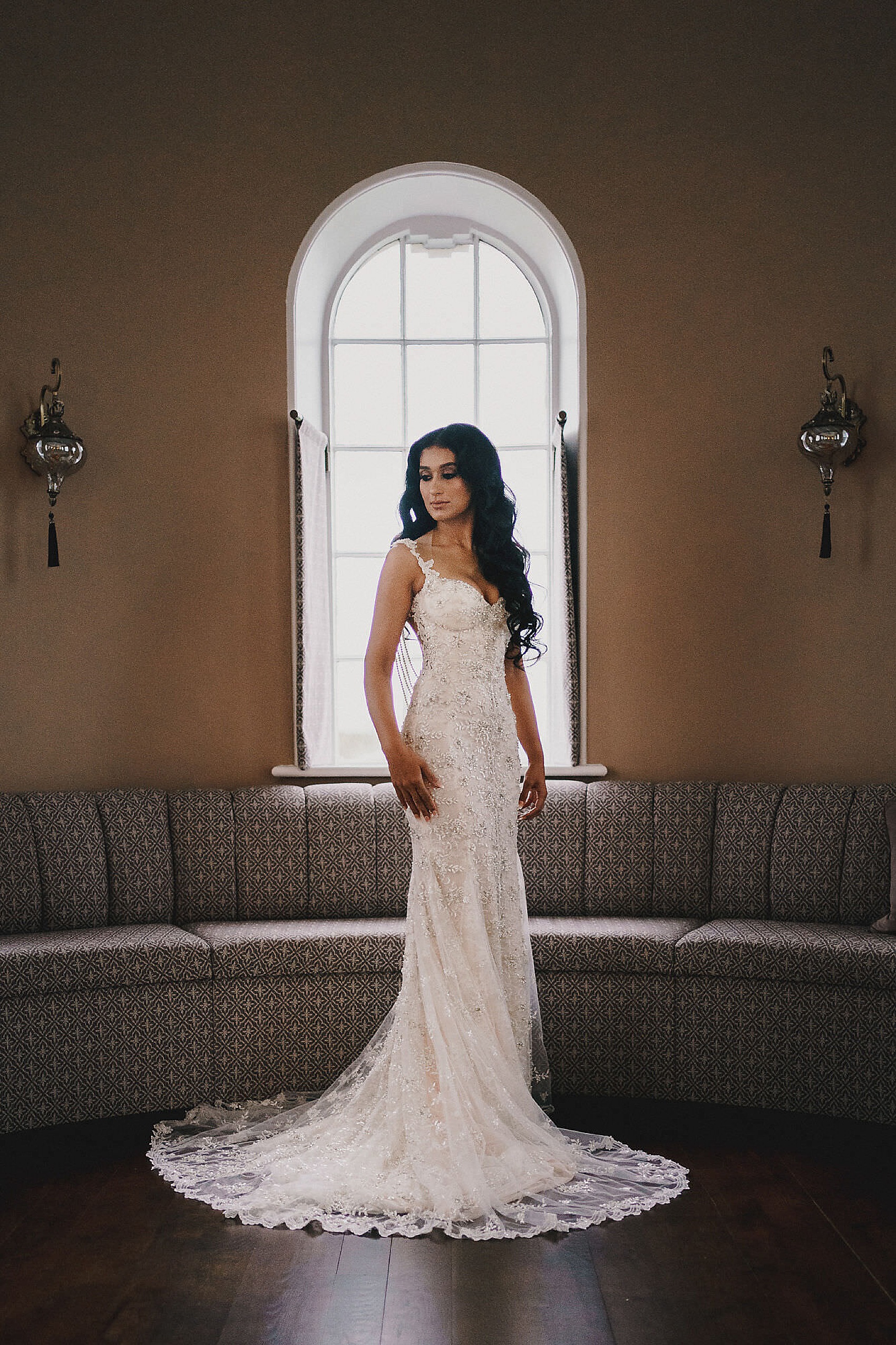 What a dress Reena wore, with its beautiful mermaid silhouette, ornate lace and embellishment, and dramatic statement pearls across the back. She looked spectacular, and she paired the dress with shoes by Christian Louboutin, and pearl earrings.
"This was a very romantic, elegant, classy dress. I was genuinely shocked by the reaction of guests when I wore this! I have always loved this designer, and I always knew I would have a dress by her. Her backless dresses are so feminine and sparkly – everything I wanted."
The civil ceremony was held in Hawstone's restored chapel, and the striking checkerboard floor was scattered with petals, and the aisle lined with softly flickering candles, and white blossom trees with hanging glass baubles containing tea lights.
This lovely work, as well as Reena's bouquet of romantic, cascading orchids, and the bridesmaids hydrangea posies was by Joseph Massie Flowers. There was also a jungle flower fall by Perfect Petals & Co.
"The team were so professional to work with, and they met me at the venue to work out what was needed. This was done so well and I appreciated their thoughts and guidance on this."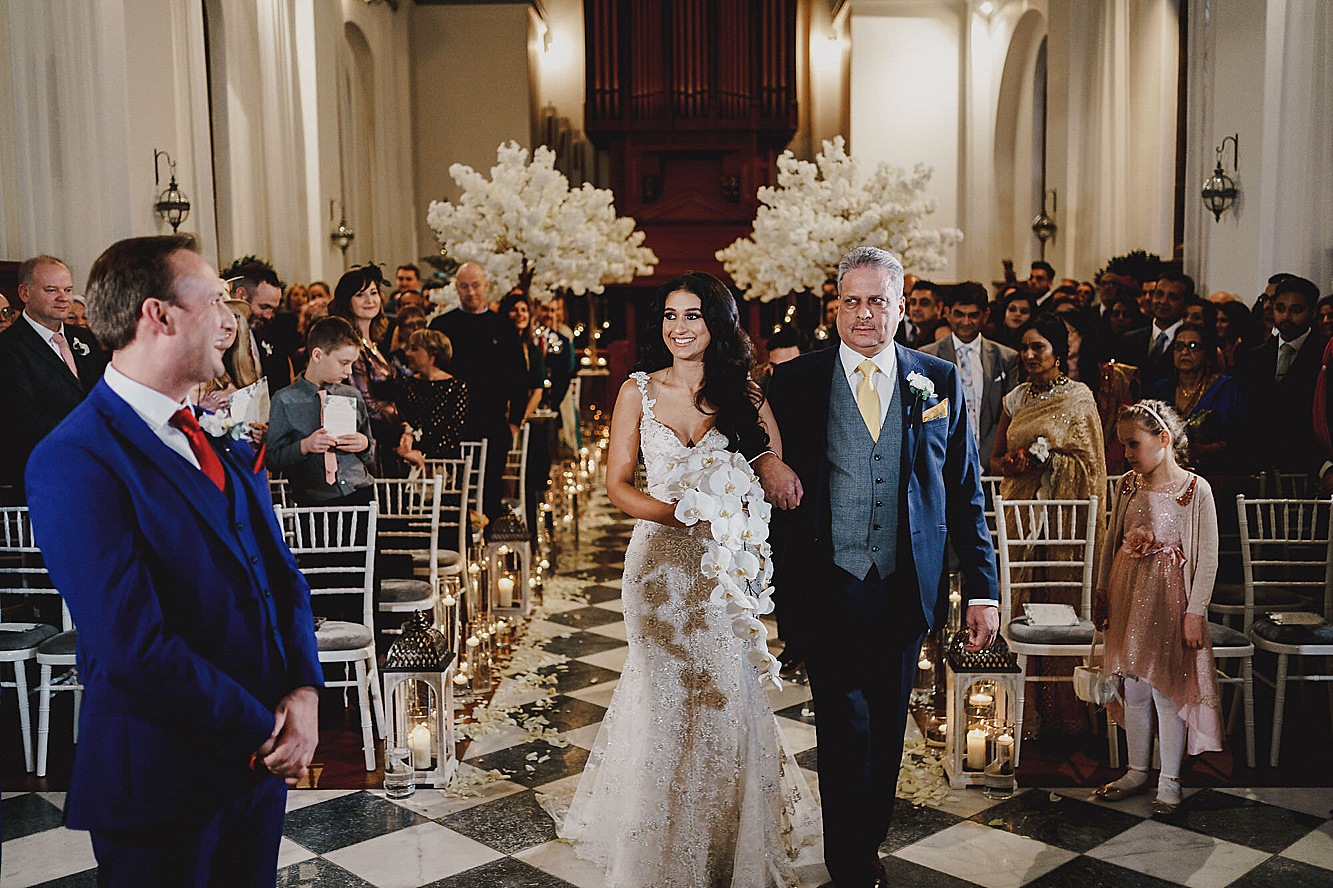 "For the civil ceremony, my father walked me down the aisle and we had Craig Owen (violinist) accompanied by a pianist playing Canon in D by Pachelbel.
Registrars Elaine Mitchell and Shirley Barrett conducted and oversaw the ceremony, and Reena and Chris chose to exchange simple, traditional vows alongside rings chosen at a jewellers in Hong Kong, where they live.
"We chose readings that were read by Chris' sisters, and we had the Best Man and his wife singing too. This in itself, alongside the experience of being in the chapel was so special."
"On 20 April we went to Cebu in the Philippines and stayed at the wonderful Shangri-La resort there. After a day of swimming with whale sharks and jumping into waterfalls Chris, took me to a private, secluded dining experience on 'The Island'.""
The location and experience was beautiful and romantic, raised just above the sea, with beautiful lighting, fish swimming merrily below, romantic music and incredible service, food and bubbles."
"We had our own private chefs and waiter service, they were incredibly attentive and they would do everything for us. Everything that is, but leave us alone!"
"Chris sat there for 3 hours with a ring box in his pocket waiting for the right moment – a brief moment of privacy and intimacy, which never came. In the end, the proposal was a simple one, whilst walking along the beach to the room Chris got on one knee and proposed."
/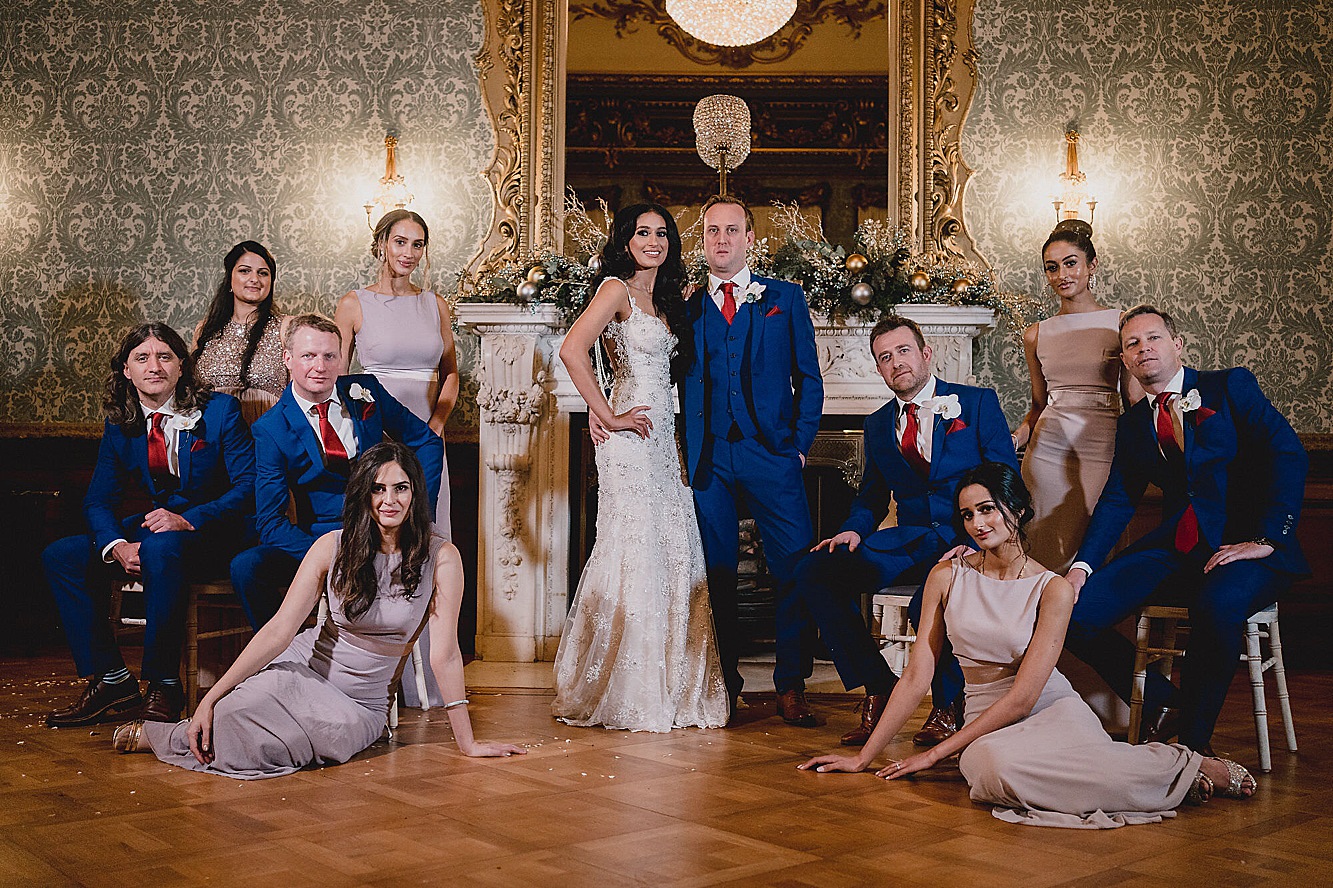 Fiona Hackshall Wedding Cakes made a three-tier white iced cake, decorated with orchids, gold leaf and Reena and Chris' initials, with flavours of elderflower, lemon and chocolate.
"Fiona was lovely to work with and was so adaptable to what we wanted. Plus the cake was delicious. Wedding favours were bags reflecting where we live (Hong Kong), with a small metal badge symbolising double happiness with sweets of treacle toffee (Treacle is what Chris calls me) and heart shaped Cumbrian butter (Chris is from Cumbria) both of which were made by Chris' Best Man's business Country Flavour."
They outdid themselves – our guests still talk about the treacle toffee, and they made the heart shapes especially for us."
Wedding breakfast decor was both festive and elegant, with white linens, crystal tea light holders, and floral centrepieces filled with roses, hydrangeas and seasonal greenery. Dinner – which included pie and mash as a nod to one of Reena and Chris' favourite dates at a pie and mash shop in East London – was a merry affair by candlelight, followed by speeches from the wedding party.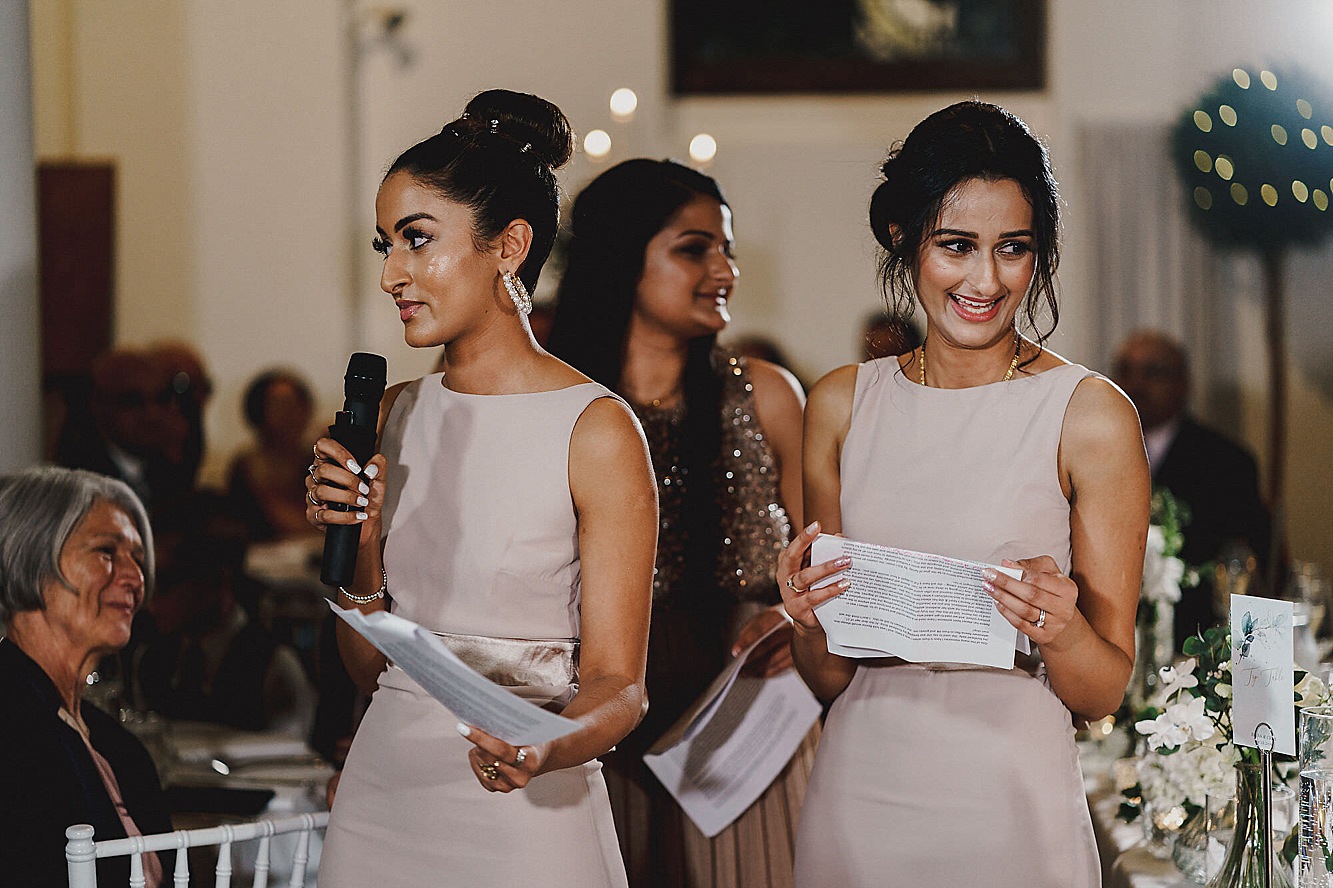 Reena had one more spectacular outfit change to make: a beautiful and sparkling gold princess lehenga by Ekta Solanki.
"I wanted to wear a dress that reflected a Western yet Bollywood feel, and whilst this was so heavy to wear, I loved it. It also meant a fusion of both of our cultures and it was so beautiful to end with that dress although it was so heavy!"
For their first married dance together, Reena and Chris chose two songs mixed together to reflect and honour both cultures – The Chainsmokers and Coldplay – Something Just Like This, and Channa Mereya by Vidya Vox.
"To kickstart our reception party, we had Lions of Punjab who did a bhangra dance performance. We'd seen them before at my sisters's wedding, and  they created a lot of energy and excitement in the room."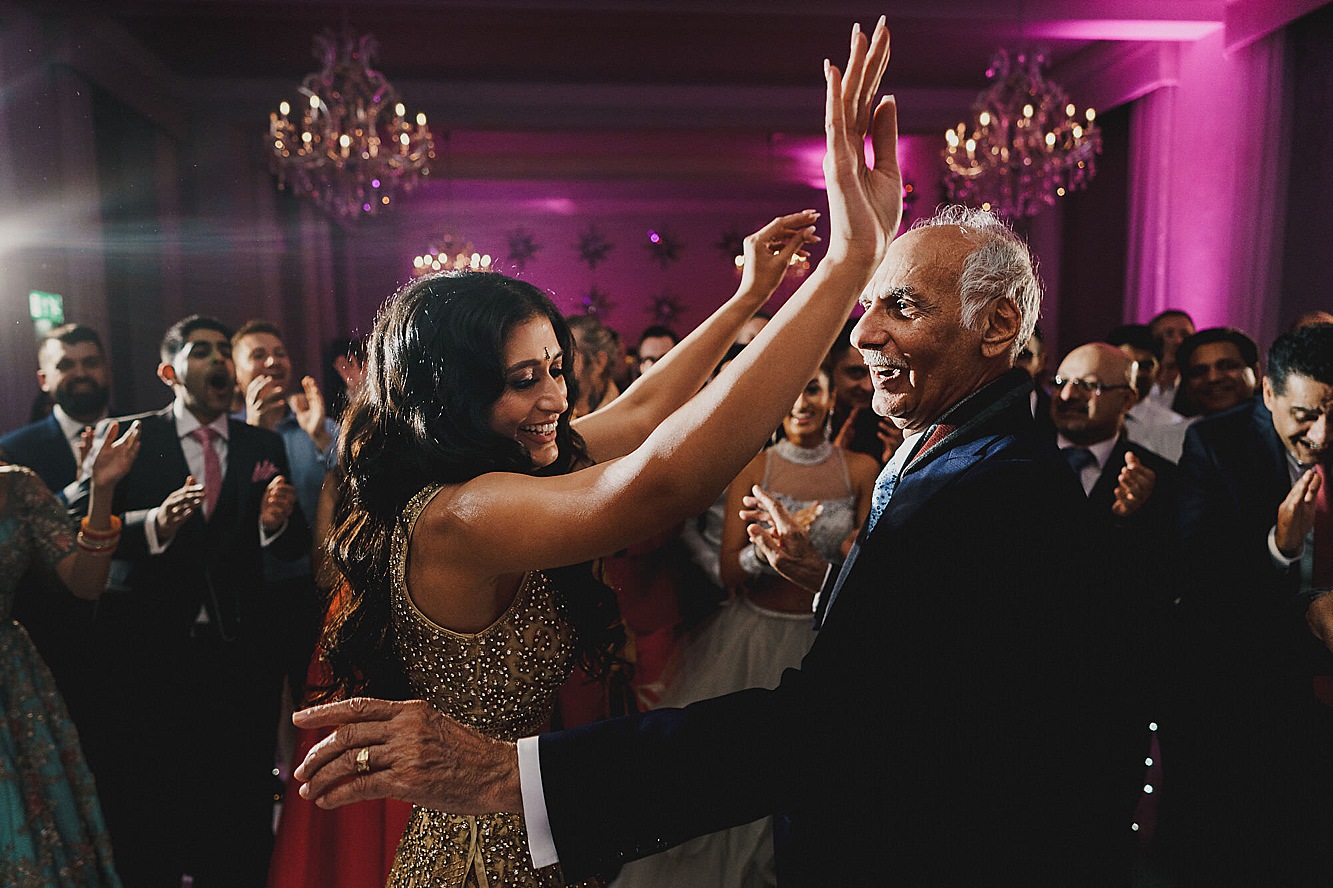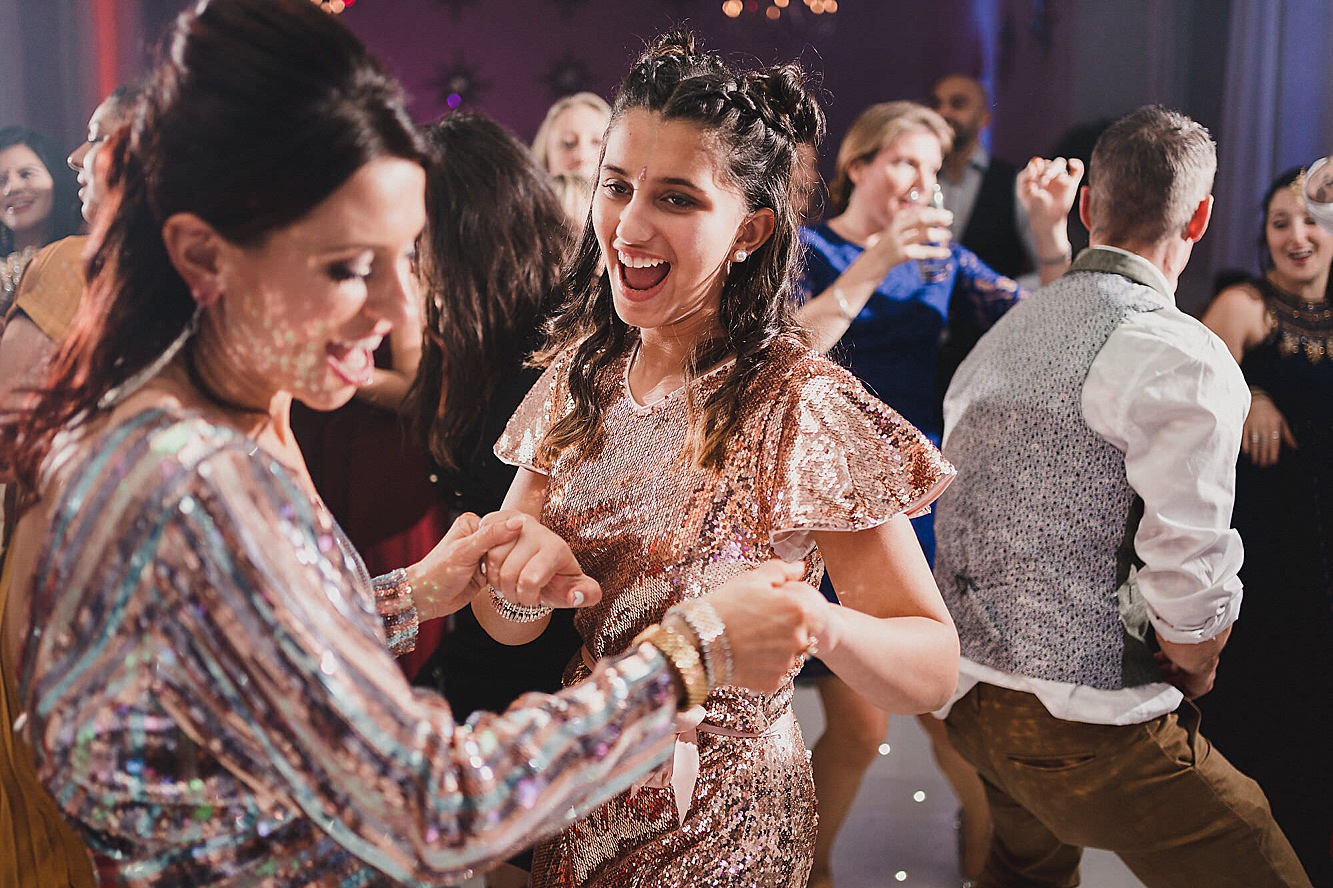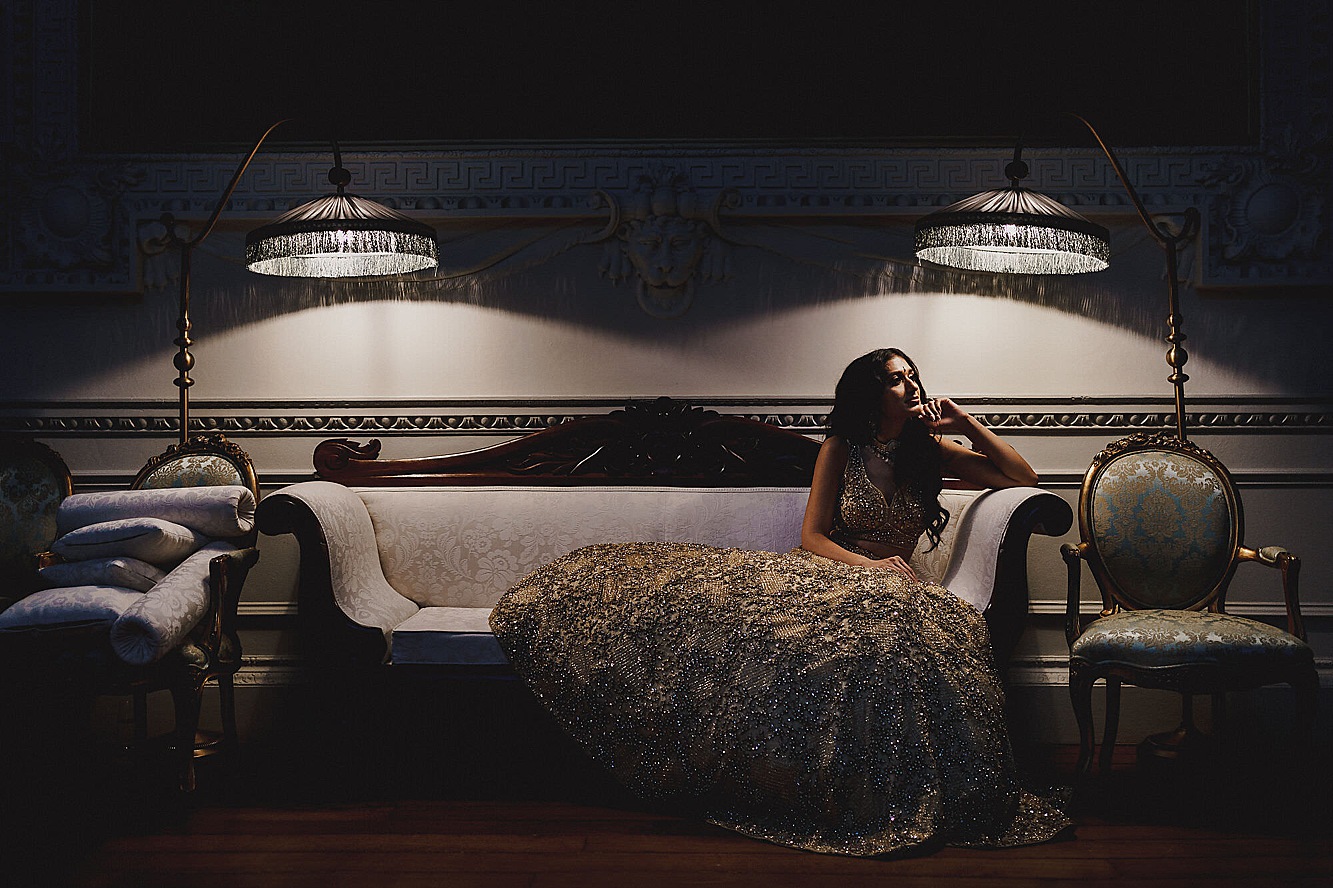 Words of Wedded Wisdom
"Just make sure on the day you have appointed roles for your party as you'll be too busy on Cloud 9 and in the moment of enjoying your day (as you should be)."
"Try and take time out during the day to just take it all in – it is a special day and flies by. Another tip – we chose to use The Knot to create our wedding website, which detailed everything about our wedding instead of sending invitations. This was one way we saved costs and it worked really well for us."
"Additionally, we used Etsy to create our wedding stationery templates, which was easy to use. Although it was a little time consuming, it was so much fun to have this level of involvement, and again we saved quite a bit of money here as well."
Reena and Chris, thank you very, very much. What a magical day you had, packed with so many special moments. Thanks also of course to Miki Studios for their wonderful film and this beautiful selection of images.
Love, Laura