This shoot was about so many things. It was organised through out the summer of 2020 – one we will never forget.
And shot in between two lockdowns in September, after many stop starts stop starts, following an email from Woods Silver Fleet which we just looked back that came in on 7th March 2020, asking us to create something to promote their brand new floating wedding venue, Woods Quay as well as their legendary river yachts The Silver Sturgeon and Barracuda. What a crazy time its been since then to get to this point!
We will level with you, we thought this editorial would also be launching our 2021 events. But we know, if nothing else, this year has taught us, we can't count on anything. So here we are in November, 9 months later, letting uncertainty live in our minds indefinitely rent free 🙂 Listen, we hope these images you see here today, still will be the Most Curious 2021 campaign shoots. But for now, we're just excited to show you them.
Like all Most Curious shoots, they are meant to take a moment in time, and make it wedding.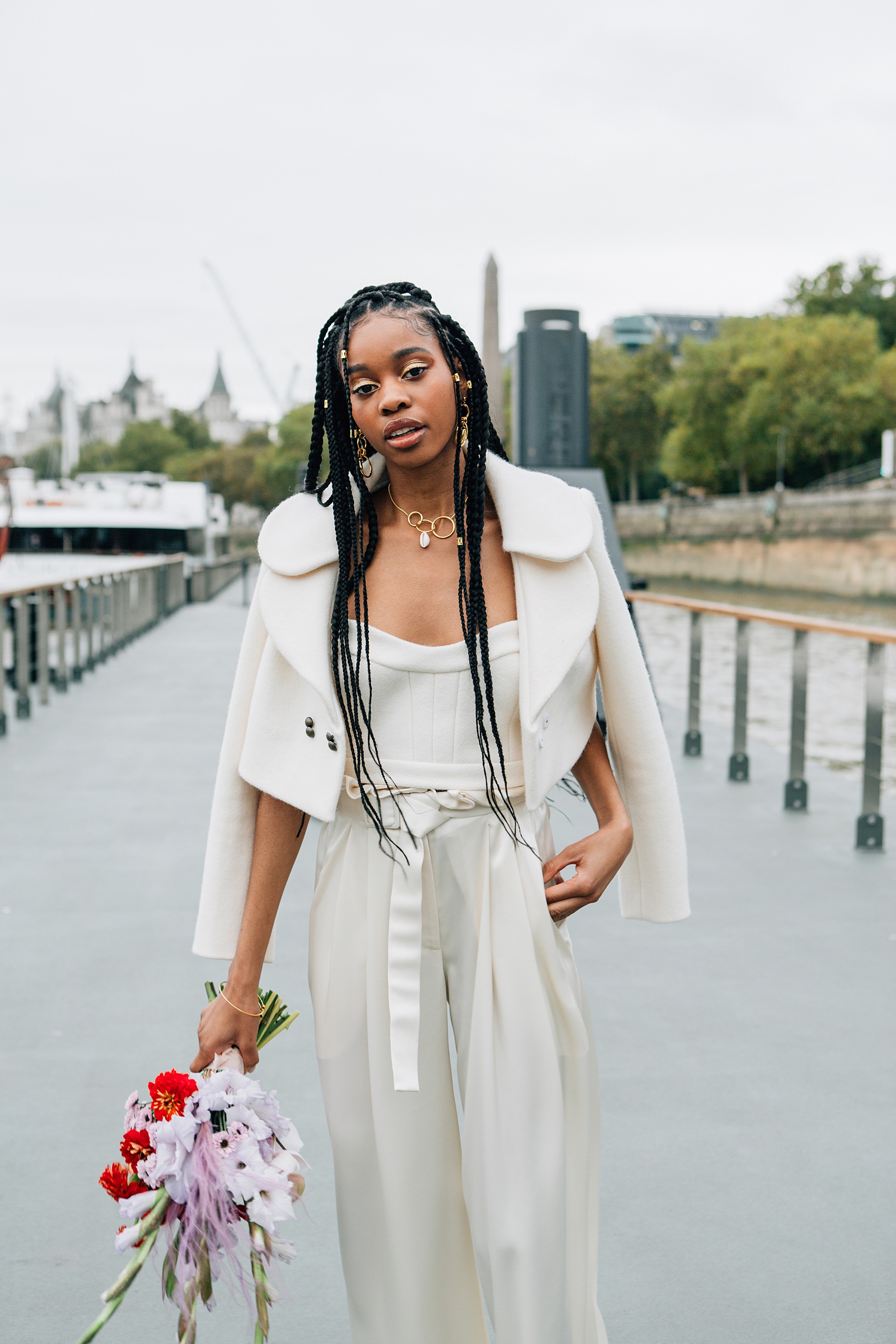 So although they have responded to trends and restrictions, a far cry from the maximalism predictions of our 2020 campaign shoot (oh how naive we were!) these are all about the micro and the mini, the scaled back and laid back.
But at the same time, they are our love letter to All Tomorrow's Parties. This is a collaboration between Most Curious and Woods Silver Fleet, the ultimate iconic London party venue, on the Thames – as our ode to celebration, to gathering and fun, clinking glasses, twinkling lights, fuzzy evenings, bouquets on the table, dancing, joy, happy tears, friends, family and letting loose.  And it's our promise that when 2021 is ready, we'll be ready. Woods Quay has also just received a wedding license, so we wanted to celebrate this little floating chapel's historical announcement. You can marry on the Quay and carry on the celebrations there, or jump on board the yachts for your party.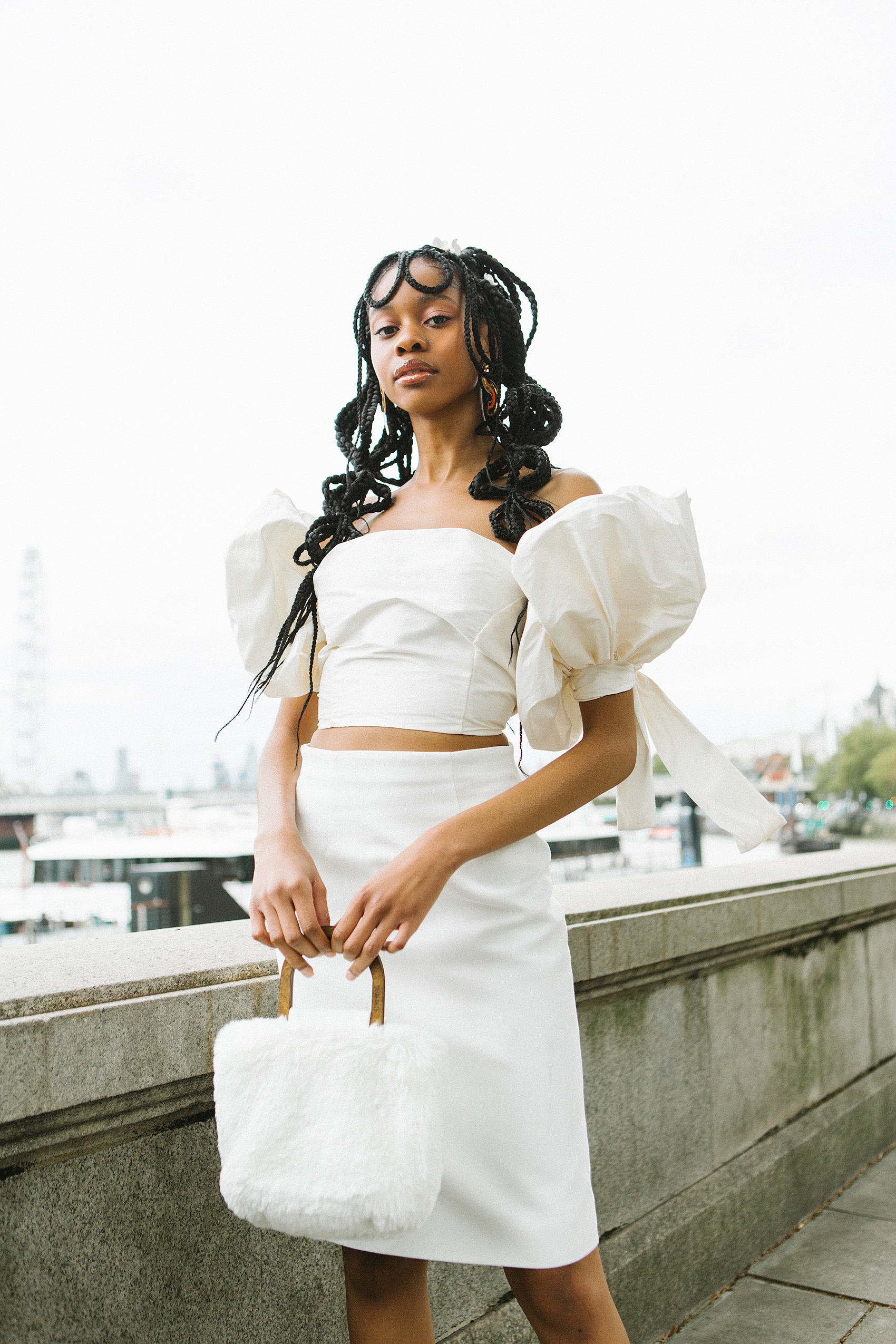 We wanted that over exposed 90s disposable flash camera feel, that if you are of certain age you remember all your party photos looking like, eagerly awaiting their development from Boots. And we chose fantastic fashion and documentary photographer Ejatu Shaw as we felt her style fit exactly with what we were after and she also shot some of it on film too.
Something Blue Hair and Make Upalso put together the fantastic videos, as we knew her vibe was alllll about the good times and the party vibes.
We also know that we have let down black couples and creatives for a long time and wanted this shoot to be a celebration of just some of the many facets we have never truly acknowledged, so were excited to include some West African influences.
With the desire to make this shoot truly inspirational to modern Black British brides with African heritage, we assembled a fantastic team, including the inimitable Chenai Bukutu of award Winning planning brand ByChenai, bringing the looks together and advising on the day.
Amazing and endlessly talented bridal wear designer Ghanaian Brit Kate Edmondson customs created some wonderful Ghanaian separates for our model Jennifer Malengele to wear.
Kate advised us that the cloth she chose is a Royal Kente pattern, normally for reserved for traditional Ghanaian ceremonies, something like the dowry ceremony, so we were to style our bride as if she is a Queen, a princess, suggesting Tilly Thomas Lux as her preferred accessory provider.
Her wish was our command, especially when we saw there was an actual golden crown.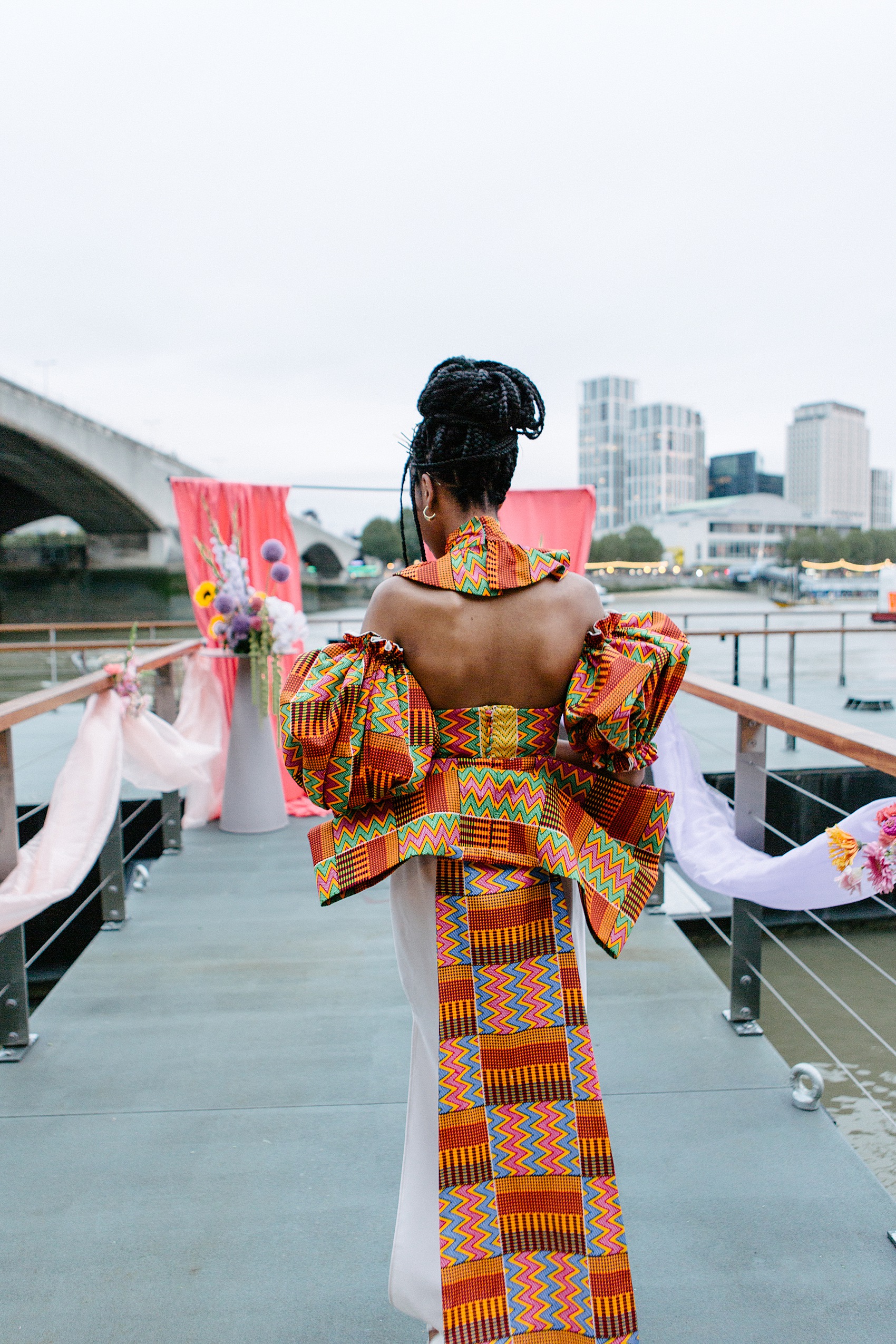 Kate merged the traditional aesthetic with a modern take, more akin to her other beautiful bridal work, incorporating the trends for over sized bows, in the Kente style. It was a sensational look, especially out on the Silver Barracuda river yacht, against the London sky line.
We paired it with an Aff and Jam skirt, a brilliant London brand, by British born Jamaican and Ghanaian duo Kelesi and Jaymi.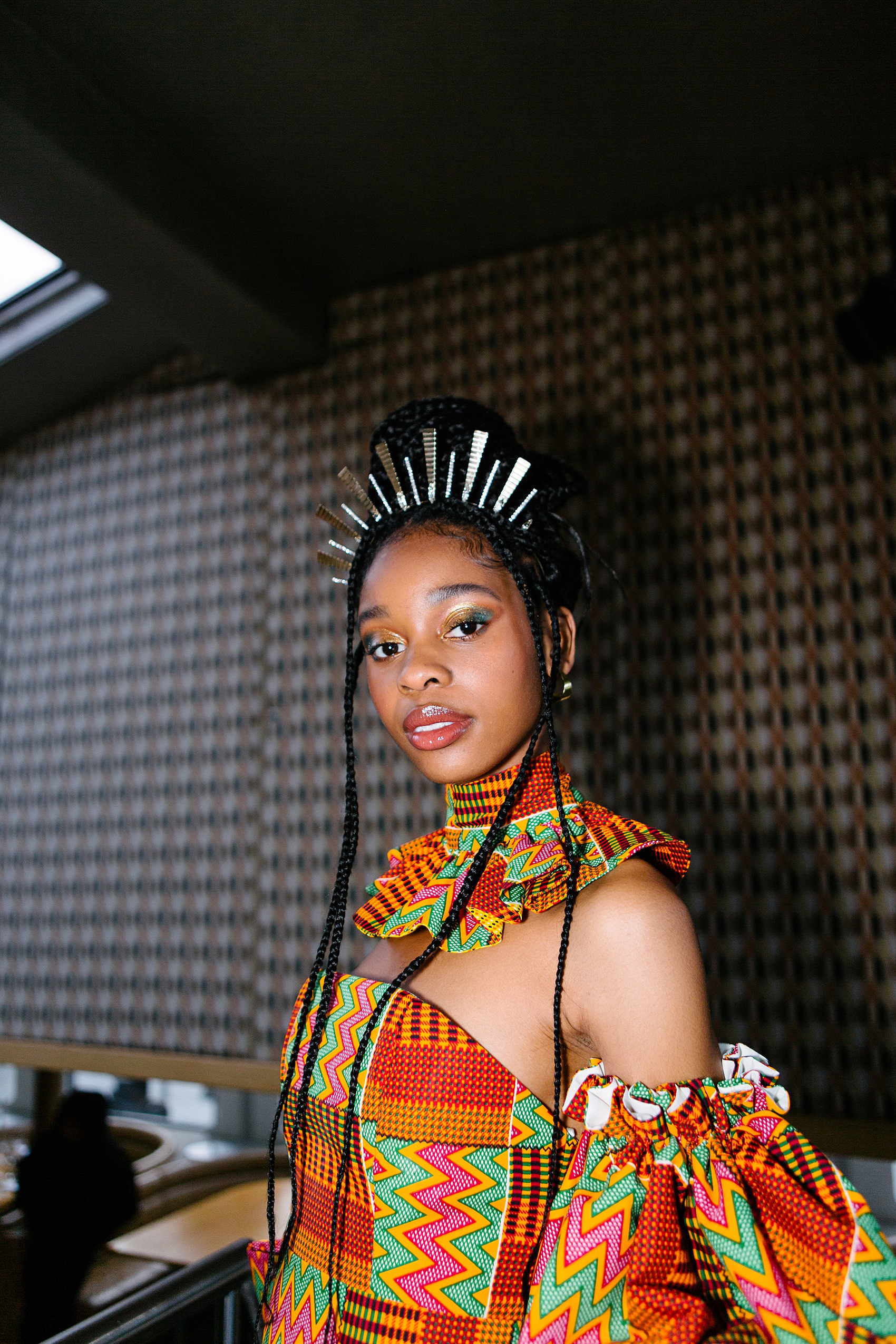 It was a treat to work with Naomi Deru, British born Nigerian bridal designer known for her beautiful shapes and silky, clean lines, who provided the puff sleeved body suit which we complemented with a hand tied Nigerian Gele. It was a joy to have one of the UK's most talented Gele specialists Dupe Gele arrive to create this piece of artistry, true magic to watch.
We paired this with Tihara Smith's colour veil selection and finished the look with our newest crush, geometric contemporary brand Chalk Jewellery who have an architectural background, always a winner.
We also channeled Mini-mony city vibes with short dress styles from brand new design label Miller White, a branch of Emma Beaumont Atelier, all made in sustainable white denim with their signature craftsmanship. We added more Chalk Jewellery and one of AM Faulker X Velvet Johnstone capes which we styled as a 90s style circlet veil – it all got a bit November Rain as the night drew in and the lights twinkled on the Southbank over the Thames.
Velvet Johnstone also created some puff sleeve separates, made from a vintage Laura Ashley dress,  that Jennifer strutted down the Embankment in, with a Tihara Smith faux fur bag in place of a bouquet, into the Quay.
Gorgeous Post Modernist brand Jansi Studios supplied the trouser suit look, with felted cropped top, wide legged trousers and one of AM Faulkner's beaded veils. Charlotte Mills and Kat Maconie provided the blocky and geometric style shoes, which were chosen for their fun feel.
We wanted our bride to have braids. For many negative reasons, this is not a look associated with bridal, which we wanted to change, and we also loved it as a fashion led bridal look, something we always try to champion. But more than that we wanted to acknowledge the pride in this style, that is about protecting and celebrating the joy of black hair.
To do this with love, we worked with the super talented Something Blue Hair and Make Up and brilliant recent Make Up and Hair Design Honours graduate Amina Grey to lead the creative looks that played into the coolness the braids would bring. Amina particularly led the gorgeous Fulani-inspired looped look which she decorated with Eden B porcelain flowers, a strong look.
Natasha Something Blue led the beautiful make up and kept it fresh, light and dewy, bringing in colour and glitter to the final evening look.
We also wanted to keep accessories gold, with Cowrie shell accents, but with a modern take, via cool jewellery brand Omolola, a brilliant UK company set up by three siblings, with a desire to pay homage to West African artistry and cultures, creating connections with home and sharing their heritage with the diaspora.
We also asked Norfolk brand Petal and Metal Bridal to make a custom piece intricate metal veil, in her signature style, incorporating subtle cowrie references along side delicate flowers, which fit like a dream on the day and felt so right for this shoot.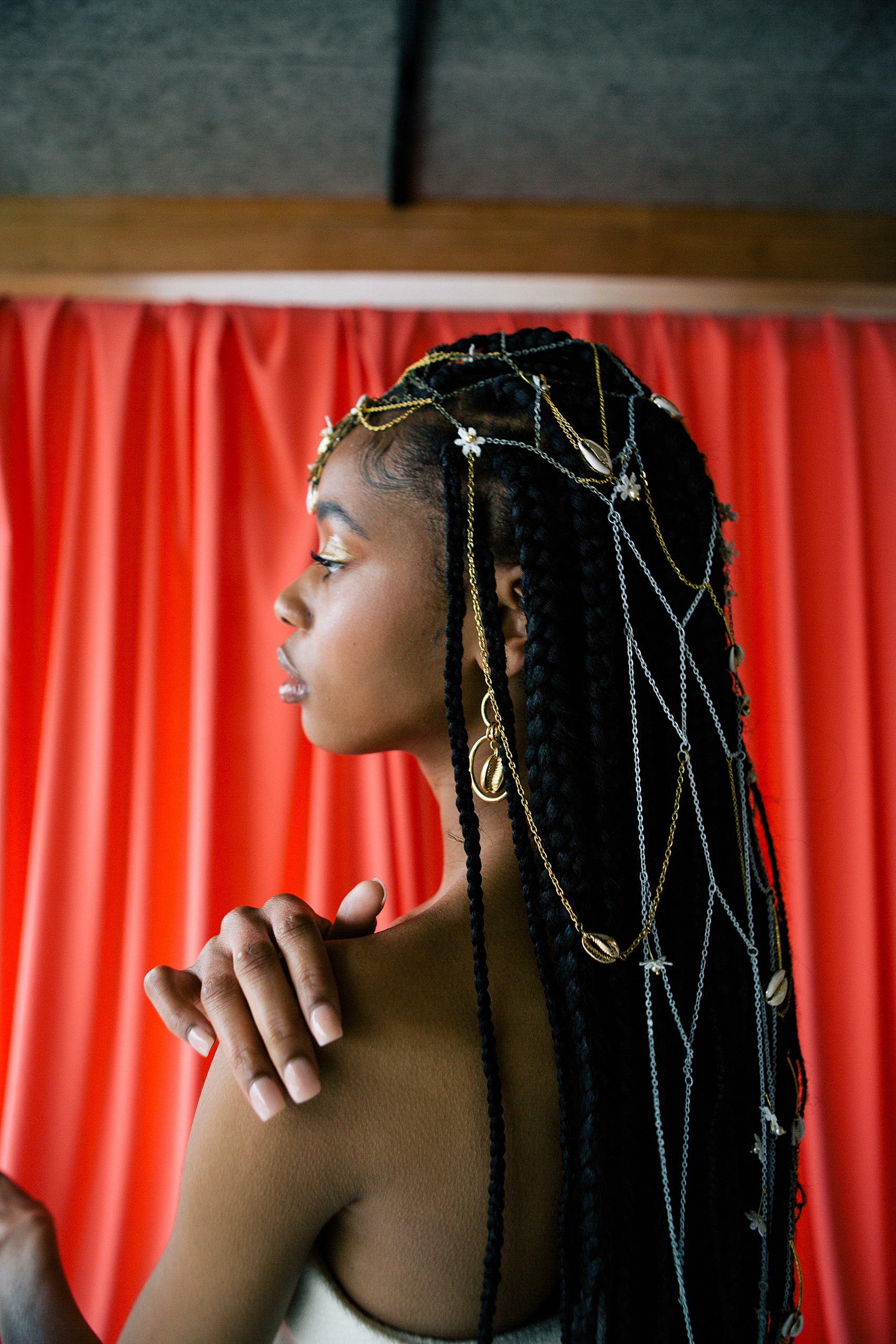 One of our bridalNEXT 2020 winners Bud Flora created the brilliant floral elements, to our brief of a sherbet-y palette, with graphic pouffy shapes, to bring that sense of fun and party.
Always a lovely creative presence to have around, Lucie of Bud Flora also helped stye the table with half grape fruits and baby aubergines, the latter sometimes being given as gifts at African weddings.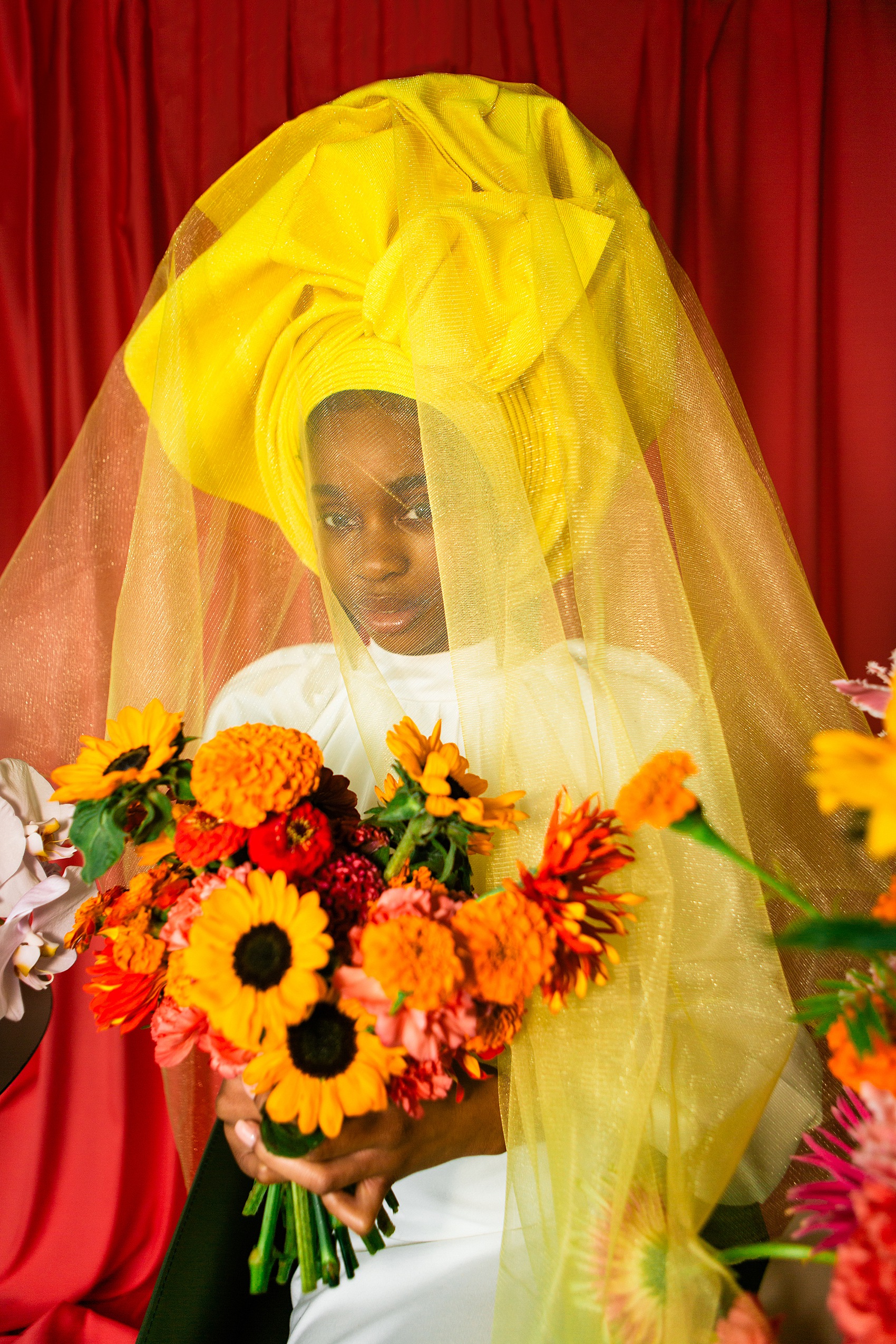 The table was set for 8, a little nod to the scaled back aesthetic and styled with individual fanciful piped icing cakes by Dees Basement, another idea for these anti-sharing times.
We couldn't resist having a large cake too. We went for a lilac palette for the table cloth and cakes, with that poppy, fun feel accentuated with amazing Concrete Candy platters, and retro cherries on top of the cakes.
The hand made hammered brass spoons are by West London designers Ange B Designs and twisted candles for more zingy graphic effect by Danish brand Fabrek.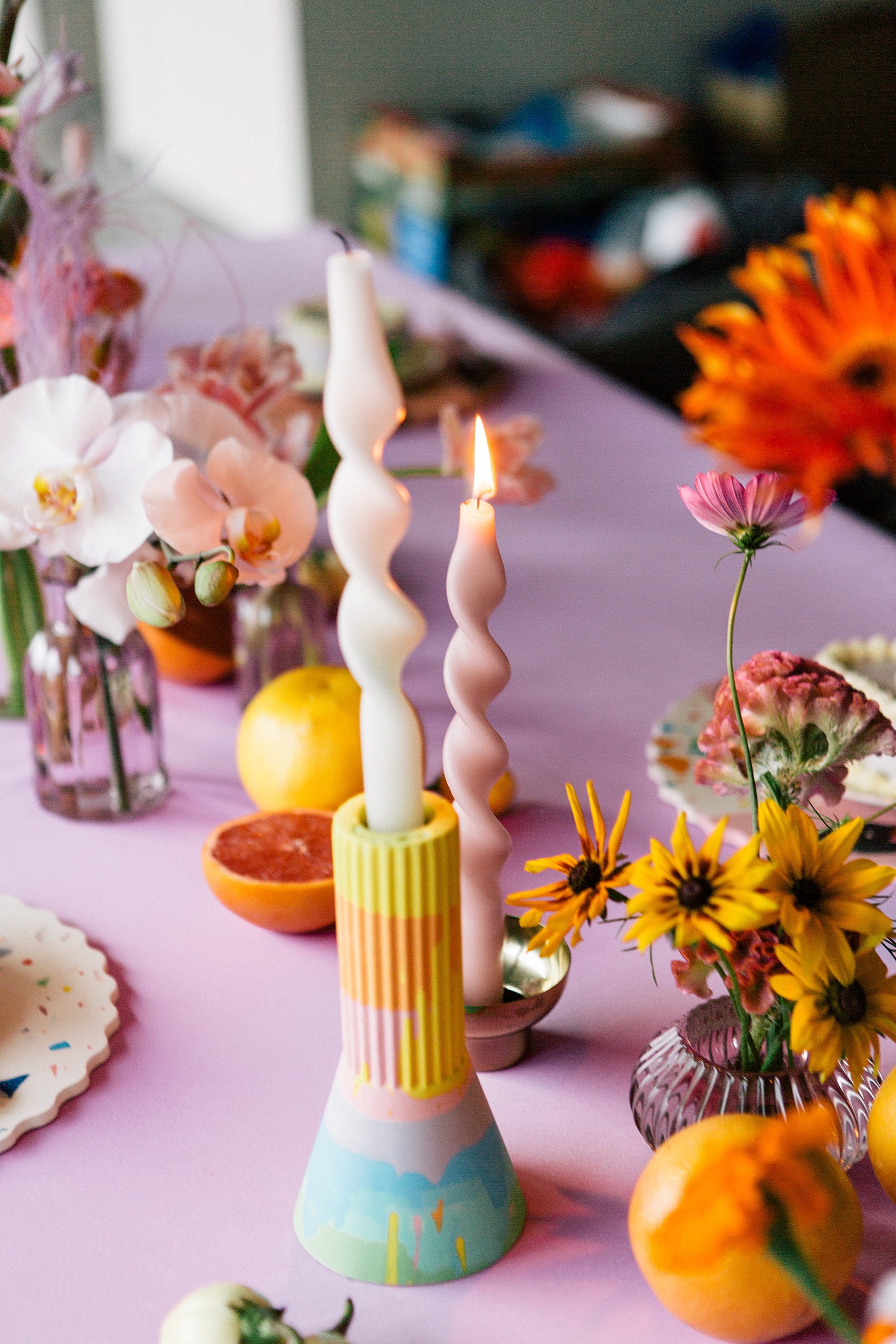 Woods Quay was the perfect venue because they are a brand so associated with vibrant night outs and special occasions, all in the most iconic vista of London, from the Palace of Westminster to St. Pauls and the Southbank, all symbols of Most Curious's home town too.
The style-led owner Kate Woods, our co-conspirator – has recently redesigned the new floating venue on Woods Quay, a chic sheltered, architect-detailed pavilion.
This is also the new home of Woods' Silver Fleet, with a legacy of cruising the Thames for over seventy years, with guests such as Rihanna, Sir Mick Jagger, Harrison Ford and Brigitte Bardot having had their own parties on board. They have just received their wedding licence too, so you can actually get legally married on the Quay.
It has three ceremony and dining spaces with roaring fireplaces, open decks, chef's tasting room and long bars, so currently is a super cool contemporary location for an elopement  ceremony or scaled back celebration.
And of course is laying/floating in wait for the giant, decadent parties to return. Imagine having your little ceremony, enjoying some bubbles and then going out on their luxe river taxi, Silver Darling, as your first trip as a married couple.
Our inner interior design journalist goes wild for the river pebble terrazzo floors, cast concrete, matt brass, steel and oak enveloping the decks, set against the deep green, verdigris and granite grey of the Embankment Wall.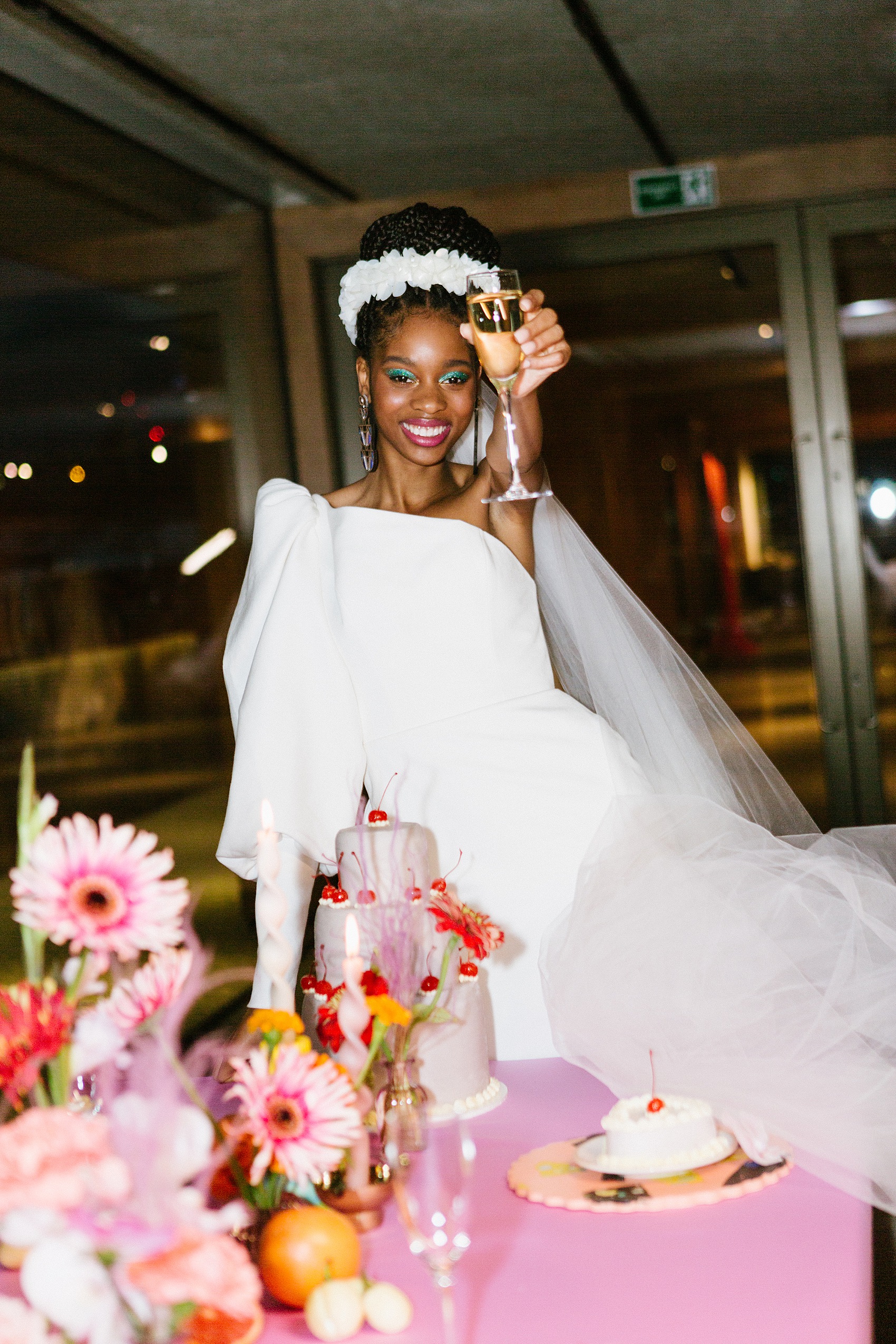 We loved how having the shoot here, hinted at both the cuteness of what it could supply for the micro wedding but the potential to PARTY with a capital P was ever present.
For All Tomorrow's Parties.
2021, ready when you are.
Becky x
Venue + collaboration – Woods Silver Fleet + Woods Quay
Photographer – Ejatu Shaw
Art Direction and Concept – Most Curious
Production and assistant stylist – ByChenai
Assisted by –

Samantha J. Benton

Videographer – Something Blue Hair and Make Up
Make Up and Hair – Something Blue Hair and Make Up
Hair – Amina Grey
Cakes – Dees Basement
Flowers – Bud Flora
Bridalwear – Kate Edmondson, Naomi Deru, Jansi Studios, Velvet Johnstone, Miller White, Aff and Jam
Accessories - Dupe Gele, Chalk Jewellery, Tihara Smith, Omolola, AM Faulkner, Petal and Metal Bridal , Tilly Thomas Lux , Charlotte Mills, Kat Maconie, Eden B
Tableware – Concrete Candy, Ange B Designs, Fabrek